What to Know Before Getting a Helix Piercing
What to Know About Helix Piercings, According to a Pro
As POPSUGAR editors, we independently select and write about stuff we love and think you'll like too. If you buy a product we have recommended, we may receive affiliate commission, which in turn supports our work.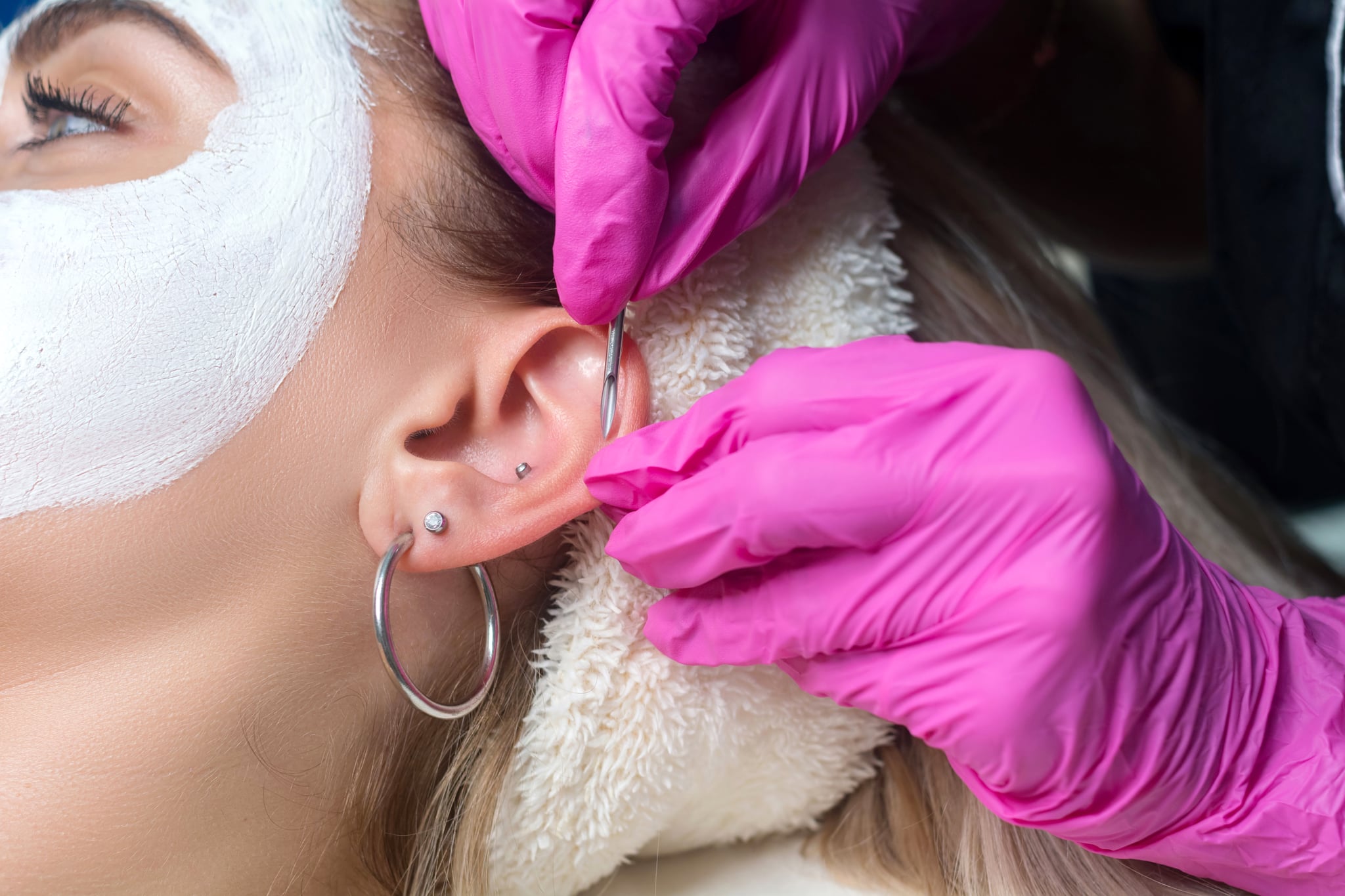 Image Source: Getty/ Luda311

Helix piercings are a fun take on a traditional ear piercing.
Different from a snug, helix piercings are all-cartilage piercings.
We asked a professional what we should know before getting a helix piercing.
Whether you've had your ears pierced since you were a child or (like some of us) you took a trip to Claire's in your adolescent years, there's something about getting your first ear piercing that just feels like a rite of passage. It seems inevitable, then, that the types of piercings available would evolve with time, and now we have the opportunity to get piercings in nontraditional places like eyebrows or belly buttons — there are even "surface anchor," or dermal, piercings that we can get in our cheeks, arms, or the back of the neck. Safe to say: times have changed.
But sometimes you want just a bit of variation that's nothing too extreme, and if you love piercings, we have the perfect solution: a helix piercing. There are numerous helix-piercing options on the market, so we asked a professional to take it back to the basics and break down what exactly helix piercings are, as well as what everyone needs to know before getting one. Read ahead for all the best tips to have on hand before you make that appointment.
What Is a Helix Piercing?
Before getting ahead to the different types of helix piercings on the market, we wanted to understand what exactly helix piercings are, so we reached out to Anna Girgan, director of in-store experience for Banter by Piercing Pagoda. "A helix piercing is any piercing around the "rim" of the cartilage of the ear," Girgan says. These types of piercings are also always cartilage piercings as opposed to antihelix — or snug — piercings, which connect from point to point from the middle of your helix to the inside of your conch (the bowl of your ear).
One thing that sets helix piercings apart from other ear piercings is how flexible they are in terms of placement — but this could also make getting additional piercings complicated. "Helix piercings have a larger margin of placement flexibility than some other piercings," Girgan says. "This is good and bad, as it can make lining up multiple helix piercings more complicated. It can also complicate decisions on where to put the helix piercing if you're looking to add additional piercings later."
Different Types of Helix Piercings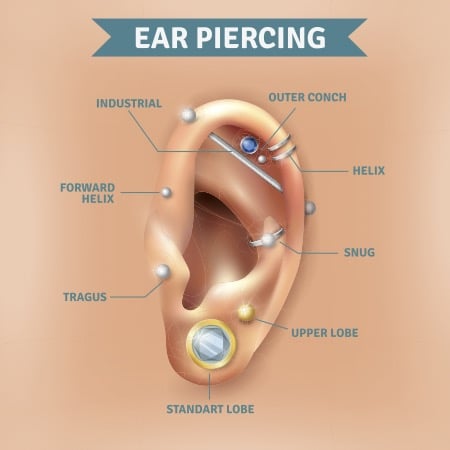 Image Source: Getty/ Luda311
There are a few different types of helix piercings:
Standard helix piercing: this is a normal cartilage ear piercing.
Forward helix piercing: This piercing is placed on the outer cartilage closest to the face, right above the tragus.
Standard industrial piercing: these are considered helix piercings because they are two cartilage piercings that connect at different points (typically at the top and middle of the ear).
Double helix piercing: double or triple helix piercings actually refer to the number of helix piercings in one ear vs. an actual type of piercing.
There are also "faux helix piercings" available if you want the look of the piercing but don't want to actually commit to the real thing. "There are hoops available that click on and appear to be an actual piercing that you could put on your helix," Girgan says. Magnetic studs that can act as faux helix piercings are another option.
Do Helix Piercings Hurt?
Since everyone has different pain-tolerance levels, experts can't say for sure the exact pain level of a helix piercing, but if you're generally more sensitive to pain, you can have the area "numbed with Lidocaine to help," Louisa Schneider, CEO and founder of Rowan, previously told POPSUGAR.
The Best Jewelry For a Helix Piercing
The best jewelry for a helix piercing differs based on the type of helix piercing it is. For a standard or forward helix, Girgan recommends "a flat-back earring." For an industrial piercing: a 14g straight barbell. And for healed helix piercings, she recommends hoops in the wearer's personal diameter preference. If you want to switch out your jewelry, Girgan says to wait approximately six to eight weeks at minimum before switching. Though the piercing won't fully healed yet, "it will be fine to switch to new jewelry [more comfortably] at this time."
In terms of jewelry material, Girgan says that "14k gold with no nickel or cadmium, and high-grade alloy titanium are best for all piercings," not just helixes, and if you want to switch up the type of jewelry being worn, "the way to switch it out varies by the original piece of jewelry you chose," so be sure to consult your piercer if you are having a hard time on your own.
Potential Risks With Helix Piercings
In terms of rejection, helix piercings actually fare a bit better than other types. "Rejecting helix piercings is rare and generally only happens when the piercing was pierced incorrectly," Girgan says. But very specific instances like "extreme health changes tend to cause general rejection, and something like a pregnancy can actually cause all piercings to start rejecting, no matter how long they've been in," Girgan says.
To verify whether your helix piercing is being rejected, Girgan says to take note of "whether the piercing started out in one area of the ear and has slowly migrated to another." If you are unsure whether the piercing is being rejected, always consult a professional piercer, but if you are able to verify rejection at home, "it is best to remove [the piercing] before it fully rejects and causes permanent cartilage and skin damage."
Aftercare For a Helix Piercing
When the piercing is healing, "it is normal for it to produce "crusties" daily until healed," Girgan says. To aid in the healing process, "saturate and clean the piercing with a new q-tip or paper towel twice a day using Studex Advanced Piercing Aftercare & Cleanser ($15) or H2Ocean Piercing Aftercare Spray ($16)."
When the piercing is fully healed, you will notice that "there will be no pain even when slightly bumped into," Girgan says. If you have been keeping up with general aftercare, it should take approximately three months for a helix piercing to fully heal, a much shorter timeframe than other piercings like industrials, which can take up to six months.
Whether you have already committed or are still on the fence, keep these tips in mind if you decide to make your next piercing a helix.