This $10 Cleanser Takes All of My Makeup Off With Zero Irritation
Every editorial product is independently selected by our editors. If you buy something through our links, we may earn commission.
I'm always on the lookout for new products that'll help keep my skin free of breakouts without drying it out or causing irritation. It is part of my job as a beauty editor, after all. But recently, fuss-free, simpler products have been grabbing my attention. The Inkey List Oat Balm Cleanser ($10) is a no-frills balm cleanser, housed in a basic black-and-white tube, which has earned itself the top spot in my skin-care routine. It's quickly become a bestseller for the brand, and I'm not surprised one bit.
Before diving straight in, a little bit about what I look for in a face wash. My skin is very sensitive, but I'm also prone to breakouts. For this reason, I'm a double-cleanse kinda gal (on the days that I wear makeup, that is). I like to use a fragrance-free oil or balm cleanser first, followed by a second cleanser that has a lighter, creamier consistency.
To use it, I take a 10p coin-size amount and apply it onto dry skin. I ensure the cleanser is distributed evenly on my face and carefully massage the oil along my lashes, too. I take my Foreo Luna Cleansing Tool ($49), which I've dampened with water, and work the oil onto my skin using circular motions for about 30 seconds. Then, I wash off all of the oil, making sure I also gently remove my mascara.
After the balm cleanser is completely removed, I move onto my second cleanse, which is a creamier product. I'll repeat the cleansing step again (sometimes I'll use my fingers rather than Foreo Luna, depending on how my skin is feeling that day) and wash it off. I make sure my face is completely dry using a muslin cloth (and marvel at all of the makeup residue on the cloth!), then apply my serum and moisturizer. After this, my skin always feels super clean but never tight or uncomfortable.
The Inkey List Oil Balm Cleanser works so brilliantly because of two key ingredients: oat kernel oil and colloidal oatmeal. The oat kernel oil is noncomedogenic (meaning it won't clog pores as it dissolves makeup and grime), it contains naturally occurring antioxidants, and because it's a humectant, it's an excellent hydrator. Colloidal oatmeal is excellent at cleansing the skin (which is obviously useful here) and is known for having soothing and anti-inflammatory properties, which means not only does it leave your skin incredibly soft, but it's also great for sensitive skin types.
Texture in a cleanser is important to me (and I'm sure anyone else reading this in-depth review). The balm is thick and has a slight graininess to it, which, once worked into the skin, dissolves easily. The balm does remain on your skin even after you've rinsed it off, which it's supposed to. However, if you don't like that feeling, or if you don't have dry and sensitive skin, you may find it off-putting.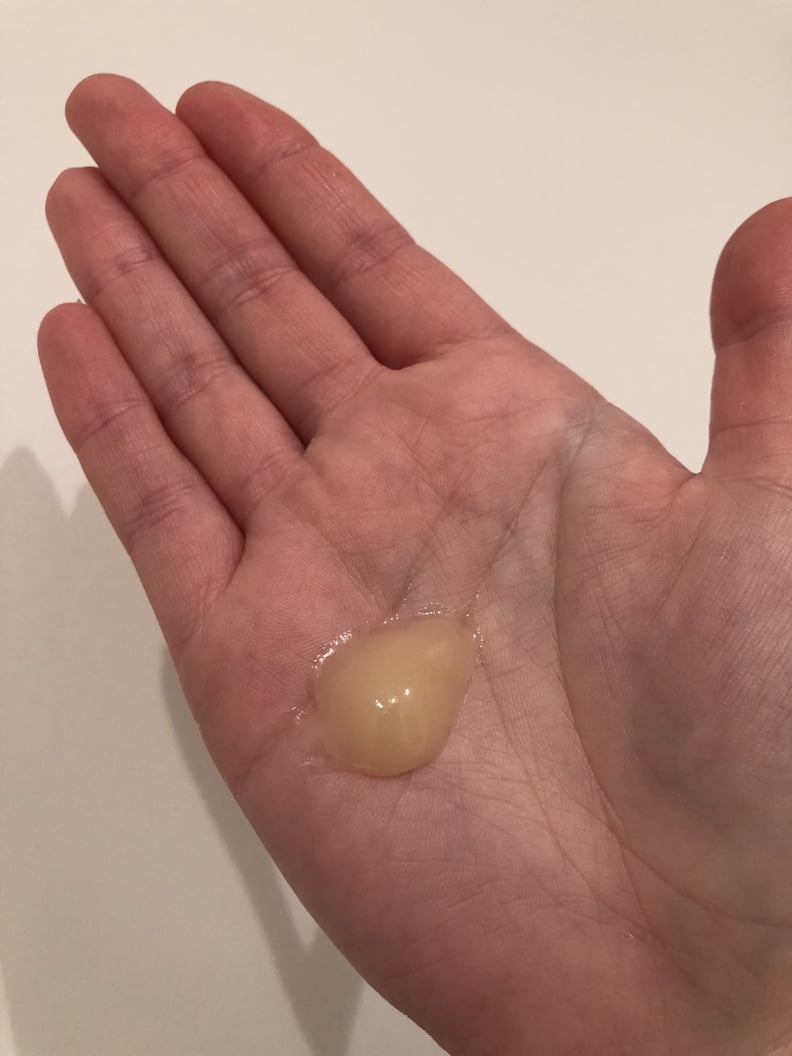 In addition to the comforting texture, the cleanser is unscented, which I personally love. But best of all about the balm is its price point. It's extremely affordable. The bottle is huge, and a little goes a long way to cover the entire face and neck, meaning you won't have to continually buy more tubes.
The only downside, which I've heard from a few people, is that it can be hard to squeeze out of the tube due to its thick, balm consistency. I don't find this is a problem as I store the tube in my bathroom cabinet, which gets steamy and warm after I've showered (which is when I wash my face). But it's something to bear in mind when it comes to ease of use.
My final verdict is that it does exactly what it says on the tube: removes makeup and cleanses sensitive skin. I've been using it pretty much every day since first trying it six weeks ago, and I won't be putting it down anytime soon. It effectively removes all of my makeup, doesn't cause irritation (or flare up my eczema patches), and is affordable. It'll continue to have a front-row spot in my bathroom cabinet.