The Utterly Fascinating Life of the Jonas Brothers's Personal Groomer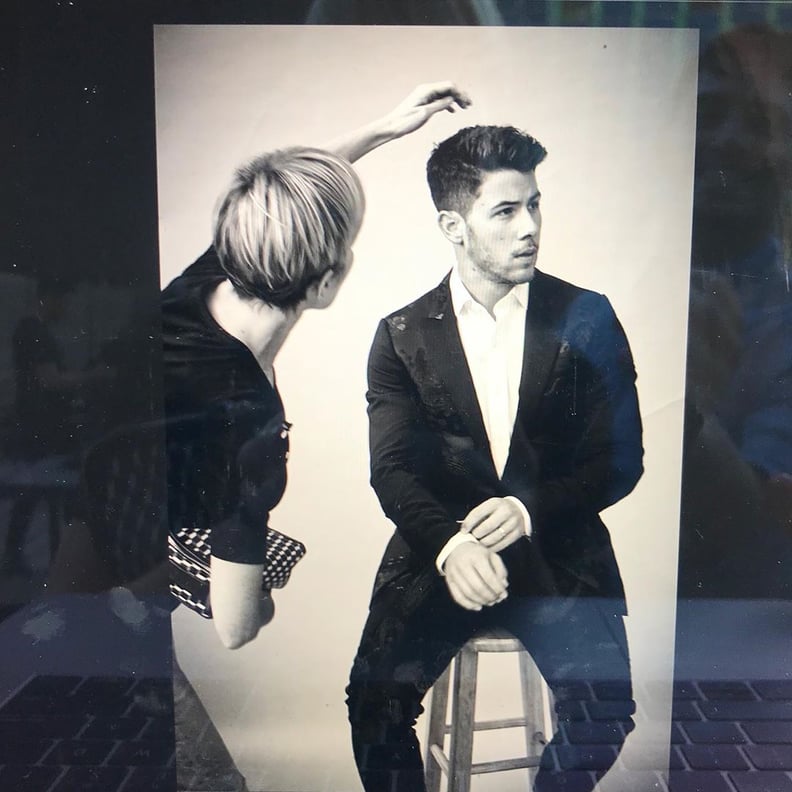 As POPSUGAR editors, we independently select and write about stuff we love and think you'll like too. If you buy a product we have recommended, we may receive affiliate commission, which in turn supports our work.
Twelve years. That's enough time to go from cocoon-swaddled baby to prepubescent teen with a voice that sounds like it's been through an Autotune machine — or, if you're grooming expert Amy Komorowski, enough time to watch the Jonas brothers grow up. (And for the record: need Autotune, they have never.)
When she was first introduced to the band in 2007 — "they were young, just boys then," she recalled — they were at the height of their young careers, with a self-titled album and legion of dedicated fans. Nick loved his blow dryer; Kevin flat-ironed his curly hair. Komorowski was there through it all, grooming kit in tow.
"Initially, when they first got together, it was pretty crazy," she said. "Fans would find out where they were staying and wait inside the hotel. I've seen lots of people chase their cars. Sometimes the parents are even more aggressive than the teens and the young adults, which is always kind of funny. Now with them getting back together, it's been interesting to see their fanbase grow up too."
It's not just their fans, though; the men too have changed — as have their grooming habits. Ahead, Komorowski is pulling back the curtain on exactly how much their style has evolved, the products they always use, and more behind-the-scenes secrets (including her favorite-ever moment with the "loyal and generous" Jonas Brothers, which, swoon).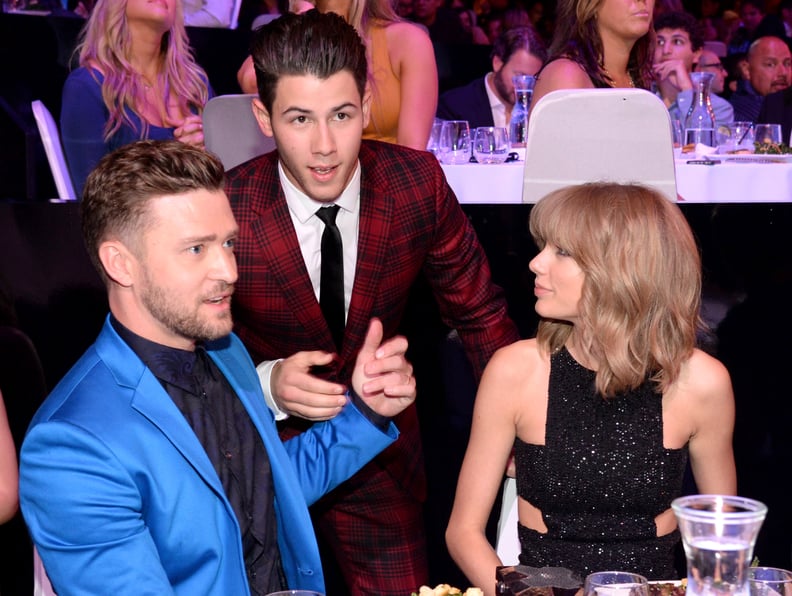 Turns Out, Justin Timberlake and the Jonas Brothers Had the Same Groomer
While Komorowski's first male celebrity client was actually Joaquin Phoenix (tough job, are we right?), she first got the opportunity to work with the Jonas brothers by way of Justin Timberlake and couldn't pass it up. "They had the same publicist," she said. "Then it just kind of took off from there." (No word on if the men swapped the same curly hair tips, but we'd like to imagine.)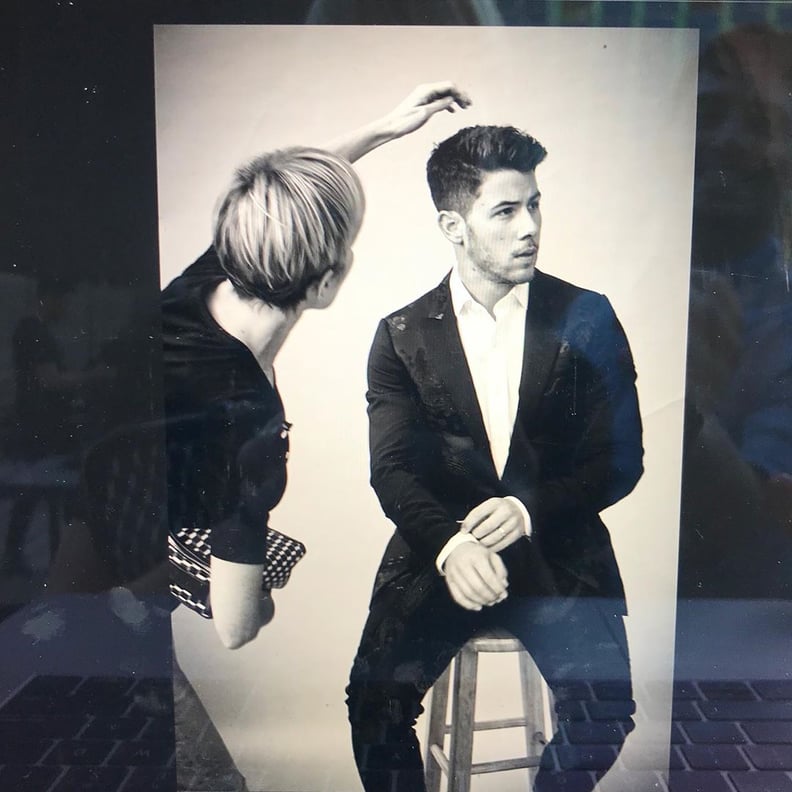 How the Jonas Brothers' Grooming Routines Have Changed
Now having worked together for more than 12 years, it makes sense that Komorowski has the Jonas's get-ready routine down pat — and she's seen their evolution in real time. "Over the years, grooming them has actually gotten easier," she said. "The guys have always had a really strong sense of their own style and how they want to look. But we've really narrowed down the grooming process, so it takes less time."
She added, "Their hair, skin, and styling has always been cool, of-the-moment. As it's evolved, they're just more mature. They've had different hairstyles. We work with the texture of their hair, which is curly naturally. Sometimes we go shorter; sometimes, longer. What we do depends so much on on the event — whether it's a music video, a red carpet, a photo shoot. I talk to the guys and they have a really strong sense of what it is they want."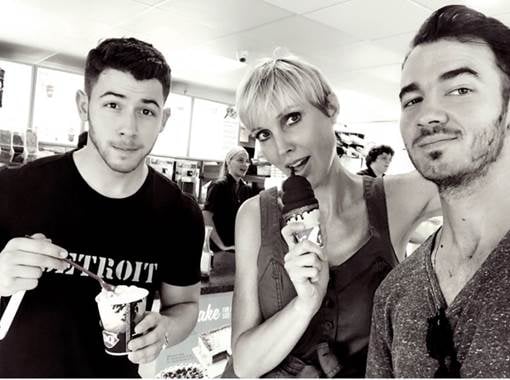 "We've been working together for so many years that we have a rhythm and a comfort level," said Komorowski. "Without even really saying anything, I can figure out what they want. Like sometimes with Nick, we'll do a little side part with pomade. Or we'll talk through if he wants it to look a little more undone, or if he wants more shine or for it to be matte. Sometimes they wear their hair curlier, sometimes it's straighter. With Joe, he's worn his hair many different lengths. I mean, it's three guys with three completely different looks. It's been a journey and again, just evolution in learning what they want."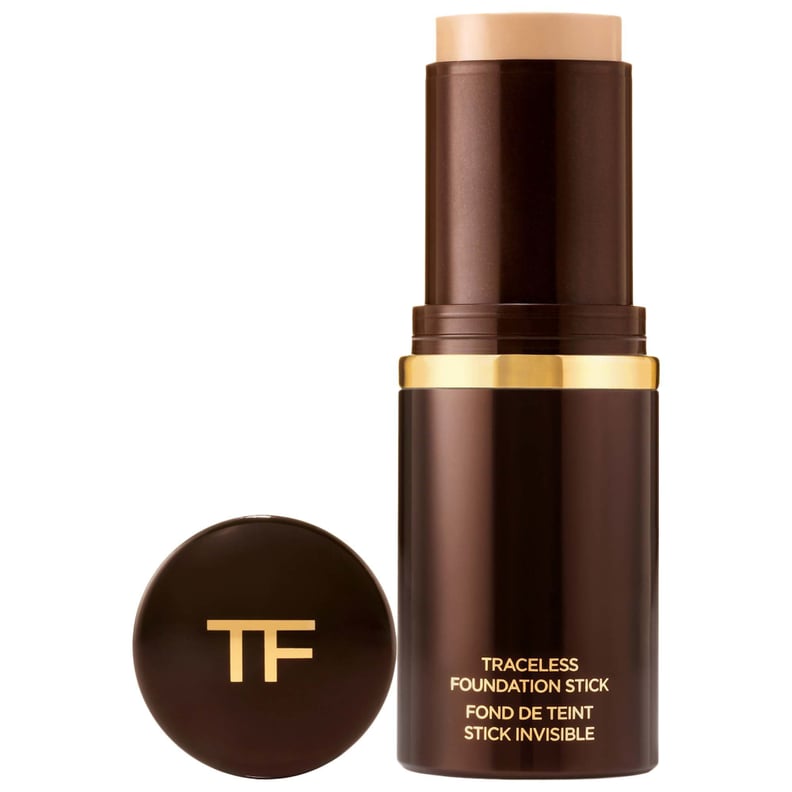 The Jonas Brothers' No-Fuss Foundation Pick
"Guys tend to have a little bit more redness in their skin and it tends to be thicker," said Komorowski. "I find the foundations and concealer that really work on women don't actually translate as well for men. Tom Ford Beauty makes beautiful stick foundations that are great for guys. It's called the Traceless Foundation Stick ($88). It just disappears — you don't see it on skin."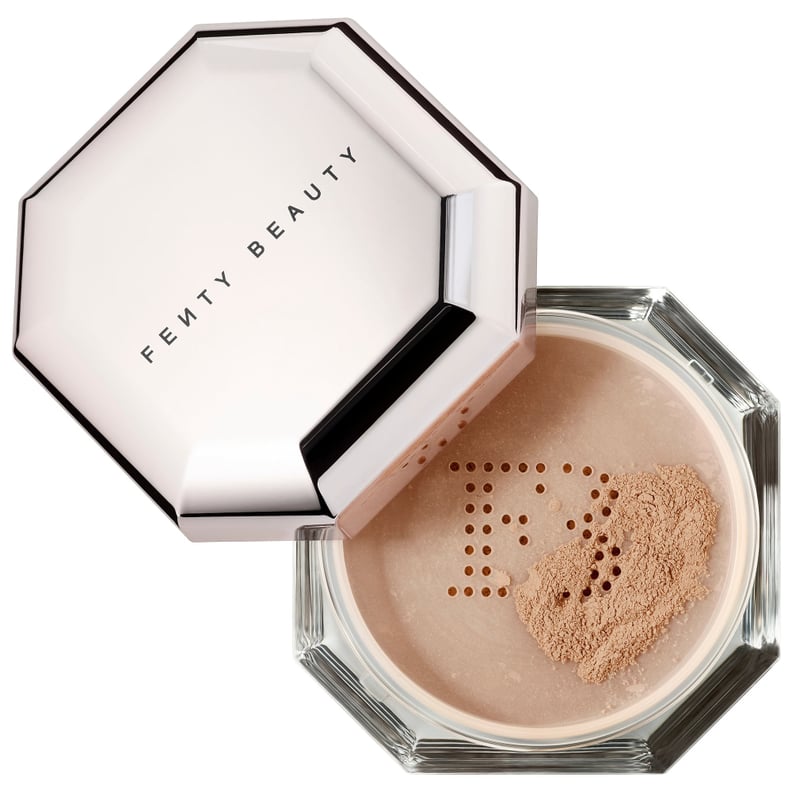 How She Nixes the Jonas Brothers' Shine
"I use a little makeup on the guys to help with shine," she said. "I'll use the Fenty Beauty Pro Filt'r Instant Retouch Setting Powder ($32), it's translucent and really easy. With guys you need to be very quick. Everything needs to blend quickly. You can't fuss. Guys don't want too much fuss. You've got to get in and out."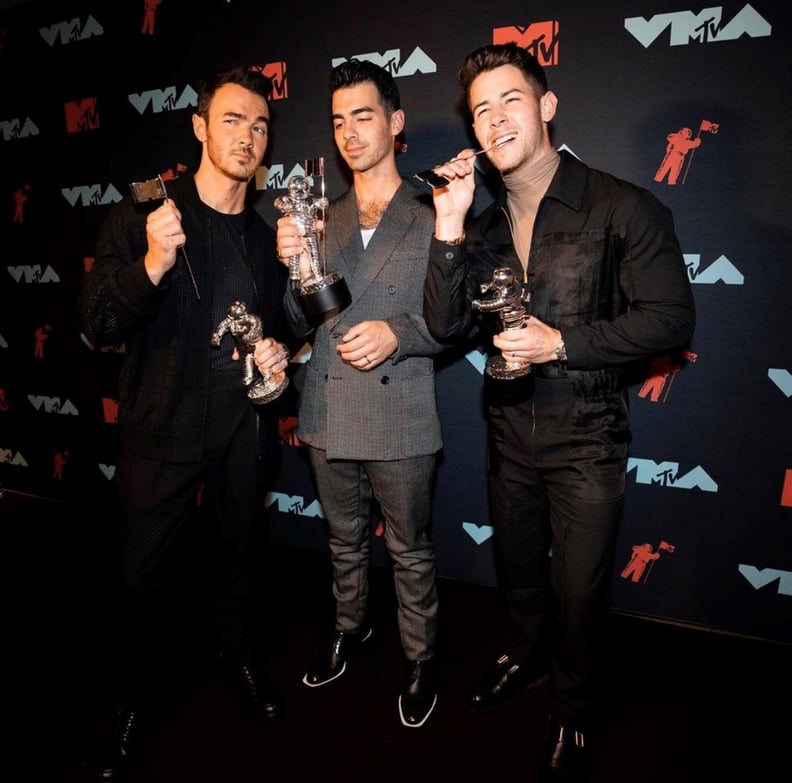 An Average Day For the Jonas Brothers' Groomer
In a word: different. "No day is exactly the same. You might not find out until the night before you're getting on a plane and going to work on a music video," she laughed. (More on that trip in a second.) "One day you may be traveling. Another you may be going to a hotel or to their home to get them ready for an event. It depends. I like to get a little heads up because I like to prepare my kit with my favorite products and essential oils to create that calm space I'm walking into. I got to work with Johnny's Chop Shop for the VMAs and create the looks, but I'm not exclusive with any one brand. That's kind of the beauty of my job. It's never the same day twice, and there's an excitement to that too. You could do literally get a call and find out you're getting on a plane to Singapore the next day. It's a little nutty, but I wouldn't have it any other way."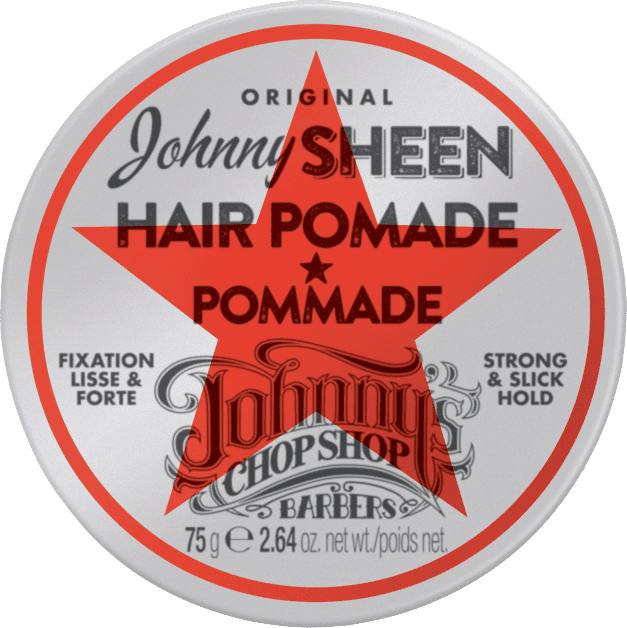 How She Styles the Jonas Brothers' Curly Hair
"For the VMAs, Joe wanted to go a little bit more rock and roll. He likes a little sheen and shine in his hair, so we used the Johnny's Chop Shop Pomade ($10). And Nick is more classic with an edge, he likes an undone look. I like to use the Fiber ($10) on his hair. It also depends on your hair type. He has a little bit of thicker hair. And then Kevin just has a classic vintage pompadour going on right now, so I'll use the Matt Paste ($10) on him."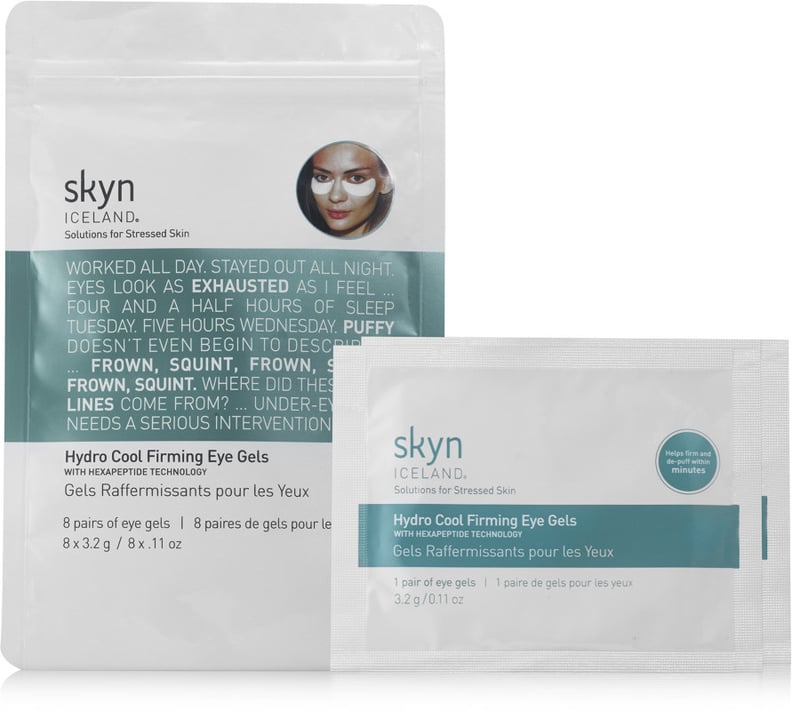 Her Favorite Product For Puffy Undereyes
"Skin care is really important, and I enjoy when guys take pride in their skin," she said. "I use the Skyn Iceland Hydro Cool Firming Eye Gels ($32) under their eyes any time they travel. They are really great about that."
Her Biggest Skincare Essentials
Her Favorite Moment With the Jonas Brothers
"The 'Sucker' video that we shot in London was probably one of the highlights of my professional career," said Komorowski. "It was just one of those jobs where you walk onto set and you know it's going to be something really special. The looks were great. It was a team effort between the guys, their amazing stylist AVO, the director Anthony Mandler, the location. We shot it at the castle where The Favourite was filmed. It was incredible — one of the best projects I've ever worked on."