Jorja Smith Swears by This 1 Curly Hair Brand — Her Hairstylist Shares the Exclusive Details
As POPSUGAR editors, we independently select and write about stuff we love and think you'll like too. If you buy a product we have recommended, we may receive affiliate commission, which in turn supports our work.
Jorja Smith is the next great British vocalist. After her debut album Lost & Found became the top R&B album in the UK, the 22-year-old won the 2019 Brit Award for British female solo artist. Professional accolades aside, we're also in awe of her great style and her ever-evolving beauty looks. While Smith usually rocks box braids or a high ponytail, she recently shared a photo of her natural curls on Instagram — and we've got the exclusive details from her London-based hairstylist, Zateesha, on Smith's curly hair routine and her favorite styling products.
Zateesha got her start at Charlotte Mensah's Hair Lounge on Portobello Road. Then, she assisted at London Fashion Week and for various music videos before making the transition into session hairstyling (hairstylists that work exclusively for runway shows, film, or red carpet events). While Zateesha has other superstar clients, Smith is her main client, and she travels the world with the singer to make sure that her hair is always on point. Zateesha told POPSUGAR that Smith is "lovely and a visionary. She knows what she likes but is also open to trying new things." One of those "new things" are Smith's gorgeous hairstyles that she's always experimenting with on stage, and the red carpet.
"When removing Jorja's ponytail, I always follow with a head massage using a rosemary growth essence because rosemary is known for hair retention properties."
Lately, Smith's favorite hairstyle has been a polished high ponytail because "it really shows off her bone structure," said Zateesha. "Before we met, she had shaved her head so my aim has been to encourage her hair growth. Our journey started with cane rows/braids and has evolved into long flowing curls. It's a collaborative process for us." Central to Smith's hair journey has been nurturing her hair and scalp, wearing her natural curls as often as possible, and using her favorite range of curly hair products: Holy Curls.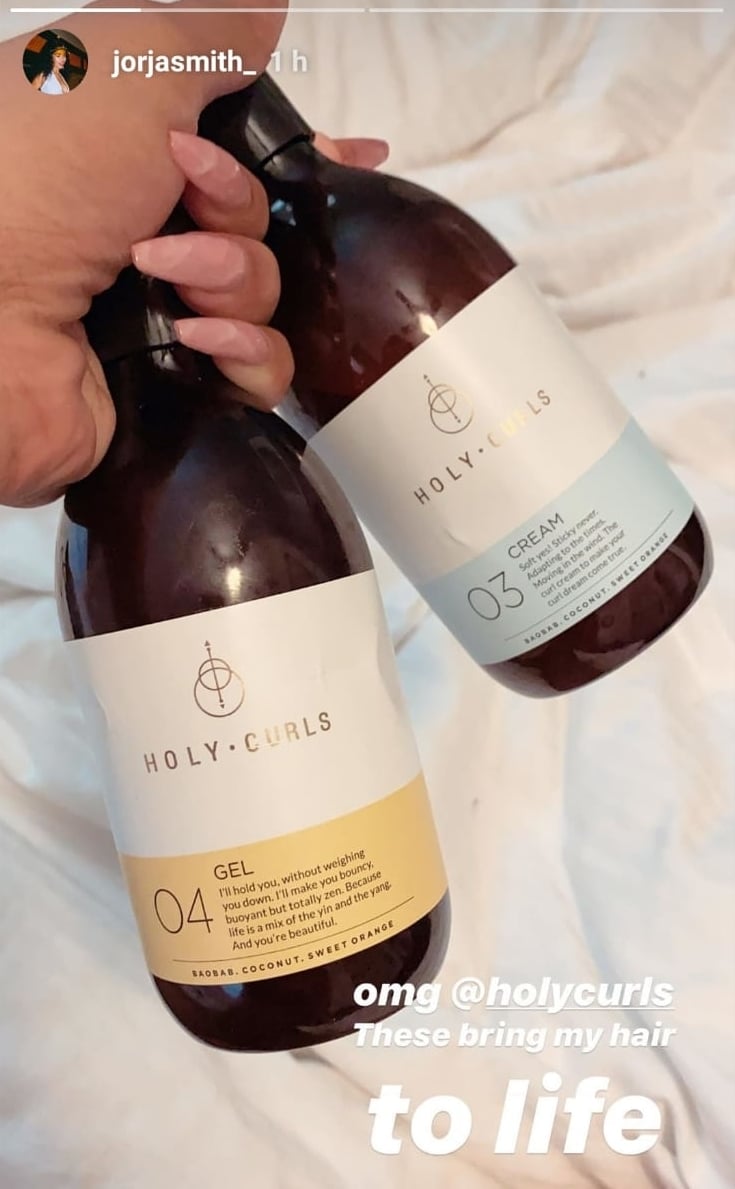 Smith started using Holy Curls Curl Cream ($23) and Curl Gel ($23) after being recommended the brand by Zateesha, who loves that "it's nontoxic, cruelty free, and works amazingly without the heavy build." Since Zateesha first tried Holy Curls on Smith, "she hasn't used anything else. Jorja loves the feel of her hair with the Holy Curls styling creme and gel from the first day until wash day." All of Holy Curls styling products are vegan and sulphate free, and made with baobab and coconut oil. Shea butter and yucca extract is added to the Curl Cream, and aloe vera leaf juice is in the Curl Gel. The products have a mild, aromatic scent that's a blend of sweet orange, lime, bergamot, grapefruit, lemon, mandarin orange, and ginger oils.
When Smith isn't rocking her natural curls, her more intricate hairstyles can put pressure on her hair and scalp. That's why Zateesha always uses a head massage after taking out Smith's hairstyles. "When removing Jorja's ponytail, I always follow with a head massage using a rosemary growth essence because rosemary is known for hair retention properties. I also use the minimum amount of heat when styling. And when Jorja is having a day off, I advocate for her to wear her natural hair free." As for protecting Smith's delicate afro hair in the chilly months, Zateesha recommended that "braids are a go-to because they're still effortless, beautiful, and versatile. There is minimal tension and no heat. With braids it's important to go to a specialist to avoid traction alopecia."
If you're interested in trying Smith's favorite styling products for afro, curly, and multitextured hair, keep reading.