Image Source: Josie Maran
Josie Maran Pro-Retinol Serum For Sensitive Skin Review
My Sensitive Skin Could Never Handle Retinol, but Then I Tried Josie Maran's New Pro-Retinol Serum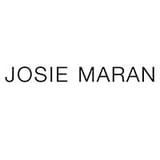 Ready to reinvent your retinol routine? We've partnered with
Josie Maran
to share how this new pro-retinol serum changes everything we knew about the trendy ingredient.
My therapist once told me that when someone shows me who they are, I should believe them. Of course, I was adamant to prove her wrong, and I did — sort of. Except the someone is a something, and its name is retinol.

Like a fly to a lamp, I'm naturally drawn to trendy ingredients that are sold as the do-it-all saviors. A few years ago, retinol quickly became famous as exactly that: it can heal acne scars, prevent breakouts, smooth out smile lines and tiny wrinkles on the forehead, and make skin as plump and healthy as it would be on a prepubescent angel. Unfortunately, most traditional retinol formulas are simply too fussy for my skin to use. Turns out, that can be the case for a lot of people with sensitive skin.
As a beauty editor, I've spent years exploring every kind of retinol gel, serum, and oil out there. Still, after countless trials and errors, the ingredient is still public enemy number one thanks to its negative side effects. New York dermatologist Matthew Lin, MD, FAAD, said that, unfortunately, retinol has a bad rap for a reason: its track record of irritation. Lin said that some people who have experienced irritation from retinol often look for alternatives to the ingredient that may be better tolerated. So, that's what I did, except in the process of searching, I found something even better: the Josie Maran Argan Beta-Retinoid Pink Algae Serum.
I Got 99 Problems, But Irritation Isn't One
I was nervous about trying Josie Maran's take on the ingredient I'd spent years fighting so hard to love. But unlike every other bottle of retinol I'd tried before, Maran's pro-retinol serum is a natural derivative of vitamin A, which has been proven to improve cell turnover. The Argan Beta-Retinoid Pink Algae Serum does all of that, just without the irritation. Think: retinol without all the emotional baggage.

The first time I tried the serum, I noticed it was pink, like, an abnormally bright orange-pink. The vibrant pigment holds the secret sauce to the power of this product: beta-carotene. Beta-carotene is a type of carotenoid that gives plants, vegetables, and in this case, aquatic organisms like algae, their bright colors. For years, studies have shown that when you ingest beta-carotene, your body is able to convert the carotenoid into vitamin A, which can strengthen your immune system and vision.
Eventually, people wondered what might happen if you apply the ingredient topically. Turns out, if you do, it'll mimic the effects popularly associated with retinol, like visibly smoothing and firming skin. But what sets the vitamin A-rich beta-carotene in Josie Maran's new serum apart from all the rest is that it's naturally derived from pink algae, hence the supervibrant pink color, and delivers the smoothing benefits of a traditional retinol in a cleaner way. It's also vegan, cruelty-free, and free of all the nasty stuff, like GMOs, petrochemicals, phthalates, parabens, synthetic dyes, and fragrances, making the naturally sourced ingredient unprecedented.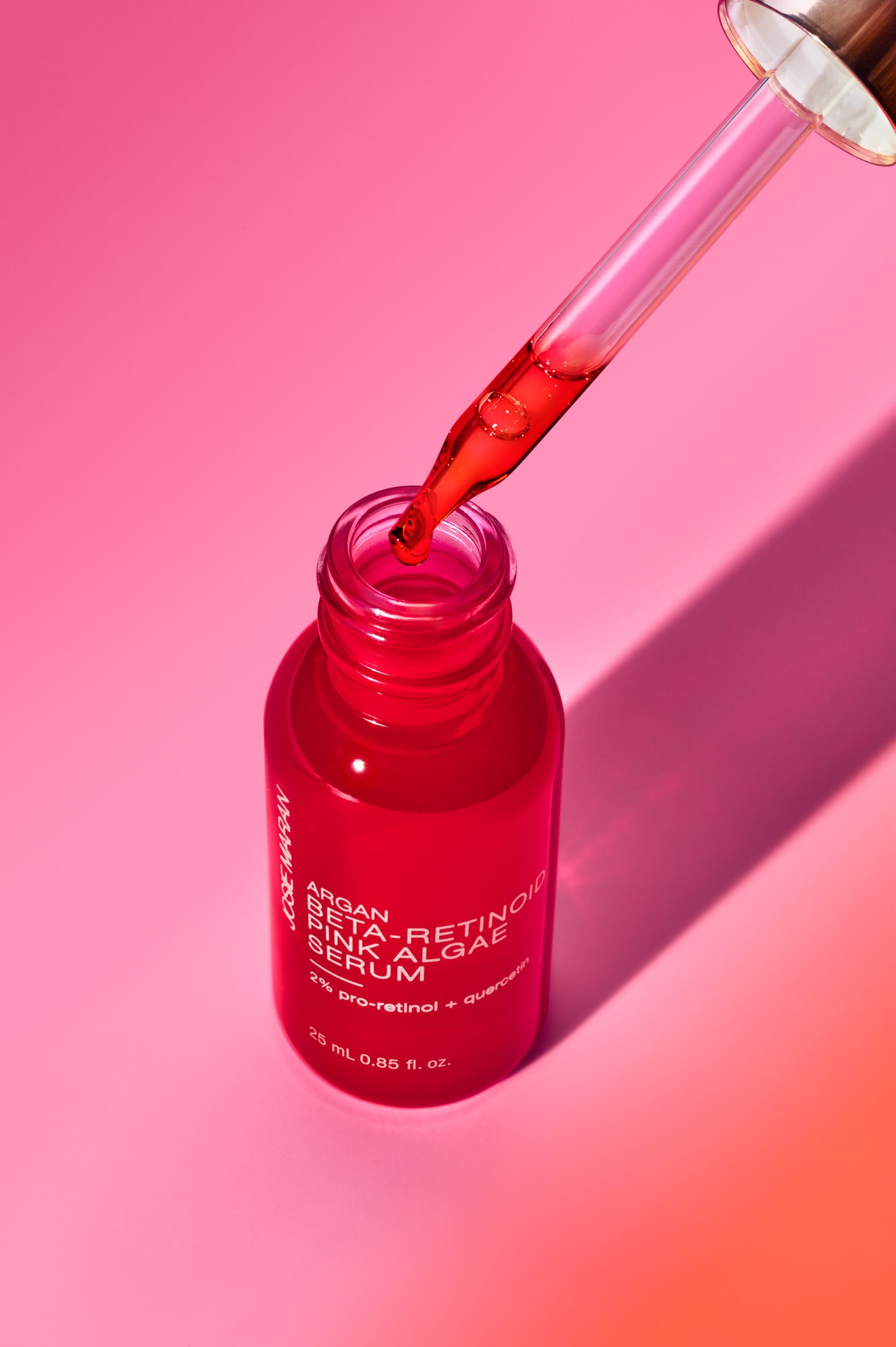 Image Source: Josie Maran
Dry Patches Today, Glowing Skin Tomorrow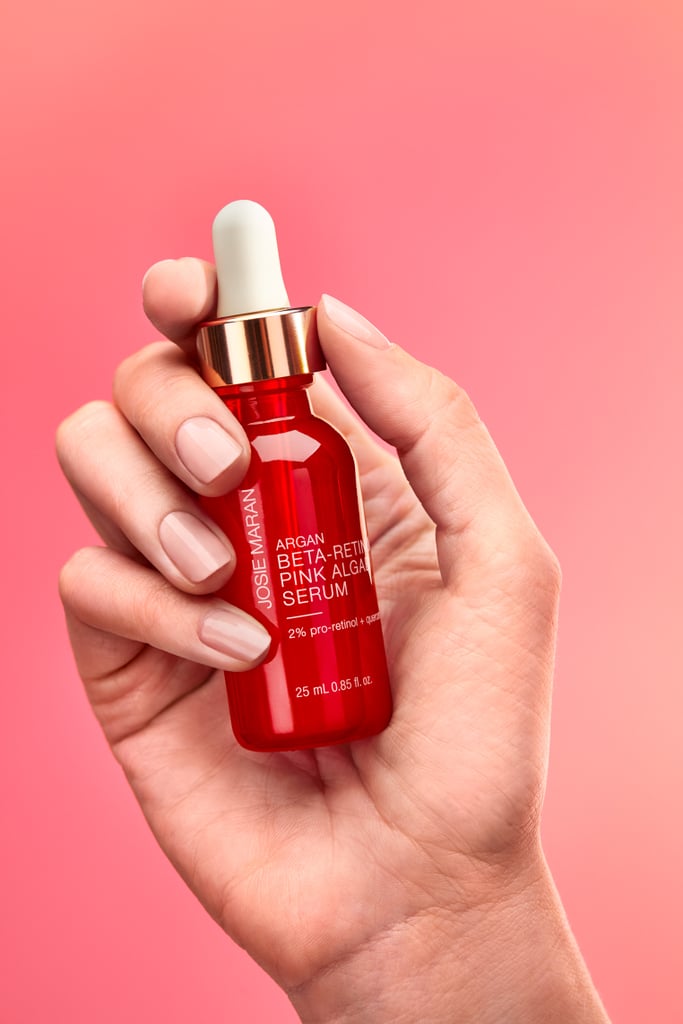 Image Source: Josie Maran
I'm happy to age gracefully, and as a 20-something living in New York, I'll never turn down a product that is able to prevent crepey skin or the nauseating damage pollution inevitably will cause to my complexion. While I love the fact that this pro-retinol does everything a traditional retinol should do without irritating my skin, I love it even more for its other secret ingredient: argan oil.

For over a decade now, I've loved what argan oil, specifically Josie Maran's famous amber bottle, has done for my skin. On even my worst dehydrated days, a couple drops of the organic stuff can reverse neglect. Luckily, that same trusted ingredient is inside the Argan Beta-Retinoid Pink Algae Serum. As a natural source of quercetin, the argan oil functions like an antioxidant to fight free radicals and reduce the appearance of inflammation fast. In other words, the argan oil is the restorative bandage that helps beta-carotene work harder and faster to repair the look of depleted skin without causing any fuss.
I don't think I took one full deep breath the first week of using the serum out of fear that I'd wake up the next day covered in itchy and flaking dry patches, but happily, that never happened. Smoothing the oil-like serum onto my cheeks, forehead, and chin every night before bed felt like a real luxury, especially after waking up in the morning to glowing skin. Bonus: since this contains vitamin A from beta-carotene and not a traditional retinol, you can wear this serum during the day without the anxiety of sun damage (although you should still wear sunscreen.)
So, I guess my therapist was wrong — or perhaps she was right, depending on how you look at it. All I know is, my skin just made a new friend, and her name is pro-retinol.
Shop Josie Maran's New Pro-Retinol Serum