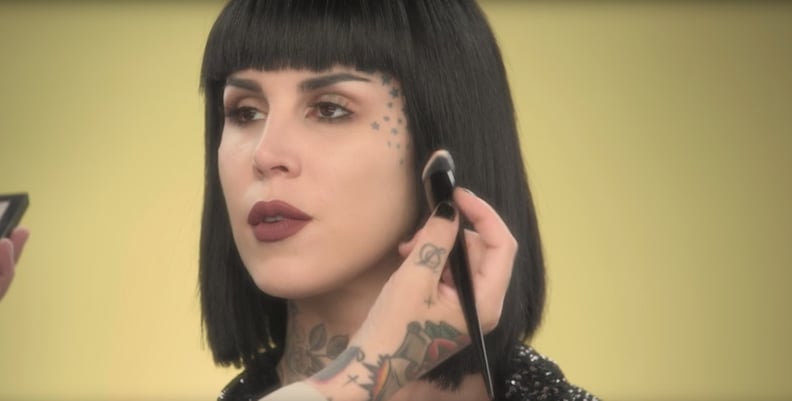 If you're like us, you probably have zero chill when it comes to makeup products. Sometimes we stress out over our contour. And if you're a powder-lover, the idea of switching to cream contouring may seem slightly traitorous (not to mention difficult!).
Luckily, Kat Von D's new tutorial for her popular Shade + Light Crème Contour Palette($49), makes it look not only easy, but also relaxing. Seriously, if you're stressed, this video is even better than those kinetic sand ones. Ahead, find the video's best tips, step by step.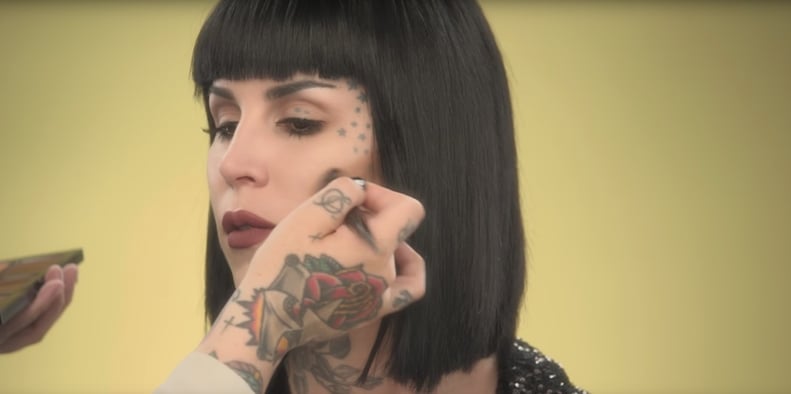 Leah Carmichael, a makeup artist with Kat Von D's Beauty Artistry Collective, first prepped Kat's Face with just "slick foundation" and reminded us that we should never use cream over any powder product. She started the contour's point of intensity back toward the ear, using the (vegan!) Edge Crème Contour Brush #5 ($32). This brush has a "domed tip" that hugs the cheekbone for "natural blendability." After placing the cream down and pushing it forward, she blended "upwards into the skin." Carmichael then softened the edges with a Beautyblender ($20).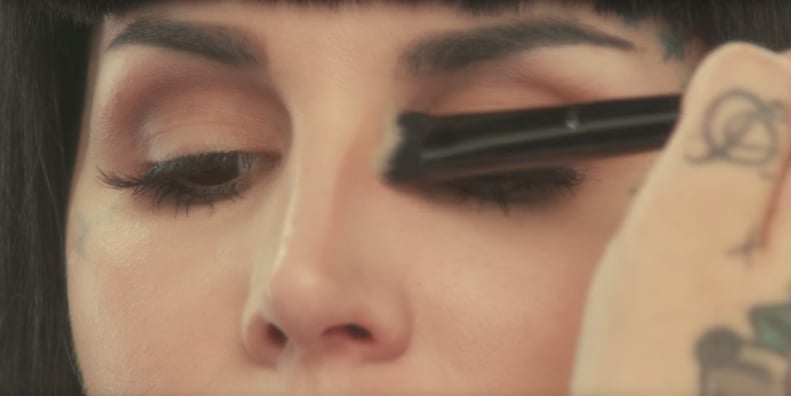 Carmichael used the Lock-It Concealer Brush #40 ($24), which is affectionately dubbed the "Kitten Paw." She stressed the importance of using a clean brush so you don't add more product to the face, since precision is key here. She created a skinny line and blended out in what appeared to be a total of about eight seconds — so easy!
Carmichael finished with the jawline, but again, she didn't go crazy: "Not too much, because there's nothing weirder than seeing a dark stripe," she said. Again, the point of intensity is at the back of the neck, toward the ears, just in case you need to blend it out forwards.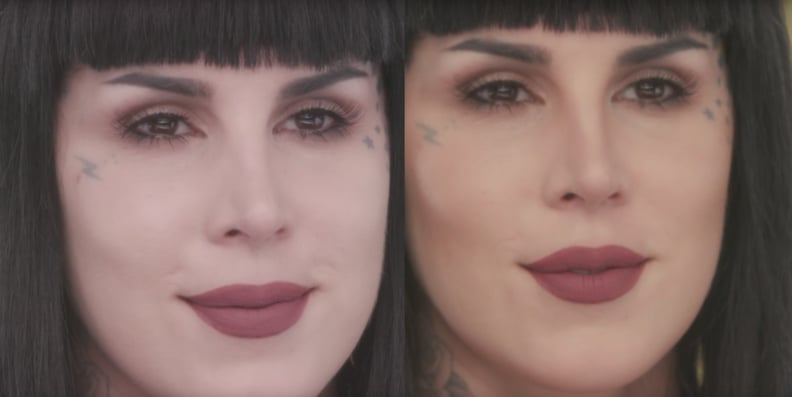 This beautiful transition took under four minutes! If you bookmark this video to watch the next time you're feeling stressed (or are in need of sculpted cheeks), you probably won't be alone.
NEW! SHADE+LIGHT CRÈME CONTOUR PALETTE - Kat Von D