POPSUGAR Photography | Kathryna Hancock
POPSUGAR Photography | Kathryna Hancock
About two years ago, the color-correcting technique took over the makeup world — and now in 2017, it's making its way into hair care. (To recap, color-correcting is using a shade on the opposite end of the color wheel to counteract a problem. For example, you could dab green concealer on a pimple to take down the redness.) Kérastase is leading the charge in bringing this theory to hair care with its just-launched Reflection Chromatique line, which helps to keep your hair color the hue you intended. The range includes two shampoos, a conditioner, a mask, and four star mixing kits that can help you maintain your hair hue at home using the color-correcting technique.
"This line is the ultimate in color-correcting and helping with the overall condition of color-treated hair," said Matt Fugate, Kérastase celebrity hairstylist. "This collection is great because it makes hair more luminous and reflective and it also battles tonal loss (fading) by giving you a booster that you can use at home to maintain beautiful color."
Let's break down how the color-correcting component works on hair. There are four Touche Chromatique pens to choose from depending on your hair hue. The Touche Chromatique Cool Blond is a purple pen that neutralizes and prevents unwanted yellow undertones if you're blond. Try the Cool Brown kit (which is a green pen) if you are a rich, dark brunette and want to avoid any brassiness. Rely on the Cool Copper set that features a copper shade to keep your hair in that amber hue. Finally, the Cool Red is for true redheads, and like Copper, it uses the same shade to keep the cherry hue bright.
"You use the pens for two real purposes," Fugate said. "First, to fight against the wrong pigment getting into the hair, like when a blond starts to get brassy or even when brown color gets dingy or when hard water starts to deposit into the hair. The cool tones in the Touche Chromatique paired with the Masque Chromatique help keep your blonds a bright blond or the browns neutral. On the other hand, you can use the collection to compensate for color fading over time out of higher vibrancy colors. Shades like reds and copper tones are ones that you want to stay fiery. For most girls with red tones, they can tend to fade fast especially if they are over prelightened strands. You can combat the red fading out at home now and prolong your reds between color appointments."
There's also a fun DIY element when it comes to using this product. Each of the Touche Chromatique Kits comes with the Touche Chromatique pen (this is the color-correcting tool), the Masque Chromatique, a mixing bowl, and a spatula. Preshower, you'd DIY a hair mask to help preserve your color. To do this, fill the bowl with the mask up to the dosage line, add 10 clicks from the pen, mix it up with the spatula, and apply the mask after you use the shampoo. Leave it in for five minutes before rinsing. You only need to do this at-home treatment once a week, starting three weeks after you get your hair dyed. It should last you until the final week of your hair-coloring cycle.
The shampoos are also not to be overlooked: the Reflection Bain Chromatique (sulfate-free) and Reflection Bain Chromatique Riche. "There are two shampoos in the collection, which is cool because you can choose which is best for you," Fugate explained. "One is sulfate-free, which adds to the peace of mind for color-minded girls or those looking for sulfate-free products. The other is a more conditioning formula for those that have color-treated hair that is a little more sensitized."
The system also incorporates rock-star ingredients like a patent Chelators Complex, which has sodium citrate, as well as yuzu and lychee extract. This combination helps to neutralize water particles and protect the hair surface. There's also nourishing rice bran oil, UV filters, vitamin E, and zinc gluconate (an ionic compound that helps to keep color stable).
It sounds like a bit of hair jargon, so Fugate breaks down what this looks like on your strands. "I keep saying it, but after using this collection, the shine is just unmatched," he noted. "The ingredients in each formula help to nourish and protect the hair, but also create this antideposit on the actual fiber and protects against oxidative aggressors, which causes our color to fade."
Finally, like the rest of its French sister products, it smells wonderful. The Reflection Chromatique lineup combines fresh lemony top notes with wooden, musky base notes and a floral heart of rose, cyclamen, and lily of the valley.
Keep reading to shop this Kérastase collection!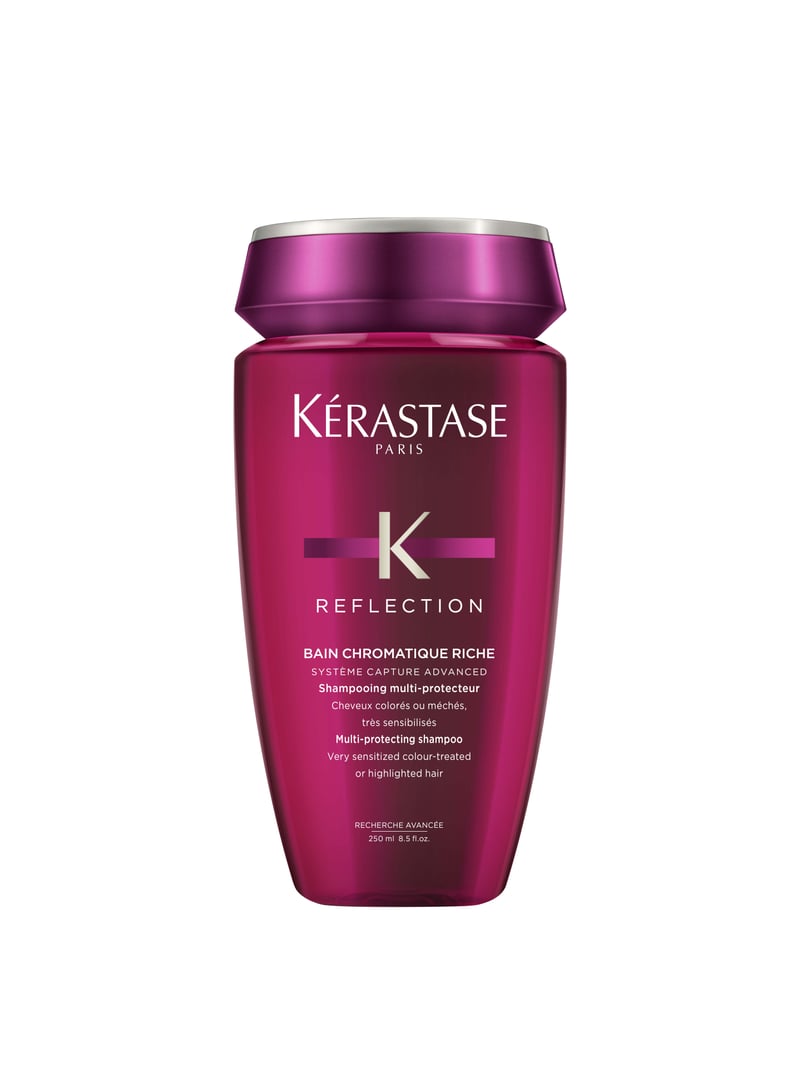 Kérastase Reflection Bain Chromatique Riche Shampoo
Kérastase Reflection Bain Chromatique Sulfate-Free Shampoo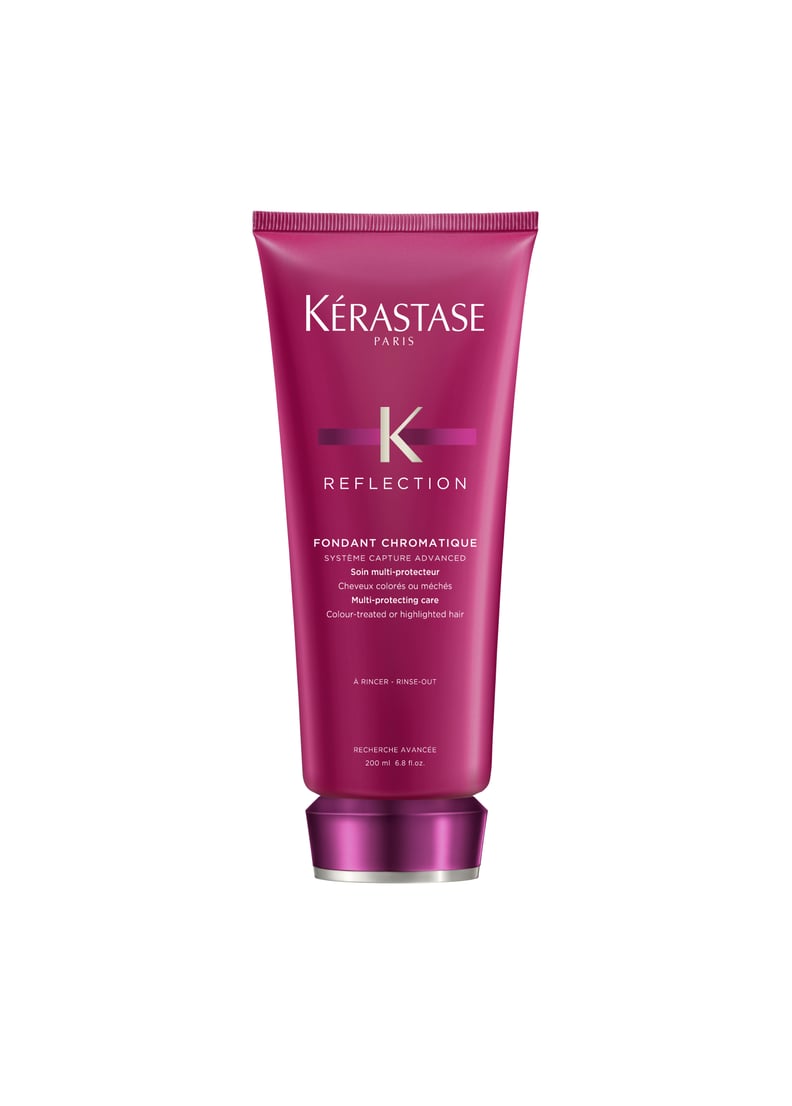 Kérastase Reflection Fondant Chromatique Conditioner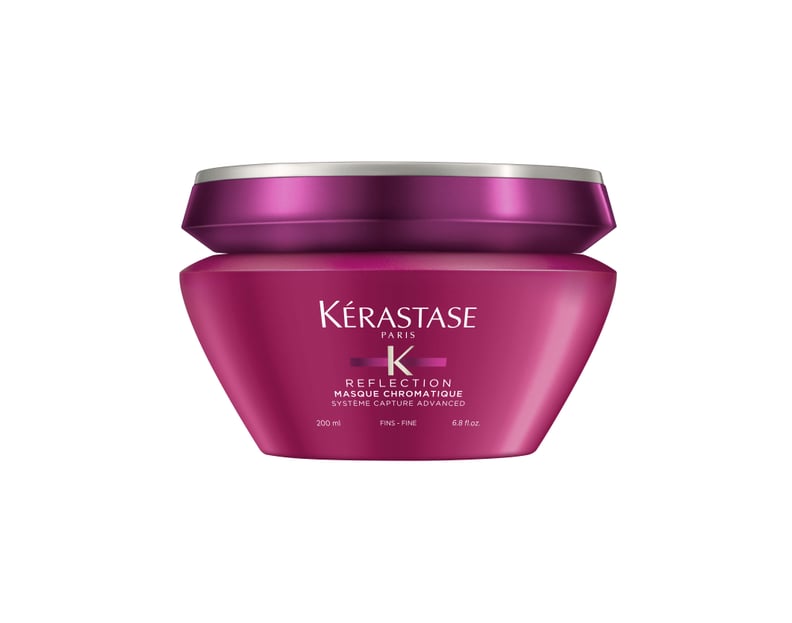 Kérastase Reflection Masque Chromatique Riche
Kérastase Reflection Chromatique Cool Blonde Kit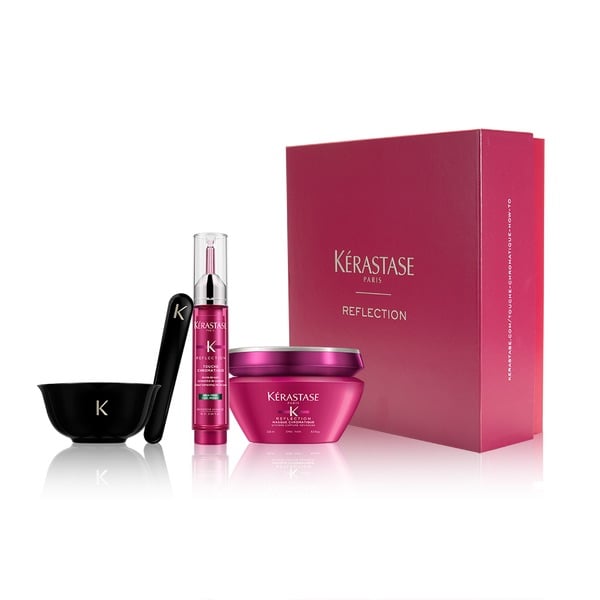 Kérastase Reflection Chromatique Cool Brown Kit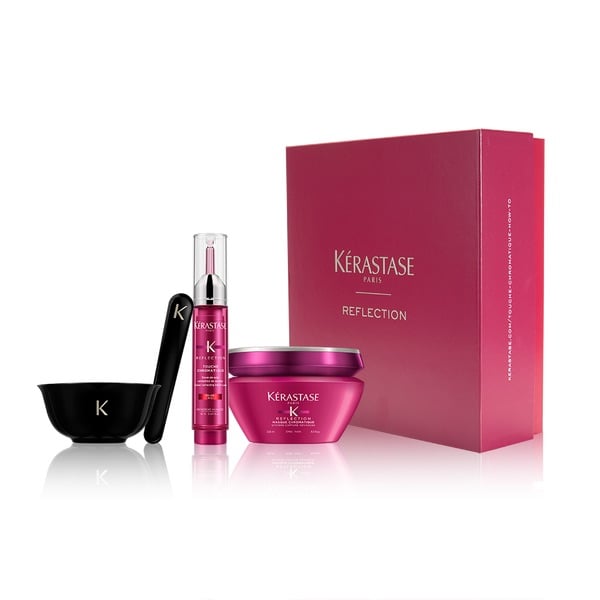 Kérastase Reflection Chromatique Cool Red Kit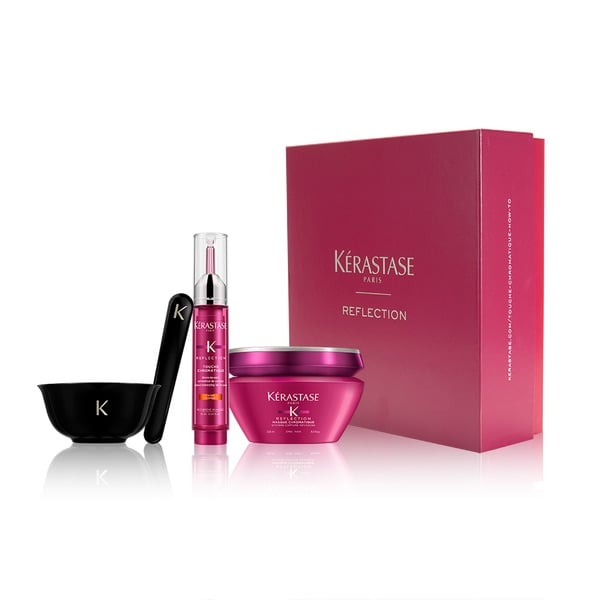 Kérastase Reflection Chromatique Cool Copper Kit

Kérastase Reflection Touche Chromatique Pens