KVD Beauty Good Apple Serum Foundation Review With Photos
I Tried the New KVD Beauty Good Apple Foundation, and It's Better Than the Original
As POPSUGAR editors, we independently select and write about stuff we love and think you'll like too. If you buy a product we have recommended, we may receive affiliate commission, which in turn supports our work.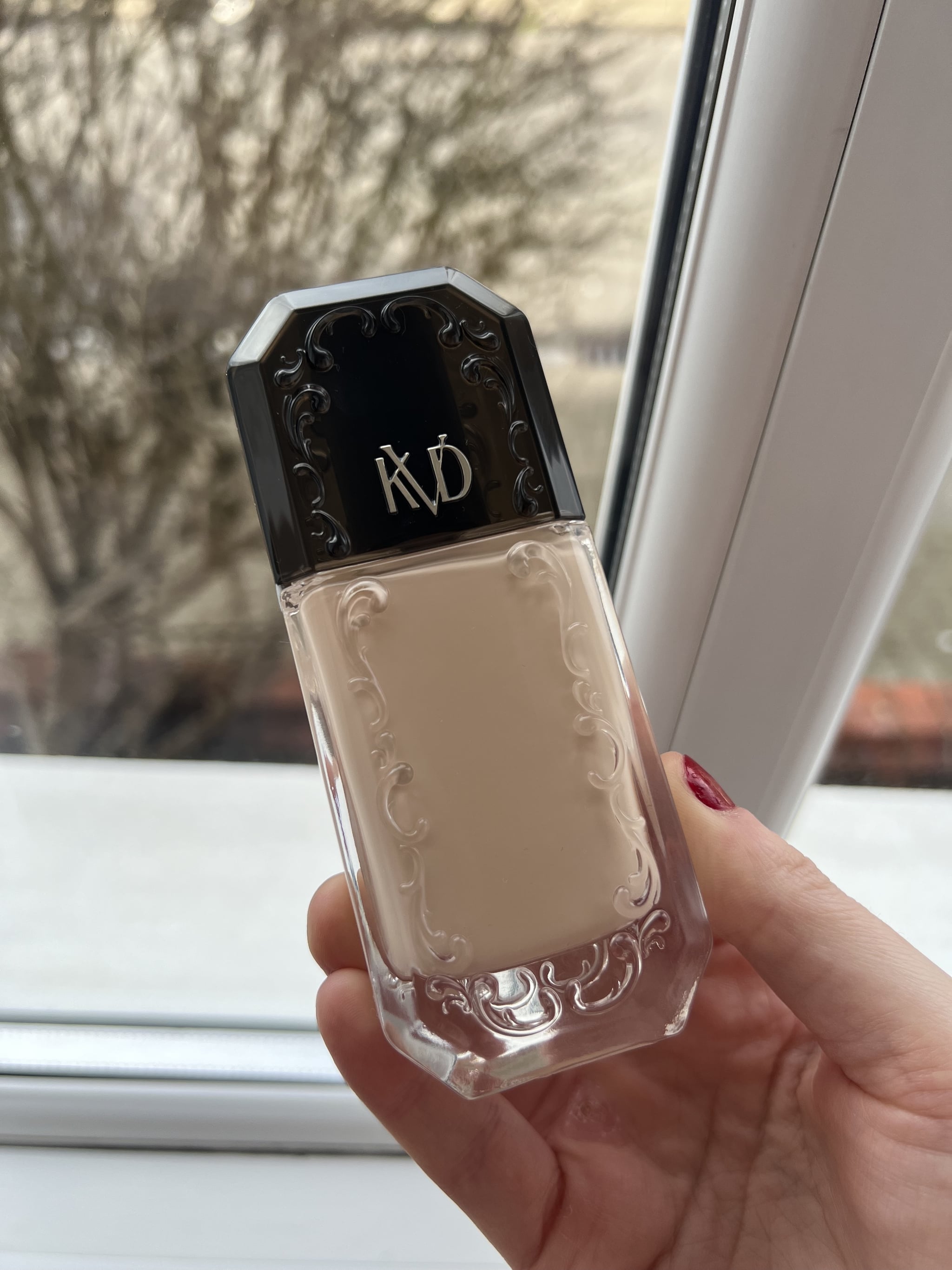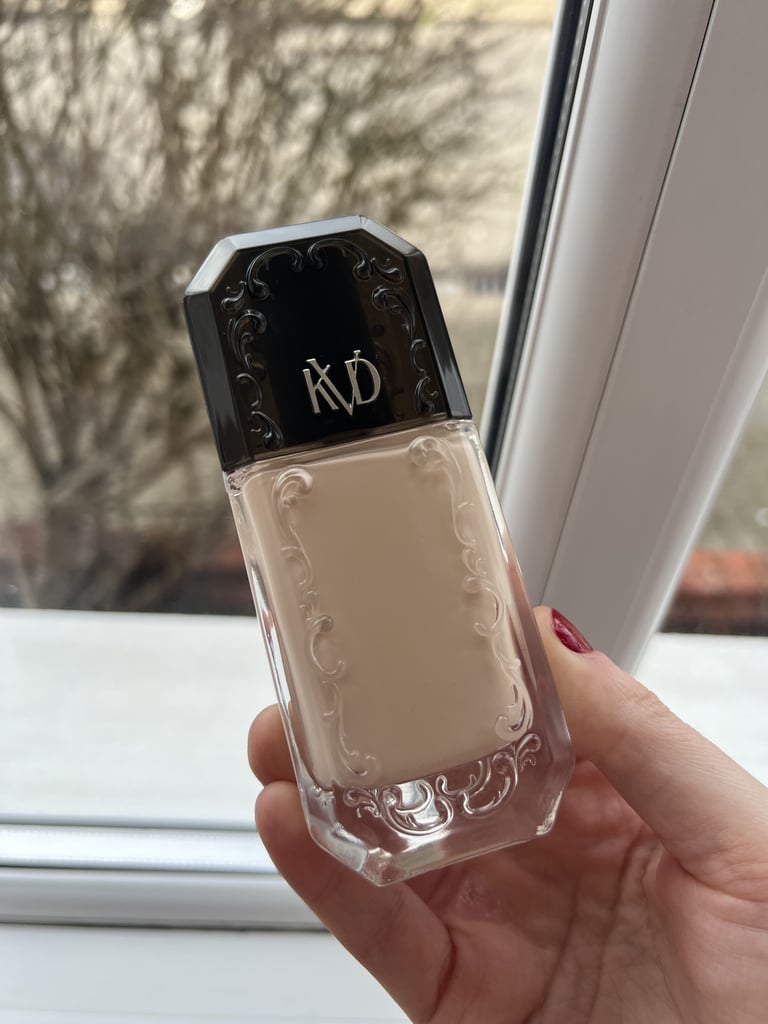 This isn't my first encounter with KVD Beauty — many of the brand's cult classics saw me through my teenage years. Throwback to 2009, you wouldn't catch me leaving the house without a thick layer of the Shade + Light Refillable Face Contour Palette and a dramatic cat eye courtesy of the KVD Beauty Tattoo Liner (in Trooper Black, obviously). So, when KVD Beauty launched the Good Apple Serum Foundation ($42) in February, promising beauty fans to deliver natural-looking full coverage, I had to see if it lived up to the hype.
If you're a regular peruser of the makeup side of TikTok, you'll probably remember when the KVD Beauty Good Apple Foundation Balm was all over your For You page last year. The hashtag #GoodAppleFoundation now boasts over 199.6 million views on the app, so it's no surprise the brand has extended the range to include a primer, a concealer, and now, a serum foundation.
Read on to find out if the foundation lived up to my expectations.
About the KVD Beauty Good Apple Serum Foundation
It uses antioxidant-rich apple extract and quince leaf, said to nourish skin and minimize shine.
The buildable serum formula includes ultraconcentrated elastomer pigments to blend with skin and create a flawless finish, recommended for combination or oily skin.
KVD Beauty claims a "high-performance wear that stands up to sweat and humidity."
It's vegan and cruelty-free, and the glass bottle is recyclable (although the pump and lip are not recyclable).
KVD Beauty Good Apple Balm Foundation vs. KVD Beauty Good Apple Serum Foundation
One's a balm and one's a serum — obvious, right? And while everyone has a preference on the formulas they gravitate toward, these two have another major difference: the skin type they are suitable for. If you experience acne or breakouts, they're both good options as they are noncomedogenic, which means they are less likely to clog pores and cause breakouts.
While the original foundation balm is recommended for balanced to dry skin, the new serum formula is said to be better for combination or oily skin. The aforementioned elastomer pigments are intended to give more of a matte effect, removing the need to set the foundation with powder, even if your skin is slightly on the oilier side.
What I Like About the KVD Beauty Good Apple Serum Foundation
After being on Accutane, my skin can get very dry, so I usually go for a base product that's lighter than foundation, like a tinted moisturizer. I was intrigued to see if my love of KVD Beauty would transcend into its new serum foundation.
After preparing my skin with the KVD Beauty Lock-It Pore Refining Primer ($34) to create an even base, I dabbed a small amount of the KVD Beauty Good Apple Lightweight Full-Coverage Concealer ($30) in the shade Light 105 on my blemishes and undereyes. The concealer is one of my must haves thanks to the applicator shape, which easily reaches the inner corners of my eyes and nose.
For the main act, I put two small pumps of the Good Apple Full-Coverage Serum Foundation onto the back of my hand. There are 40 shades in the collection, and I used the second lightest: Light 004. I wanted a sheerer finish, so celebrity makeup artist and KVD Beauty global ambassador Anthony Nguyen suggested I use a makeup sponge to apply it, as a denser brush will give more coverage.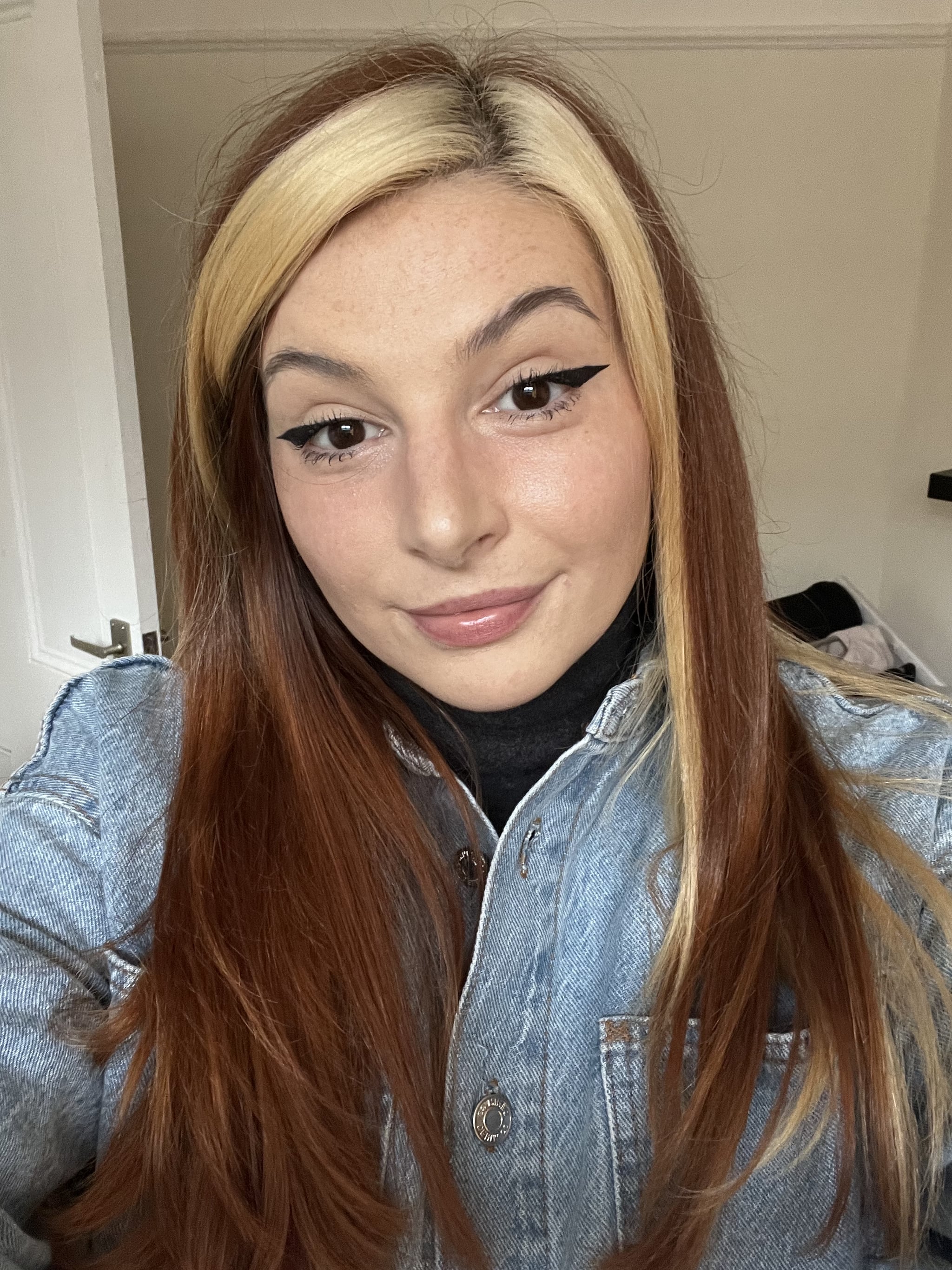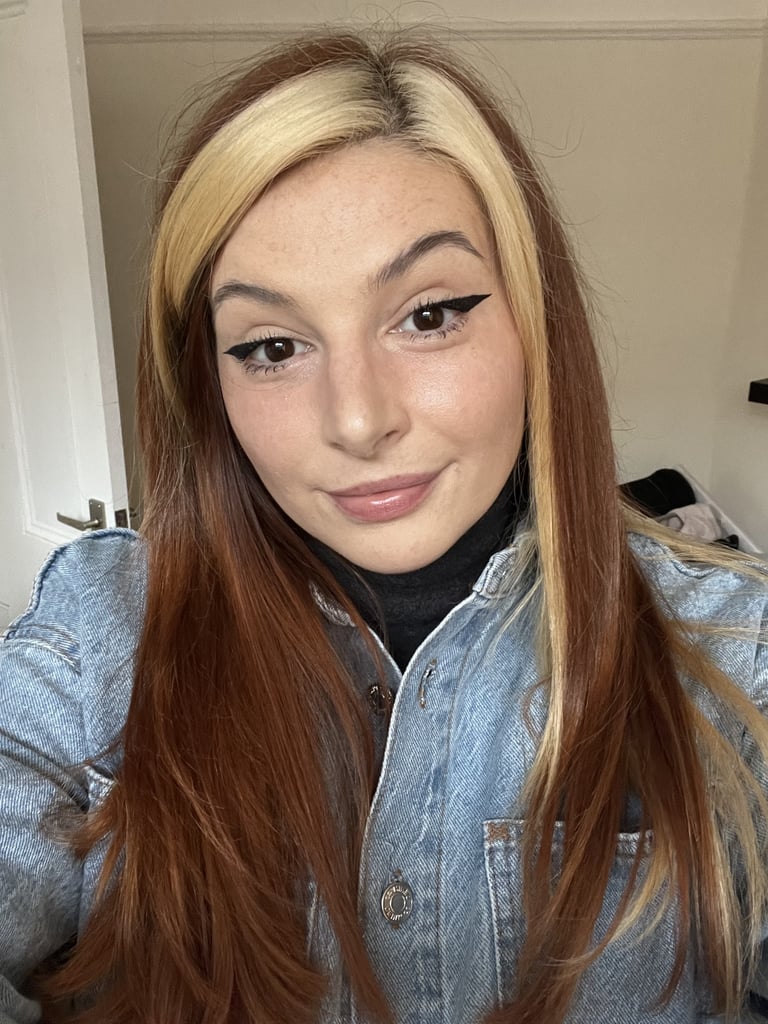 I immediately noticed how nicely the foundation blended into my skin, but a little goes a long way — I could have used just one pump. As advised by Nguyen, I went back over a few blemishes with a second layer to build up coverage in those areas, as it's much easier to apply more than take some away.
One thing that really stood out to me was the texture. It felt like I was applying a normal moisturizer compared to other full-coverage products that are a bit thicker. And, as it promises, I didn't need to set it with anything. In general, I try to avoid using powder products but am always skeptical when something claims to be transfer-proof and long-lasting. However, after a full day of running around London with the foundation on, I can confirm both of these statements are true. The ultimate test came when I went to a Caroline Polachek concert in the evening, and while I didn't "cry on the dance floor," I definitely looked hot enough to hurt someone's feelings.
What to Consider Before Trying the KVD Beauty Good Apple Serum Foundation
I'm still a skin-tint girl at heart, but I'm definitely going to keep this foundation in my makeup bag for those days when I need some extra coverage or want something that's going to last all day and night. I loved the way I could tailor the coverage based on the look I wanted to achieve by building it up. When I applied more product, I noticed that it covered my natural freckles, so I'd play around with using more or less in certain areas to ensure they're still visible, because I love them.
Where Is the KVD Beauty Good Apple Serum Foundation Available to Buy?
You can purchase the KVD Beauty Good Apple Serum Foundation directly from KVDVeganBeauty.com, Sephora, and Ulta Beauty.
Rating:

Image Source: POPSUGAR Photography / Chloe Dunn