As POPSUGAR editors, we independently select and write about stuff we love and think you'll like too. If you buy a product we have recommended, we may receive affiliate commission, which in turn supports our work.
Lady Gaga thinks you should know: you don't have to recreate her beauty looks. The intention behind Haus Laboratories, in fact, is for you to "use these products as tools for self-expression," said Sarah Tanno, the star's longtime makeup artist. "There are no rules — just enjoy the process."
Still, any Lady Gaga fan worth their weight in Monster merch knows the woman is a beacon of makeup inspiration — the kind that could shape an entire persona — and who are we to deprive you of your creative outlet? I know I'd personally give my left leg for her Met Gala lashes (and frankly, I know I'm not alone), which is why we're serving up the next best thing: a step-by-step tutorial to two (of 1.2 million) iconic looks.
"She always used to say that for her, it was watching her mother put on her lipstick and be brave for the day that made her love makeup," said Tanno. "I see that come full circle in Gaga's life, where maybe she's not feeling her best but we put on her face and she goes out there and she does it — no matter what it is. It's like her armor."
"The tips and tricks are built into this makeup; it's not the product that makes it crazy, it's about what you do with the product and how the product works."
To recreate these two in particular, we used a handful of the new Haus products (which are now available on Amazon) and a mix of other brands, too. "[The response] has been all over the place," she said. "Some people expected it to be super crazy, but the truth of it honestly is we have very sophisticated taste in makeup. The tips and tricks are built into this makeup; it's not what the product is that makes it crazy, it's about what you do with the product and how the product works."
Coming right up: proof of Tanno's makeup magic that'll leave you all Gaga, ooh la la.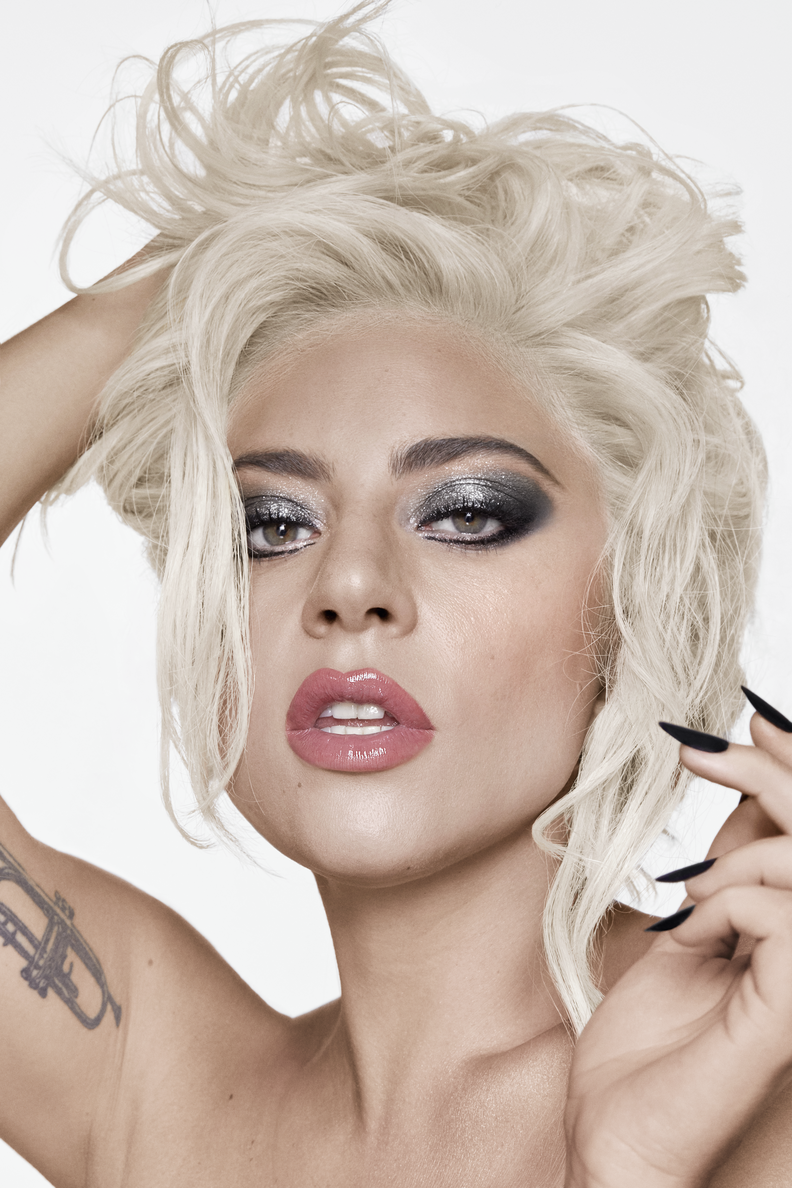 Lady Gaga's Metalhead Makeup Tutorial: Wearable Version
Tanno describes Lady Gaga's signature "metalhead" makeup look perfectly: "sexy, smoky, but still sharp and graphic in a way." Watch how we recreated it ahead.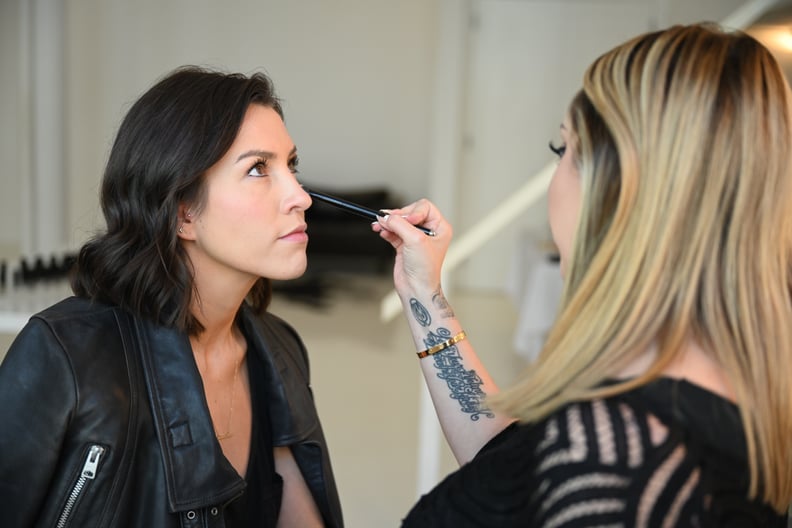 Step 1: Base & Brows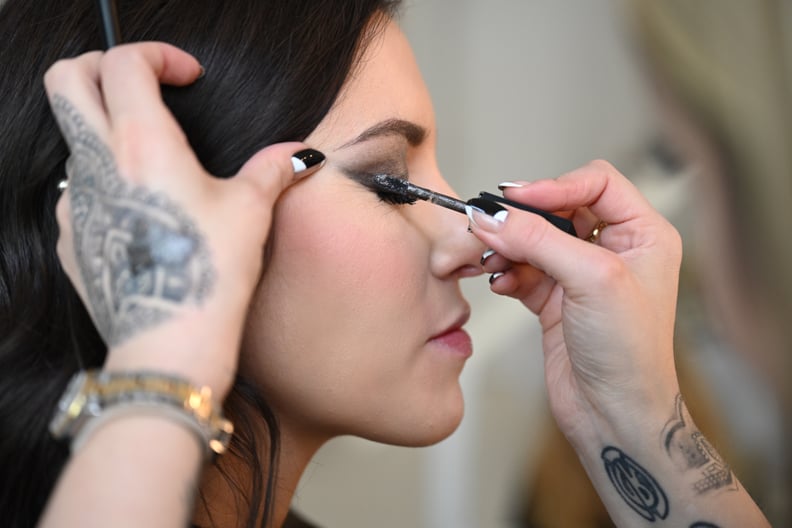 Step 2: Eyes
The key in recreating Lady Gaga's "metalhead" look is in the Haus Laboratories Glam Attack Liquid Shimmer Powder in Biker ($20 for one; $36 for the duo). "You want to make sure you shake it before you use it because it's full of pigment and pearl," said Tanno. "For her, this felt like something you can take from the groupie to the rockstar — all in the way you build the makeup."
She applied the smoky color straight from the tube, which slipped across my lids like melted charcoal. "The doe-foot applicator makes it easy to use, and the formula itself goes on like a liquid but dries like a powder," Tanno said.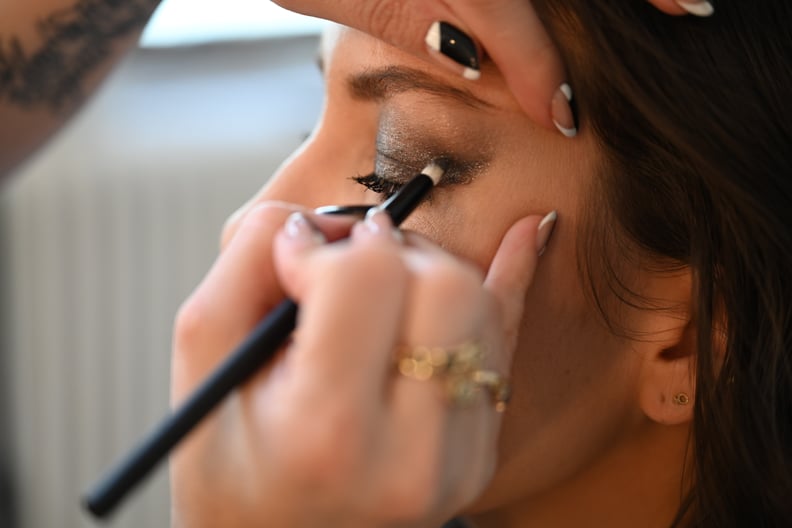 My favorite thing about the eye shadow is that you can blend it out with your fingers or with a makeup brush; one for a smudgier effect, the other to create more precise lines (Tanno did both). "It dries in about 15 seconds — that was the perfect amount of time for me, because you want the freedom to play around before it dries, but you also don't want it to move once it sets," she said. Even better: "The more you spread the pearl, the shinier it gets, which is really cool."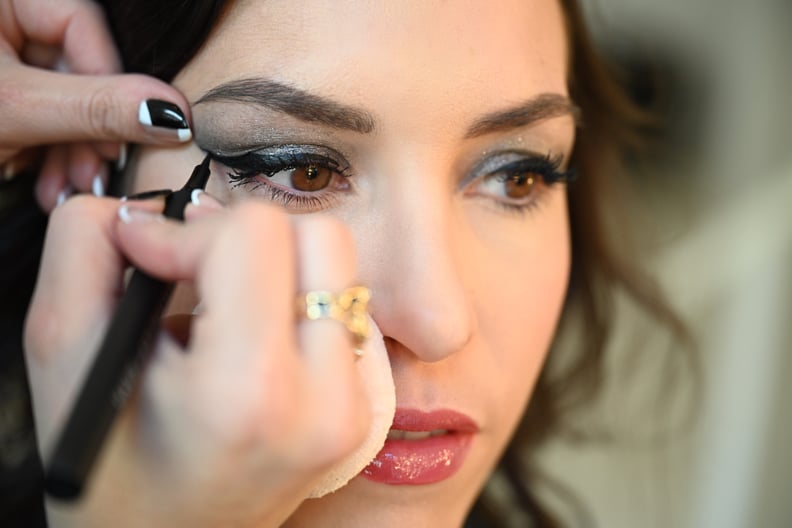 Where the eye shadow leaves behind a pearly, near-wet effect, the brand's new Liquid Eye-Lie-Ner in Punk ($20) is the opposite — it goes on completely matte. This was intentional, Tanno said, mostly because Gaga finds matte formulas stay on longer (and she would know).
Like a big exclamation mark at the end of a sentence, Tanno slicked on a thick wing to each eye and added a few swipes of Marc Jacobs Beauty Velvet Noir Major Volume Mascara ($26) to finish my eye look.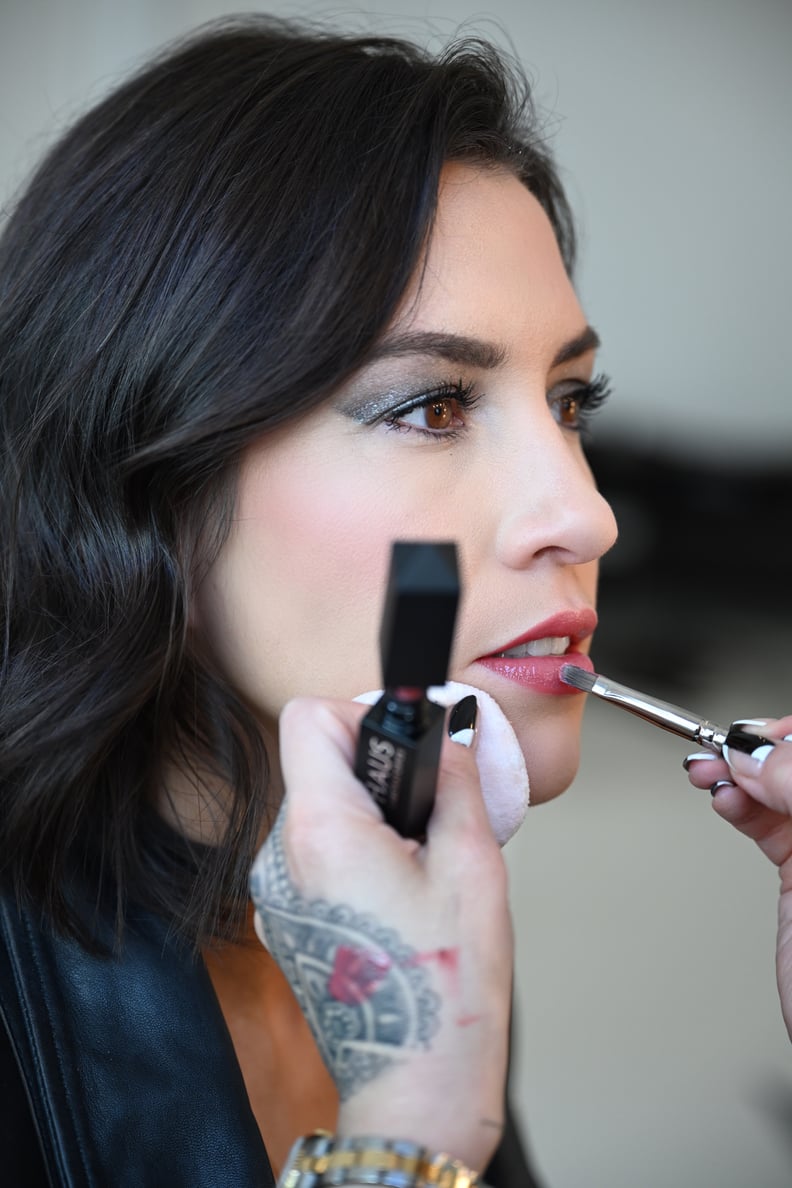 Step 3: Lips
For the lips, Tanno selected Lady Gaga's favorite rose-colored combination: "I'm going to use her ride-or-die lip liner — no, really, it's called Rest In Peace ($16) because it's a liner to die for," she laughed. "Gaga loves a full-coverage lip, and she likes to use the liner like a lipstick. It's a demi-matte finish so you can wear it alone, too."
Then, she applied the Le Riot Lip Gloss in Blaze ($18), a product Tanno admits she wasn't initially sold on: "I was never a lip gloss girl until Gaga convinced me. She loves everything about it. She thinks it's so sexy and comfortable; she loves the action of reapplying it. That's why she wanted to lead with that, and this one is super conditioning and not at all tacky." (I can concur: it never once got caught in my hair.)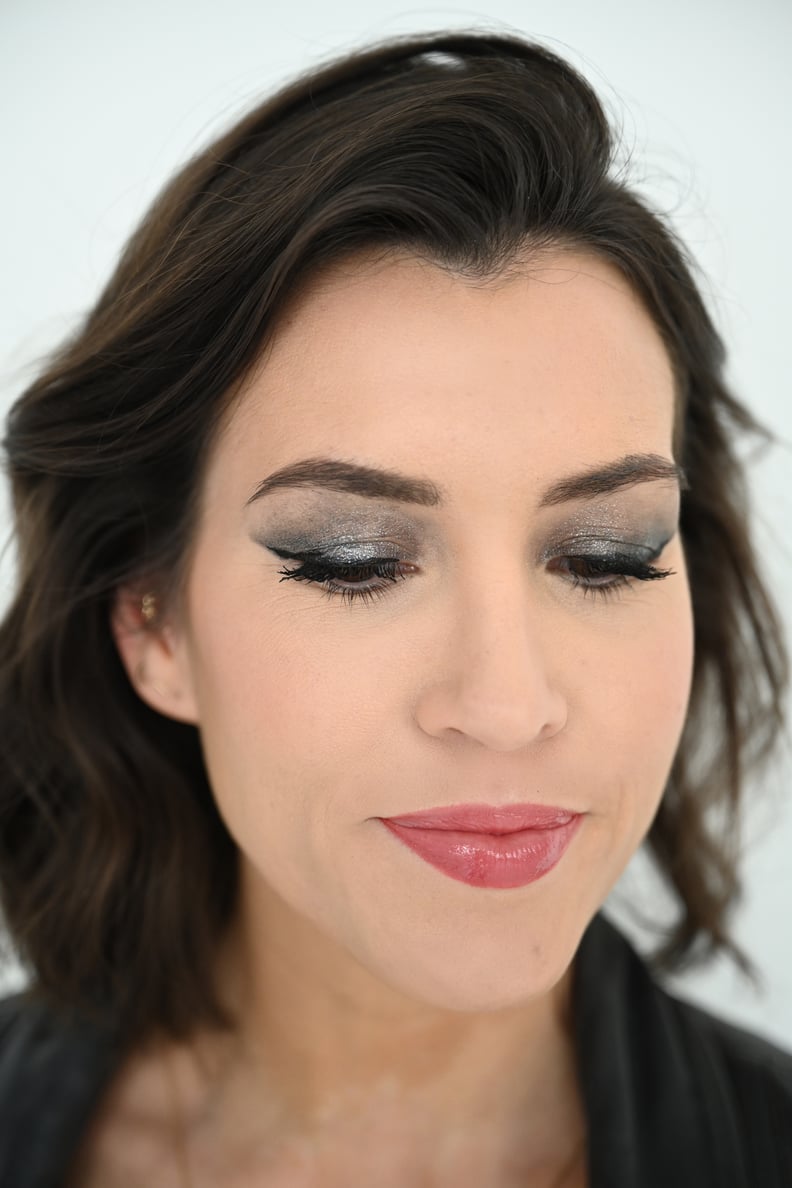 Look 1: The Results
Even though this is a toned-down look by Lady Gaga standards, it felt infinitely more punk (or more something) than my everyday makeup. Still, when her very own glam squad demands you "own it, girl," you throw on your leather jacket and pretend it's not the first time you've worn a smoky eye to work. And maybe — just maybe — it won't be my last.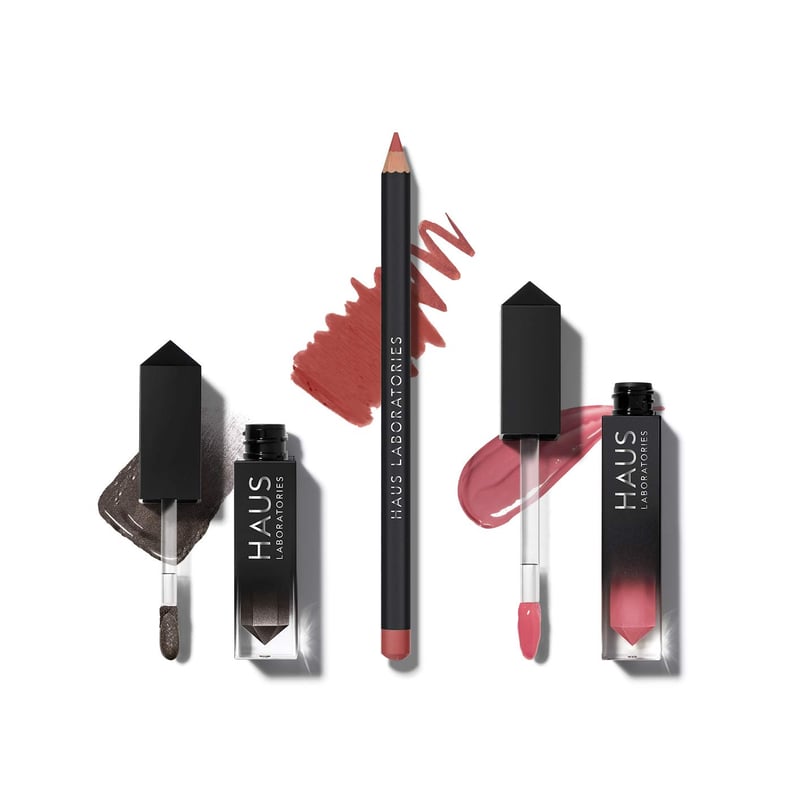 Haus Laboratories by Lady Gaga: Eye Shadow, Lip Gloss, Lip Liner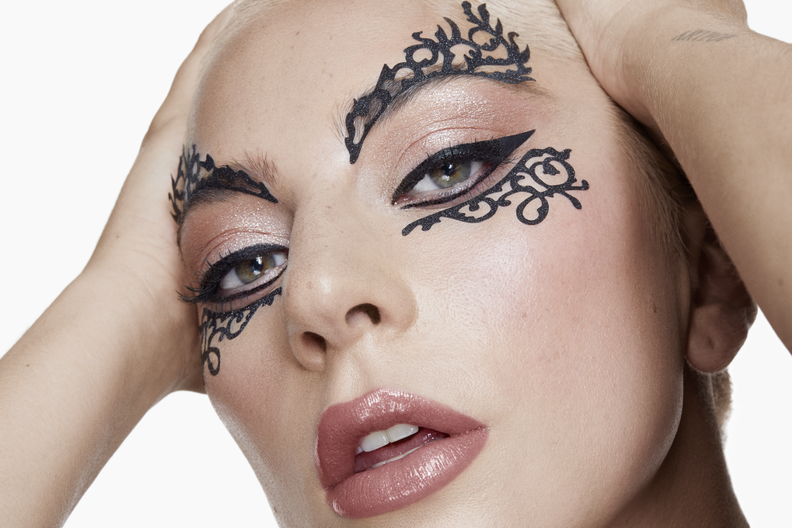 Lady Gaga's Metalhead Makeup Tutorial: All-Out Version
If you want to take the look up a notch (and, if you're a Lady Gaga die-hard, why wouldn't you?) you can opt to add on the brand-new Haus Laboratories Face Mask Armor Masque No. 1 ($25).
"We went back and forth with Phyllis [Cohen] on designs because we really wanted something that felt very Gaga but also something we haven't done before," said Tanno. "A lot of people know our relationship with Phyllis from the Super Bowl, so instead of reissuing that mask, we did something completely different."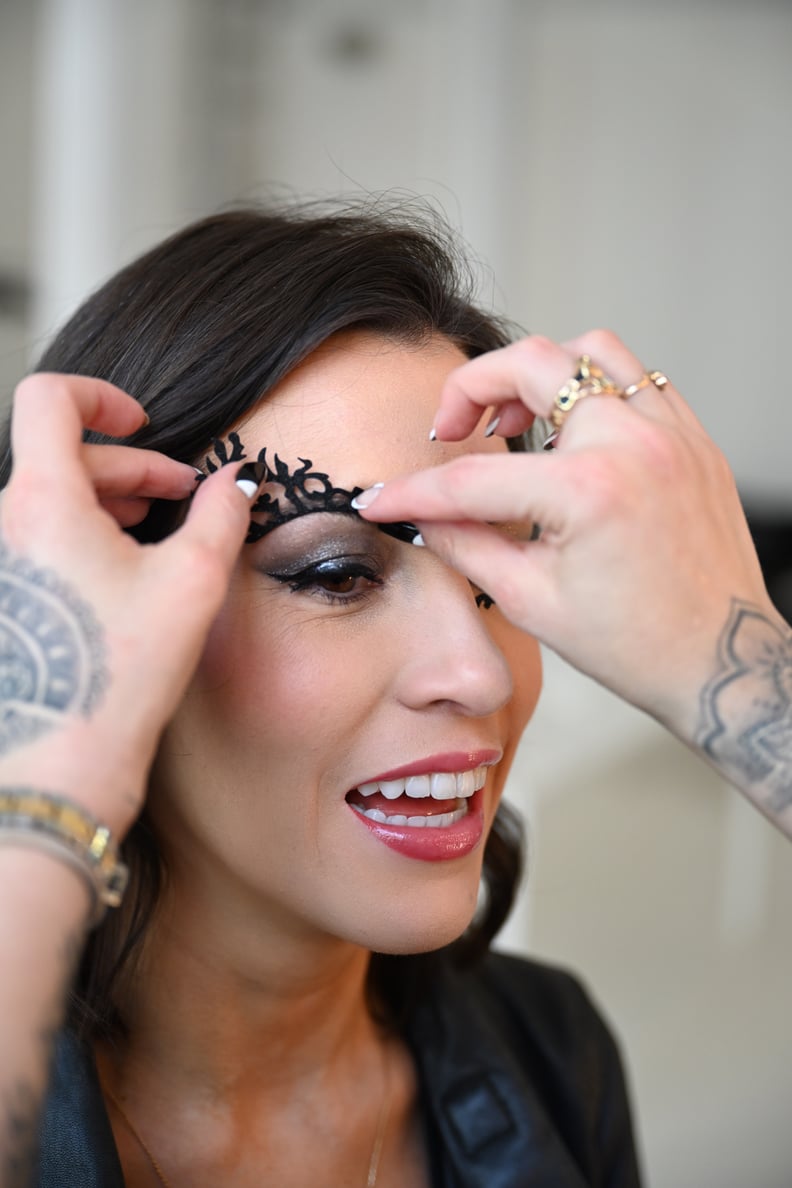 Step 1: Brows
While the stickers themselves are versatile — "You could wear them lower on your eye, or you could use it as a brow cover; that's what we usually do with Gaga," Tanno said — we decided to go all out. First, she pressed it down on the inner corners of my eyebrows and then lined it across the arches, extending the upper portion of the mask up on my temple. "You can cut them if they don't fit all the way on your brow," she added.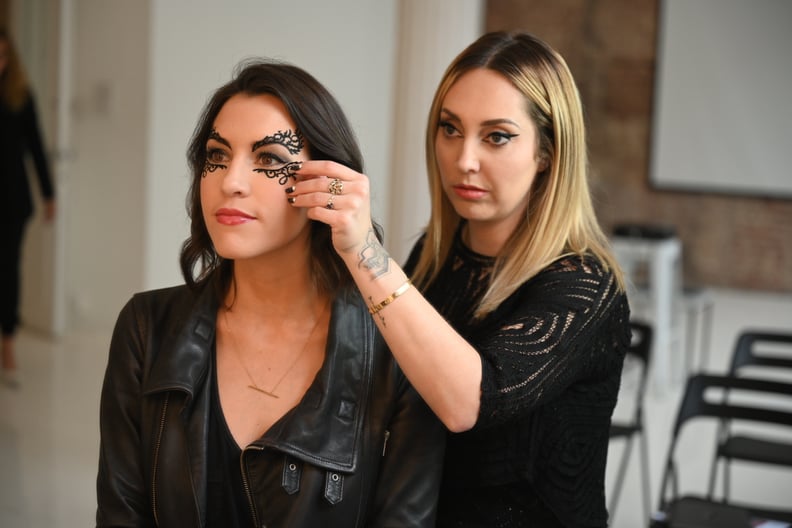 Step 2: Eyes
When you're applying the bottom part of the mask, "look in the mirror," said Tanno. "You want to get the insides to line up. If you mess up, it's a sticker — that's the magic of it. You can just take it off and press it back on. See? Quick-change makeup in seconds."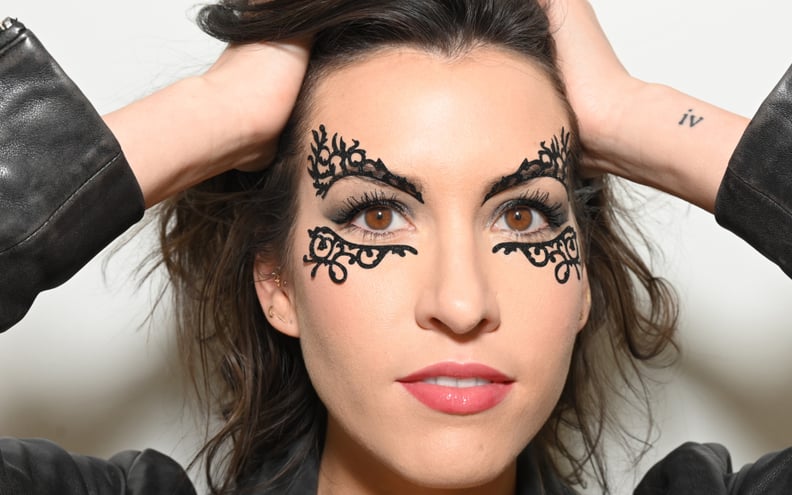 Look 2: The Results
Surprisingly, I dug these eye stickers, and I'm not typically the sticker-makeup type. There's just something about them that felt fun and easy, but framed my eyes in a way that also looked badass and cool. Maybe it's not something you'd wear on the regular, but for Halloween — or even a night out in the East Village in NYC — it's practically made for the applause (applause, applause. . .).