As POPSUGAR editors, we independently select and write about stuff we love and think you'll like too. If you buy a product we have recommended, we may receive affiliate commission, which in turn supports our work.
Confession time: I am not a lip-gloss fan. Despite having an overflowing stash, I barely touch them in favor of a hydrating lip balm or classic matte lipstick. Still, one thing I am always on board for is glow — even if I'm just popping to the post office, I'll dab a touch of highlighter on my cheekbones. It cancels out tiredness in an instant, and who doesn't need that? So, when I saw people on TikTok using their lip gloss as an eyeshadow and highlighter to amp up shine, I thought I could finally put my collection to good use.
Although the late '90s and early '00s staple has attracted over nine billion TikTok views under the hashtag #lipgloss, it's only recently that I saw it being used as a do-it-all makeup essential, exhibited by natural makeup connoisseur Zak Heath. Using Vieve's Lip Dew Original ($23), Heath painted his lips, eyes and, well, whole face, in a golden, glossy hue. After a quick-investigation, I found that #lipglosseyes has over one million views alone, with countless more TIktok users trying the trend. Even celebrity makeup artists Katie Jane Hughes and Jaleesa Jaikaran are on board. Surely then, it must be party approved?
Though I'm team dewy skin all year round, the festive period is the perfect opportunity to take the extra shine out for a spin — and with a family party on Saturday, I attempted to turn my face into tinsel. I started my routine as normal, applying my base, blusher, and brows, before applying lip gloss like I usually would — on my lips. I followed suit and also used Vieve's lip gloss; it seems a safer option than a bright pink gloss and has a subtle gold finish. So far, so good.
Next I moved onto the eyes. After deeper research, I saw other Tiktok users apply eyeshadow as a base for pigment. I used the burnt orange shade Ghost Town from my Urban Decay Naked Wild West palette ($25, originally $49). I then swiped on a layer of Lip Dew and used my fingers to smooth over any creases. Initial thought? Sticky. It's worth completely pulling your hair back as the formula is a honey-trap for rogue hair strands. It feels a little heavy on the lids, too, but it does enhance eyeshadow. The pigment underneath really pops — a handy hack if most of your palettes have matte shadows and you are in need of a metallic color for festivities. I opted for an old eyeshadow brush at points to avoid getting any in my eye and would recommend everyone be extra careful when applying gloss here and add mascara at the end.
Now for the cheekbones, chin, nose, and forehead: I swept the lip brush over all these areas and patted it in place with my fingers. Take this as your warning: it can get messy. Though formulas are nowhere near as sticky as they were back in the 2000s, it's still a lot more tacky than a traditional highlighter. It's a different kind of shine, too. Whereas many highlighters will give a solid glittery sheen, lip gloss gives a more glass-like effect, coating the areas in a thick, light-bouncing shine. I found myself dolloping a lot more on, too, and yet, I still didn't reach the level of glossy that Heath presented (he must have used a whole bottle in the process).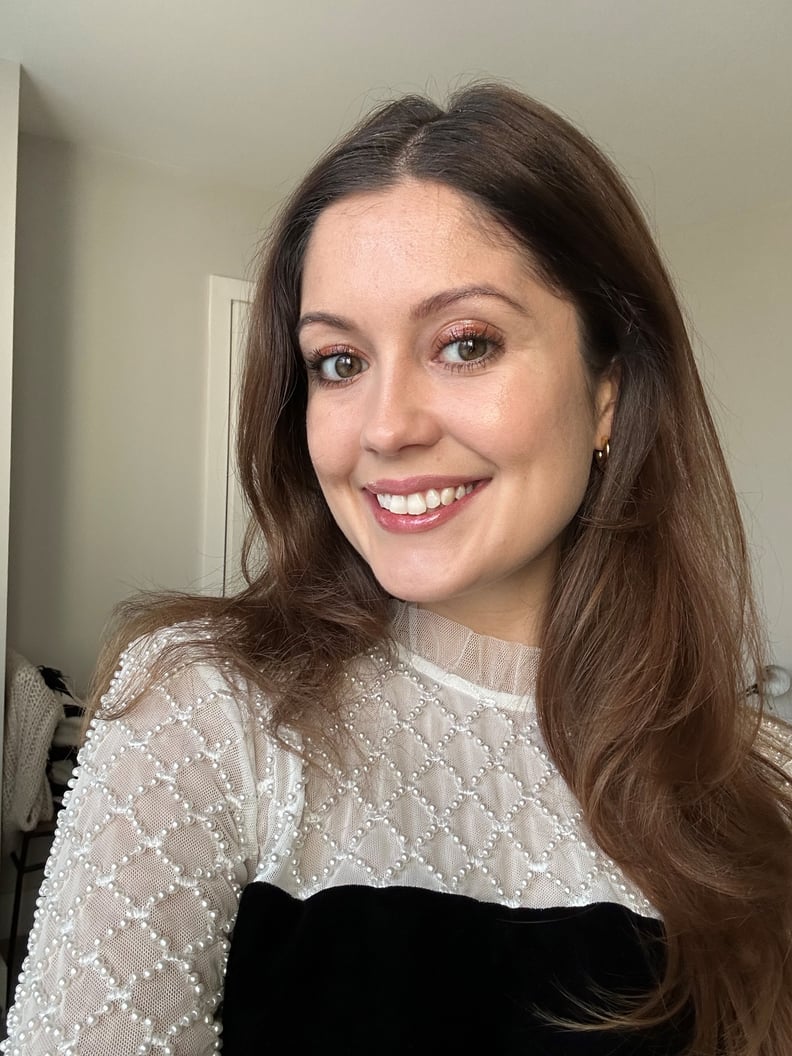 For someone who has pigeonholed lip gloss for the lips only, I love the idea that a tiny bottle, which will require no space in my mini party bag, can now replace my lipstick, highlighter, and eyeshadow palette for night's out (trust me, I take the majority of my makeup bag with me). It also seems savvy to be utilizing my stock of glosses rather than buying more metallic eyeshadows or a new highlighter when one runs out — a cost-effective and sustainable approach to doing makeup.
While I will be doing this again over the holiday period (and beyond), my only qualm is the slippy risk that comes with it. I noticed my eyeshadow quickly ended up just below my brow bone and teaming it with hair down was high-maintenance. A couple of firsthand tips would be to fix the gloss in place with a setting spray and team the look with a slicked-back bun to avoid gluing it to my hair. Other than that, lip gloss has earned itself a new, essential spot in my makeup bag.