I Tried Liquid Microneedling and It Was the Wildest Experience Ever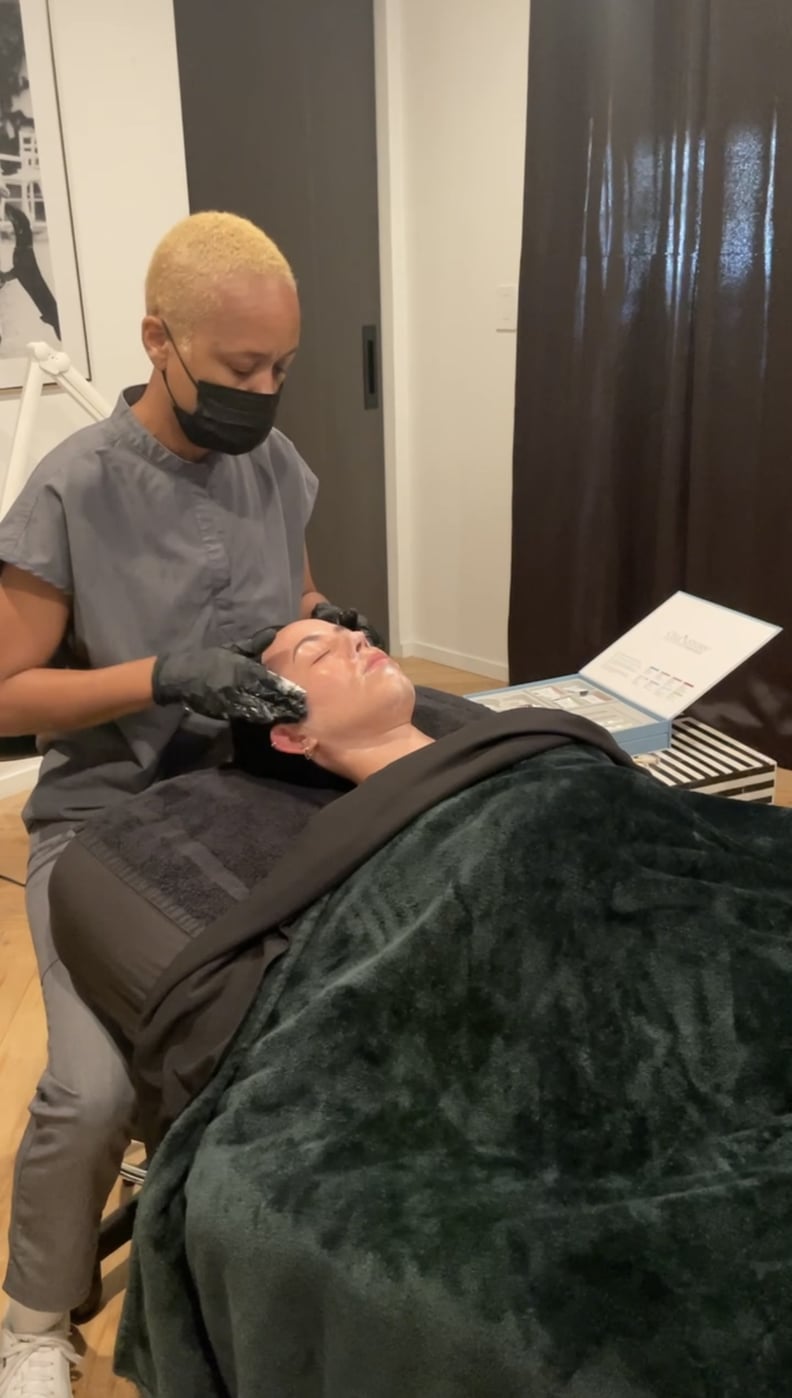 POPSUGAR Photography | Renee Rodriguez
POPSUGAR Photography | Renee Rodriguez
As POPSUGAR editors, we independently select and write about stuff we love and think you'll like too. If you buy a product we have recommended, we may receive affiliate commission, which in turn supports our work.
Weird beauty treatments have become my forte. I recently got a "vajacial" (which, yes, is exactly what you think it is), have tried a body-planing treatment, and just last week got a liquid microneedling facial. If you're confused about what that entails, don't worry — I was too. While I'm familiar with microneedling, based on my countless hours of research, liquid microneedling is a less invasive (read: needle-less) option that promises similar results without the side effects. Did it sound too good to be true? A little. Was I going to try it anyway? Absolutely.
I typically avoid experimental beauty treatments on my face because I've had some bad experiences in the past, but the potential benefits of liquid microneedling sounded too good to pass up. Spoiler alert: they were. Keep reading to learn about my experience with Cellstory's liquid microneedling and learn more about the facial.
What Is Liquid Microneedling?
The liquid microneedling treatment from Cellstory is a form of meso-therapy that doesn't utilize needles. Instead, it uses microspears, a needle-like ingredient otherwise known as spicules, which are derived from freshwater-grown sponges. The spicules are massaged into the skin as part of an eight-step program. Similar to proper microneedling, they too create microscopic punctures in the skin, which in turn urges your body to heal the skin by producing collagen.
While the treatment may cause some mild redness and requires you to forgo any active ingredients as well as makeup and direct sunlight for a full 72 hours afterward, it boasts a long list of benefits, including minimizing the appearance of fine lines and wrinkles, brightening the skin, and unclogging pores.
Although this treatment is safe for all skin types, it's not recommended if you are currently pregnant or lactating, have received Botox or filler within 14 days, or have undergone any treatments that involve lasers, microneedling, or peels within seven days. Additionally, Cellstory recommends using caution if you have a strong nut allergy, since there is some macadamia oil in the brand's Recovery Cream, or a shellfish allergy.
As for the cost, it varies depending on the provider and where you are located, but typically you can expect to spend around $350 to $400 per treatment. The location I visited, Sous La Face in West Hollywood, charges $395 per treatment, and it's recommended that you undergo four treatments to see the full effects.
What to Expect During a Liquid Microneedling Facial
When I showed up at Sous La Face to receive my first treatment, I was nervous. Most people I had asked about the treatment said they had never heard of it before, and the one story I could find online about it wasn't the most stellar — the woman who tried it said she felt like she had fiberglass stuck in her face for days on end.
However, when I met my aesthetician, Petal, she gave me a quick rundown of the facial and told me she would be going through each of the steps with me as they happened, which immediately calmed me down. She started out by cleansing my skin and applying a toner and an essence, then it was time to bring out the liquid microneedling ampoule. She squeezed tiny drops of what looked like lotion all over my entire face, then she began rubbing everything into my skin in an upward motion. This is where things started to get uncomfortable (but not painful). While it wasn't like anything I had ever felt before, I'd say it was a little bit like someone was exfoliating my face with sandpaper.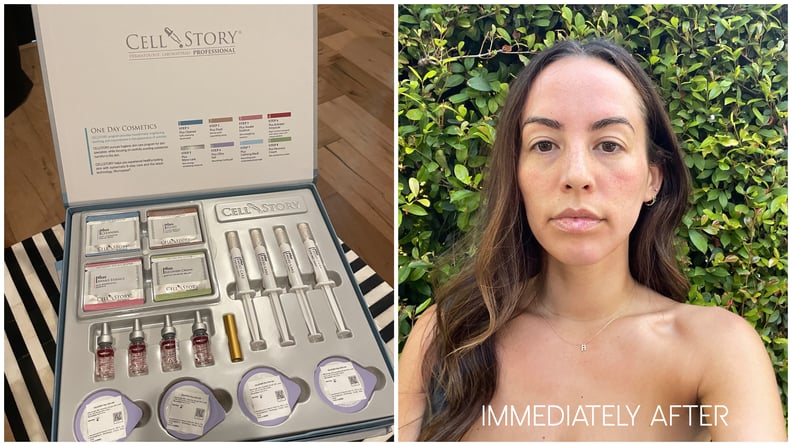 The entire thing took less than an hour. When she was finished, my skin was feeling hot, and when I held up a mirror to survey things, I could see I was red. Luckily the next step was a cooling gel and a calming mask, followed by some time under a red LED light. I was then instructed not to work out, visit a sauna, wear makeup, or use my regular skin-care products — other than hydrating ingredients — for 72 hours.
Results From Liquid Microneedling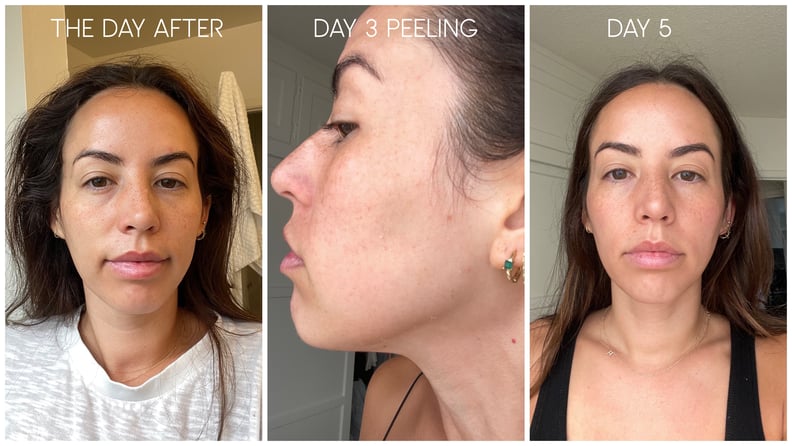 When my session was up, I had to head straight to a work event, so I was worried about how I would look, but the redness faded fairly quickly. The one thing I did notice, however, was that when I touched my face or when something rubbed against it, I could feel the tiny spicules underneath my skin, which was a wild sensation. It felt a little bit like I'd imagine touching a cactus would feel. It was uncomfortable but not painful.
In the days that followed, I really began to notice what a difference the facial had made. My skin looked like glass. It was glowy and plump, and although I started experiencing some mild peeling around my jawline on the third day, by the fifth day, when I woke up in the morning, my skin was back to looking glossy and hydrated. It made the perfect base for my makeup, and my complexion looked so good I was even confident enough to go out a few nights without any makeup altogether. So, it was worth it. In fact, I'm going to call about scheduling my next appointment right now.