Loren Gray Talks TikTok Trends, Her DIY Beauty Routine, and Finding Confidence
Loren Gray has a lot of titles. Singer, social media personality, model, beauty enthusiast, and entrepreneur are just a handful of them. With 52 million followers on TikTok and a career as a content creator that spans six years (she started when she was 13), you can say she's been at this for a while.
Her love for beauty started at a similarly young age. Her mom owned a beauty salon when she was a kid and taught Gray how to do her own hair and nails early on. A quick scroll through Gray's TikTok shows just how passionate she is about beauty, but what most people don't realize is that she still implements that do-it-yourself mentality, which is one of the reasons she partnered with Revlon for the launch of its new Ultra HD Snap! nail polish collection.
"I like to do everything myself — nails, spray tan, everything — because I like having control over the outcome," Gray told POPSUGAR.
Ahead, she's sharing her best DIY beauty hacks, the TikTok beauty trends she's obsessed with, her growing tattoo collection, and more.
Loren Gray's DIY Beauty Routine
When Gray says she likes doing things herself, she's not just talking about painting her nails or dyeing her hair — she even tints her eyebrows at home. "I have really blond eyebrows, so tinting them just makes it easier when I fill them in in the morning. It takes less time," said Gray. As for her spray tans, she used to see a professional for those, but when COVID-19 made that impossible, she added that to her list of things to DIY.
She also thought of a workaround for her beloved acrylic nails when she was unable to go to the salon — press-on nails, which she'd then paint. But finding a nail polish that she loved proved to be the hardest part of her at-home beauty adventure. "I've been looking for a good nail polish that I can use on myself if I don't have time to go get my nails done or I just want to do it at home," said Gray. "The Snap! nail polish is full coverage, which I think is really hard to find, and it's fast-drying, which is really cool because I'm so impatient."
Her favorite shades are Birthday Suit ($6), which is a light pink color, and Early Bird ($6), an opaque white.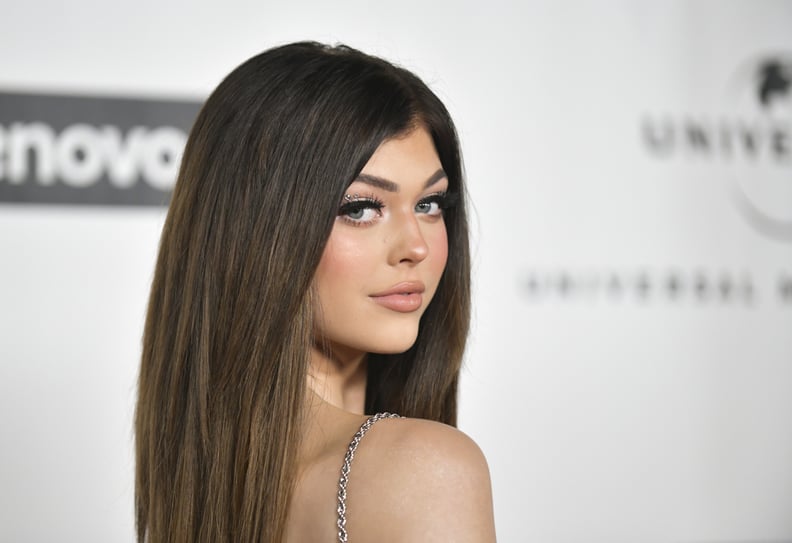 Loren Gray's Tips For Putting In Extensions
The hardest task of all for her master wasn't her spray tan (although that would have been our guess), it was putting in her extensions. Gray explained she had gone from a brunette to the blond shade she is now in one session and her "hair broke off like crazy," so she uses hair masks regularly and wears extensions to add length.
"Before quarantine, I relied a lot on my hair team to take care of that, but I figured out how to do it and how to blend them properly," she said. "My hairstylist taught me, and it changed my life." The key to perfectly blended hair, according to Gray, is sectioning out the bottom half of your hair, braiding it, and pinning it up underneath, so "there's no bottom hair sticking out."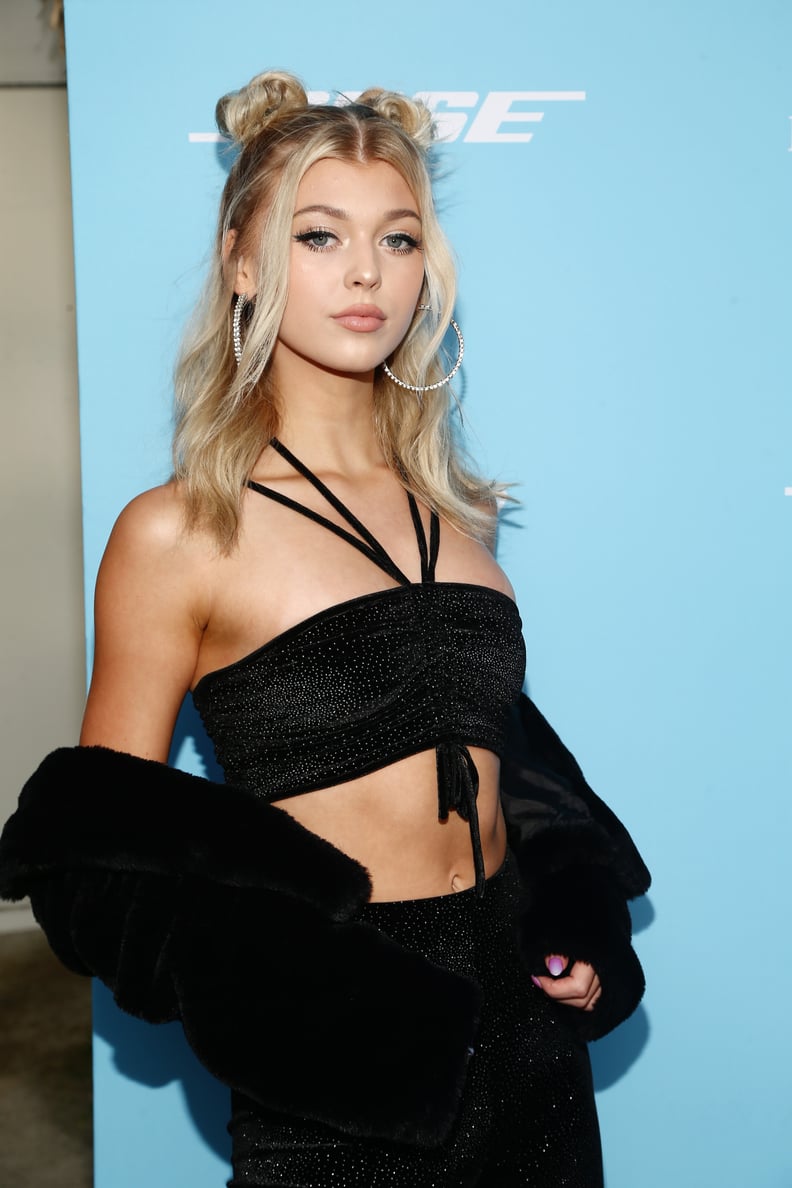 TikTok Beauty Hacks Loren Gray Has Mastered and Failed
Despite being quite the beauty expert, Gray said she's still been able to learn a thing or two from TikTok, like how to contour her nose. "I didn't even know where to start when it came to contouring, so that was helpful for me." Her favorite beauty account to follow is Scortezz Beauty because "he gives so many incredible tips."
But not every beauty tip and trick she's tried has been a success. She tried faux freckles and has decided they're most definitely not for her.
Loren Gray's Favorite Spring Beauty Trends
TikTok is full of beauty inspiration, but Gray prefers to stay up to date on the hottest nail trends via her best friend. "She's always way ahead of me with nail art," she said. "So I kind of just follow her because she always gets the most intricate and incredible nails." The latest manicures she's crushing on are sage green nails with tiny flowers or a simple french design with colorful tips, which is what she planned on doing for her birthday nails.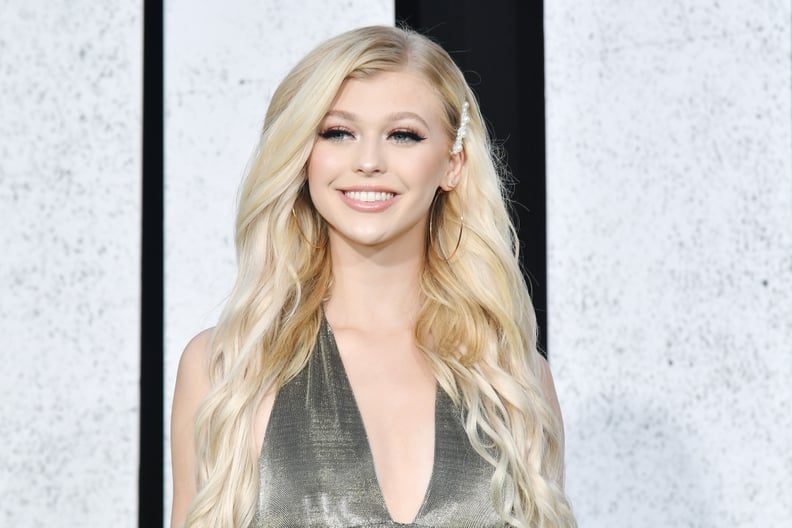 How Makeup Helped Loren Gray Find Her Confidence
Between the extensions, acrylic nails, winged eyeliner, and false lashes that Gray rocks on the regular, her beauty vibe is undeniably full glam, and it's been that way for a while. She began wearing makeup when she was 13 as a way to express herself and cope with her insecurities.
"I was bullied heavily in school, and, before I even started social media, I was homeschooled for a year because I just couldn't handle it," said Gray. "While I was homeschooled, I would finish my work early, and then I would practice makeup. I was just a really sad kid, but watching makeup tutorials and building my confidence through makeup made me feel good. It's the same thing with nails and hair; it's always been a boost to my confidence because I was such an insecure person."
Loren Gray's Impressive Tattoo Collection
Tattoos are another way Gray likes to express herself. That's the main reason her collection is as impressive as it is. "I have 12 tattoos now — they're all really hidden and really small," she said. They each have a special meaning to her and a lot of them are music related.
"I have two Lil Peep tattoos, I have a My Chemical Romance tattoo, an Eminem tattoo. I have an Office tattoo because it's my favorite show. I have a Donnie Darko tattoo, too. And I also have a couple of tattoos that I got for my fans," said Gray. "I feel like most of them were pretty impulsive."