The 1 Product That Finally Made Me a Face-Oil Convert
When it comes to my personal beauty woes, none plague me quite like my combination-oily skin. I've gone to great lengths to control it and spent years running from products that promise extra hydration or a dewy glow. So as you can imagine, seeing Malin+Goetz's Recovery Treatment Oil in the Limited Edition Fall POPSUGAR Must Have box was an intriguing surprise.
As the kind of girl who regularly "bakes" her T-zone with translucent powder and will oil blot using any paper towel or tissue in sight, I wasn't sure I was game to willingly apply oil to my face. But products I've experimented with have proved me wrong before, so I decided to give this oil a fair chance. One night, after my normal cleanse and tone routine, I followed the directions on the bottle and applied five to seven drops of the oil on my skin. The built-in dropper made it easy to distribute each drop on my face and ensure I was in full control the entire time. To my surprise, the oil immediately melted into my skin and left it feeling hydrated and refreshed rather than overly greasy. We were off to a good start for sure.
The real test began when I went to sleep. I usually wake up with an extrashiny complexion from natural oils that have built up over the night, so with the added oil on my skin, I was prepared to be a walking grease pit in the morning. I was wrong. Shockingly enough, my skin was smooth, plumped, and honestly pretty darn matte-looking! I continued to experiment with this product as the week went on, alternating between using the oil alone and with a moisturizer on top, switching up the amount of drops I applied, and applying it to my hands before my face.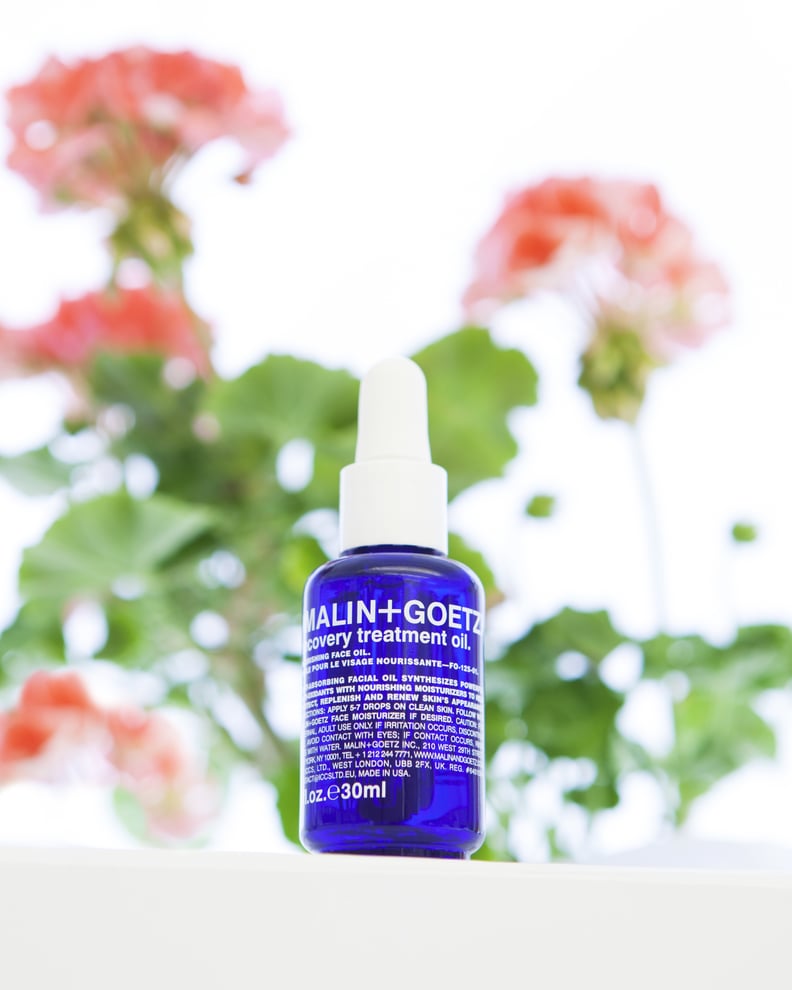 Image Source: Malin+Goetz
The final consensus? Oils can indeed be used on oily skin — and this one actually reduced my shine significantly! A closer investigation of the product's ingredients revealed that it's formulated with nine natural oils and that geranium and borage oils were to thank for normalizing my skin's oil production. The remaining seven oils make it versatile enough to remedy any skin type or concern, too. For example, those with dry skin will love the hydrating boost that primrose, argan, and jojoba oils provide and may benefit from applying this product both morning and night. Dealing with texture, sun damage, or dull skin? Grape seed, rose hip, and camelia oils will address all of your concerns. Thanks to the modern apothecary approach that Malin+Goetz uses to create its products, you can ensure what you're using has been carefully crafted with gentle yet effective ingredients.
Want to see this product work its magic on your own skin? Discover POPSUGAR Must Have: a subscription service that releases editor-curated boxes on a monthly and quarterly basis with exclusive Luxury and Limited Edition options. Every box is jam-packed with products that editors can't wait to bring into your very own hands. Our current Limited Edition box, including this Malin + Goetz oil, is on sale now.