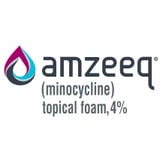 TikTok is full of beauty hacks, but this new acne treatment isn't one you'll find on your FYP. We've worked with the makers of
AMZEEQ®
to share information about an innovative formula you've never heard of.
A year ago, TikTok was the place most people went to waste time while stuck at home (and learn viral dances, let's be honest), but now it's a treasure trove of inspiration. Everything from new vegan recipes to trendy home improvements can be found on your For You Page, but one category gaining immense popularity is beauty. While we're fans of reviews for new products or dupes, we're wary of the clever hacks revolving around one of our biggest beauty woes: acne.
No matter how often they're debunked by experts and professionals, homemade acne solutions always pop up online. Unfortunately, the more unconventional they are, the more hype they tend to garner, but results aren't always guaranteed. We get it: acne treatments are in high demand. But we recently discovered one treatment that utilizes a trusted ingredient and extends far beyond this trendy app. Nope, you won't find what we're raving about on TikTok; instead, it'll be waiting in your dermatologist's office.
Meet Your Next Once-Daily Treatment
As far as treatments for acne go, AMZEEQ (minocycline) topical foam, 4 percent, is one you've truly never seen before. This prescription-only topical foam combines the power of an antibiotic and naturally moisturizing soybean and coconut oils to treat moderate to severe acne with a low risk of side effects or skin irritation. It is for people nine years of age and older and shouldn't be used for the treatment of infections (please see FDA-approved Indication and Important Safety Information below).
Why It Works
There are a lot of unique components to AMZEEQ that make it effective, but there are two big details you need to know about now: the foam formula and its antibiotic, minocycline. The latter has been around for years — 50, to be exact — as a powerful antibiotic available as an oral medication, which dermatologists often recommend to target acne from the inside out. Before AMZEEQ, dermatologists might have suggested an oral minocycline antibiotic to address the fussy, red, and tender spots of moderate to severe acne when existing topical treatments weren't working well enough. Now, your healthcare provider can prescribe minocycline in a topical agent if it is right for you.
The foam seems like a minor detail, but AMZEEQ may not even exist without its novel delivery system, which is based on the Molecule Stabilizing Technology (MST™) platform developed by VYNE Therapeutics. The MST™ formula helps maintain the stability of minocycline, an unstable molecule when exposed to air or moisture, and allows for a topical medication that effectively delivers it onto the skin. Before MST™, minocycline had not been formulated as a topical product. Together, the foam technology and moisturizing coconut and soybean oils ensure the treatment is gentle on skin — no matter where you suffer with moderate to severe acne.
How to Try It
First, you need to consult a dermatologist or other healthcare provider to determine if AMZEEQ is right for you. AMZEEQ only needs to be used once daily and works best when used as directed by your doctor. AMZEEQ should be stored at room temperature and applied at about the same time every day, at least one hour before bedtime. You also can't shower or swim for at least one hour after applying AMZEEQ, so plan those pre-bed baths accordingly.
After cleansing skin with a mild cleanser, shake the AMZEEQ can and dispense a small amount of the foam onto your fingertips — you only need enough to cover the spots you're treating — and gently rub it into your skin. In time, you may notice those pimples that put up a fight before don't stand a chance now.
Indication
AMZEEQ® (minocycline) topical foam, 4% is a prescription medicine used on the skin (topical) for the treatment of pimples and red bumps (non-nodular inflammatory lesions) of moderate to severe acne in patients 9 years of age and older. AMZEEQ should not be used for the treatment of infections. It is not known if AMZEEQ is safe and effective in children under 9 years of age. AMZEEQ is for use on skin only (topical use). AMZEEQ is not for use in your mouth, eyes or vagina.
Important Safety Information
• Do not use AMZEEQ if you are allergic to AMZEEQ or any tetracycline medicine. Stop using AMZEEQ right away and call your doctor if you get a rash or other allergic symptom.
• Before using AMZEEQ, tell your doctor about all of your medical conditions and the medicines you take. Do not use AMZEEQ if you are pregnant, may become pregnant or are nursing. If you become pregnant while using AMZEEQ, talk to your doctor. Tetracycline medicine when taken by mouth during pregnancy, infancy and/or childhood up to the age of 8 years may permanently discolor teeth (yellow-gray-brown) and may slow the growth of bones.
• AMZEEQ is flammable. Avoid fire, flame, and smoking when applying and right after you apply AMZEEQ.
• Protect your skin from the sun while using AMZEEQ. Avoid sunlight or artificial sunlight such as sunlamps or tanning beds. Stop using AMZEEQ if you get a sunburn.
• When taken by mouth, minocycline may cause feelings of lightheadedness, dizziness or spinning. You should not drive or operate dangerous machinery if you have these symptoms.
AMZEEQ is a topical foam that contains minocycline, a tetracycline medicine. It is not taken by mouth. However, tetracyclines, when taken by mouth (capsules or tablets), may cause serious side effects, including: diarrhea which may be caused by an infection and can cause watery or bloody stools; loss of appetite; tiredness; yellowing of your skin or eyes (jaundice); bleeding more easily than normal; confusion; sleepiness; vision changes, including blurred vision, double vision, or permanent vision loss; unusual headaches; fever; rash; joint pain; body weakness; discoloration or darkening of your skin, scars, teeth, or gums. Call your doctor right away if these side effects occur. The most common side effect of AMZEEQ is headache.
These are not all of the possible side effects with AMZEEQ. Call your doctor for medical advice about side effects.
You are encouraged to report negative side effects of prescription drugs to the FDA. Visit www.fda.gov/medwatch or call 1-800-FDA-1088. Please see full Prescribing Information and Patient Information.