Mooncat Multichrome Nail Polish Review
This Multichrome Nail Polish Is Self-Expression in a Bottle
As POPSUGAR editors, we independently select and write about stuff we love and think you'll like too. If you buy a product we have recommended, we may receive affiliate commission, which in turn supports our work.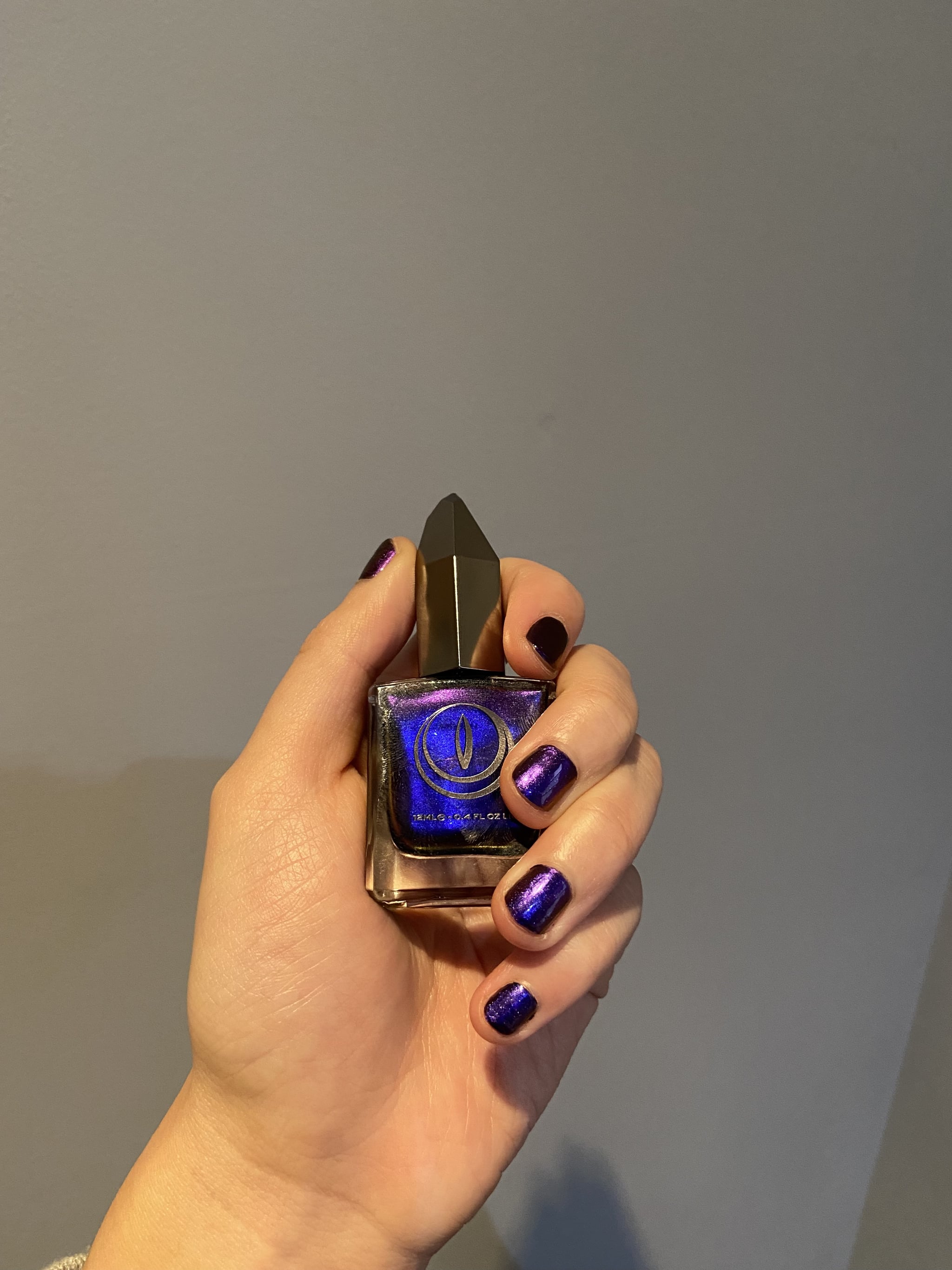 Mooncat is a Taiwanese-owned nail brand, founded by Michelle Lin.
The nail polishes are all vegan and cruelty-free.
The brand has gained popularity for its multichromatic, holographic, and metallic colors.
I've always believed that painted nails have the power to elevate my entire appearance. Even if I end up leaving the house in a stained hoodie and loose sweatpants and my hair in a messy knot, I still feel somewhat put-together if I have a fresh manicure. So on the days when I rely on my nails to be the sole signifier to the world that I do, in fact, have my life together, I like choosing a polish that grabs people's attention. Enter Mooncat, a Taiwanese-owned and -run nail brand that creates high-quality polishes with a fun twist.
According to Mooncat's website, founder and CEO Michelle Lin was never allowed to wear nail polish growing up, so it became a "symbol of rebellion" and a "deeply expressive process." This led to the creation of the ethereal shades you see in Mooncat's polish lineup. In addition to being vegan and cruelty-free, the colors are also meant to evoke a sense of wonder and magic for those who want to find a way to stand out. The mission and bold shade options intrigued me, and I knew I had to try it.
Before even opening the bottle, I was drawn to the packaging and playful names of the polishes. Each comes in a square-shaped bottle, with a metallic silver, angled brush. Additionally, each collection has a fun theme. I chose the multichrome polish called Mortals Be Warned ($15), which is found in the Battle of the Cosmos collection inspired by outer space — and it does not disappoint.
Upon application of the first coat, it looks initially like a deep purple. It was light coverage and definitely needed a second coat, but a second layer easily achieved the high-coverage and longer-lasting look I needed. On the second coat, the finish and colors became much more apparent. (I say colors because the shades definitely shifted in the light from blue to magenta to deep purple, depending on which way you looked at it.)
To top it off, I applied the Speed Demon Top Coat ($13), and it lived up to its name, drying extremely fast in addition to giving that extra layer of gloss to my multichrome manicure. Even better, the nail polish lasted over two weeks with no chipping or peeling, and the colors stayed fully intact. I got many compliments and never hesitated to show off the shifting colors with a quick little flick of the wrist.
If you're looking to spruce up your manicure or pedicure with a polish that lasts a long time and strays from your traditional colors, I highly recommend branching out and trying Mooncat. If multichromatic shades aren't your thing, the brand also carries holographic, glitter, and metallic finishes — so no matter your preference, the option to stand out is right at your fingertips.
Rating:
Image Source: Charlotte Kho