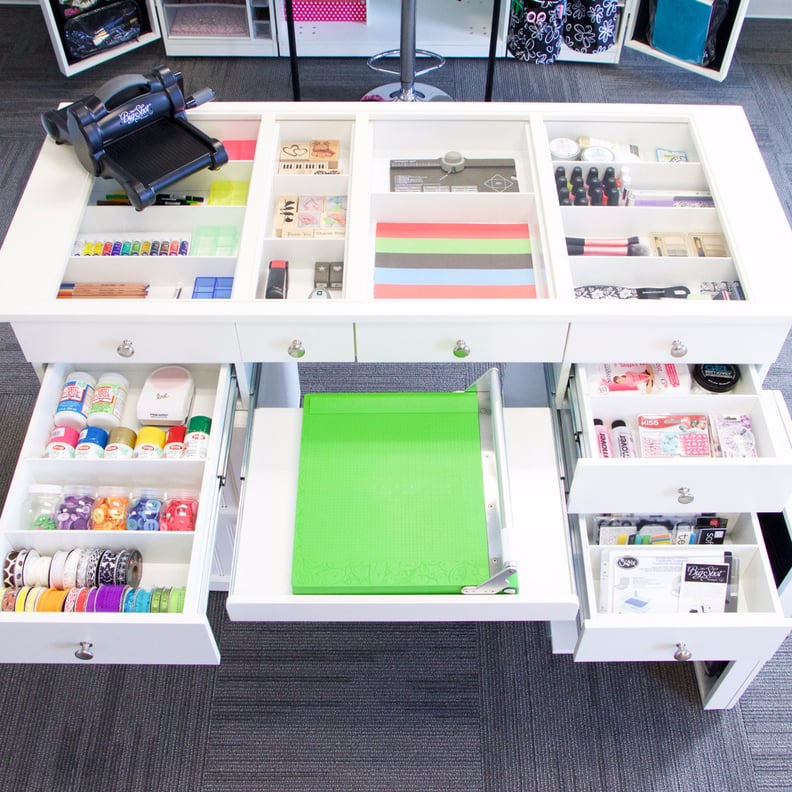 As POPSUGAR editors, we independently select and write about stuff we love and think you'll like too. If you buy a product we have recommended, we may receive affiliate commission, which in turn supports our work.
When a friend tagged me in the above image's comments on the official Scrapbox Instagram, I immediately started fantasizing about something I'd given up on long ago: organizing my beauty collection. Up until this point, I thought I'd be hopelessly messy forever.
You see, for over 15 years, I've been stashing exorbitant quantities of lipsticks, nail polishes, and palettes in every storage system I could find. I outgrew my classic Caboodle more than a decade ago, and after college, I invested in the beauty blogger organization unit of choice, the Ikea Alex ($129).
But because I never restrained myself from a clearance sale, turned down a Sephora gift card, or passed up a visit to Ulta, my collection has surpassed its shelves. I've been leaving a trail of brushes, false lashes, and sheet masks at practically every turn and, quite frankly, it's overwhelming.
That's where Scrapbox comes in. The company designs cabinets, cubbies, caddies, and other units for scrapbooking fanatics and serial stitching queens. However, one look at its offerings proves each one would be quite effective for beauty hoarders, too. The goods all feature drawers, shelves, pouches, totes . . . brilliant ways to keep small tubes secure. There's a desk that boasts compartments underneath a glass surface, so every pretty product is on display yet shielded from dust. One cabinet comes with an LED-lit desk, which could easily be fashioned into a vanity.
The only downside is that these units don't come cheap. Some will set you back $500, while more advanced models are upwards of $1,000. But being next-level obsessed with my products, I can rationalize the expense. Scrapbox's storage systems would not only protect my delicate formulas from light exposure (which can degrade them), but ensure I stay organized. Just a pull on a handle would allow me to see my entire assortment, but shutting the cabinet would tuck everything safely away.
Considering there are some beloved items in my stash that I haven't seen in years (because I've misplaced them or forgotten them at the bottom of a drawer), that's worth every penny. Read on to see some of the company's models — and how some beauty gals have used them!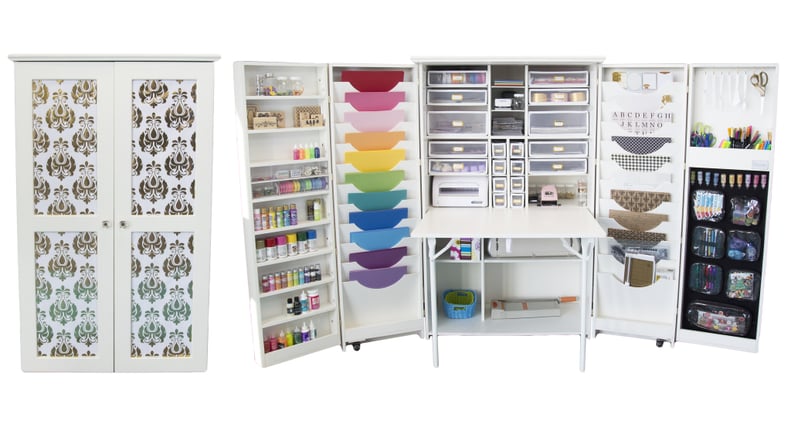 Scrapbox Teresa Collins Studiobox