Patrick Ta's Tumultuous Rise to Celebrity Makeup Artist and Brand Founder
As POPSUGAR editors, we independently select and write about stuff we love and think you'll like too. If you buy a product we have recommended, we may receive affiliate commission, which in turn supports our work.
Welcome to Big Break, where some of the most influential figures in the beauty industry reflect on the moments that made them — from the good to the bad and everything in between. Here, Patrick Ta shares how he climbed from high school dropout to celebrity makeup artist and founder of Patrick Ta Beauty.
Patrick Ta didn't become a makeup artist for stars like Gigi Hadid, Camila Cabello, and Emily Ratajkowski overnight. In fact, his journey early in life was the opposite of easy. Ta was born in San Diego, CA, into a large Vietnamese American family. Though he only has one sister, he grew up with over 40 cousins.
"I became the black sheep of the family because my sister was a straight-A student, all my cousins were straight-A students, and I was always very creative," Ta tells POPSUGAR. "I wasn't academically gifted." That, plus the bullying he endured in school, made class a very toxic environment for him.
"I was always made fun of for talking a certain way, wanting to play with certain things that weren't as 'manly,'" he says. Eventually, it got to the point where he no longer wanted to be in school. He dropped out at 17 and began working in a sushi restaurant as a busser, working his way up to a chef. Then, he decided to move to Scottsdale, AZ, at 18. "That's when I found the love for beauty," Ta says.
Shortly after moving, Ta convinced his parents to help him open up his own nail and tanning salon. His mom had owned a few salons in California, so the business ran in the family. "I owe so much of my knowledge and success to my mom and dad," he says. "They allowed me to experience things for myself at such a young age."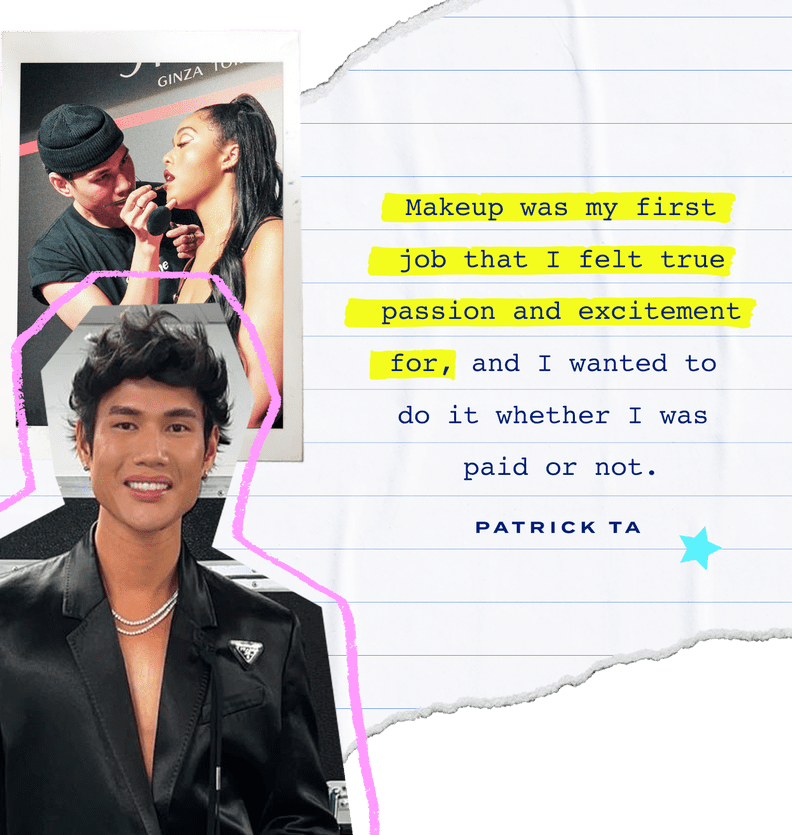 In the three years Ta owned the salon, he met a lot of girlfriends and spent much of his time with them, experimenting with makeup and beginning to embrace who he was. At 21, he came out to his friends, and then at 22, to his parents. They didn't take the news well. Around this time, he was also forced to close down his salon after going bankrupt. "I honestly had no idea what I was doing," Ta says. As much as he dreaded disappointing his parents with the news of the salon closure, it allowed him to have more time to pursue his real passion: makeup.
Thanks to a connected roommate, Ta ended up getting a job at MAC working as a makeup artist, but he had to hide it from his parents. Quietly, he worked to build up a portfolio and branched out into bridal makeup, and then landed a couple of gigs working with the wives of athletes. Though he was still based in Arizona, they began to fly him places for jobs. That's when he realized the potential of what he was doing: "Makeup was my first job that I felt true passion and excitement for, and I wanted to do it whether I was paid or not."
Soon, he felt like he was outgrowing Arizona, so he set his sights on Los Angeles, which he says completely changed his life. Prior to living there, Ta didn't fully understand just how big he could make it doing makeup. "LA is a completely different ball game — there are celebrities, there are commercials, there's editorial."
At the time, social media and influencers were just starting to take off, and Ta solidified himself as a makeup artist for some of the biggest ones. "It was a really great community that I was able to move into," he says.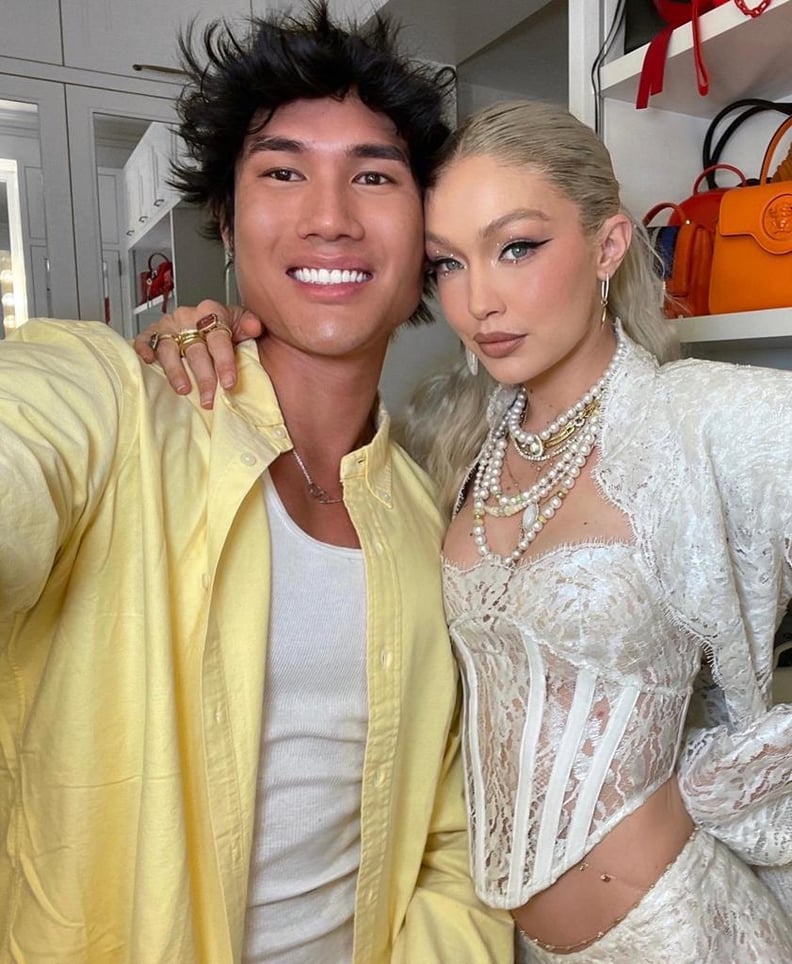 It took less than a year for Ta to sign with an agency and begin growing a following for his work on Instagram. "If a celebrity started following you that meant, Oh my God, they might use you," he says. That's exactly what happened when Shay Mitchell hit the follow button on Ta's account.
"Back then, 'Pretty Little Liars' was one of my favorite shows," he says. "That's a feeling that I don't think I'll ever be able to feel again: I went from never working with any celebrity to working with someone that I was actually obsessed with."
That big break set the rest of Ta's career in motion. After working with Mitchell, he got the opportunity to work with Gigi Hadid. "She was at the beginning of her career as well, so I think with both of them, I started really growing as their careers grew."
Then the opportunities came rolling in. Ta starting booking jobs with the Kardashians, Ariana Grande, Katy Perry, and Rihanna, to name a few. It's a little like dating, Ta says: "You just want to do a good job. You keep thinking, 'Are they going to call me again? Did they like me?'"
Those first few years in LA felt surreal. "I was doing jobs that I never thought I could do," he says. "I started setting goals for myself — who I wanted to work with, where I wanted to travel, what productions I wanted to do." One by one, he was able to cross those items off his bucket list.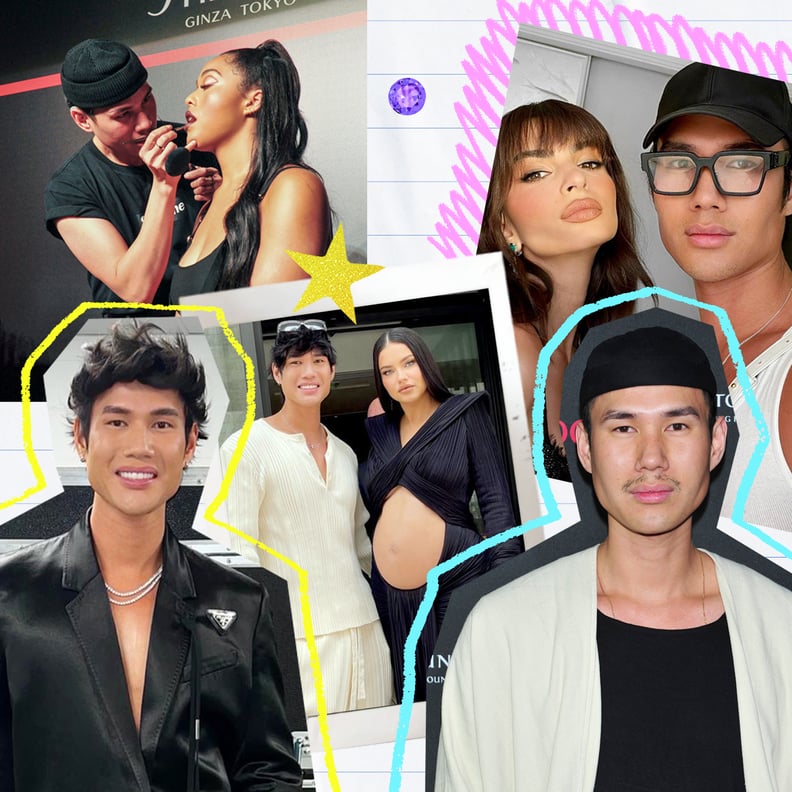 "I made these vision boards for myself, which I think are really important for you to be able to look back on. Cut to 10 years later, here I am."
That's when he decided to embark on his next big goal: launching his own beauty brand. The idea came to him after spending years buying and using other people's products. He wanted to create something of his own that would not only prove useful when working with his clients but also create a legacy for himself. It took three years to put together, and in 2019, he came out with Patrick Ta Beauty.
"The launch of my brand was one of the biggest moments for me," Ta says. He can still recall the overwhelming amount of love he felt from his family and friends in attendance at the launch party as if it were yesterday. "The feeling of support is the most memorable thing about a job that can ever happen."
Patrick Ta Beauty initially launched with products focused on glowy skin (a signature of Ta's work) but has since expanded into color. Though he still works with celebrities regularly, he's loving the new challenge of running his company. "For me, the most exciting part is creating the formula, creating the packaging, creating the colors, and then most of all, bringing it to life within a photo shoot."
Though it's been a bumpy road to the top, he's been able to make all of his dreams come true. "I made these vision boards for myself, which I think are really important for you to be able to look back on. Cut to 10 years later, here I am."