As POPSUGAR editors, we independently select and write about stuff we love and think you'll like too. If you buy a product we have recommended, we may receive affiliate commission, which in turn supports our work.
Pose may have jumped ahead to the early '90s for its third and final season on FX, but the hair and makeup featured on the show is still as extravagant as it has always been. The show's lead characters — Blanca (Mj Rodriguez), Pray Tell (Billy Porter), Damon (Ryan Jamaal Swain), Elektra (Dominique Jackson), Angel (Indya Moore), Papi (Angel B. Curiel), Ricky (Dyllón Burnside), Candy (Angelica Ross), and Lulu (Hailie Sahar) — have had their own signature looks since the beginning, and as it turns out, each one drew inspiration from icons and television shows from the late '80s and '90s.
"Elektra was all Dynasty and continued to be so throughout all of the seasons of Pose," lead makeup artist Sherri Laurence told POPSUGAR. "She was dripping in elegance and sophistication. Pop star Jodi Whatley was our main reference for Blanca, Lisa Bonet's bronzed edgy look for Angel, Cindy Lauper and traditional bright colorblocking of the '80s for Candy, and beautiful and sexy Toni Braxton looks for Lulu."
The show's depiction of ballroom culture during that time period has gained its hair and makeup team critical praise from the very moment the first episode aired, and as season three comes to a close, we spoke to the hair and makeup department heads about all the beauty secrets we're not seeing on camera. From the beauty products that ran out the most on set to the '90s magazines each team used as mood boards, we're taking you through more behind-the-scenes beauty secrets from the set of Pose.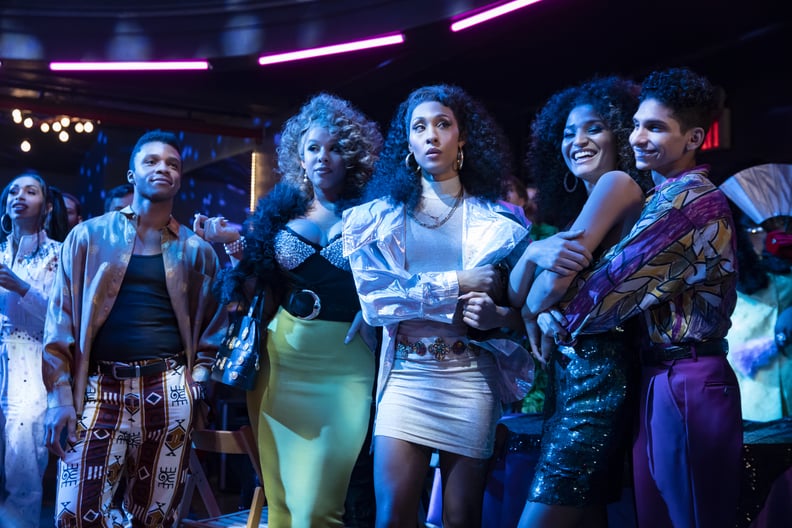 The Legendary '90s Magazines That Inspired Each Character's Look
For inspiration on how to style each character's hair, lead hairstylist Barry Lee Moe sourced vintage ballroom photos as well as nearly every issue of JET and Ebony magazines. "These sources were a great place to find photos of what people were actually doing with their hair at the time," he said.
Similarly, Laurence looked to '90s supermodels and cover girls like Naomi Campbell, Tyra Banks, Linda Evangelista, Claudia Schiffer, and Janet Jackson to re-create the makeup trends that were popular throughout the decade like the "supermodel lip," aka brown lip liner.
"We started steering away from the neons and purples and pinks of the '80s for some and started leaning more into the browns and taupes and muted colors on eyes and lips," she said. "Blush wasn't as bright and intense on our characters. For the lips, we used more reds and beige toned lips with darker liners." Laurence's liners of choice include the MAC Lip Pencil in the shades Spice ($18), Chestnut ($18), and Mahogany ($18) as well as the MAC Viva Glam lipstick ($19).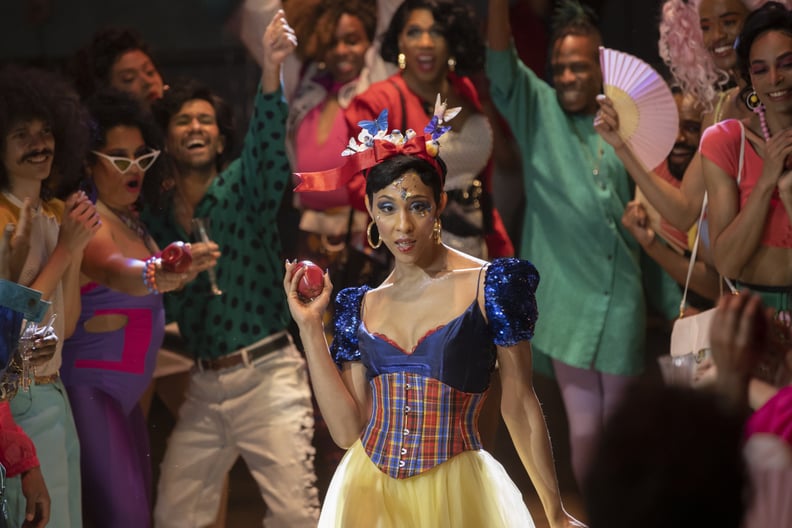 A Note on Blanca's Dramatic Beauty Evolution
Both Laurence and Moe can agree that if there's any major character on the show whose look has evolved the most over the years, it's Blanca.
"When we first met Blanca in season one, her look was more pedestrian and less refined, a young woman on the start of her journey, pulling it together on a budget. As we watched her grow in life, love, and loss, we got to see her look evolve as well," Moe said. As the series progressed, Moe notes that he made the decision to give Blanca longer and fuller hair while also embracing her natural texture on occasion.
"Her signature finger-waved edges were the finishing detail that set her apart from the other girls," he said. "She will forever be the heart and soul of this piece, and I think her hair journey represents that beautifully."
To reflect Blanca's initial lack of confidence and lower class status, Laurence and the rest of the makeup team used drugstore products that were purposely applied in an amateur fashion.
"We shopped for cheap brown drugstore eyeshadow palettes to use to represent her place at the time. She cared more about her family than she did learning how to perfect her look," she said. "The shapes for her shadows were not as blended and had more roundness to help make her look a little more off. As the seasons went on and her children grew into their own lives, she was able to focus more on herself."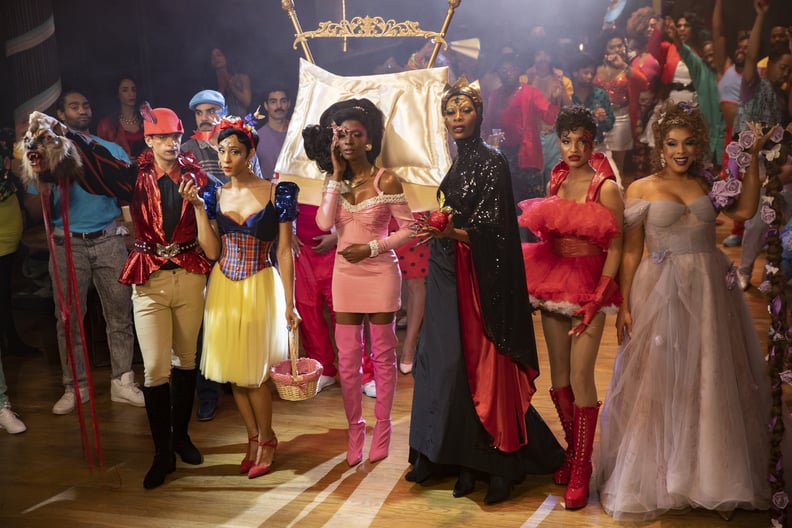 The Beauty Products That Were Used to the Last Drop on Set
"It's impossible to choose just one," Moe said. "I couldn't make it through a week on set without the IGK Mistress Hydrating Balm ($29), the Unite 7Seconds Detangler ($30), R+Co Vicious Strong Hold Flexible Hairspray ($32), my favorite YS Park 113 Tail Comb ($20), and countless packs of braiding hair."
Laurence and the makeup team relied heavily on Pat McGrath makeup for the ballroom scenes. "They have lots of glitter, shimmer, and holographic colors for ballroom looks and more subdued shades for everyday looks," she said. "We used lots of her eyeshadows and lip glosses! We couldn't have done Pose without her line!"
The same thing goes for various Fenty Beauty foundations and highlighters: "Rihanna has created some beautiful shimmers and holographic colors in her highlighters and in her lip glosses," she said. "To die for!"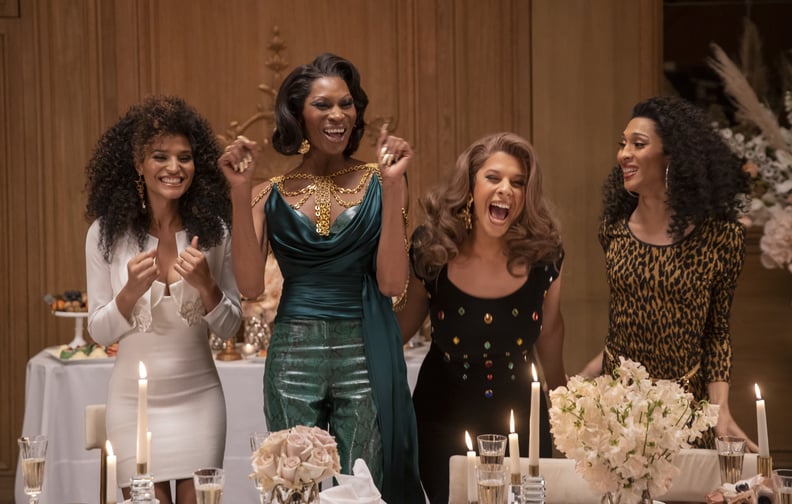 Over 100 Wigs Were Used Throughout the Entire Season
This should come as no surprise given the overall popularity and convenience of wigs these days, but nearly every character you've seen on screen this season — Blanca, Elektra, Angel, Lulu, Candy, and most guest stars — are wearing wigs. That of course means that, to account for all of the hairstyle changes that take place throughout each episode, the hair department was stacked — and we do mean stacked — with backup wigs.
"In total, we had over 20 main cast wigs and nearly 100 additional wigs that were used on camera throughout the season."
"In total, we had over 20 main cast wigs and nearly 100 additional wigs that were used on camera throughout the season," Moe said. "This allowed us to keep up with the multitude of looks required by the show, while simultaneously protecting the actor's natural hair for the duration of the long production schedule."
As Moe put it, the use of wigs was also a convenient timesaver when it came to the prep work that went into some of the more extensive looks, like a few that were worn by Elektra. Still, this isn't to say that there weren't at least some characters whose natural hair wasn't completely covered. One look in particular incorporated both a wig and Indya Moore's natural hair.
"There's a moment during the rooftop intervention scene when Lulu is laying Angel's edges. To achieve this, we left out one side of [Moore]'s natural hair and strategically incorporated the wig around that to allow Hailie [Sahar] access to her baby hairs," Moe said. "Hailie was a pro and had those edges looking great by the end of the scene. It was an authentic moment that wouldn't have worked without a flawless blend of both elements."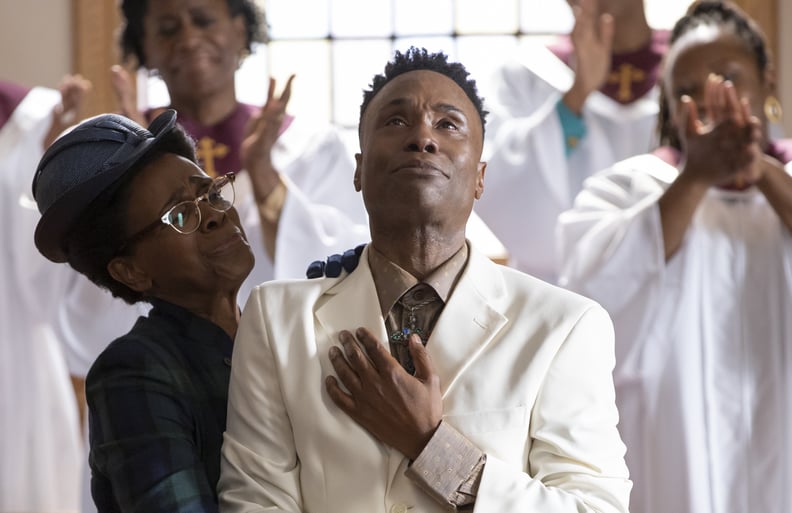 How Makeup Highlighted the Real Dangers Faced by The LGBTQ+ Community
Outside of the extravagance pictured in every ballroom scene, not every hair and makeup look on the show is super glamourous.
"Since season one, we have had to do a lot of different makeup looks that were emotionally hard to do," Laurence said. "From people dying of AIDS to one of our characters being murdered to bad 'silicone' injections that became severely infected." The devastating physical effects of HIV/AIDS in particular took center stage in the season three premiere with the AIDS-related death of recurring character, Cubby (Jeremy McClain), whose bright and baby-faced appearance in previous seasons was displaced by darker makeup that made him appear more grim and morbid.
"These are all real things that the LGBTQIA+ community experienced, especially in the trans community of color," Laurence said. "Then we would have to switch modes and create fantastical ball looks as well."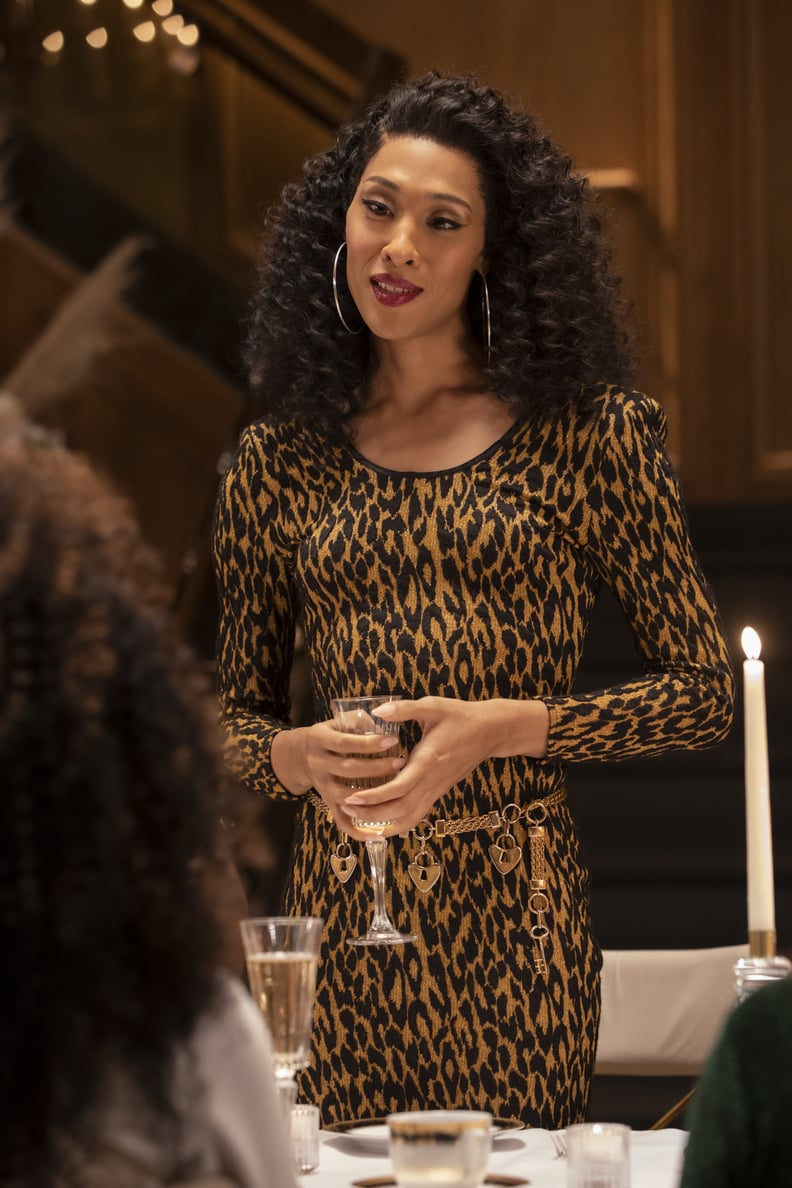 Why This Season's Team Consisted Mostly of Black Hairstylists
Actors have oft criticized Hollywood's consistent failure to employ hair and makeup artists of color on set of some of the biggest projects out there, and the overall lack of representation of Black beauty professionals in the industry has consistently become a topic of conversation over the past few years. It was for this reason — paired with last summer's racial reckoning and the pandemic that disproportionately affected Black and brown communities — that the majority of the Pose hair team is made up of Black hairstylists.
"It was imperative to create an open forum in the hair trailer to discuss these issues with the actors and also with my entire team of hairstylists. The hair team is made up of vibrant, beautiful, and talented Black hairstylists who put their heart and soul into the work," Moe said. "So much of what you see on camera is the inspired, skillful work of these individuals. In order for anyone to do their best work, they need to feel respect and support in the workplace."
Moe's team consisted of stylists like Timothy Harvey, Tene Wilder, and Greg Bazemore, among others. "We cried a lot, but laughed even more and, together, built a beautiful family that will be bonded for life," he said.