Products This Editor Uses to Relax and Unwind
The Go-To Products This Editor Turns to When She's Feeling Stressed, Run Down, and Low Energy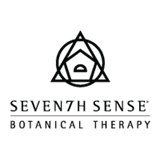 With the help of
Seventh Sense
, we're highlighting how her hemp-derived CBD skincare routine helps this editor destress and relax after a long day. Click
here
to find out where you can purchase all the Seventh Sense products featured — and more.
Like many 30-somethings, I start feeling burnt out a lot faster (and with much more intense fervor) than when I was but a babe of 23. Between spending nine-ish hours working in front of a computer, trying to get to a workout class at some point during the day, making sure my dog gets enough exercise, and attempting to have a social life, I often find myself basically pouring my worn-out body into bed the moment I get home. That being said, no matter how run down I am, I never, never skip my evening skincare routine.

Of course, that's because I'm dedicated to the pursuit of perfect skin till death, but after a long day there's also nothing more relaxing, soothing, and restorative than giving your face some love. And when I decided to add products with hemp-derived CBD to the rotation, doing my nightly regimen has become even more meditative and healing.
My first step to ridding my face of all the stresses of the day is dissolving any makeup and city pollutants with Green Lily's Hemp-Derived CBD-Infused Cleansing Melt. I'm all about a balm cleanser — this one contains meadowfoam seed oil to lock in moisture, which is especially helpful if you have dry skin during the winter months (or all the time, like me). I warm it between my fingers and then massage it all over my face while dry, without rubbing too hard, of course. A few light circles over your eyes should be enough to lift away your makeup!

I'm also a big fan of exfoliation — I use Green Lily's Hemp-Derived CBD-Infused Weekly Scrub to gently exfoliate my skin. Tiny pieces of Luffa cylindrica fruit remove all those dull, dead skin cells so that my skin is primed to soak up the rest of my skincare, like Green Lily's Hemp-Derived CBD-Infused Multitask Mask. In only 10 minutes, a combo of French green clay, hyaluronic acid, and hibiscus extract brightens and hydrates like no other. After cleansing, exfoliating, and masking, I always feel immediately rejuvenated.
Insider tip: the Green Lily products are available as a gift set for the holidays (wink, wink, nudge, nudge).
The final touches in my wind-down ritual are the products that are going to keep me soothed while I sleep. I slather on Green Lily's Hemp-Derived CBD-Infused Night Cream and spend a few minutes depuffing using a cold jade roller or gua sha tool. The gentle massage with these tools promotes lymphatic drainage to smooth, lift, and brighten your face. It also helps the elements of the cream (like marula oil and hyaluronic acid) soak deeper into the pores for extreme hydration.

The real key to waking up looking fresh and dewy? Sealing in all your products with a high-quality facial oil. I turn to Seventh Sense's Secret Glow Hemp-Derived CBD Oil; beyond hemp-derived cannabidiol, it contains luxurious natural ingredients like rosehip oil, ylang ylang, and argan oil.
All in all, I view my skincare routine as an essential piece of my wellness practice. The simple act of taking care of my skin helps keep me balanced, no matter what the day throws at me.
Photographer: Chelsea Kyle; Art Director: Samara Grossman; Hair and Makeup Artist: Elayna Bachman; Wardrobe Stylist: Alexis Badiyi; Prop Styling: Jenna Tedesco; Producer: Alex Friedlander
* Product shown in images is the smaller size you receive when purchasing the gift set.
Any cannabis products referenced above are not intended to diagnose, treat, cure, or prevent any disease. The writer is not a medical doctor, and their experience is based on personal use, the results of which may not be typical or intended. The legality of cannabis products varies by state, and readers are encouraged to check their local laws before purchasing and using cannabis products. Nothing in this article should be construed as advice regarding the legal status of cannabis products. Any views expressed in this article by a third-party sponsor are those of such sponsor, and do not necessarily represent the views of POPSUGAR.