Hidden Meaning of the Hairstyles in Promising Young Woman
The Hidden Detail You May Have Missed in Cassie's Unicorn Wig in Promising Young Woman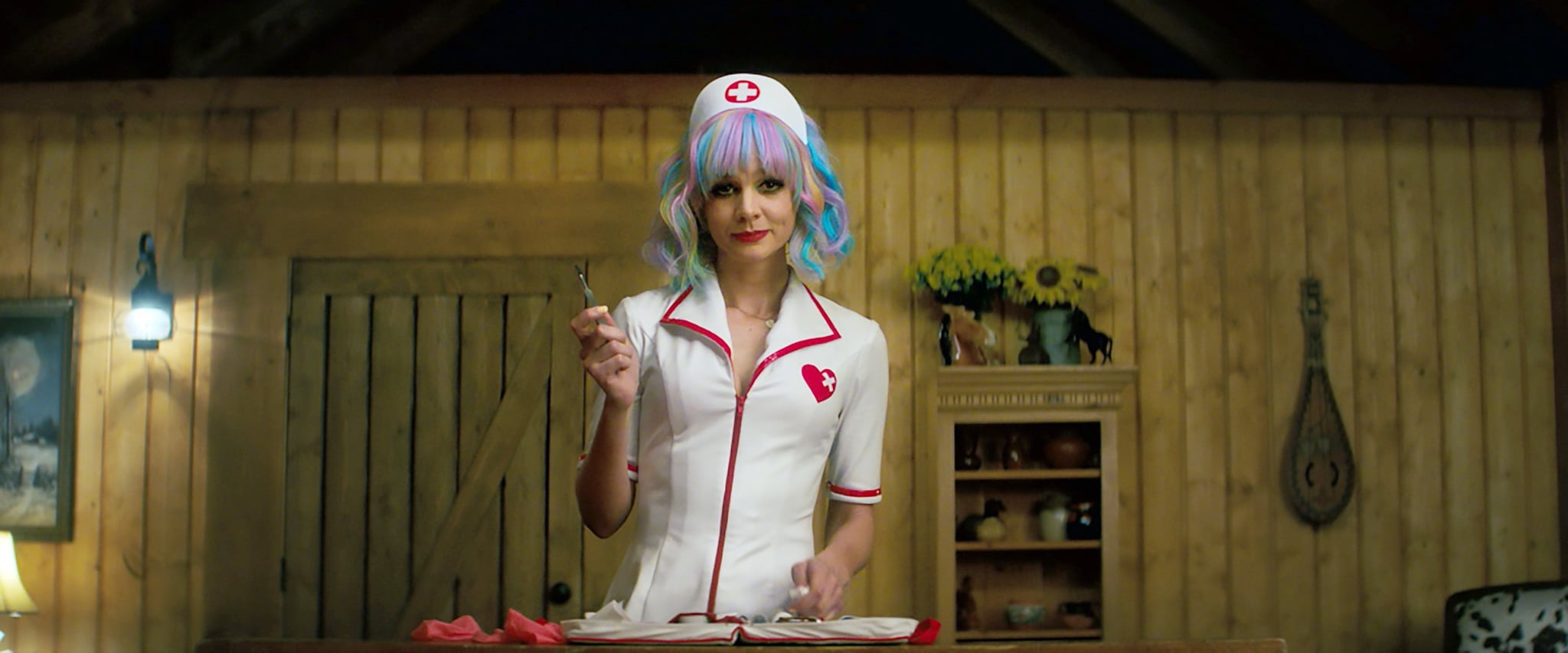 Carey Mulligan's looks in Promising Young Woman tell a much bigger story than what you might think. In the film, which was released earlier this month as a video-on-demand title, the actress plays Cassie, the titular character whose life begins to spiral as she reckons with past trauma from her time as a medical student. By day, she works at a coffee shop wearing pastel dresses and pinup bangs; by night, she hits the town in sexy attire, pretending to be intoxicated to see which self-proclaimed "nice guys" might try and take advantage of her.
According to the film's hair department head, Daniel Curet, Cassie's many hairstyles were chosen as a way to reflect her double life: "I wanted to tell the powerful story that lies in the script," he told POPSUGAR. "Every hairstyle in the film is a reflection or juxtaposition of Cassie and what she is going through."
A good example of that would be the bright, multicolored wig that she wears during the film's climax, when she shows up to Al Monroe's (Chris Lowell) bachelor party dressed as a sexy nurse. The purpose of the wig was obviously to render Cassie unrecognizable as she confronts her former classmate, though behind the scenes, its cotton candy colors were meant to contradict the dark turn that the story had suddenly taken, a suggestion originally brought up by the film's director, Emerald Fennell.
"Funny enough, it was [Fennell]'s choice and I egged her on to just go for it," Curet said. "The colors in the wig were also in the same palette as the coffee shop set and reminiscent of items in her bedroom. We really wanted to put the look of the film into her wig."
The colors in the wig were also in the same palette as the coffee shop set and reminiscent of items in her bedroom.
The wig was custom-made by Curet himself, and much like Cassie's revenge plot, it wasn't exactly easy to construct. "He had to make triple the wigs — one customized for [Mulligan], one for her stunt, one for her stand in," makeup designer, Angie Wells, said. "Ten razor blades were sacrificed to cut through the plastic hair, and some handy utility scissors to create that terrifying, iconic look."
Curet shared his process behind the wig-making, explaining that it was Mulligan's idea to cut it into a wavy bob.
"We showed several wig options to the director, and she kept returning to the multicolor, striped wig," he said. "Unfortunately, the specific one she liked was one length, and I found another with similar characteristics that had the signature heavy fringe and bangs. To make the wig fit our vision, I cut the top off one wig and stitched it to the other. It was [Mulligan]'s idea to cut it shorter to the length we showed on film."