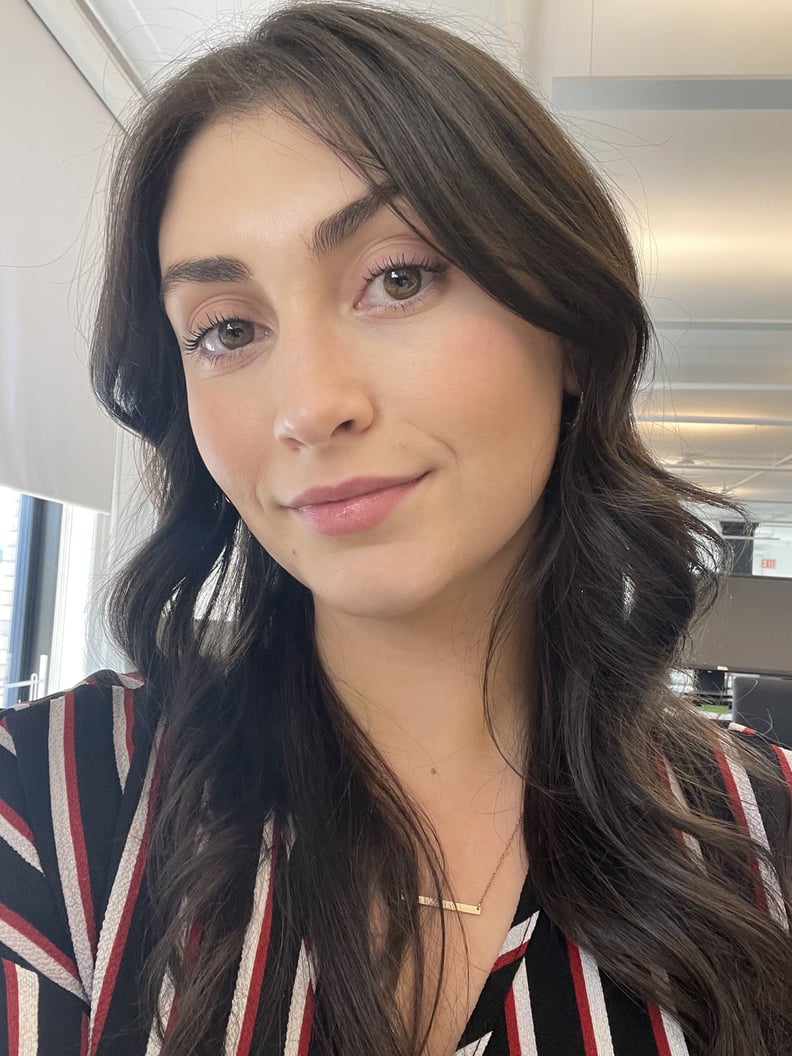 POPSUGAR Photography | Jessica Harrington
POPSUGAR Photography | Jessica Harrington
Every editorial product is independently selected by our editors. If you buy something through our links, we may earn commission.
A viral beauty hack on TikTok uses setting powder and a damp cloth to set your makeup.
Our editor tested the makeup hack to see if it works.
She did her makeup at 11 a.m. and checked the results at 6 p.m. later that day.
When it comes to setting my makeup for a long day, I typically use a little bit of setting powder or a setting spray, but recently, a viral makeup hack on TikTok got me to try an entirely new method. Creator Sayri Reyna shared a video where she completely covered her face in loose setting powder, then used a damp towel to blot it in. The final result was ultrasmooth, poreless makeup that appeared to pass the transfer test. So, I decided to give it a try.
As I said, I typically set my makeup with minimal products, so the idea of covering my face in setting powder was a little daunting, but the final result looked so good I was willing to give it a go. To try it out, I did my entire makeup routine like usual, except I skipped powdering my face after concealer. The foundation I use is light coverage with a dewy finish and tends to move around a little bit around my mouth and under my eyes, so I was hopeful this would lock it in place.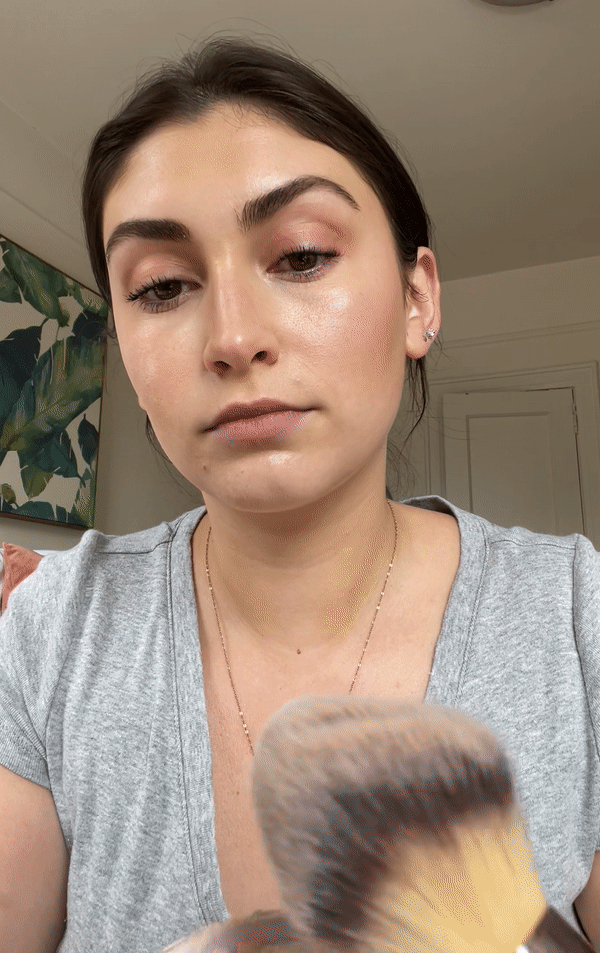 Once my makeup was done, I used the Tatcha The Silk Powder Protective Setting Powder ($48) and an extra-large fluffy brush to apply it. Over my desk — because I was sure things would get messy — I dabbed the brush in the powder and then brushed it over my skin, making sure to apply it with a heavy hand. Once there was visible white powder all over my face, I used a damp paper towel to press the powder into my skin. It left my face a little wet at first, but it absorbed all of the powder and immediately delivered a smooth finish.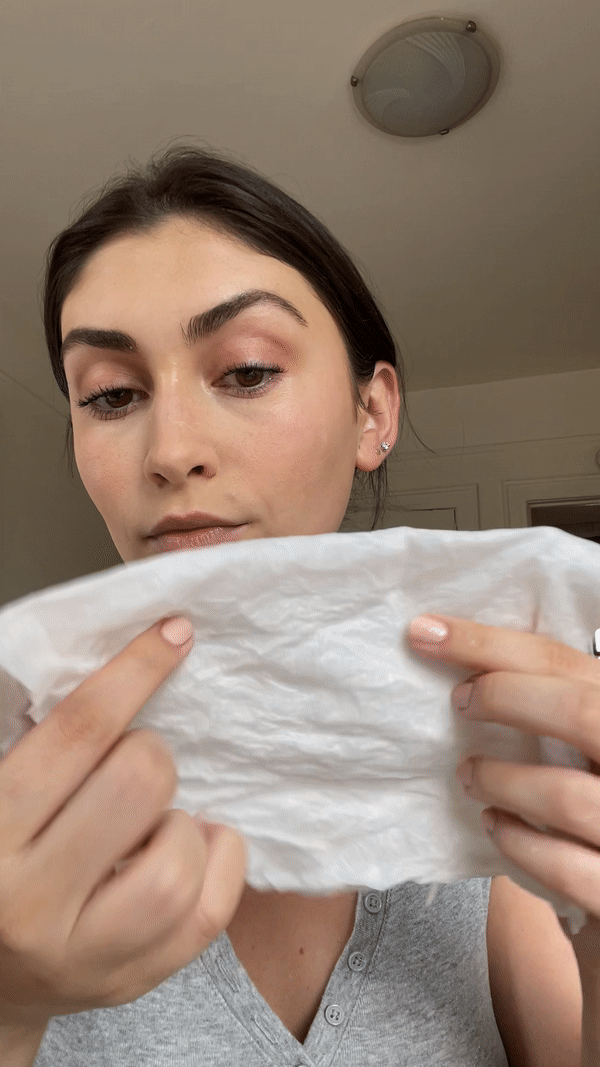 I finished my makeup at approximately 11 a.m. and went on with my day, which included going to a couple of events and wearing a mask in between. I figured it would be a good test to see how I looked after a few hours went by, so I waited until the end of my day at about 6 p.m. to check how the setting-powder hack worked.
When I looked in the mirror at the end of my day, I was pleasantly surprised to see my makeup hadn't moved an inch. Despite having a full face of makeup on, enduring 85-degree weather in New York City, eating a huge hoagie sandwich for lunch (yes, it was delicious), and wearing a mask for about an hour, my makeup still had a smooth finish, and my pores were invisible. The only thing I didn't like about this hack was how heavy the products felt on my skin — it definitely felt like I had layers of powder caked on, even though it didn't look like it. The trick also turned my makeup from a dewy, radiant finish to a matte finish, which is to be expected when using as much powder as I did.
Left: My Makeup at 11 a.m. Right: My Makeup at 6 p.m.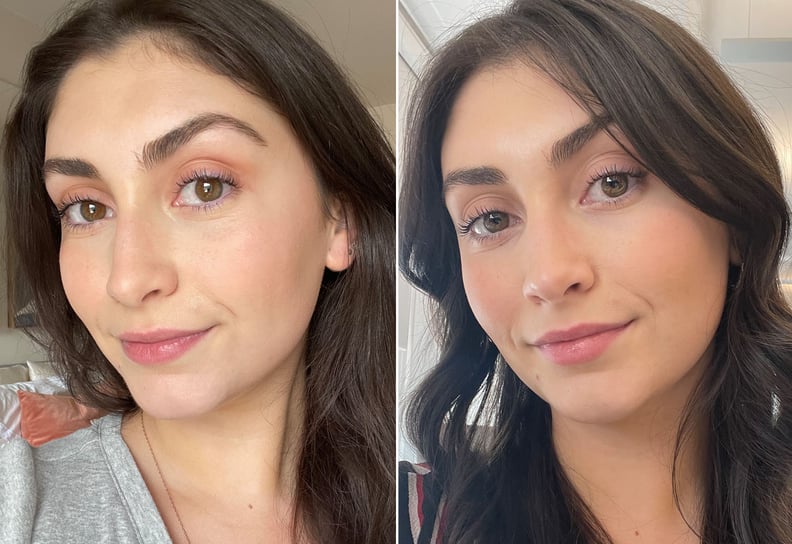 All in all, I was impressed with how well this TikTok beauty hack worked. I won't be pulling it out for daily use, but on occasion when I need my makeup to last a long time or I'm afraid I might get really sweaty or oily, I'll be giving it a go again.