This LED Device Made My Teeth a Full Shade Whiter Without Pain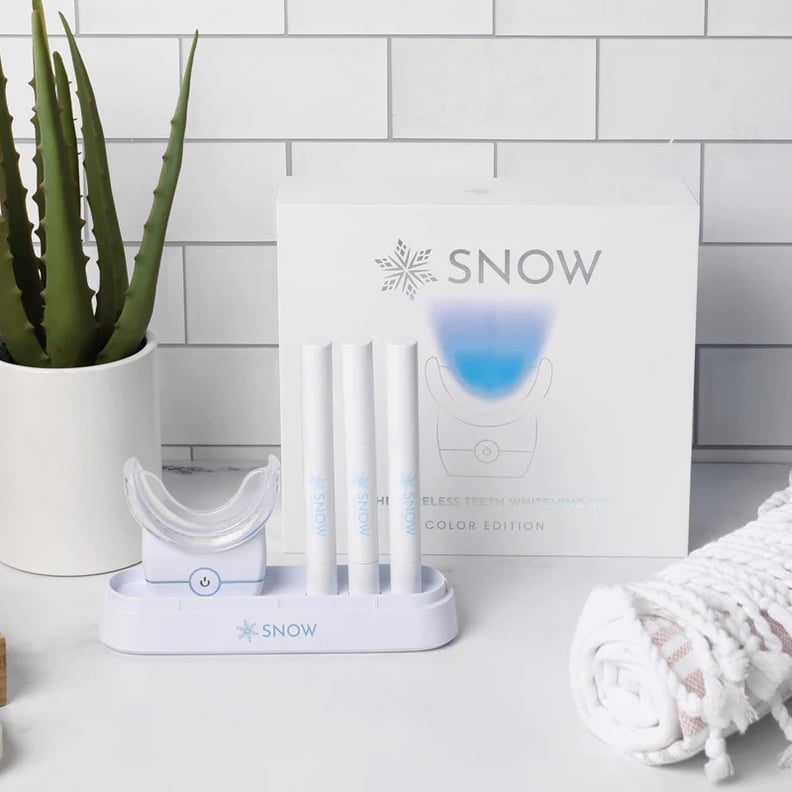 POPSUGAR Photography | Aviel Kanter
POPSUGAR Photography | Aviel Kanter
As POPSUGAR editors, we independently select and write about stuff we love and think you'll like too. If you buy a product we have recommended, we may receive affiliate commission, which in turn supports our work.
The Snow Whitening Kit uses a hands-free LED mouthpiece to whiten teeth.
The device is safe for people with sensitive teeth and dental work.
It also has settings that use blue light for whitening and red light for gum support.
Tooth discoloration can result from many different factors — certain foods and drinks, smoking, genetics, medications, and even the environment can all affect your teeth. I've personally noticed some yellowing over the years, which I'm guessing has to do with my, um, very normal coffee habit and the fact that I love a juicy red wine. I've looked into professional teeth whitening, but I've always been quoted upward of $2,000, which, TBH, seems a little excessive.
I've also tried every whitening strip under the sun, which always seem to irritate my gums and make my teeth hurt. Plus, I have mild enamel demineralization (white spots on the edges of a few teeth), and whitening strips tend to make those even more noticeable — which kind of defeats the purpose.
Needless to say, my expectations for Snow, the latest product to hit the at-home tooth-whitening market, were pretty low. However, I'm happy to report that after I used the Snow Wireless Kit ($299) for about a month, my teeth became a full shade whiter — with no pain involved.
My Teeth Before Using Snow
The Wireless Kit comes with a handy color gradient so you can track your progress. I started at about a three, which isn't so bad, but I definitely wanted to see at least a full shade of improvement.
How to Use the Snow Device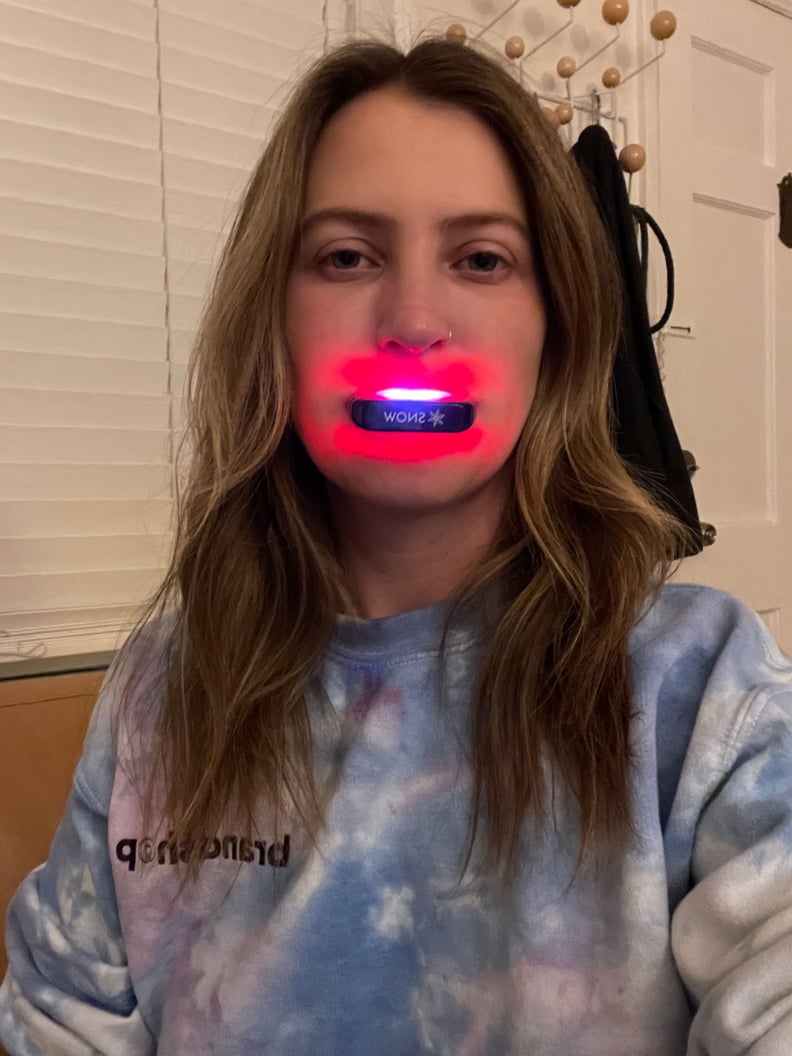 In the kit, you'll find the Wireless LED Accelerating Mouthpiece and three wands filled with the whitening serum (one is extra strength). The LED mouthpiece has three settings: one with just blue LED light (which activates the whitening serum to whiten and lift stains), one with just red LED light (which can help kill bacteria in the mouth as well as reduce pain and inflammation in the gums), and one that is a combo of the red and blue lights.
The process is pretty simple and hassle free. First, brush your teeth and rinse. Then, twist the bottom of the whitening wand to make the serum come out. Using the brush tip, coat your teeth in a layer of the serum, which starts to foam a little on contact. I personally didn't have any sensitivity to the extra-strength serum, but my mom (who has sensitive gums) said she felt some burning. She switched to the regular-strength serum and was fine.
You're advised to swipe on some lip balm for comfort before sliding in the mouthpiece. I was actually pretty surprised by how comfortable the mouthpiece was; it didn't pinch my gums or make me feel like I needed to open my mouth super wide. I was able to hang out, walk around, and do other things around the house without holding it in my mouth or feeling like I was dying to take it out. Fun fact: the mouthpiece is waterproof, so I even kept it in a couple of times while showering. Hooray for multitasking, right?
Because I was trying to get the most noticeable results possible, I used the blue light-only setting and kept it in for 30 minutes — the longest amount of time possible (the brand recommends nine to 30 minutes once or twice a day). You'll definitely get some warm-saliva buildup in the back of your mouth — fortunately, the serum is tasteless, so it's not too gross to just swallow.
After you're done, you can spit and rinse with some water, which is a nice departure from most at-home whiteners. The brand says to wait about an hour before eating; I typically did the whole routine just before going to bed.
Before and After Using Snow

After 21 days of use, I can definitely tell the difference — according to the yellow-gradient meter, I'm now at a shade two. I'm also excited that the results seem to be long-lasting. I'm trying to be more diligent about brushing my teeth after my last cup of coffee or glass of wine to keep the momentum going.
All in all, the Snow whitening system is pretty low-lift and gave more significant results than I've had with any other at-home whitener — sans pain and irritation. The price tag is also much more manageable than a professional procedure. It's a win-win in my book.
Rating:
★★★★☆