Solawave Blue Light Therapy Wand Review With Photos
I Tried the Solawave Light Therapy Wand Celebrities Swear By
As POPSUGAR editors, we independently select and write about stuff we love and think you'll like too. If you buy a product we have recommended, we may receive affiliate commission, which in turn supports our work.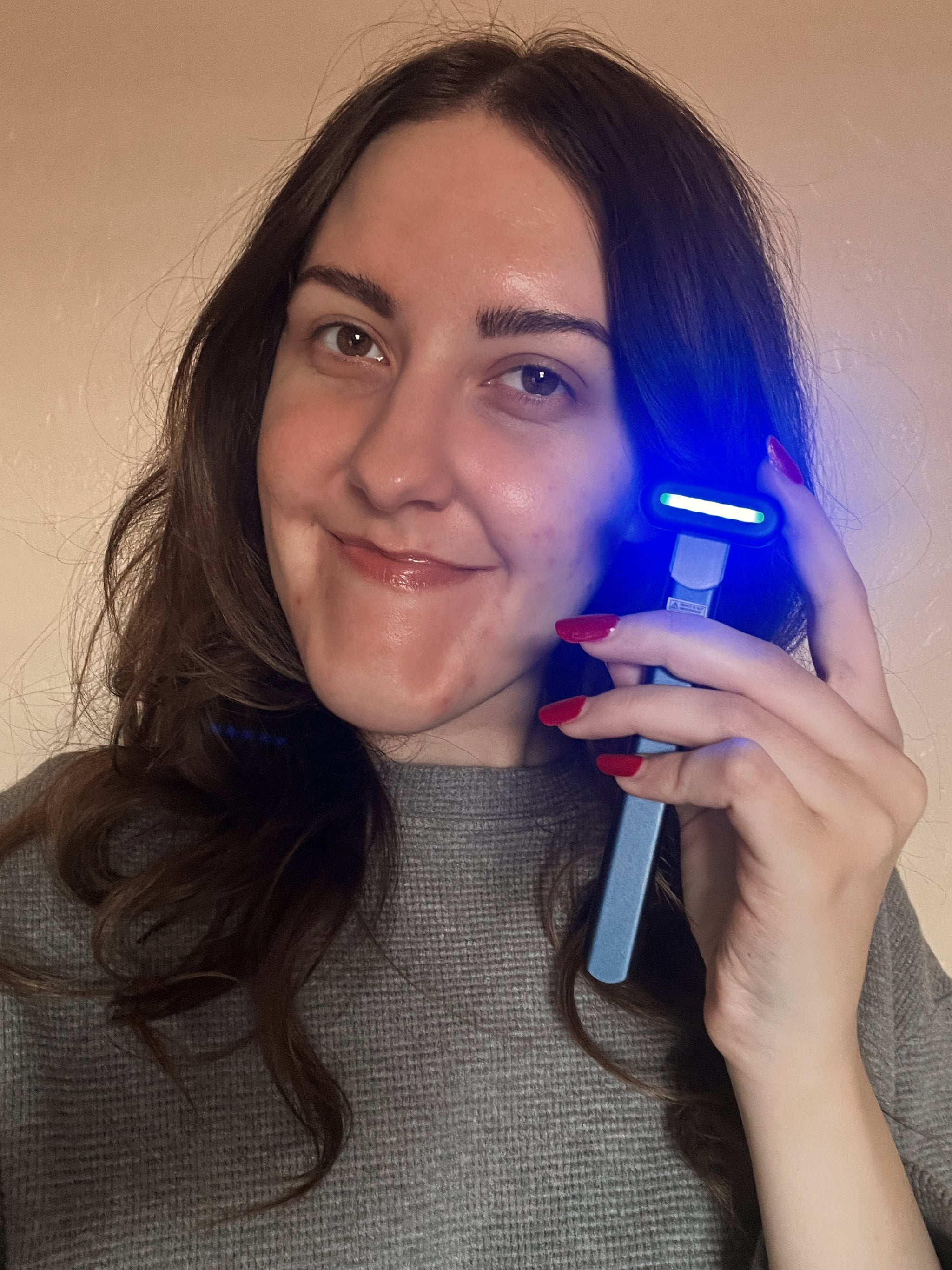 When you follow award season as closely as I do, you become pretty attuned to what's popular in the worlds of celebrity beauty and red carpet glam. There are the usual suspects: sheet masks, eyebrow gels, and hair bungees galore. But as skin care has evolved, so have the beauty routines of Hollywood's biggest stars. The latest beauty craze among celebs comes in the form of the Solawave 3-in-1 Anti-Breakout Wand With Blue Light Therapy ($119). This small but mighty light-therapy tool packs a seriously transformative punch, with built-in technologies that work to fade blemishes and breakouts at the source, all while providing a soothing UV-like treatment at home.
The blue-light wand is just one of many celeb-backed products from the internet-favorite skin-care brand. Solawave also has a skin-firming red-light-therapy wand that's loved by stars like Lil Nas X, Reese Witherspoon, Sydney Sweeney, Megan Fox, Nicole Kidman, and more. Naturally, in my quest to achieve the same red carpet glow as my biggest beauty muses (hi, Reese!), I decided to test out the Solawave Blue Light Therapy Wand for myself to see if it was really as magical as it was marketed to be.
What to Know About the Solawave Blue Light Therapy Wand
Solawave's Blue Light Therapy Wand works to fade blemishes and hyperpigmentation, elevate the skin's natural glow, and decrease puffiness, all through the product's noninvasive light therapy.
The skin-care tool relies on three unique technologies: blue-light therapy; a low-vibration, facial-massage element; and therapeutic warmth, which helps to open up the pores and provide "better penetration of topicals," according to the brand.
Solawave offers two unique kinds of therapy wands: the Red Light Therapy Wand ($149), which is designed to smooth fine lines and increase the skin's firmness, and a Blue Light Therapy Wand, which does more to target blemishes and breakouts.
Each order of the Blue Light Therapy Wand comes with a quick starter's guide and charging cable. The brand also recommends using the Solawave Renew Complex Activating Serum ($32) prior to using the wand, as the formula works to amplify the results. This product is available to purchase separately.
What I Like About the Solawave Blue Light Therapy Wand
Considering how notoriously busy my schedule can get, I like that I only need to use Solawave's blue-light wand for a short amount of time each day in order to see results. Per instruction by the brand, Solawave recommends that users carve out at least five minutes a day, three times a week, to use the wand on their skin. Unlike other UV skin treatments that require an in-office visit with a professional and eat up any of my remaining free time, this tool can easily fit into my daily skin-care routine — regardless of how busy my life gets. And while the product boasts an over-$100 price tag, it's pretty reasonable considering how pricey other light-therapy treatments can be.
This tool also has a working time of one hour once fully charged, so it requires minimal maintenance. I love that I can get extended treatments out of the product without having to constantly recharge it.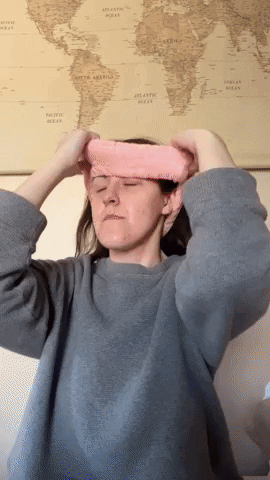 How to Use the Solawave Blue Light Therapy Wand
First, I start by washing my face with a gentle cleanser and then patting my skin until it's completely dry. Typically, I'd follow up my daily face wash with my usual skin-care routine, but when using the Solawave Light Therapy Wand, it's important to ensure your face is free of any other product. Next, I coat my face in an even layer of the brand's Activating Serum, ensuring that my cheeks, forehead, chin, and neck have a glossy, smooth finish. Finally, I'm ready to put the blue light to use. The wand automatically turns on the moment it touches skin, so there's no need to worry about switching it on or off. I then move the wand upward and across my face, starting from the center and working my way outward. My cheeks are typically where I experience hyperpigmentation and breakouts, so I'll focus most of my energy on them. After about five minutes of gently gliding the product across my face, the process is done for the day. While I didn't see results immediately, after almost a month of use, I began to notice fewer breakouts on my face, and the usual acne scars that had existed on my cheeks began to look more faded.
What to Consider Before Buying the Solawave Blue Light Therapy Wand
The biggest thing to make note of is that skin care is not a one-size-fits-all model, and just because a product works for someone, it doesn't necessarily mean it'll yield similar results for you and your skin. Whether it's light therapy, acidic masks, or microcurrent technology, I always recommend consulting with your dermatologist first before using a new skin-care product or device in your routine. The Solawave brand, in particular, has a warning posted on its website that those who are under the age of 18, are pregnant, or have implants should not use the light-therapy wands. Beyond that, if you have sensitive skin or any underlying health issues that you think might be a cause for concern, consult with your doctor first.
Additionally, while you don't need Solawave's Activating Serum to use the therapy wand on your skin, it definitely makes the process of using the tool easier and eliminates any discomfort that might come from the product's vibrational qualities. Similar to the NuFace skin-toning device, Solawave's light-therapy wands emit a microcurrent-like vibration that can be felt directly on the skin. While not uncomfortable, it can feel a bit tingly and strange at first. Not only does the serum help to amplify the results of the device, but it also provides a protective barrier on the skin that limits the initial shock of the device.
Where Is the Solawave Blue Light Therapy Wand Available?
Solawave's celeb-backed light-therapy wands are available to shop at Solawave ($139), Saks Fifth Avenue, Neiman Marcus ($119), Amazon ($125, originally $149), and Nordstrom ($149).
Rating:

Image Source: POPSUGAR Photography / Kyley Warren