From chunky highlights and zigzag parts to claw clips and scrunchies, there's no doubt that Y2K beauty trends are having a major moment, especially when it comes to hairstyles. And truthfully, it wouldn't be an authentic '00s revival without adding micro braids — a style worn by Brandy and other icons of the early aughts — to the mix.
Typically worn on either side of a middle part or all over the head, the protective style is insanely versatile, so no one would really blame you for wanting to try your hand at the nostalgic look today. Plus, because the braids are so thin, you can treat and style your hair as you normally would if it weren't braided — a win-win.
To find out what hair type works well with micro braids, how to maintain the style, and everything in between, POPSUGAR spoke to hairstylists who specialize in natural hair and braids. Read on for their expert insight.
What Are Micro Braids?
"Micro braids are very small braids that resemble a thick strand of hair," Jessica Houston, vice president of operations and lead aesthetician at natural beauty supply store Beautybeez tells POPSUGAR. They are tiny, individual braids that can be easily manipulated into numerous styles, including buns, ponytails, curls, and updos. As you can imagine, these braids typically take a long time to install, as only a few strands of hair are used for each braid — making them much lighter in weight than other protective styles.
According to Briana Dunning, a hairstylist at Striiike Studio, when applied properly, micro braids can help with hair growth and require very minimal maintenance. Although micro braids can be installed on natural hair (3C to 4C hair types work best), people often tend to add length by adding in synthetic hair during the process.
The rules are simple. Begin with a small section of hair, and add in the extension hair of your choice. Braid stylist Geneva Fowler suggests following the same technique you would when creating box braids, without the uniform parting. Once you get the braid started, you will then continue to braid down the length of the hair.
How Long Do Micro Braids Last?
Depending on how small the braids are, how thick your natural hair is, and your desired length, micro braids can take anywhere from five to 12 hours to install — so it's understandable you would want them to last you a while. Still, just how long depends on a few factors: "The length of time that the braids can last depends on the rate of hair growth, your natural texture, and how often you shampoo," Dunning said.
Generally speaking, you can leave them in for up to eight weeks. If you intend to keep them in beyond the eight weeks, experts recommend making an appointment with your stylist to help determine whether or not it's safe for your hair.
Luckily, uninstalling the braids is a much easier feat, often taking only two hours. To do it yourself, simply cut off the braid where the extension starts, for a more seamless and timely removal. "Start at the middle of the head, comb out the ends, and work your way up to the roots until the extension slips out," Kayleena Johnson, braid stylist, tells POPSUGAR. Afterward, wash hair with a clarifying shampoo to remove any buildup or debris.
How Much Do Micro Braids Cost?
Although the cost of getting micro braids installed will vary depending on the salon where you choose to get them done and where you live, you can expect to pay between $100 to $500. The exact number can fluctuate depending on the state of your hair and the length of your desired final style.
How to Prepare Hair Before Installation
Before your appointment, Brittney Ogike, the founder and CEO of Beautybeez, recommends entering the installation with conditioned and moisturized hair. To do this, you can double shampoo with a clarifying shampoo and then a deep hydrating masque. Dunning also encourages clients to shampoo out the masque and follow with a regular conditioner before rinsing out the hair thoroughly. "Rinsing the hair properly will ensure the hair is hydrated without being too slippery," Dunning said.
How to Maintain Micro Braids
With proper care, micro braids can last up to eight weeks. Luckily, caring for the protective style is very similar to your regular hair-care routine. Gently shampoo hair once a week (on the scalp only) and follow up with a hydrating conditioner to keep braids moisturized. Once your hair is clean, allow ample amount of time for the braids to completely dry (air-dry or blow-dry) before styling. Styling while braids are damp can cause fungus, dandruff, or even mildew.
In between wash days, you'll want to have a handy product to help remove any dirt or buildup to keep your scalp healthy. Daily, the experts also recommend a light oil (like coconut oil) to restore moisture. Dunning recommends avoiding heavy oils that can clog pores on the scalp and leave an impenetrable coating on strands.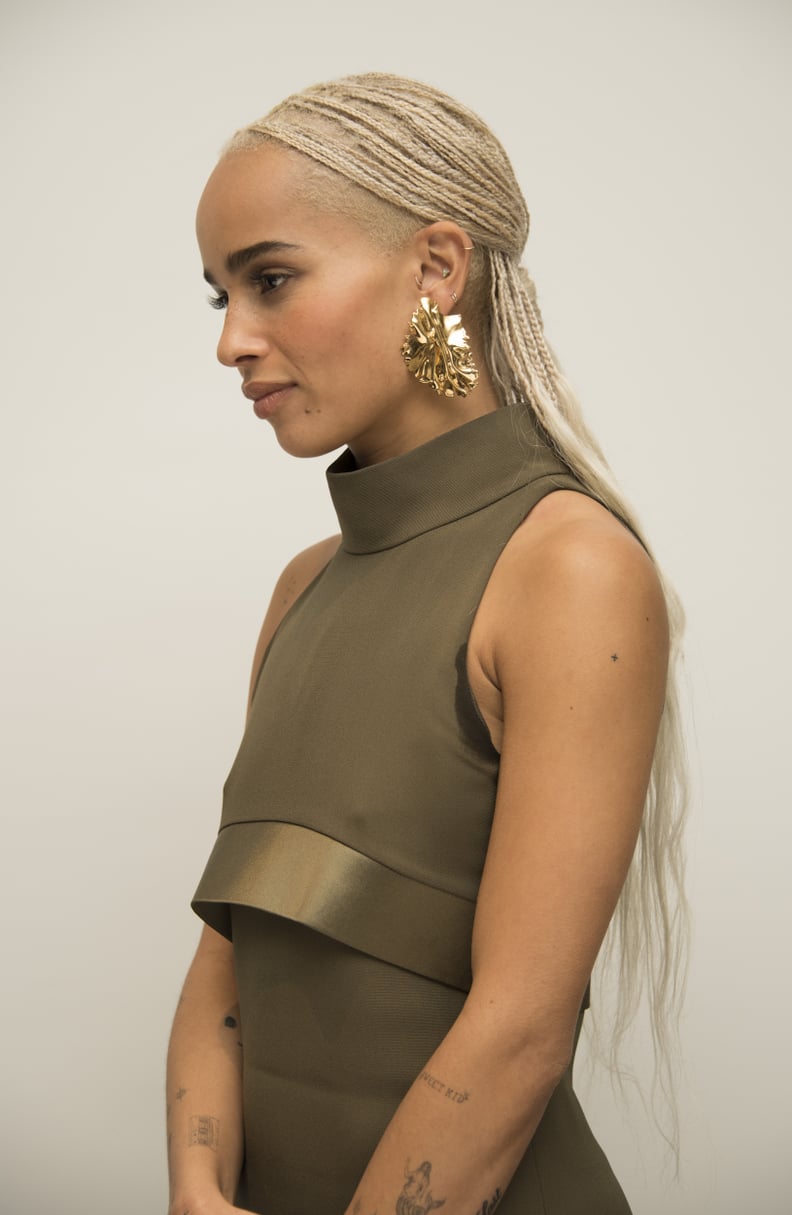 Can I DIY Micro Braids?
Short answer: depends how much patience and arm strength you have. "If you want to take this feat on by yourself, make sure you have carved out a large enough chunk of time and the arm strength of a superhero," Dunning says.
In order to re-create the style at home, you'll need a water bottle, tail comb, clips, wavy yaki hair, boiling water, conditioning cream, hair scissors, and small rubber bands. Dunning encourages DIY micro braiders to select faux hair that is similar in density to your hair to create a natural, seamless look.
Are There Any Risks to the Style?
Although micro braids aren't bad for your hair, people with thin or fragile hair should consider avoiding the style, as the braids are so small that the tension and extra weight could cause breakage and damage. Any hairstyle that is installed too tightly also poses the risk of traction alopecia, a form of hair loss due to hair pulling. To avoid this, make sure you communicate to your stylist if things feel too tight.
Similar to most protective styles, if you overwear micro braids, they can start to wreak havoc on your hair and edges, with the potential for receding hairlines and thinning. All that said, if you properly care for your hair and don't keep braids in past two months, you should be OK.