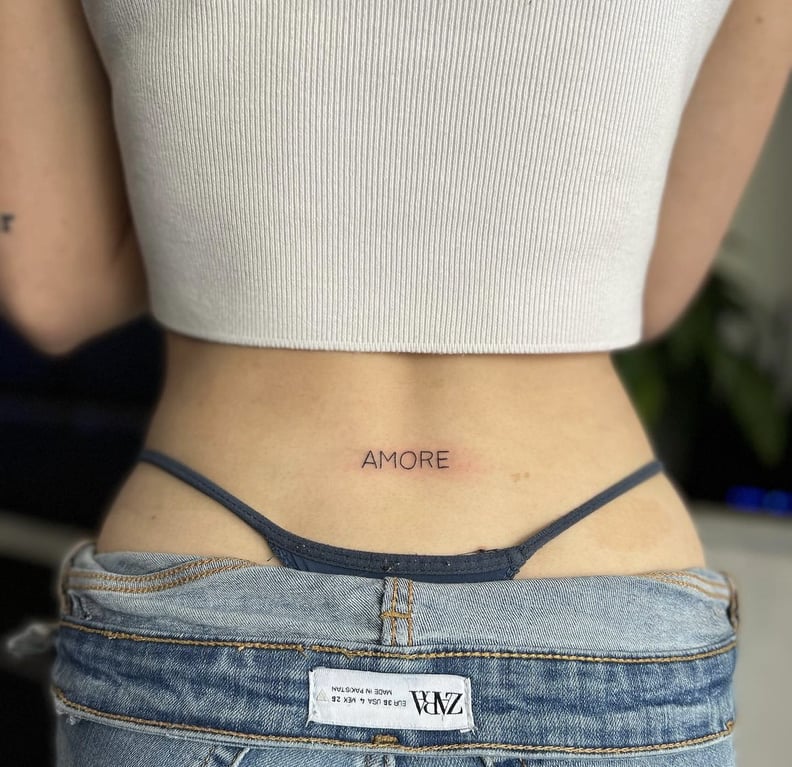 Image Source: Inkredible Tattoos
Some time last year, TikTok user Callie Wilson posted a video to her 996K followers about the process of getting a lower-back tattoo. Ever since, countless clips have emerged in response, with one proclaiming, "Gen X girls, your time has officially come. Wake up, ladies; the tramp stamp is here." What's more, Pinterest's 2023 trend report seems to support this declaration: "aesthetic tramp stamp" is up 600 percent on the platform.
But is it really getting a revival? Just as fashion and beauty recycle trends, so, too, does the body art that go with them. With the 1990s resurgence in full swing and styles like low-rise jeans and crop tops abounding, the lower back is on display. This makes it the ideal time to bring back the lower-back tattoo . . . and TikTok just might have a point.
Still, this recent uptick in interest also brings up the trend's sartorial roots. With popularity correlated to fashion trends and not female promiscuity, as the name implies, its return to the social conversation highlights how the judgment-laden nickname "tramp stamp" deserves a feminist update. Keep reading to learn more about how this generation is reclaiming the placement — hopefully for good this time.
What Is a "Tramp Stamp," Anyway?
First things first, this is not the actual term. "We don't call it that in the tattoo industry — we just call it a lower-back tattoo," says celebrity piercer Brian Keith Thompson, owner of tattoo and piercing studio Body Electric. "But customers and the public know it by that name, which is just a derogatory term for a lower-back tattoo."
Hawaro Juul Petersen, founder and owner of Iron & Ink, explains that the term emerged after the trend's fall from prominence, negatively sexualizing the trend in retrospect. It's hard, after all, to forget the quote from the 2005 movie "Wedding Crashers": "Tattoo on the lower back? Might as well be a bull's-eye." Even comedian and actor Amy Schumer published a book called "The Girl With the Lower Back Tattoo," poking fun at her own ink on the area. But jokes aside, this slang connotes negativity and undue stigma.
In reality, the lower back was the It placement for body art to accompany the style of the time in the 1990s and early 2000s. Pop star Christina Aguilera had one, and so did Britney Spears. The lower-back tattoo is typically centered in the lower back and small in design (hence where the word "stamp" comes in), where the ink can be spotted just above the waist of low-rise pants and below a crop top. Back in the early aughts, some of the most popular requests were butterflies or symmetrical tribal designs. These days, butterflies still remain popular, but they are more minimalist and evocative of line-art designs featuring delicate aesthetics and negative space — the on-trend look for body ink of the moment. Even a single, meaningful word in print or cursive might make an appearance there.
The History of the Lower-Back Tattoo
Alessandro Melas, the head tattoo artist at Astrid & Miyu, says, "The lower-back tattoo was used in the past to highlight the lower back and mark seductive, feminine power." He says it emerged as a style in the 1980s and was popularized and made trendy by celebrities and early "influencers" displaying them.
As Petersen says, it was essentially the feminine counterpart to the tribal tattoo, which became popular at the same time. "Both tribal and 'tramp stamps' became super popular really quickly, and a lot of people were getting both very small and very large tattoos done. Because it was still frowned upon to have visible tattoos, especially for women, this became a great way to have a tattoo that you could still show off in a fun, sexy way or easily hide it," Petersen says.
The style then peaked in the late 1990s and early 2000s. "I'd say the style was most popular in the early 2000s, and mainly women were getting them, but I have seen men get them, too," Thompson says. "Back then, a lot of people were getting it done, but I saw requests for the lower-back tattoo vanish. No one was getting them anymore by, I'd say, 2008 to 2010."
"The lower-back tattoo was used in the past to highlight the lower back and mark seductive, feminine power."
Whether or not you see yourself going under the needle, the lower-back tattoo's TikTok comeback says a lot about the social conversation around gender disparity. As TikTokers are rejecting the social stigma constructed around a symbolic allusion to feminine sexuality, they are highlighting the importance of women empowerment. What was once degraded into a social mockery is now being reclaimed by an empowered generation, dismantling a form of slut shaming that was perpetuated mindlessly in a colloquial term.
Melas concurs that while the style's mainstream popularity has been lost, the lower back continues to be one of the most requested parts by women customers. As Petersen points out, this is because people now feel more free to get large tattoos — yet another allusion to the dismantling of stigma around body art in general, but also for once-reticent women to express themselves in "unladylike" ink. So while Iron & Ink does place tattoos on the back frequently, "The tramp stamp itself has not yet come back as such, with small tattoos right on the lower back." That said, he's confident the younger generations will embrace it in some way.
Plus, we have plenty of celebrities with them who will perhaps now feel free to bare them to the world. Kris Jenner reminded people on "The Kardashians" that she has a lower-back tattoo (saying, "In those days, they called it a tramp stamp, but I'm a little too mature for a tramp stamp. But I have one"), and let's not forget about Tara's own signature ink on the TV show "Sons of Anarchy."
If you're thinking about getting a tattoo on the lower back, Petersen says it's important to find the right artist and recommends someone who specializes in single-needle tattoos to keep the design elegant and precise. Or, rather than opting for permanent ink, you can always consider trying a temporary tattoo first — just to make sure your love of the design outlasts the trend's appeal. Inked by Dani makes some of the cutest contemporary designs in temporary tattoos, while the collaboration between jewelry brand Child of Wild and Flash Tattoos evokes a more tribal aesthetic in metallic finishes. For something that lasts a little longer, Ephemeral Tattoos offers temporary tattoos that are made to fade in nine to 15 months.