As POPSUGAR editors, we independently select and write about stuff we love and think you'll like too. If you buy a product we have recommended, we may receive affiliate commission, which in turn supports our work.
I am a minimalist at heart. I love simple outfits, easy makeup, and hairstyles that take little to no effort. While I occasionally find myself going all out with my looks, more often than not you can find me doing the bare minimum, especially when it comes to my hair. I only wash it twice a week at most, which means I only style it twice a week as well. I typically give myself a blowout, but in the summer months when the weather is warmer, I try to give my hair a break from heat as much as possible, which often leaves me searching for different heatless hair methods.
I recently stumbled across a video of Dianna Cohen, the founder of hair-care brand Crown Affair, showcasing her "twist and clip" method for air-drying her hair. In the video, Cohen utilizes two hair clips to give herself heatless waves that look incredible. When I heard her describing her method as the "no-makeup-makeup vibe for hair," I knew I needed to test it out for myself.
To test the hack, the only things I needed were two small clips. Then, after washing my hair and hopping out of the shower, I wrapped it in a microfiber towel to soak up some of the moisture. After about 20 minutes, once my hair was damp but mostly dry, I took it out of the towel and applied my favorite leave-in conditioner, the Gisou Honey Infused Leave-In Conditioner ($34). I also applied the Gisou Honey Infused Hair Oil ($25). After combing everything through with a wide-tooth comb and dividing my hair into my normal middle part, it was time to test out Cohen's hack.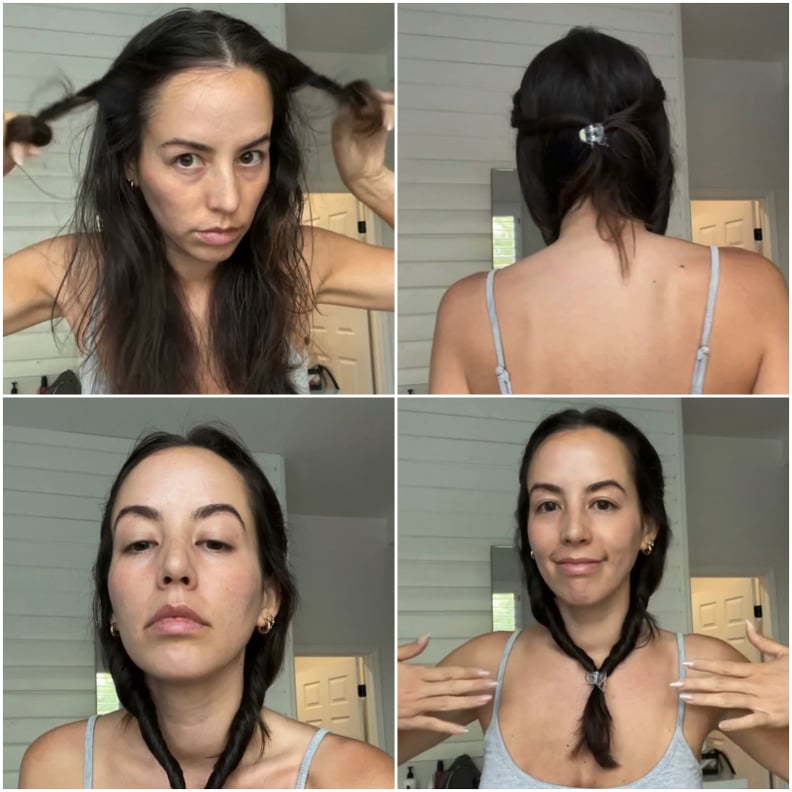 I started by dividing my hair into two sections, the top half being one section and the bottom half being the other. From there, I took the top half and began twisting small sections on either side back into tiny rope-like hair twists. I then clipped them together. The final step was to take the bottom half of my hair and divide it into two sections, and then twist them in a backward motion the same way I did with the top. I ended by clipping the bottom sections together just as I did with the top half. While it might sound confusing, trust me: it's easy to master. It wasn't until I tested it out for myself after watching Cohen do it in her TikTok videos that I realized just how simple it was.
After letting my hair sit for about 30 minutes, I took out the clips and released my hair. The twist-and-clip method left me with soft waves that gave me tons of bounce — my curtain bangs even had a perfect swoop to them.
I've tested this hack quite a few times since my initial run, and I've found there are a few key things that help my hair look its best. To start, I add in a wave spray or a beach spray after my leave-in conditioner. I've found that it gives my hair more texture and helps the style stay in place for a longer period of time. I've also started using the Living Proof No Frizz Leave-In Conditioner ($27), which has helped eliminate frizz not only at the top of my head but along the rest of my hair as well.
I have fine hair that falls between straight and wavy, so this hack would probably work best for people with similar textures that need a little help enhancing a curl. It definitely achieved that for me — it was easy to do and made my hair look cute with minimal effort. I've been utilizing this method a lot this summer, and I don't plan to stop anytime soon.