In an effort to stop the spread of the coronavirus, tattoo shops across the U.S. shut their doors in late March. Now, as all 50 states continue through phased reopening plans, tattoo shops (and other businesses within the personal services industry — nail and hair salons, spas, etc.) are restructuring, amplifying their disinfecting procedures, and working out the logistics of social distancing in professions where physical touch is inevitable.
Some states lifted restrictions on personal care services early (perhaps because spaces are typically more controlled than, say, shopping malls), while others have kept them shuttered until a more advanced reopening phase (potentially due to the lack of social distancing). But no matter when tattoo shops received the green light in each state, they had a strict set of new safety requirements to follow.
For a better idea of what your next tattoo appointment might look like, we tapped Avery Osajima of Lilith Tattoo, an all-queer studio in Seattle, WA. Having recently reopened, see how her shop prepared for and navigated this new version of "normal" ahead.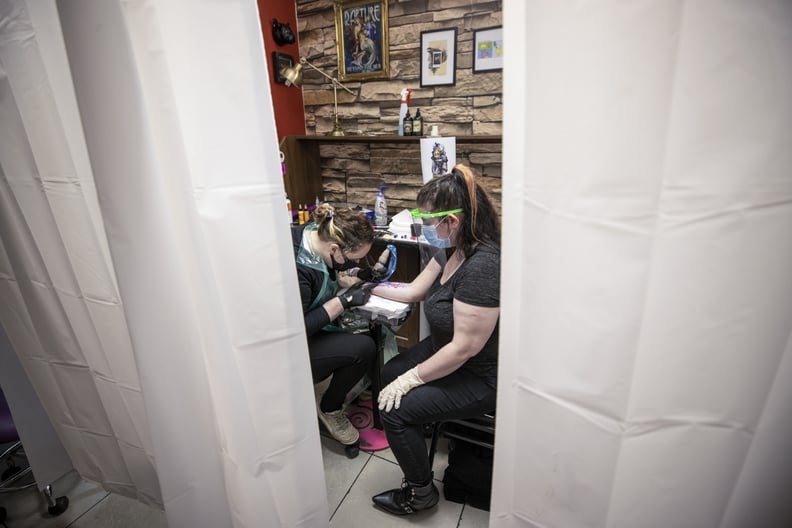 New Health and Safety Measures
Although every new precaution and structural change is ultimately about the safety of clients and staff, more areas of the tattoo business will be noticeably affected. But in terms of safety specifically, here's how Osajima's shop is combining state-mandated rules and their own precautions:
Routine health screenings for all. "We're keeping a temperature log of ourselves and our clients with a contactless thermometer and sending anyone home with a temperature over 100.3," Osajima said.
Thorough disinfecting. "In addition to standard disinfection of our stations, we're be disinfecting the lounge area, floors, counters, bathroom, station walls, all hooks and handles, printers, stencil machine, pens, etc. at the beginning of the day and after every client." As a smart bonus precaution, each client's phone will be disinfected upon arrival, too.
Masks, social distancing, and face shields. "In addition to standard masks and social distancing, we're wearing face shields and either disposable or disinfectable aprons."
Reduced capacity. "There's be a maximum of two artists in the shop at any given time and two appointments maximum a day." Guests are not permitted for the time being.
Limited direct contact. Artist-to-client contact is unavoidable, but extra precautions are being taken where possible. "Clients are not allowed to touch artists and will be offered a pair of disposable gloves to wear just in case."
Postvisit protocol. "Clients are required to notify us if they test positive for COVID-19 within two weeks of their appointment, so we can implement a postexposure plan in which the studio will be closed for 72 hours for a deep clean with MadaCide. All clients who have entered the studio after the infected client and before the deep clean will be notified.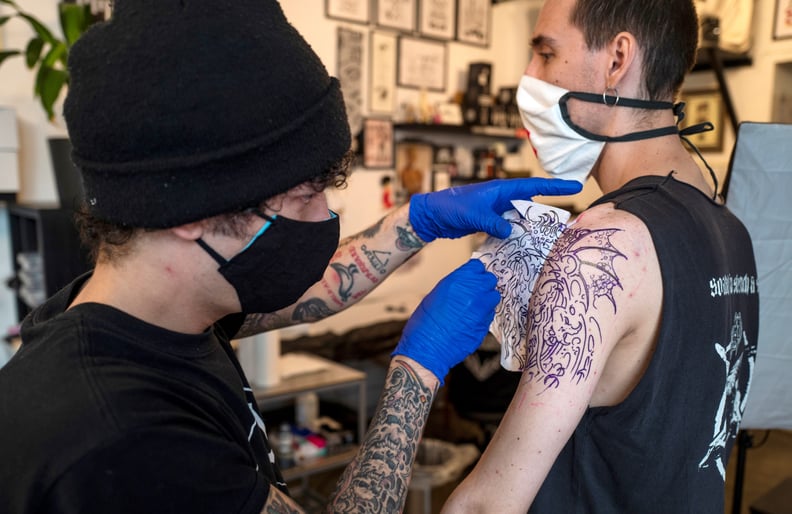 New Logistics and Booking Processes
Securing a tattoo appointment with your favorite artist could already prove difficult precoronavirus. Unfortunately, unless they work in a private space or a shop with few artists, appointments may become even more scarce. For the time being, Lilith Tattoo is limiting the body parts they will tattoo — no torsos, faces, or necks — and keeping their capacity significantly reduced. "Usually I'm in the studio four days a week, but now since we're limiting the number of artists that can be in at any given time, we'll only be able to work two days each," Osajima said.
The structure of her job will change, too. "I think in general, a lot more of our time and brain space is going to have to be dedicated to things other than the things I really do this work for — the art and the human connection," she said. "The scope and frequency of our disinfecting process has more than doubled, we're having to spend much more time doing administrative work with all the rescheduling, we're implementing completely new processes, and we're having to limit some of the human parts of the experience that may feel as small as being able to offer someone tea but I think altogether compound into something that represents a significant shift that will persist for some time."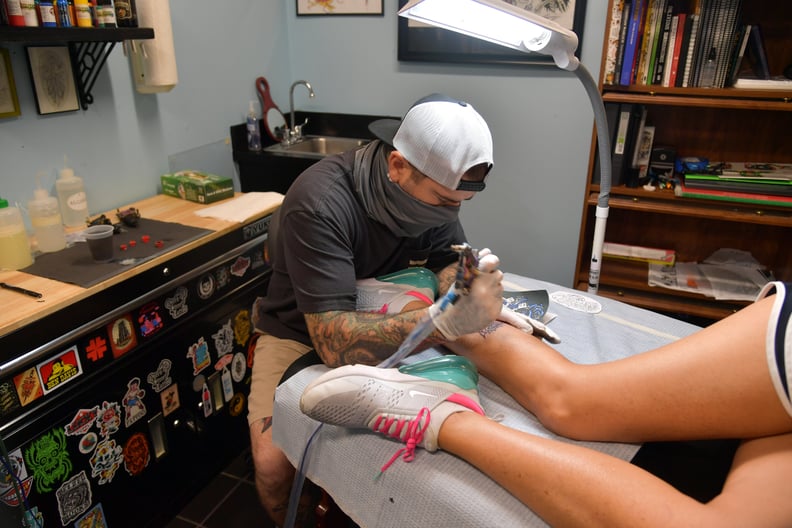 How Tattoo Appointments Might Change
So, what will tattoo appointments really look like moving forward? "Pretty different," according to Osajima. While you might normally sit in a waiting area, browse portfolios, sign routine consent forms, and perhaps socialize with artists and guests, that will no longer be the case. Lilith Tattoo stoped displaying portfolios and flash books for the foreseeable future; clients will be required to read and sign a COVID-19 protocol form. The two artists working will be stationed as far away from each other as possible, too.
When it comes to cleanliness, safety, and leaving with a finished tattoo, things may not feel that different after you walk out the door. But for a shop like Lilith, which prioritizes community and connection, the experience will change. "We're an all-queer shop that has some pretty strong community roots, so usually we have a very warm, communal feeling in the shop," Osajima said. "Now we're only going to have a maximum of two artists in at any given time; we're going to be working at the two stations furthest away from each other and really minimizing any interaction between our clients and the other artists and their clients."