As POPSUGAR editors, we independently select and write about stuff we love and think you'll like too. If you buy a product we have recommended, we may receive affiliate commission, which in turn supports our work.
For many people in the skin-care world, retinol is considered liquid gold. The ingredient is touted by dermatologists and skin experts alike for its unmatched ability to boost cell turnover, which works like magic to fade hyperpigmentation and dark spots, clear up acne, and smooth out fine lines with continued use. Oh, and that's not all retinol can do: it can also improve skin's elasticity, exfoliate, prevent and fade sun damage, and even out one's skin tone.
Sound too good to be true? We know, but we can assure you it's not. Here, with the help of skin-care experts, we're breaking down everything you need to know about the ingredient retinol so you can figure out how best to use it, and which products might be the best for you.
What is Retinol?
So, first thing's first: what is retinol? Simply put, retinol is the purest form of vitamin A. A little less simply put, it falls within a category of over 2,500 different chemicals called retinoids. The reason these forms of vitamin A are so effective is because when they're applied to skin, retinoids are converted into retinoic acid. Our skin loves retinoic acid because it communicates well with our cells, improving the way they form and mature.
The key to finding a powerful retinol boils down to how well it converts to retinoic acid once it hits your skin, and there are two routes you can take when it comes to incorporating this skin-care ingredient into your regimen. It can be purchased over the counter or prescribed by a doctor.
OTC Retinol vs. Prescription: Which is Better?
The main difference between over-the-counter and prescription retinol is the concentration of ingredients. This affects its ability to convert to that wonderful retinoic acid our skin is so receptive to. Cosmetic and procedural dermatologist, Jody Comstock, MD, advises you to consider three things when choosing between medical grade and OTC: the timeline you have in mind for desired results, your skin's sensitivity, and how much you want to spend.
Since prescription retinol is more intense, it can cause skin to become red and flaky. If you don't mind that, it will give you quicker results than over-the-counter products. The downside is that this form is much more expensive if your insurance doesn't cover it.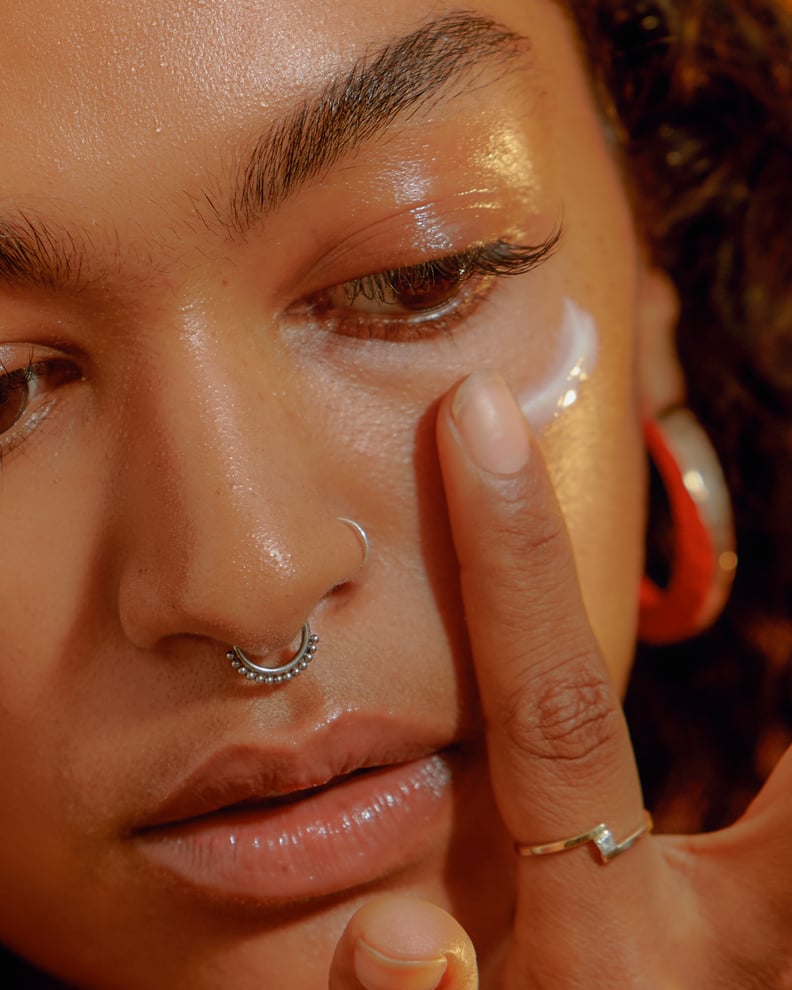 If you don't think you can tolerate red, flaky skin (or you don't want to make your wallet weep), Celeste Hilling, CEO of Skin Authority, has good news for you. Using a more gentle, store-bought product can give you the same benefits and results as using a prescription . . . it just takes a little more time. Plus, unlike most prescription retinols, "an over-the-counter [formula] is gentle enough to use daily, which allows it to become part of your routine," she says.
Both Hilling and Dr. Comstock agree you should start to see results within 10 to 14 days, with more dramatic results within six to eight weeks. In the world of skin care, that's pretty impressive.
Important Tips to Know Before Using Retinol
Incorporating retinoids into your routine can work wonders on all kinds of skin concerns. The right formulation can do everything from brightening to toning skin to diminishing the signs of aging. They also work to reduce sun damage, redness, pigmentation, acne, and more, but as good as it sounds, it's not for everyone, so keep these few facts in mind.
Retinol causes increased skin sensitivity. That's why it's important to start off slow, using your product of choice twice a week, and then work your way up. Remember that just a pea-sized amount will do the trick. Any more than that isn't necessary and won't speed up your results. Whether you decide to go the prescription route or opt for an over-the-counter formula, all retinoids also cause increased sensitivity to the sun. So incorporating a broad-spectrum sunscreen into your routine every day is absolutely necessary. If not, you risk causing severe redness and damage to your skin.
One last note: all of our experts agreed that retinol should not be used by anyone who is pregnant, nursing, or has liver or kidney problems. So if you fall into one of these categories — or if you have any other concerns before trying out retinol — consult with your doctor.
To get the best results from a store-bought retinol-based product, you're going to want to pick one that works over time with other ingredients to provide even more benefits. Read on to learn more about some of the most innovative retinoids in the skin-care game so you can get the most bang for your buck.
How to Find the Right Retinol For You
Suneel Chilukuri, M.D., board-certified dermatologist and founder of Refresh Dermatology is a big fan of PCA Skin's line of retinols. Dr. Chilukuri says they offer up prescription-strength quality with the added benefit that you can pick from three formulations depending on your specific concern. All of them work to minimize the signs of aging and repair damage, but each has its own focus. PCA's Intensive Brightening Treatment ($117) helps with discoloration and hyperpigmentation. The brand's Intensive Clarity Treatment ($117) contains 2 percent salicylic acid to calm and prevent acne.
Dr. Comstock's top pick when it comes to retinol is SkinBetter Science's AlphaRet Overnight Cream ($135). "With retinols, I like products that can multitask with peptides, amino acids, AHA's (alpha hydroxy acids) and salicylic acid but still keep the active retinoid working well," she says. According to her, AlphaRet's Overnight Cream combines all of these things along with strong antioxidants to protect skin and a host of moisturizing ingredients to prevent dryness.
Hilling is also a fan of over-the-counter products that bring more than just retinol to the table. Her favorite is no other than Skin Authority's Vitamin A Cell Renewal ($109), because it's gentle enough to use daily, and she says users won't experience redness, flaking, or downtime. Adding, "It's one of my favorite multitaskers. It combines anti-aging, moisture, and retinol in one. Plus, it contains vitamins."
Once you've chosen the best retinol to fit your needs, all you need to do is wait. The powers of vitamin A ensure that consistently gorgeous, healthy skin is just a few weeks away.