What to Buy From the Ulta Beauty Fall Gorgeous Hair Event
These Scores from Ulta Beauty's Gorgeous Hair Event Helped 8 Editors Refresh Their Routines

We've partnered with Ulta Beauty to bring you the best in hair care thanks to its
Gorgeous Hair Event
. With one-day-only beauty steals at 50 percent off, now's the time to refresh your routine with the best products and tools. Explore the event online and in stores between now and October 26th for new steals daily!
You know you're a hair person when two things happen: your overflowing hair product closet could be mistaken for a kitchen pantry and you still think, "there's always room for more." Well fellow hair people, get ready, because "more" is definitely happening thanks to the bi-annual Ulta Beauty Gorgeous Hair Event.
With three weeks of daily haircare beauty steals and 50 percent off the best brands and products, this event deserves its own sale-shopping strategy and calendar. Now is your chance to stock up on go-to staples and explore new ones. But for us editors here at POPSUGAR, it's a golden ticket to refreshing our hair routine for Fall.
We may all have different hair types and end goals, from tight curls to smooth and sleek, but we can all agree on one thing: Fall is about touchable texture and rich color, and key products and tools from Ulta Beauty help us get there. Use the navigation bar below to find your hair type or goal and see each editor's tips and recommended products (and exactly when they're on sale!) for a full Fall overhaul.
"From getting a fresh cut and color to elevating my product game, I'm all about making my hair the strongest and healthiest it's ever been this Fall." — Britt, content director
A new season calls for new hair, and new products to show off that new hair! After a recent cut and color, Britt is all about keeping up her hair's health through Fall with a trio of products that work with her loose curl texture. The Mizani 25 Miracle Milk Leave-In Treatment and PATTERN Hydration Shampoo help to strengthen, prime, and hydrate. "The milk does a great job prepping and protecting my hair, keeping it healthy as I experiment more with different styles," she said. "The shampoo is so creamy and lathers easily. My hair feels softer and more nourished — I can't wait to use with a deep-conditioning treatment during the cold, dry months ahead."
With her new style, Britt feels more confident to cut back on the heat styling and wear her hair naturally. The Paul Mitchell Flexible Style Hot Off The Press Thermal Protection Hairspray is ideal to fight frizz and hold her curl pattern. "I definitely notice a difference after applying it; there's less frizz, but still a noticeable lightweight hold that doesn't dry out my coarse strands."
"Anything that helps minimize style time while still making my hair look frizz-free and bouncy is a Fall must have for me." — Nora, senior social media coordinator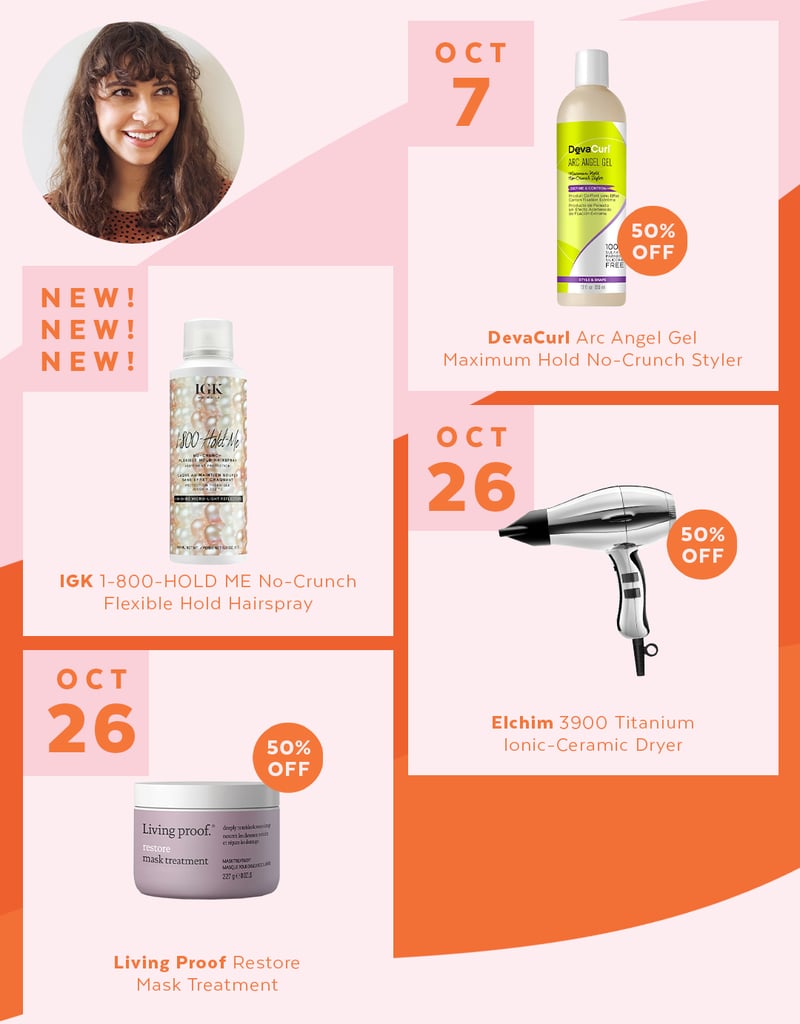 It's safe to say that curly hair requires a bit more maintenance than other hair types, but when you're a strictly low-maintenance type of person, like Nora, the challenge is to find products that effortlessly enhance curls to ensure you have a good hair day everyday. "I'm usually rushing to get out the door in the mornings, but still want to play up my curls," she said. "I need products to help keep it frizz-free and bouncy."
The first step toward smooth curls this season? The Living Proof Restore Mask Treatment. "This deep conditioning treatment leaves my hair feeling incredibly soft and always results in a good hair day!" On days when she has more time, Nora reaches for the Elchim 3900 Titanium Ionic-Ceramic Dryer to help style her hair. "I've never used a more powerful blow dryer — it cuts my drying time in half." Otherwise, she'll air dry her strands with just a bit of DevaCurl Arc Angel Gel Maximum Hold No-Crunch Styler added to fight frizz and define her curls. In either case, she'll always finish with a blast of IGK 1-800-HOLD ME No-Crunch Flexible Hold Hairspray. "I like to use hairspray to give my hair a little more texture and volume. This one adds more body without that sticky or crunchy feeling."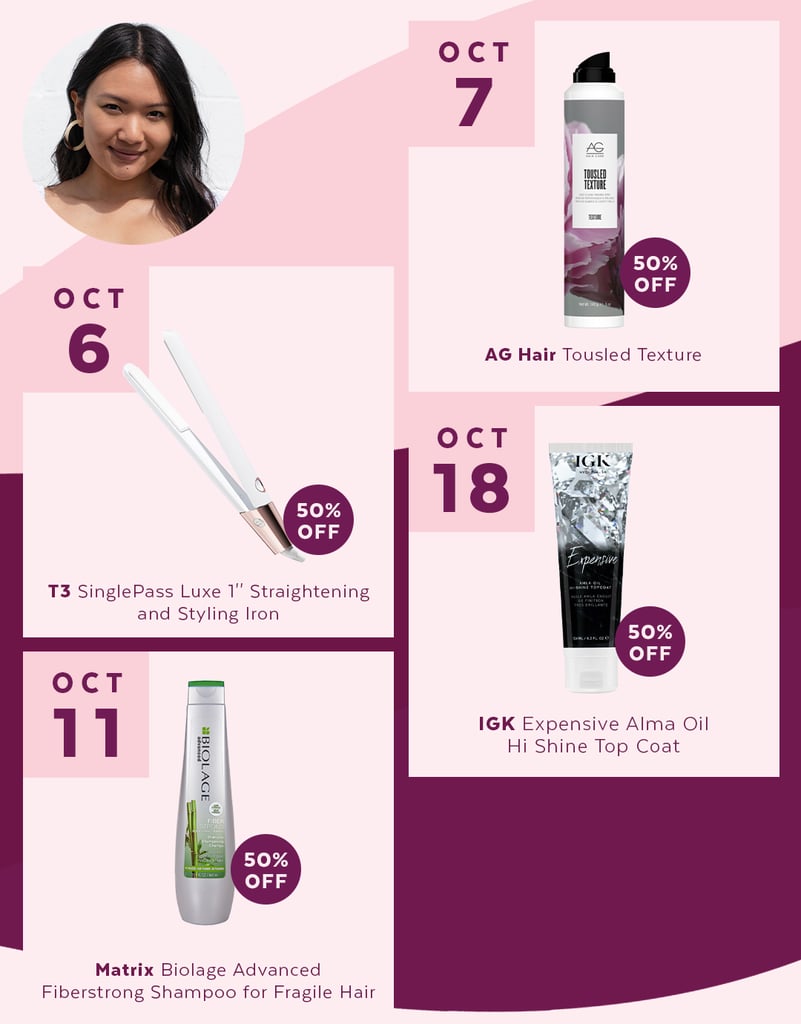 "Now that I'm wearing my hair down more for Fall, I'm all about tools and products that will help me achieve a sleek, shiny, and healthy look." — Stephanie, beauty editor
For Stephanie, Summer was all about easy, pulled-back hair. But now that it's Fall, she's excited to let her hair shine — literally. Whether she's going for sleek and straight or soft waves, her hair's health is more important than ever, since heated styles are at the center of her beauty look.
"For me, hair health starts in the shower," she shared. "My hair is coarse and dry, especially at the ends, so I need a restorative shampoo, like the Matrix Biolage Advanced Fiberstrong Shampoo for Fragile Hair, to smooth, hydrate, and strengthen strands. A few times a week, I'll also use an additional in-shower gloss treatment, like the IGK Expensive Alma Oil Hi Shine Top Coat, to help enhance shine. Together, this combination leaves my hair feeling soft and looking ultrapolished." To create her everyday look, she'll use the T3 SinglePass Luxe 1'' Straightening and Styling Iron to either straighten or add a slight bend to her hair, and finish with AG Hair Tousled Texture spray. "I like that this iron never creates frizz, no matter what heat setting I use — no wonder it's a cult-favorite! Finally, I always make sure to finish with texture spray — this one adds so much body and shine to my hair."
"I've been in a major in-between place with my hair lately. I've been on the hunt for new ways to style it that feel exciting and manageable until I figure out what to do with it next." — Carrie, associate beauty editor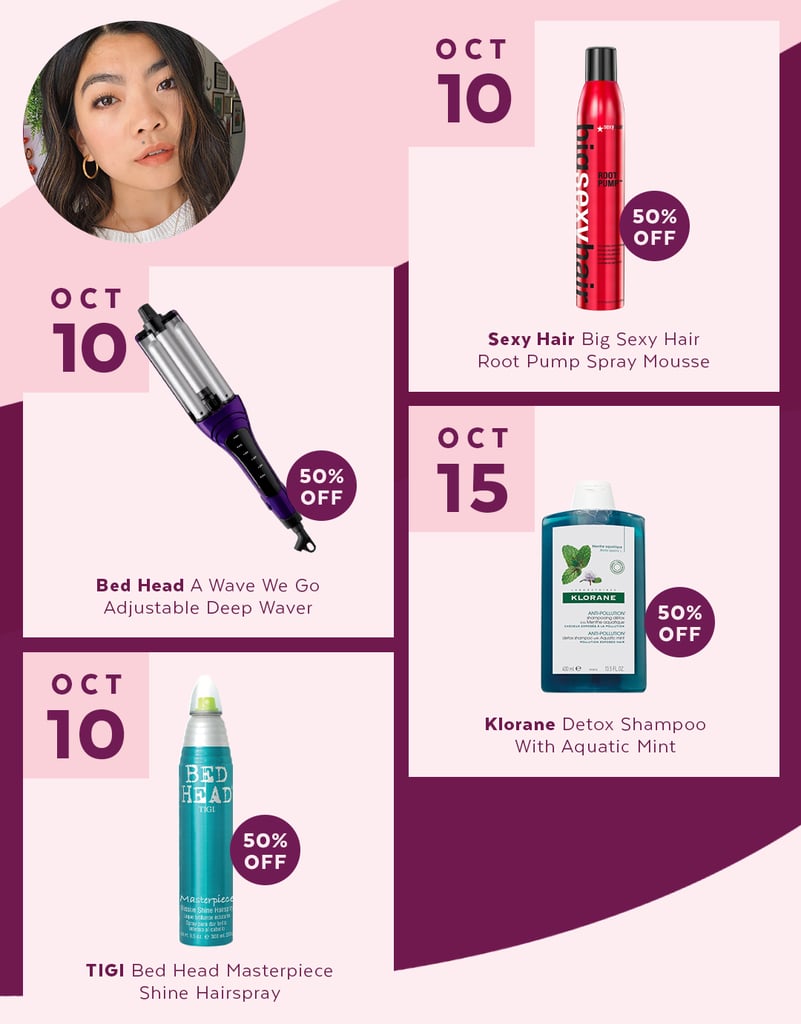 There's no better time to experiment with a new hair style than when you're feeling uninspired — just ask Carrie! With her hair growing out between trims this Fall, she's determined to find a look that's anything but dull and lackluster, without taking drastic measures. The answer? A new hot tool to play with! Thanks to the Bed Head A Wave We Go Adjustable Deep Waver, she's able to create an everyday look that feels fresh and exciting. "Wavers are seriously underrated when it comes to heated styling tools," she noted. "This gives my super straight hair a fun, beachy bend, which is a cute way to mix things up from my regular style."
The rest of her Fall hair routine is all about enhancing her new look: Klorane Detox Shampoo to protect against damage, Sexy Hair Big Sexy Hair Root Pump Spray Mousse for volume, and TIGI Bed Head Masterpiece Shine Hairspray to hold it all together. "The only thing I don't like about styling my hair is that no matter what I do, the top always looks flatter than I want it to — until now. The spray mousse makes that a thing of the past and the hairspray holds the volume, adds even more body, and makes my hair look insanely shiny."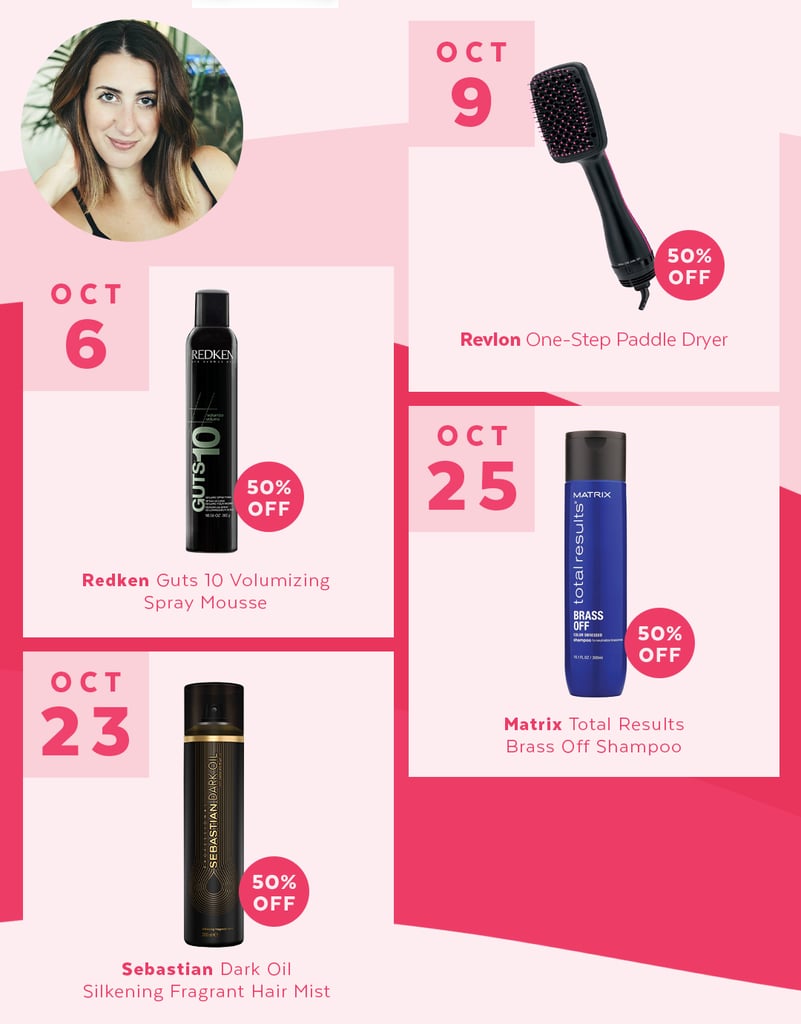 "I tend to put my hair through a lot in the Summer, so I need products and tools that will help keep it shiny and healthy-looking come Fall." — Amanda, associate director
For Amanda, Fall is all about nourishing her strands back to health, which is no easy feat when you have fine and colored hair. Luckily, she's landed on a routine that works for her and her hair type, starting with a really good purple shampoo. "Highlighted girls everywhere bow down to the power of purple shampoo! I use the Matrix Total Results Brass Off Shampoo to keep my highlights looking bright and brass-free."
From there, she likes a volumizing spray, like the Redken Guts 10 Volumizing Spray Mousse, to add body to her fine strands. "This spray gives my roots a boost without making the rest of my hair stiff. I work it into my damp roots before blow drying and it gives my usually thin hair a noticeable lift." She also likes the Sebastian Dark Oil Silkening Fragrant Hair Mist as an additional step to smooth and condition her hair before blow drying. Finally, Amanda reaches for the Revlon One-Step Paddle Dryer, which combines drying and styling in one to help cut down on the amount of heat she uses on her hair. "I use this paddle-brush blow dryer on the cool setting as the last step in my routine. It helps lock in my style while providing a shiny, healthy-looking gleam to my hair."
"Since my fine hair tends to get frizzy in the Fall, I look for products that make it feel smooth and voluminous without weighing it down." — Krista, associate shopping editor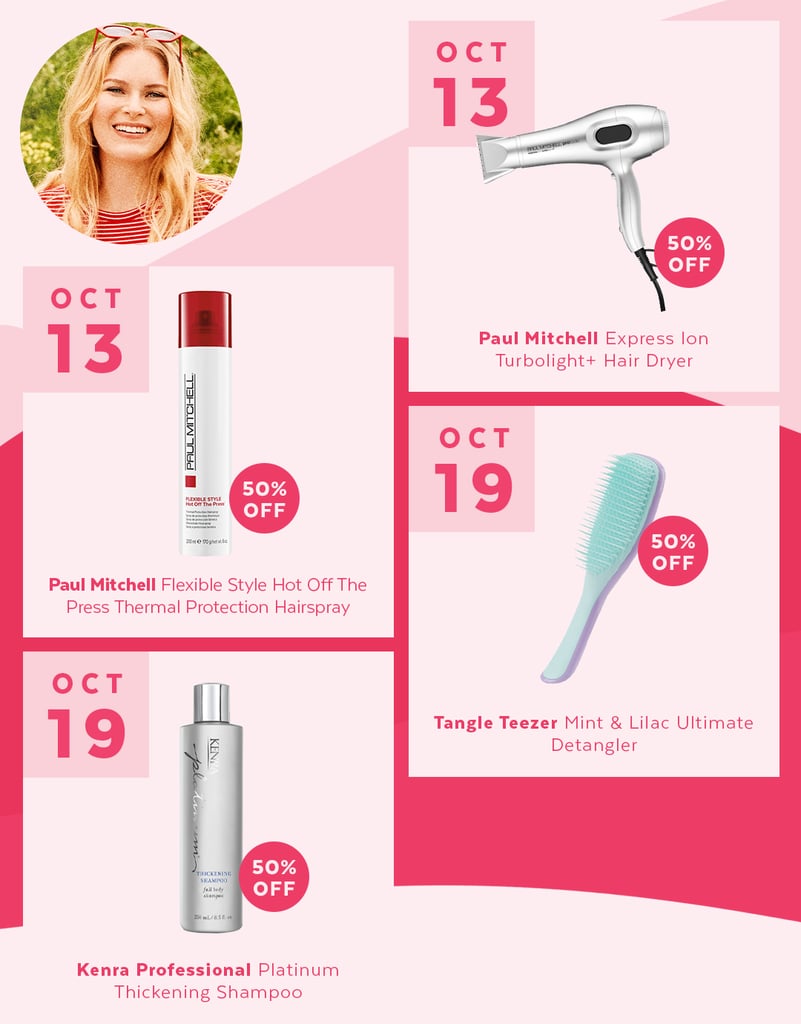 When you have fine, frizzy hair like Krista, achieving smooth volume can feel like a challenge. But this season, she's nailed the look of a silky at-home blowout with a few key products. She starts with the Kenra Professional Platinum Thickening Shampoo, which helps eliminate any build-up that may be weighing down her hair while adding body and lift. "A lot of shampoos make my hair feel flat, but this one gives my hair a light and airy feel," she shared.
Then, to shield her fragile hair from heat damage and fight frizz, she uses the Paul Mitchell Flexible Style Hot Off The Press Thermal Protection Hairspray in conjunction with the Paul Mitchell Express Ion Turbolight+ Hair Dryer. "This spray protects my hair without weighing it down. The blow dryer has a wide range of heat choices and a strong cool shot, so I can dry my hair without it being too hot." Finally, with the help of the Tangle Teezer Mint & Lilac Ultimate Detangler, she's able to achieve silky smooth hair in one pass. "I used to spend my mornings combing the knots out of my hair, but this brush is a total game changer. I can finally brush through my hair with ease, and I find it's filled with so much less hair afterward because I don't have to pull as hard."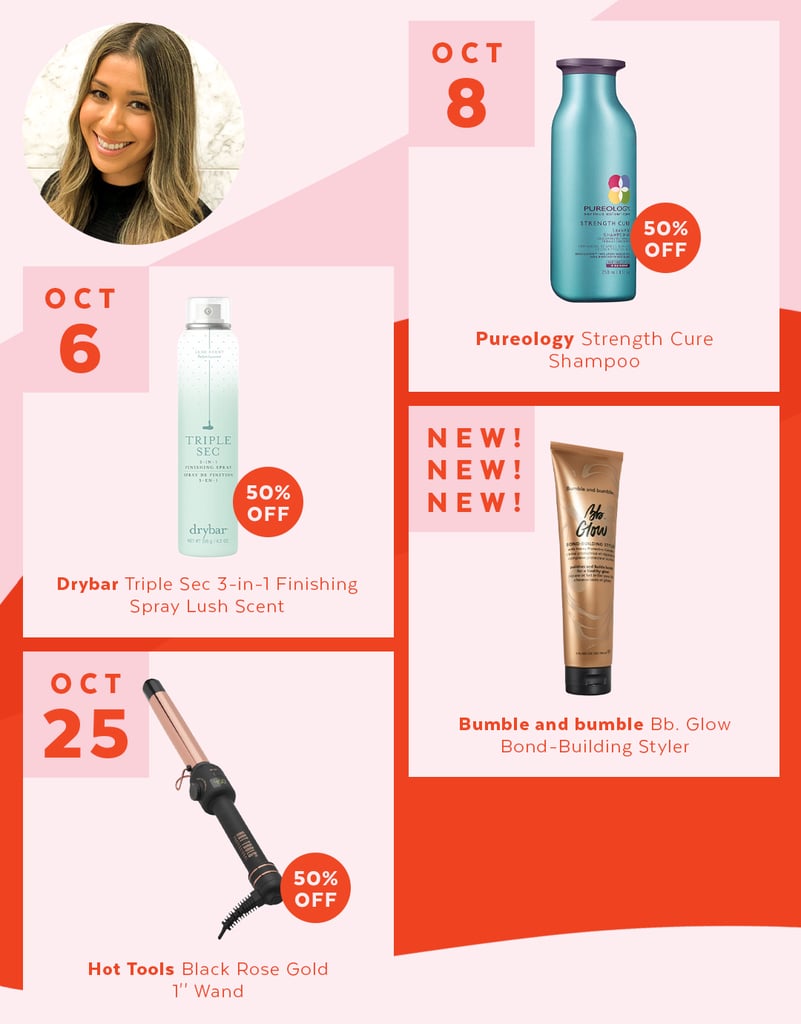 "After lightening my hair this past Summer, I'm giving my strands a break and gravitating toward products that are going to repair and strengthen my hair without ruining my color." — Monica, associate celebrity editor
There's a fine balance when it comes to maintaining color-treated hair. You want to preserve your hue and keep it looking fresh, but not at the expense of other aspects like washing or styling. This season, Monica has cracked the code, and it all has to do with using the right products in the right proportions. For example, she won't shampoo everyday, but when she does, she uses the Pureology Strength Cure Shampoo. "It's sulfate-free, so it doesn't damage my hair or leave it feeling greasy." After every wash, she'll follow up with the Bumble and bumble Bb. Glow Bond-Building Styler to smooth and strengthen. "A little goes a long way and it leaves my hair feeling soft and tangle-free."
On days when she's not washing, she'll rely on the Drybar Triple Sec 3-in-1 Finishing Spray Lush Scent to refresh second or third day hair, absorb oil, and add texture and volume. "This spray doesn't leave a white cast on my brunette hair, which I love." With these measures in place to protect her strands, she feels confident about heat-styling her hair everyday, which she does with the Hot Tools Black Rose Gold 1'' Wand. "This wand makes the entire process a whole lot easier. I don't have to bother with an annoying clamp anymore, so I can curl my hair more quickly with minimal damage."
"This Fall, I'm determined to step up my hair game and invest in quality products that will smooth and hydrate my locks while keeping my color as vibrant and as fresh as possible." — Kathleen, associate style editor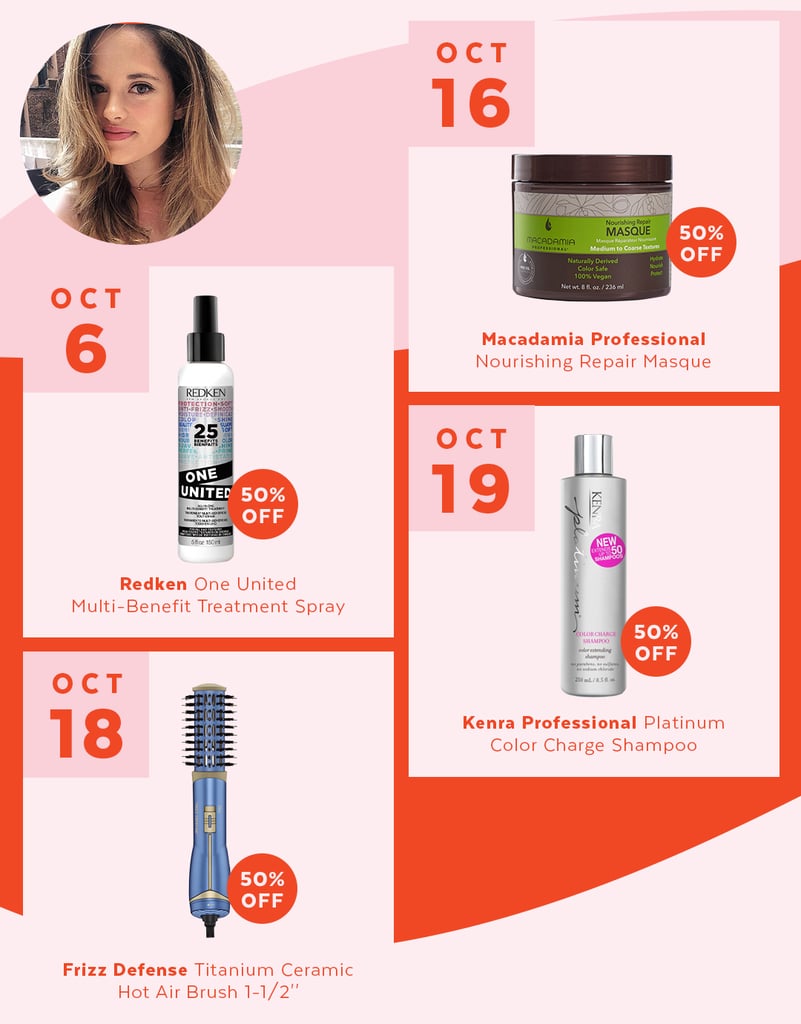 With color-treated hair that's also frizzy and dehydrated, Kathleen is all too familiar with frequent trips to the salon for treatments. But this Fall, she's determined to keep her hair healthy and happy on her own. "My hair is naturally dark and I get blond highlights, so I'm always looking for ways to keep my hair toned and vibrant," she noted. "Using a color-safe shampoo is vital!" Her top pick is the Kenra Professional Platinum Color Charge Shampoo. "I definitely see a difference with this shampoo — my blonde highlights appear brighter and truer to their original color. It'll lessen my trips to the salon."
With color taken care of, she addresses her parched strands with the Macadamia Professional Nourishing Repair Masque. "I'm a huge fan of hair masks — so much so that I've ditched conditioner entirely and strictly use full-on masks in its place. This one is super hydrating and immediately soothes my hair." To combat frizz, she turns to the Redken One United Multi-Benefit Treatment Spray. "I get lasting shine, smooth, frizz-free hair, and stellar heat protection. This is truly a one-and-done product and it doesn't add even the slightest bit of oil or grease." And finally to master at-home styling, she loves the Frizz Defense Titanium Ceramic Hot Air Brush 1-1/2". "The key with this product is to use it on hair that is already 80 percent dried. From there, it smoothes and dries with each brush. It's very convenient, especially for people like me who struggle with blow drying their own hair."