Alec Baldwin's New York Magazine Essay 2014
13 Alec Baldwin Quotes You Need to Read to Believe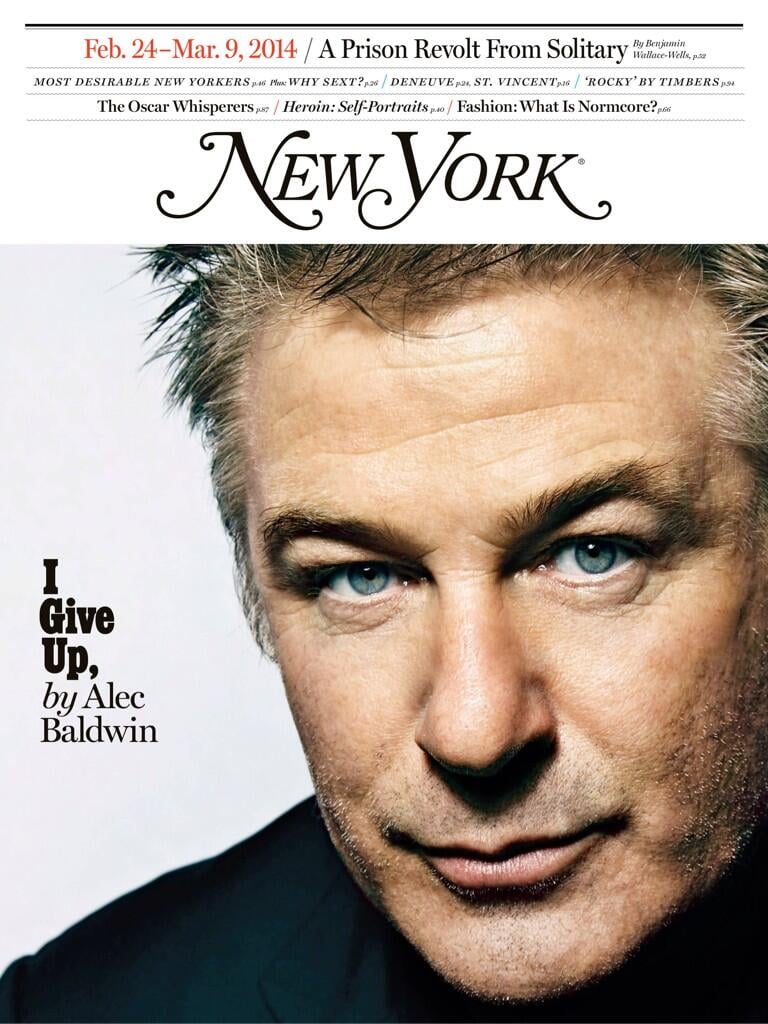 Alec Baldwin is done with American media, saying "good-bye" to public life in a New York Magazine cover story that came out on Sunday. Although 2013 had its exciting moments for Alec, including the arrival of a baby girl with his wife, Hilaria, it also brought some negative buzz for the actor. He made headlines after allegedly calling a paparazzo a "toxic little queen," he got caught up in a public feud with Shia LaBeouf, and critical press swirled after his MSNBC show was canceled. Addressing all those issues and more, Alec has, rather ironically, taken to the media to talk about why he's done with the media. With digs at Shia, Rachel Maddow, Anderson Cooper, and more, check out these 13 must-read quotes from Alec's essay to learn his position and what he plans to do next.
On allegations that he's homophobic: "Look, I work in show business. I am awash in gay people, as colleagues and as friends. I'm doing Rock of Ages one day, making out with Russell Brand. Soon after that, I'm advocating with Jesse Tyler Ferguson and Cynthia Nixon for marriage equality. I'm officiating at a gay friend's wedding. I'm not a homophobic person at all."
On missing 30 Rock: "I won every award you could win in television. I got paid well. And people loved 30 Rock. And I loved 30 Rock. . . . Eventually, it had to end. But I'll never have it that good again, professionally."
On working with Shia LaBeouf on Broadway's Orphans: "When he came to rehearsal, he was told it was important to memorize his lines. He took that to heart and learned all his lines in advance, even emailing me videos in which he read aloud his lines from the entire play. To prove he had put in the time."
On Shia calling him out in rehearsals: "You could tell right away he loves to argue. And one day he attacked me in front of everyone. He said, "You're slowing me down, and you don't know your lines. And if you don't say your lines, I'm just going to keep saying my lines."
On Shia's sense of entitlement: "I said one of us is going to go. I said, "I'll tell you what, I'll go." I said don't fire the kid, I'll quit. They said no, no, no, no, and they fired him. And I think he was shocked."
On what's wrong with MSNBC: "The problem with everybody on MSNBC is none of them are funny, although that doesn't prevent them from trying to be."
On Rachel Maddow: "I think Rachel Maddow is quite good at what she does. I also think she's a phony who doesn't have the same passion for the truth off-camera that she seems to have on the air."
On Phil Griffin, head of MSNBC: "All he wanted to talk about was Giants tickets, Super Bowl tickets, restaurants, movies."
On that "toxic little queen" quote and Anderson Cooper: "I ended up attacking a reporter who wrote in the Daily Mail online that my wife was tweeting from Jimmy's [James Gandolfini's] funeral. He was wrong — in fact, at a later time, she had retweeted items whose original time code matched the time of the funeral. In my rage, however, I called him a "toxic little queen," and, thus, Anderson Cooper, the self-appointed Jack Valenti of gay media culture, suggested I should be 'vilified,' in his words."
On closing off from the media: "I'm aware that it's ironic that I'm making this case in the media — but this is the last time I'm going to talk about my personal life in an American publication ever again."
On how the world is changing for the worse: "Broadway has changed, by my lights. The TV networks, too. New York has changed. Even the US, which is so preposterously judgmental now. The heart, the arteries of the country are now clogged with hate."
On what he wants and why he's leaving New York: "Everything I hated about LA I'm beginning to crave. LA is a place where you live behind a gate, you get in a car, your interaction with the public is minimal."
On leaving show business and remaining an actor: "I started out as an actor, where you seek to understand yourself using the words of great writers and collaborating with other creative people. Then I slid into show business, where you seek only an audience's approval, whether you deserve it or not. I think I want to go back to being an actor now."