Anne Hathaway Interview For Interstellar
Anne Hathaway Says She "Isn't Going to Chase Down Jobs" in 2015
Being famous gave Anne Hathaway a distinct and unlikely way into her Interstellar character, astronaut Amelia Brand. "[She's] sort of afraid to get too close to people, sort of afraid to show who she really was. And I became — not famous — but known at a young age, and for many years, I struggled with a certain fear of those similar things," she told us as she promoted the new film in LA, adding with a smile, "But, thankfully, I got over it."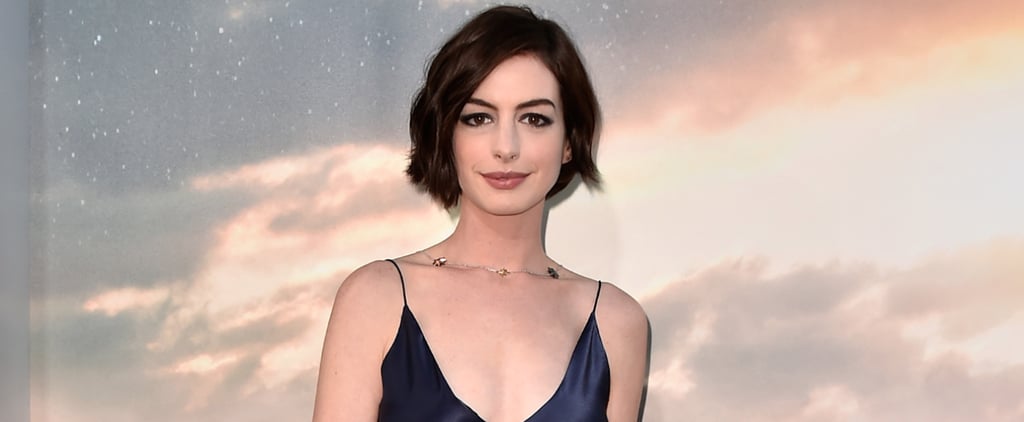 After two extremely high-profile years — Anne won best supporting actress at last year's Oscars for her role in Les Misérables, and Interstellar is already being considered a shoo-in for award attention this year — the actor sounds genuinely excited at the idea of falling off the radar in 2015. She tells us a stint on stage is in the works, but between now and then, she's looking forward to living a more domestic life. "I'm just going to take the time between now and that off, and I'm just going to be at home, be with my man, be with my dogs, and we're going to cook and we're going to spend time with our friends. And I'm not going to chase down jobs. I'm just going to be married and take it easy.
"When I was young I was really afraid to take it easy because I thought the world would move on without me and I'd get lost and people would forget," she explained. "I don't know that I've earned the right to take it easy, but that's what I want to do, so I'm doing it."