Chocolate Chip Cheesecake
.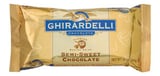 Ingredients
1 cup(s) Semi-Sweet Chocolate Chips
1 tablespoon(s) Unsweetened Cocoa
2 ounce(s) White Chocolate Baking Bar
2/3 cup(s) crushed graham crackers
1/4 cup(s) granulate white sugar
1/3 cup(s) (2/3 stick) unsalted butter, melted
2 1/4 cup(s) cream cheese, at room temperature
1 teaspoon(s) pure vanilla extract
2/3 cup(s) granulated white sugar
3 large eggs
1 cup(s) sour cream
Directions
Preheat the oven to 350°F. Grease 9-inch springform cake pan.
To make the crust, in a small bowl, mix together the crushed graham crackers, cocoa, and sugar. Stir in the butter. Spoon the mixture into the prepared pan.
Press firmly to distribute the crust mixture onto the bottom and halfway up the sides of the pan. Chill the crust while making the filling.
To make the filling, in a medium-size bowl, beat the cream cheese, vanilla, and sugar with an electric mixer at low speed until smooth.
Gradually beat in the eggs, increasing the speed slightly as the mixture softens.
Beat in the sour cream. Finally, stir in the chocolate chips with a large spoon.
Pour the filling into the chilled crust and set the pan on a baking tray. Bake for 75 minutes, or until firm. The cheesecake may deflate and crack as it cools, so turn off the oven and let cool slowly in the oven for about 1 hour with the oven door open.
Remove from the oven and let cool completely.
Cover and chill in the refrigerator overnight before removing from the pan.
Sprinkle the top with grated white chocolate. This cheesecake is best if eaten within 3 days of baking.
Serves 8-10.
Information
Category

Desserts, Cheesecake

Cuisine

North American