Cutest Blue Ivy Carter Pictures 2014
The Blue Ivy Blueprint to Being the World's Coolest Toddler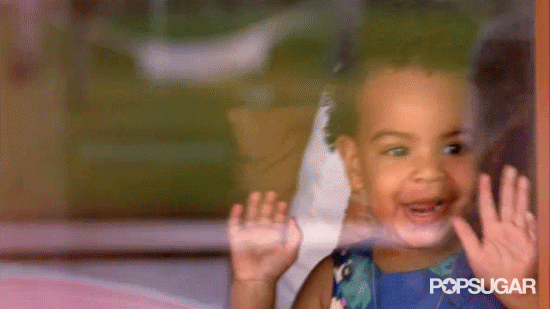 Blue Ivy Carter is 2 years old today, and we're still nowhere near as cool as she is. In her short time on Earth, baby Blue Ivy has costarred in an HBO documentary (in utero, no less), traveled the world with her superstar parents, and become the youngest person to ever appear on a Billboard chart after being featured on her dad's track "Glory" just days after being born. It goes without saying that Blue Ivy is the most awesome toddler in the world, but we wouldn't expect anything less from the offspring of Beyoncé Knowles and Jay Z. In honor of her big day, we've laid out the official blueprint to being as cool as Blue Ivy; we suggest you take it with a huge grain of salt, as no one can ever really be this cool.
Be Introduced to the World on HBO
While most people just throw their ultrasound photos on Facebook, Blue Ivy Carter's blurry sonogram snap was featured in Beyoncé's 2012 HBO documentary, Life Is But a Dream. We also got the first glimpse of Blue Ivy in action since her parents released photos of her shortly after her birth. We're sure some people ordered HBO just to watch this moment.
Get Your Name on the Billboard Charts
Technically, you're already pretty late on this one — the sounds that Blue Ivy made after being born not only earned her a featured credit on her dad Jay Z's track "Glory," but once the song hit the Billboard list, Blue Ivy became the youngest person ever to grace the charts. Literally seconds after she was born, she was singing on a hit song.
Have Everything Monogrammed
Blue Ivy was blessed with some pretty cool initials, and when you have cool initials, you need to put them on everything. While Blue Ivy accompanied her mom on the Mrs. Carter Show World Tour last year, she wasn't going to sit just anywhere — so naturally, Blue Ivy was given her very own director's chair emblazoned with "BIC." Seriously, watch the throne.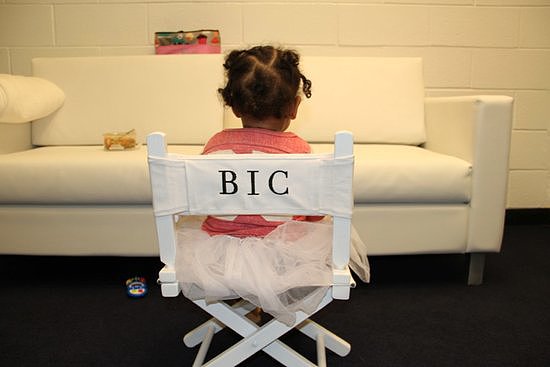 And let us not forget about Blue Ivy's insanely cool leather jacket with her name studded on the back. The best thing about it is that it was personally crafted by a Beyoncé fan who threw it on stage during a concert in Australia. Custom-made clothing from strangers? Now that's pretty boss.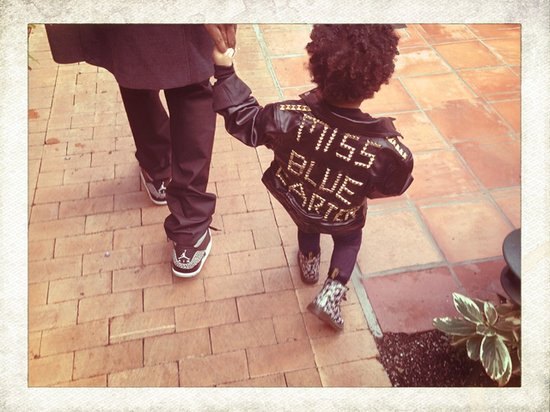 Hit the Beach (and the Hot Tub)
There's no shortage of tropical vacations in Blue Ivy's life, as evidenced by her recent getaways to Miami, France, and the Bahamas. She even attended a personal white party with her parents on the Amalfi coast. Yes, you read that correctly. We like to imagine Blue Ivy enjoying a light sparkling cider from her sippy cup, looking out at the ocean, quietly whispering, "This is the life."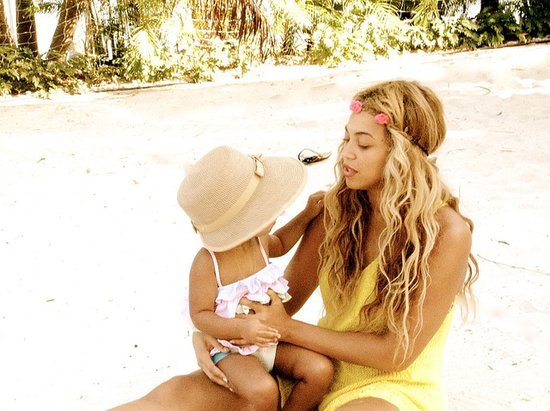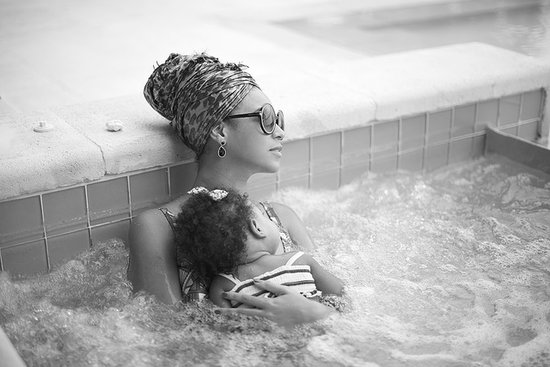 ABI: Always Be Inspiring
When it comes to having songs written about her, Blue Ivy has on it lock. Not only has she been featured on her parents' tracks — "Glory" by Jay Z and Beyoncé's recent song "Blue" — but she's been the muse for some hip-hop lyrics as well. In her dad's "Jay Z Blue," he raps, "Now I got my own daughter, taught her how to take her first steps, cut the cord, watch her take her first breath," and "Nothing could prepare us for the beauty that you be, Blue bee."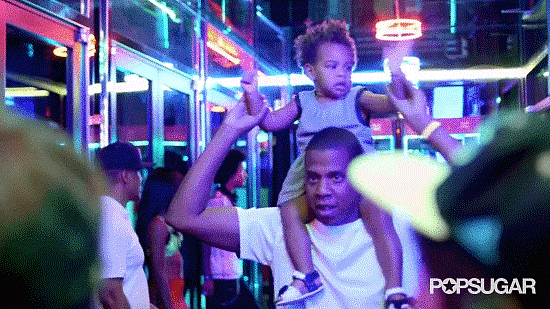 We also hear a little about her growing art collection in "Picasso Baby," as Jay says, "Yellow Basquiat in my kitchen corner. Go 'head, lean on that sh*t Blue, you own it." Jay Z also revealed that Blue Ivy has an affinity for both of her parents' songs, saying, "She watches [Beyoncé's concerts] on the computer every night. But my album came out, so we played it. And she loves all the songs. She plays a song and she goes, 'More, Daddy, more . . . Daddy song.' She's my biggest fan."
Play Up Your Cuteness, and Get That Screen Time!
There was no official video for "Glory," so when Beyoncé filmed the accompanying video to "Blue," the toddler likely put her tiny foot down and made sure she was featured in it. The result was a beautiful, heartwarming clip of Blue Ivy and her famous mom bonding on the beach in Jamaica.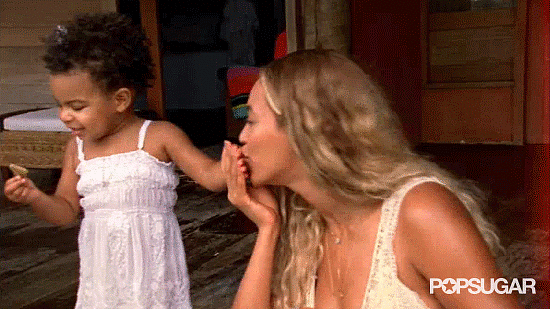 Don't Be Afraid to Break Some Hearts — Especially Famous Ones
In February 2013, Alicia Keys revealed that her young son, Egypt, had the hots for little Blue Ivy, saying, "Egypt kissed Blue, and I don't think Jay liked it very much. He called my husband, and he was like, 'Watch your son.'" Dads, right? In any case, Blue Ivy doesn't seem like the type to rush into relationships. Take a lesson from her, and don't let a kiss interfere with your single-lady lifestyle ("independent woman" and all that).
Trademark Your Name
Blue Ivy's parents famously trademarked her name shortly after her birth — though the decision was met with a lot of criticism, Jay Z explained their motives in a Vanity Fair interview, saying, "People wanted to make products based on our child's name, and you don't want anybody trying to benefit off your baby's name." So, to recap, if anyone's going to get paid for being Blue Ivy Carter, it's Blue Ivy Carter. Make that money, honey!