Diana Ross's Acceptance Speech at 2017 American Music Awards
"This Is All About Love": Diana Ross Accepts a Long-Overdue Lifetime Achievement Award
Ain't No Mountain too high for @DianaRoss & her family! HUGE Congratulations on receiving the Lifetime Achievement Award! #MsROSSxAMAs #AMAs pic.twitter.com/I5hve4TmCT

— American Music Awards (@AMAs) November 20, 2017
Diana Ross had the support of her massive, beautiful family at the American Music Awards on Sunday night, and for good reason. The 73-year-old pop culture icon was honored with the event's lifetime achievement award thanks to the incredible accomplishments she's made over the last six decades.
After being introduced by her son Evan, a montage of the music superstar's life in the spotlight played for the audience. There were shots of her growing up in Detroit as well as her time with The Supremes in the '60s and then later her film roles, which she called the "most challenging part" of her lengthy career. "Each step in my life was necessary, and complete, and perfect," she said in a voice-over. "Through it all, there has always been music."
She went on to perform a joyous medley of her biggest hits and then addressed the audience directly with the help of her family and her fanny pack.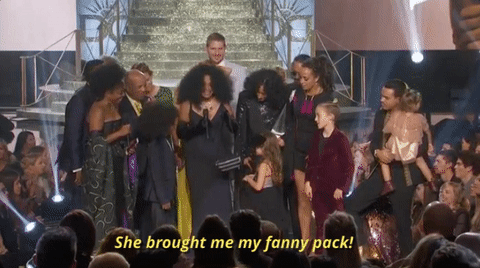 "This is all about love," she said, before her grandson adorably took hold of the mic, saying, "Grandma, I love you, and I'm so proud of you." The AMAs could not have ended on a sweeter note. Watch it all unfold above.