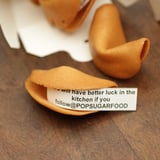 Ingredients
1 cup all-purpose flour
1/4 cup rice flour
2 teaspoons cornstarch
1/2 teaspoon salt
1 cup sugar
4 egg whites
1/4 cup plus 2 tablespoons canola oil
3 tablespoons water
1 tablespoon vanilla extract
Directions
Preheat oven to 350°F. In a large bowl, whisk together the flour, rice flour, cornstarch, salt, and sugar.
In a separate bowl, whisk together the egg whites until frothy. Set aside.
Create a well in the middle of the dry ingredients. Pour the canola oil, water, and vanilla extract into the center. Use a rubber spatula to stir the wet ingredients. Eventually incorporate the dry ingredients along the sides of the bowl. Stir until all the dry ingredients are well blended.The batter will be stiff. Add half of the egg whites. Mix well to break up any lumps. When smooth, incorporate the remaining egg whites. Mix until smooth.
Pipe or spoon the batter about the size of a quarter onto a nonstick baking sheet, leaving about 3 inches of space in between each spoonful of batter. Using the back of a spoon, spread the batter in a circular motion outward to make it as thin as possible without creating holes in the batter. Bake for approximately 8 to 10 minutes until slightly brown around the edges.
Remove from oven and with an offset spatula, carefully and quickly scrape the fortune circles off the nonstick sheet and flip them over. Place a fortune strip in the center of the cookie. Immediately fold them in half slightly and crease the middle of the cookie on the edge of the hot pan or a cup to shape. Place the folded fortune cookies into a muffin pan to cool (so they won't lose their shape). Store in an airtight container for up to 1 week.
Information
Category

Desserts, Cookies

Cuisine

Chinese

Yield

18 cookies