Kelly Ripa and Michael Strahan Feud Details
Kelly Ripa Tells Her Side of the Michael Strahan Story in a Revealing New Interview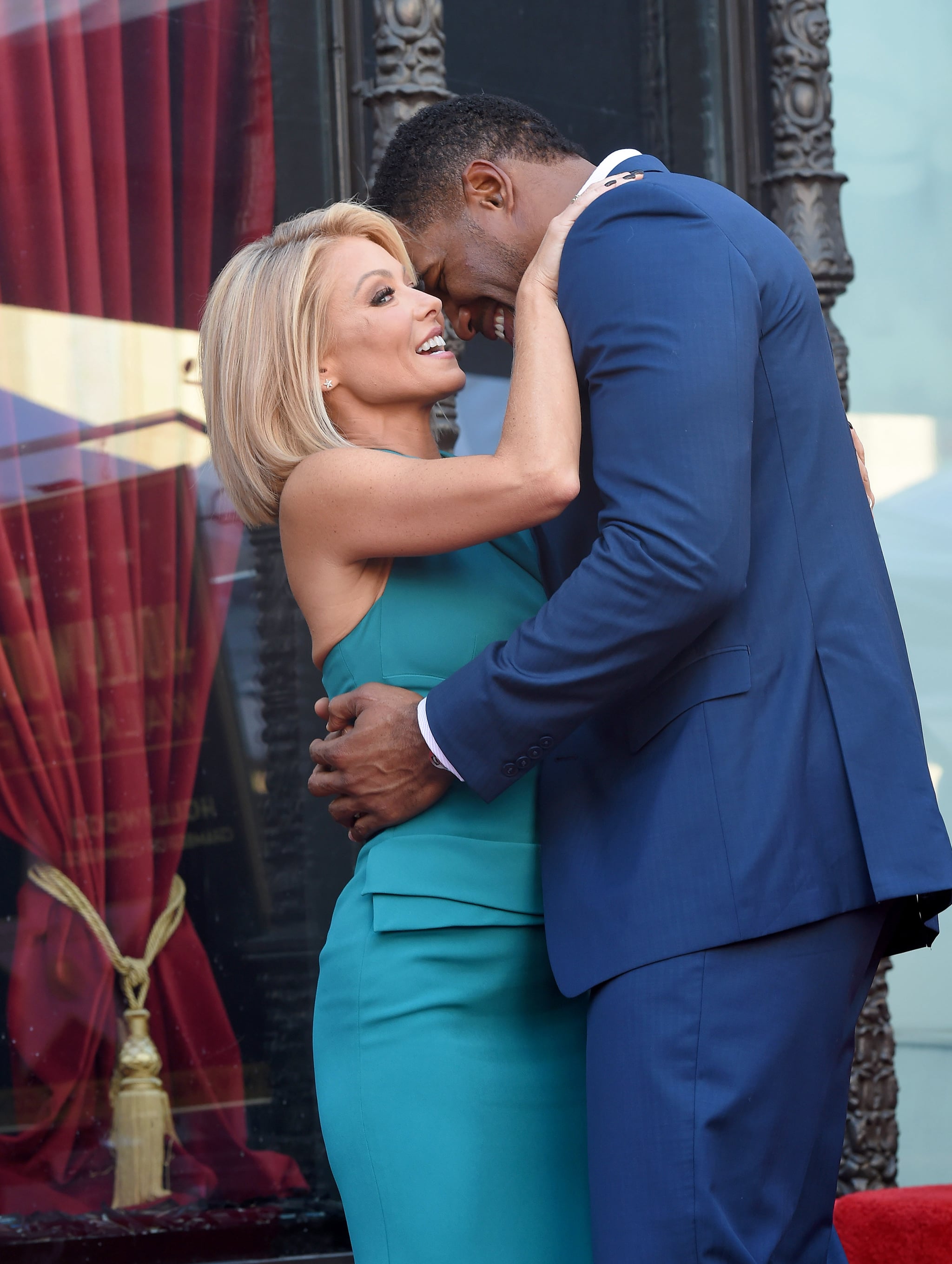 Last month, news broke that Michael Strahan would be leaving Live With Kelly and Michael and starting a full-time position at Good Morning America. What should have been pretty run-of-the-mill news quickly turned into a wildfire, though, when cohost Kelly Ripa was mysteriously absent from Live's shows for two consecutive days. Saturday Night Live alum and comedy actress Ana Gasteyer took her place and sat idly by as Michael announced his big move. Reports of behind-the-scenes drama quickly began surfacing, and if you're like us, you're probably eager to find out exactly what went down. Keep reading for the most important facts about the situation, including quotes from Kelly's new interview.
It's unclear whether or not Kelly and Michael actually like each other. In January 2015, Michael appeared on Late Night With Seth Meyers and had nothing but wonderful things to say about Kelly. The clip may be unavailable, but the title that remains says it all. And yet, according to Entertainment Tonight, not everything is as fine on set as it seems. A source claims, "Michael and Kelly have not been getting along recently . . . they got along great in the beginning, but not so much lately."
This didn't exactly come out of nowhere. In case you're not aware, Michael has been a contributing correspondent on Good Morning America for roughly two years now.
Even so, Kelly felt blindsided by the news. The New York Times spoke with a source close to Kelly, who says she "was told of the move just minutes before the announcement, and felt blindsided."
It all went down in one very dramatic meeting. The same New York Times source claims that, after Tuesday's show, Kelly "was called to a meeting along with the show's longtime producer, Michael Gelman, and the WABC general manager, Dave Davis . . . She did not know the purpose of the meeting."
Despite her shock, a part of Kelly saw it coming. In this meeting, Kelly reportedly said, "Didn't I tell you this was going to happen? . . . I told you two years ago this was going to happen." It seems Kelly expressed concern even when Michael was just starting his position on Good Morning America.
Kelly's absences after the news broke seemed partially planned and partially not. ABC (and Kelly's publicist, for that matter) both insisted that her Wednesday-through-Monday absence ties into a preplanned vacation — Kelly is allegedly celebrating her 20th anniversary with husband Mark Consuelos. And yet, no previous mention of the absence was made, not even during the Tuesday show. In all fairness, though, the couple's anniversary is coming up; it's on May 1.
Kelly dropped a subtle message after the news broke. On Thursday, Kelly stepped out with her husband, presumably on their way to that preplanned vacation. In her arms, though, she was carrying a copy of a Malcolm Gladwell book called David and Goliath: Underdogs, Misfits, and the Art of Battling Giants. Coincidence? It's hard to say for sure, but we really have a feeling it's not.
Kelly initiated complete radio silence with Michael. According to another source close to the situation, "Michael has called her and reached out to her and texted her and she is not acknowledging him." Kelly also is allegedly refusing to discuss any plans with ABC executives.
Kelly was set to return to the show on Tuesday morning. According to People, Kelly sent an email to her staff late Friday evening about her plans to return to work, reportedly writing, "We are a family and I look forward to seeing you all on Tuesday morning."
Kelly returned and made a full statement about the situation. Kelly seemed to resolve the situation on air before the Tuesday morning show really got underway. "I really needed a couple of days to gather my thoughts," she said during her monologue about the situation. She also thanked fans, congratulated Michael Strahan on his job, and reassured everyone that Live! is a priority.
Michael's final show has been set, much sooner than anticipated. After Kelly's return to the show, news broke that Michael would leave the show in May, intead of staying all the way through the Summer. His last show has been set for May 13. This way, Michael gets his Summer off and Live! can begin searching for a new cohost.
Kelly has spoken out about Strahan's exit in People. Kelly told her side of the story in an exclusive interview with People, saying that she can understand that it might have been an "oversight" not to inform her of Michael's plan to exit. She also said that at this point, they're like a family, and "sometimes when you are so comfortable with somebody, you may not give them the same consideration as somebody you're not as comfortable with—a certain formality falls away."