Kristen Bell Tweets About Seat Warmers
The Funniest Celebrity Tweets of the Week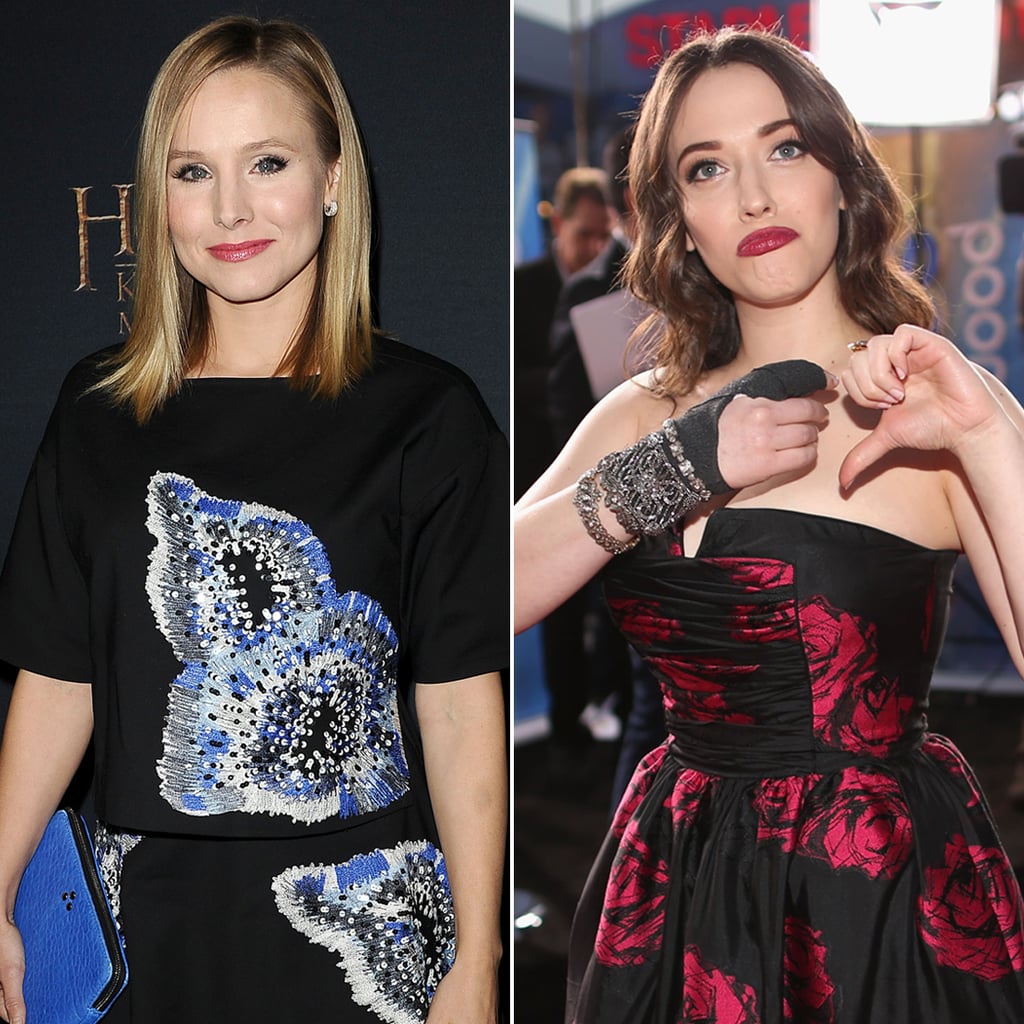 For Kristen Bell, there's a fine line between being warm and feeling like you're having an oopsie. That line was clearly crossed this week when Kristen tweeted about a special sensation. In other topical tweets, Kat Dennings only had one request . . . er, demand after cohosting the People's Choice Awards with Beth Behrs, and Olivia Wilde has a theory about Sophia Vergara's real parents (hint: mom has red hair and dad plays the conga). Check out all that and more in this week's favorite funny tweets!
Seat heaters make you feel like your peeing in your pants.

— Kristen Bell (@IMKristenBell) January 2, 2014
Ah, the downsides of being stuck in a car in the cold.
People's Choice was so much fun! Thank you, people, for letting us into your homes GIVE ME YOUR PIZZAS I'M SO HUNGRSYODFHZCL

— Kat Dennings (@OfficialKat) January 9, 2014
Nothing like a good pie to celebrate, Kat.
Lucy and Desi had a baby and that baby is Sophia Vergara. #fact

— olivia wilde (@oliviawilde) January 4, 2014
Sofia certainly has their comedic chops and good looks.
I love my @ELLEmagazine cover. It made me feel glamorous & cool. And if anyone wants to see more of my body, go on thirteen dates with me.

— Mindy Kaling (@mindykaling) January 7, 2014
Mindy has a message about her controversial cover.
Want to have a google hangout with me? You won't see it but I promise I won't wear pants while it's happening. http://t.co/4n3zVTLozA

— Seth Rogen (@Sethrogen) January 7, 2014
That sounds more like a threat, Seth.
Sorry to bother you guys, but it has come to my attention that I in fact did NOT win a @peopleschoice award this year. #PeoplesChoice

— jimmy fallon (@jimmyfallon) January 9, 2014
Color Jimmy disappointed.
Why is it that you can always smell an Abercrombie & Fitch long before you can see it? #eaudedouche

— Aisha Tyler (@aishatyler) January 3, 2014
Aisha got a whiff of Fierce.
Happy birthday Blue Ivy Carter! Your daddy's rich and your mama's good lookin'. Also, your mama's rich, and your daddy's good lookin'.

— Ellen DeGeneres (@TheEllenShow) January 8, 2014
Preach, Ellen.
My heart goes out to the know-it-alls. What a bummer way to live

— Sarah Silverman (@SarahKSilverman) January 8, 2014
It must be exhausting, Sarah.
I've told this before but one time I went apeshit on a lady for letting her son play video games with the sound on, on the airplane...

— christine teigen (@chrissyteigen) January 8, 2014
What happened after that, Chrissy?
...only to have to open the overhead bin and hear my own phone alarm going off in my purse.

— christine teigen (@chrissyteigen) January 8, 2014
How did you make up for it?
I had to buy drinks for liiiiiike 25 people

— christine teigen (@chrissyteigen) January 8, 2014
You could have hidden in the bathroom.
People who drive around in cars with enormous feathery mustaches on their front bumpers. What's the thinking there?

— Elizabeth Banks (@ElizabethBanks) January 9, 2014
We wonder if Elizabeth will download the Lyft app.