LeBron James Going Back to Cleveland Cavaliers
LeBron James Writes a Heartfelt Love Letter to Cleveland: "I'm Coming Home"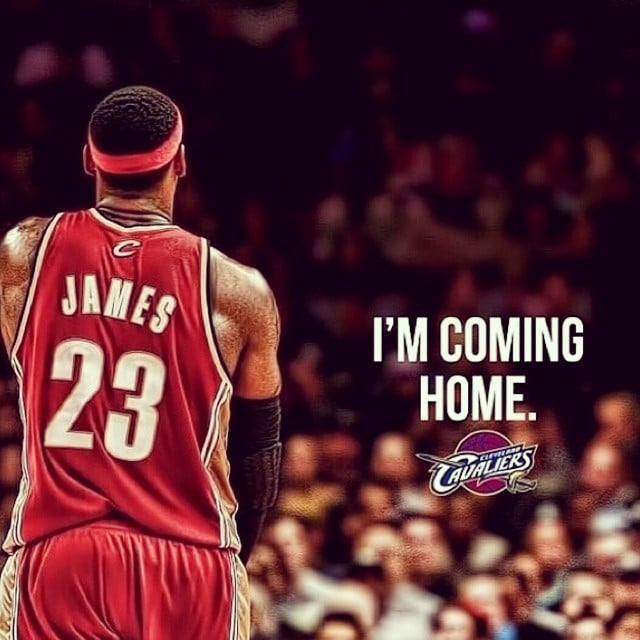 LeBron James is headed back to the Cleveland Cavaliers. After 11 days of free agency — and sending basketball fans into a steady panic — LeBron announced his return to the team that made him in a heartfelt essay for Sports Illustrated on Friday. In the article, the NBA superstar explains his decision to head back to Cleveland, saying, "I want an opportunity to explain myself uninterrupted. I don't want anyone thinking: 'He and [Miami Heart coach] Erik Spoelstra didn't get along . . . The Heat couldn't put the right team together.' That's absolutely not true," adding, "What's most important for me is bringing one trophy back to Northeast Ohio." Here are the five most heartwarming quotes from LeBron's love letter to his home state of Ohio:
On growing up in Cleveland: "Before anyone ever cared where I would play basketball, I was a kid from Northeast Ohio. It's where I walked. It's where I ran. It's where I cried. It's where I bled. It holds a special place in my heart. People there have seen me grow up. I sometimes feel like I'm their son. Their passion can be overwhelming. But it drives me. I want to give them hope when I can. I want to inspire them when I can. My relationship with Northeast Ohio is bigger than basketball. I didn't realize that four years ago. I do now."
On his controversial decision to play for the Miami Heat: "If I had to do it all over again, I'd obviously do things differently, but I'd still have left. Miami, for me, has been almost like college for other kids. These past four years helped raise me into who I am. I became a better player and a better man. I learned from a franchise that had been where I wanted to go. I will always think of Miami as my second home. Without the experiences I had there, I wouldn't be able to do what I'm doing today."
On his relationships with teammates: "I went to Miami because of [Dwyane Wade] and [Chris Bosh]. We made sacrifices to keep [Udonis Haslem]. I loved becoming a big bro to [Mario Chalmers]. I believed we could do something magical if we came together. And that's exactly what we did! The hardest thing to leave is what I built with those guys. I've talked to some of them and will talk to others. Nothing will ever change what we accomplished. We are brothers for life."
On raising his children in Ohio: "I have two boys and my wife, Savannah, is pregnant with a girl. I started thinking about what it would be like to raise my family in my hometown. I looked at other teams, but I wasn't going to leave Miami for anywhere except Cleveland. The more time passed, the more it felt right. This is what makes me happy."
On being a leader and accepting new challenges: "I feel my calling here goes above basketball. I have a responsibility to lead, in more ways than one, and I take that very seriously. I want kids in Northeast Ohio, like the hundreds of Akron third-graders I sponsor through my foundation, to realize that there's no better place to grow up. Maybe some of them will come home after college and start a family or open a business. That would make me smile. Our community, which has struggled so much, needs all the talent it can get. In Northeast Ohio, nothing is given. Everything is earned. You work for what you have. I'm ready to accept the challenge. I'm coming home."
Source: Instagram user kingjames