Princess Diana's Friendship With Elton John
The Heartwarming Story of Princess Diana and Elton John's Friendship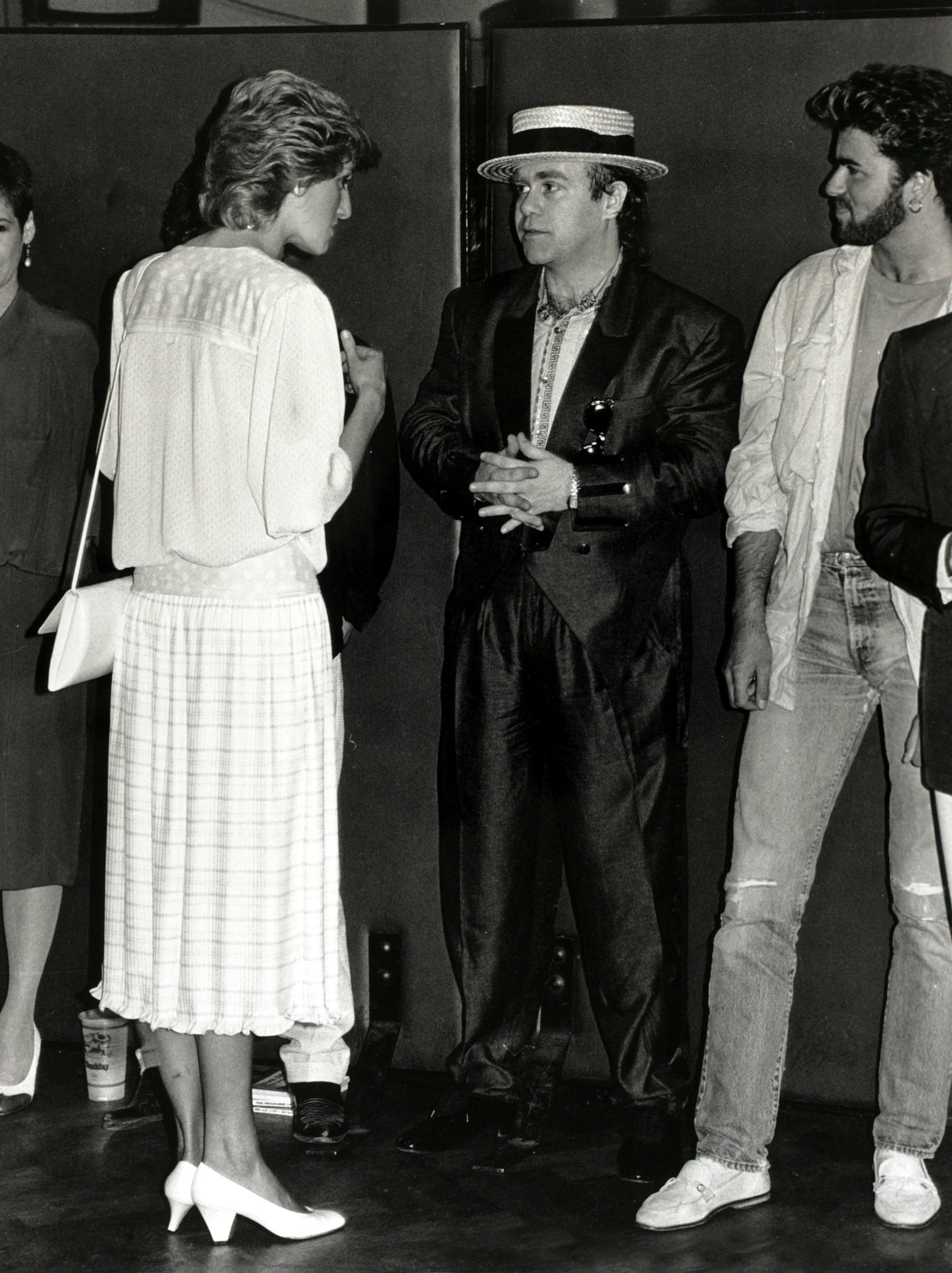 Image Source: Getty / Popperfoto
Princess Diana's list of friends spanned royalty and celebrities alike. Out of all her friends, though, one of the figures who was always most closely associated with her was music superstar Elton John. Elton and Diana had a friendship that spanned decades and had its bumps in the road. While the princess rarely spoke about their friendship — or any of her friendships — in the press, Elton has spoken about her frequently and lovingly in the years since her death.
According to Indepedent.ie, Elton's relationship with the royals began long before Diana joined the family. Princess Margaret and the queen mother were both fans of his music, which put him on plenty of royal invite lists. In 1981, he finally met Diana herself. He recounted the meeting to his biographer Philip Norman for his biography Sir Elton: The Definitive Biography.
"[I was] playing for Prince Andrew's 21st birthday party at Windsor Castle. When I arrived, there was no one there but the dance band and Princess Diana. We danced the Charleston alone on the floor for 20 minutes." But they weren't alone for long: "Then Princess Anne came up to me and said, 'Would you like to dance?' What am I going to say — 'No, f*ck off?' We went into this disco where the music was so quiet, you could hardly hear it," he said. "As we're bobbing up and down, the Queen comes up with an equerry and says, 'Do you mind if we join you?' Just at that moment, the music segues into Bill Haley's 'Rock Around the Clock.' So I'm dancing to 'Rock Around the Clock' with the Queen of England."
From that point on, their friendship blossomed, with Elton even spending time with Diana's sons, Prince William and Prince Harry — relationships that continue to the present day. When Prince Harry was honored in the 2018 Time 100, Elton wrote his tribute, honoring both him and his mother.
"I first met an extremely shy and sweet Prince Harry at a private lunch at Kensington Palace, given by his mother Princess Diana for Gianni Versace and me many years ago," he wrote. "What a joy it has been to see that young boy grow to inherit his mother's warmth, sense of humor and courage to stand up and champion the causes he truly believes in."
That passion for championing causes was one of the things that bonded Elton and Diana. Both were advocates during the AIDS crisis and shared a passion for spreading awareness and finding relief.
"She was very much loved. She was a controversial figure in some respects, but not to me. I loved her because she did so much for AIDS and she was a great friend to me," Elton said in the ITV documentary Diana, Our Mother: Her Life and Legacy.
Elton and Diana often formed a trio with designer Gianni Versace, but the two men had a falling out with Diana in early 1997 over the release of a book. Rock and Royalty, a coffee-table book by Gianni and Elton, featured a wide array of photos, including pictures of Diana and her sons — and also photos of seminude male models. While royalties from the book benefited a good cause (Elton's AIDS foundation), according to Vanity Fair, Diana feared the inclusion would upset the queen.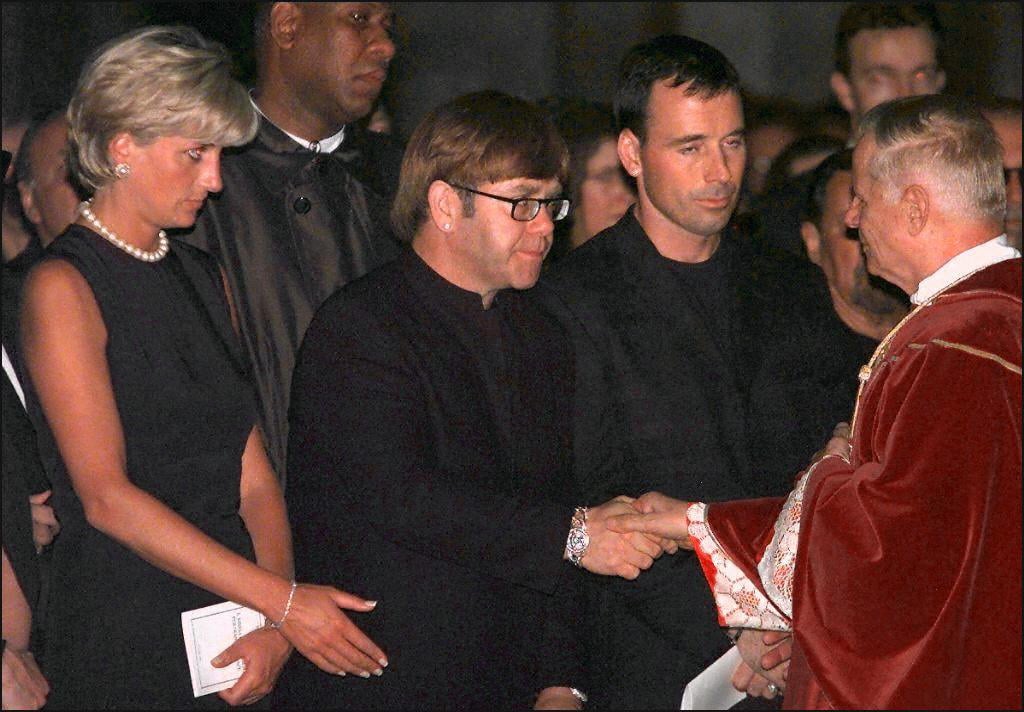 Image Source: Getty / GERARD JULIEN / AFP
It would be Gianni who brought Elton and Diana back together, though not in the way any of them would have wanted. When Gianni was murdered in July 1997, Diana and Elton reconciled and even attended the funeral side by side. In an interview with Barbara Walters, Elton recounted how Diana was his rock during their shared grief, inspiring him to try to do the same when he was mourning her only months later.
"She kept her cool for me . . . at Gianni's funeral and she held her composure. I've got to do the same for her . . . When I started crying and she put her arms around me and she was, that's exactly what she was like. She was such a caring and a very calming person."
Elton famously rewrote his hit song "Candle in the Wind" to become "Goodbye England's Rose" for Diana's funeral before vowing to never perform that version again unless William or Harry asked him to. He continued to remain connected to her legacy, performing at the 2007 Concert For Diana, as well as at Prince Harry's 2018 wedding; he also was a guest at Prince William's wedding in 2011. Over the years, Elton has emerged as one of the key keepers of Diana's legacy, in large part because he was one of the people who truly knew her best.