Quotes From Chris Rock's New York Mag Interview 2014
Everybody's Talking About This Compelling Chris Rock Interview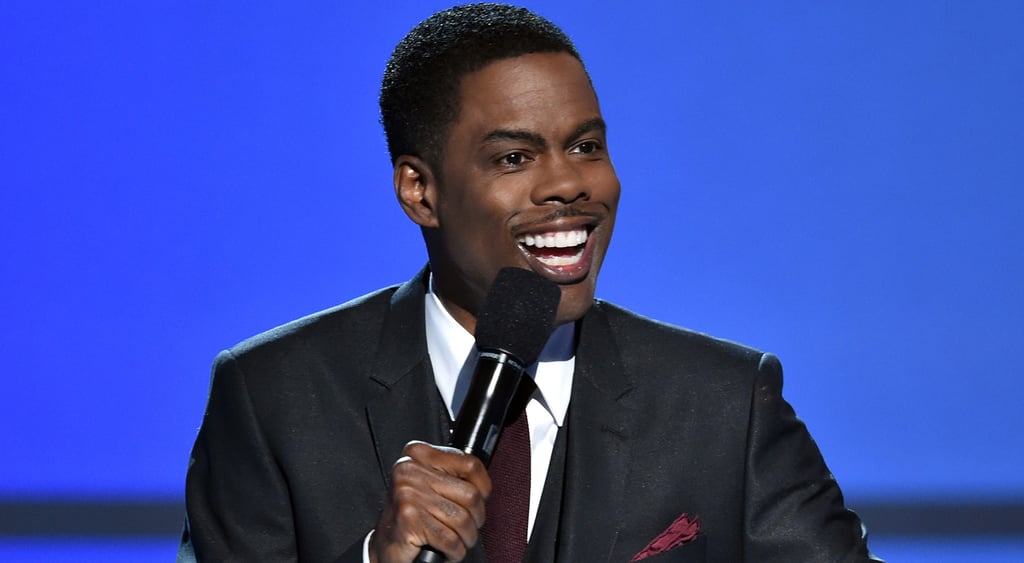 In an interview with New York Magazine, comedian Chris Rock touched on everything from Ferguson to President Obama to Robin Williams's tragic death. Chris is making the press rounds to promote the release of his upcoming movie Top Five, but he talked about far more than his film in the buzzed-about interview. Chris brought both wit and sharp insights to a range of topics, weighing in on other comedians, race relations, and more. Take a look at some of the must-read quotes below.
Other Comedians
On Joan Rivers's legacy: "Great person, underrated comedian. Who the hell's funnier than Joan Rivers? That whole reference thing: Joan updated constantly."
On the Bill Cosby controversy: "I don't know what to say. What do you say? I hope it's not true. That's all you can say. I really do. I grew up on Cosby. I love Cosby, and I just hope it's not true. It's a weird year for comedy. We lost Robin, we lost Joan, and we kind of lost Cosby."
On Robin Williams's death: "Comedians kill themselves. Talk to 100 comedians this week, everybody knows somebody who killed themselves. I mean, we always say ignorance is bliss. Well, if so, what's the opposite? Some form of misery. Being a comedian, 80 percent of the job is just you notice sh*t, which is a trait of schizophrenics too. You notice things people don't notice . . . You try to give yourself other things to focus on. I always say, my children saved me from my miserable self."
Ferguson, Racism, and Progress
On inequality: "If poor people knew how rich rich people are, there would be riots in the streets. If the average person could see the Virgin Airlines first-class lounge, they'd go, 'What? What? This is food, and it's free, and they . . . what? Massage? Are you kidding me?'"
On the progress of gay rights: "I always call Ellen DeGeneres the gay Rosa Parks. If Rosa Parks had one of the most popular daytime TV shows, I'm sure the civil-rights movement would've moved a little bit faster too."
On racism in America: "We treat racism in this country like it's a style that America went through. Like flared legs and lava lamps. Oh, that crazy thing we did. We were hanging black people. We treat it like a fad instead of a disease that eradicates millions of people. You've got to get it at a lab, and study it, and see its origins, and see what it's immune to and what breaks it down."
On racial progress: "When we talk about race relations in America or racial progress, it's all nonsense. There are no race relations. White people were crazy. Now they're not as crazy. To say that black people have made progress would be to say they deserve what happened to them before. So, to say Obama is progress is saying that he's the first black person that is qualified to be president. That's not black progress. That's white progress. There's been black people qualified to be president for hundreds of years. If you saw Tina Turner and Ike having a lovely breakfast over there, would you say their relationship's improved? Some people would. But a smart person would go, 'Oh, he stopped punching her in the face.' It's not up to her. Ike and Tina Turner's relationship has nothing to do with Tina Turner. Nothing. It just doesn't. The question is, you know, my kids are smart, educated, beautiful, polite children. There have been smart, educated, beautiful, polite black children for hundreds of years. The advantage that my children have is that my children are encountering the nicest white people that America has ever produced. Let's hope America keeps producing nicer white people."
President Obama
On his impression of Obama: "Kind of cool. I always say, cooler than most politicians, not as cool as actual cool people. He's not cool like Jay Z's cool. He's not Eddie Murphy. But in a world of politicians . . . "
On Obama's legacy: "I'm trying to figure out the right analogy. Everybody wanted Michael Jordan, right? We got Shaq. That's not a disappointment. You know what I mean? We got Charles Barkley. It's still a Hall of Fame career."