Is Steve McQueen Feuding With John Ridley?
And the Award For Most Awkward Oscars Moment Goes To . . .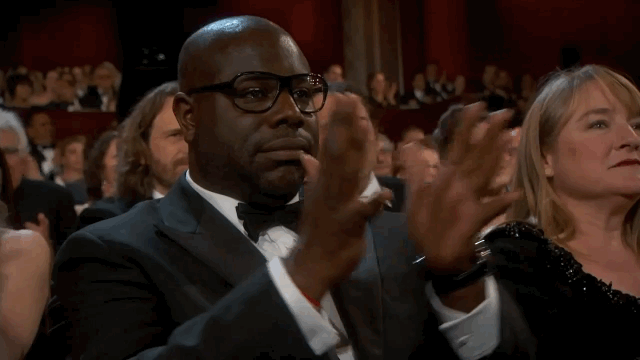 Source: ABC
One of the most awkward moments of Sunday night's Oscars was when John Ridley won the award for best adapted screenplay for 12 Years a Slave and received neither a nod, hug, nor handshake from director Steve McQueen. In fact, John didn't hug anyone involved in the film, instead giving a hug to American Hustle director David O. Russell and a nod to Meryl Streep, who was located on the opposite side of the aisle from the 12 Years a Slave cast and crew. Neither John nor Steve thanked each other in their acceptance speeches, and John stood at the very back of the crowd when the cast and crew stood on stage to accept the best picture award. So, what was going on between these two?
According to former Deadline Hollywood editor in chief Nikki Finke, Steve's cold shoulder and awkward fingertip clapping sprang from the pair's feud over screenwriting credit. Apparently, Steve was upset that he was not given a cowriter credit on the script after he had developed it with John from Solomon Northup's famous memoir. It's unclear when the feud started, but Steve noticeably left John off his thank-you list when he won best director and best feature at the 2014 Spirit Awards on Saturday. When we interviewed John on the Oscars red carpet, he gave no hint of a rift between them. Their feud didn't seem to apply to everyone involved in the movie, as John was apparently spotted chatting with producer Brad Pitt at the Governors Ball. Watch the pair's chilly Oscars moment below.
Front Page