Ashley Madekwe JustFab Collection Interview
Ashley Madekwe on the Practical Yet Very Important Piece of Advice That Changed Her Life
Image Source: Ashley Madekwe
In our Q&A series Last Call, we get down to the bottom of every last thing with some of our favorite celebs — from the last thing they texted to the last thing they binge-watched. This week, actress Ashley Madekwe takes our call.
In between starring in some of your favorite series — from The Umbrella Academy to Four Weddings and a Funeral — Ashley Madekwe is now taking her talents to JustFab. As part of its Leading With Style series aimed at spotlighting women who empower other women, Ashley worked to curate a confidence-boosting new collection. Read on to hear more from Ashley about her inspiring collection, the last thing she does before bed, and more!
PS: What's the last thing you binge-watched?
Selling Sunset on Netflix. It's kind of artificial but in the best way. I watched season one and two back to back, and season three just landed. Even though I'm in Los Angeles, it makes me miss Los Angeles, because LA isn't anywhere close to back to the way it was pre-lockdown.
PS: What's the last thing you texted?
A text to my husband to remind him which medications to give to our cat, Oscar.
PS: What's the last thing you ordered online?
Cat food.
PS: What's the last photo on your camera roll?
It's actually a picture of my cat, but I'm going to scroll back to the picture before that so that I don't sound like the craziest of all crazy cat ladies! So, a picture from a day trip we took to Lake Pyramid. Not being able to freely travel internationally has really given me a new appreciation for California and all it has to offer. We've been exploring hikes, lakes, and beaches.
PS: When was the last time you felt empowered or inspired?
On set with JustFab. I loved working on this Leading With Style campaign with them because it focuses on equality for women and amplifying female voices, both of which are really important to me. Working with them to champion women's equality and talking about how we can effect change was so inspiring and empowering.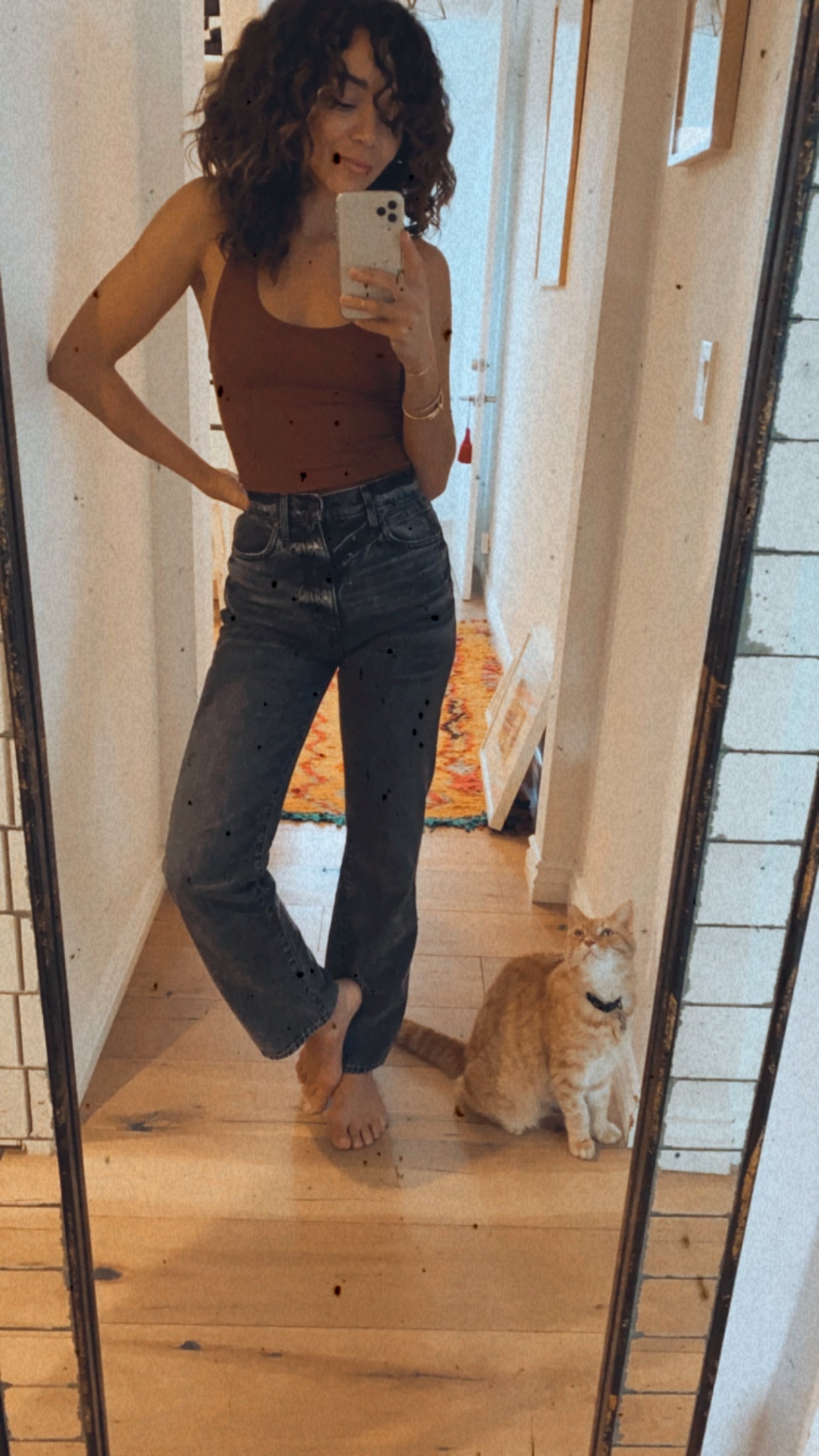 Image Source: Ashley Madekwe
PS: What's the last thing you do before going to bed?
I always wash my face. I double cleanse with an oil followed by a foaming cleanser and then apply my various skin-care products.
PS: What was the last gift you received?
My husband sent me flowers for our anniversary.
PS: What was the last song you sang in the shower?
I have "Black Parade" stuck in my head.
PS: What's the last piece of advice you received that changed your life?
That the arrow next to the gas-tank symbol in a car tells you which side you have to park to fill up. Truly life changing.
PS: What was your last workout?
I ran a couple of miles around my neighborhood and then did some full-body exercises with weights in my garden. I really miss working out in classes with the group energy, but that's not possible right now.
PS: What was the last addition to your closet?
The Rosamund Bootie and the "Yes Girl Yes" T-shirt, both from my "Walk With Purpose" collection with JustFab.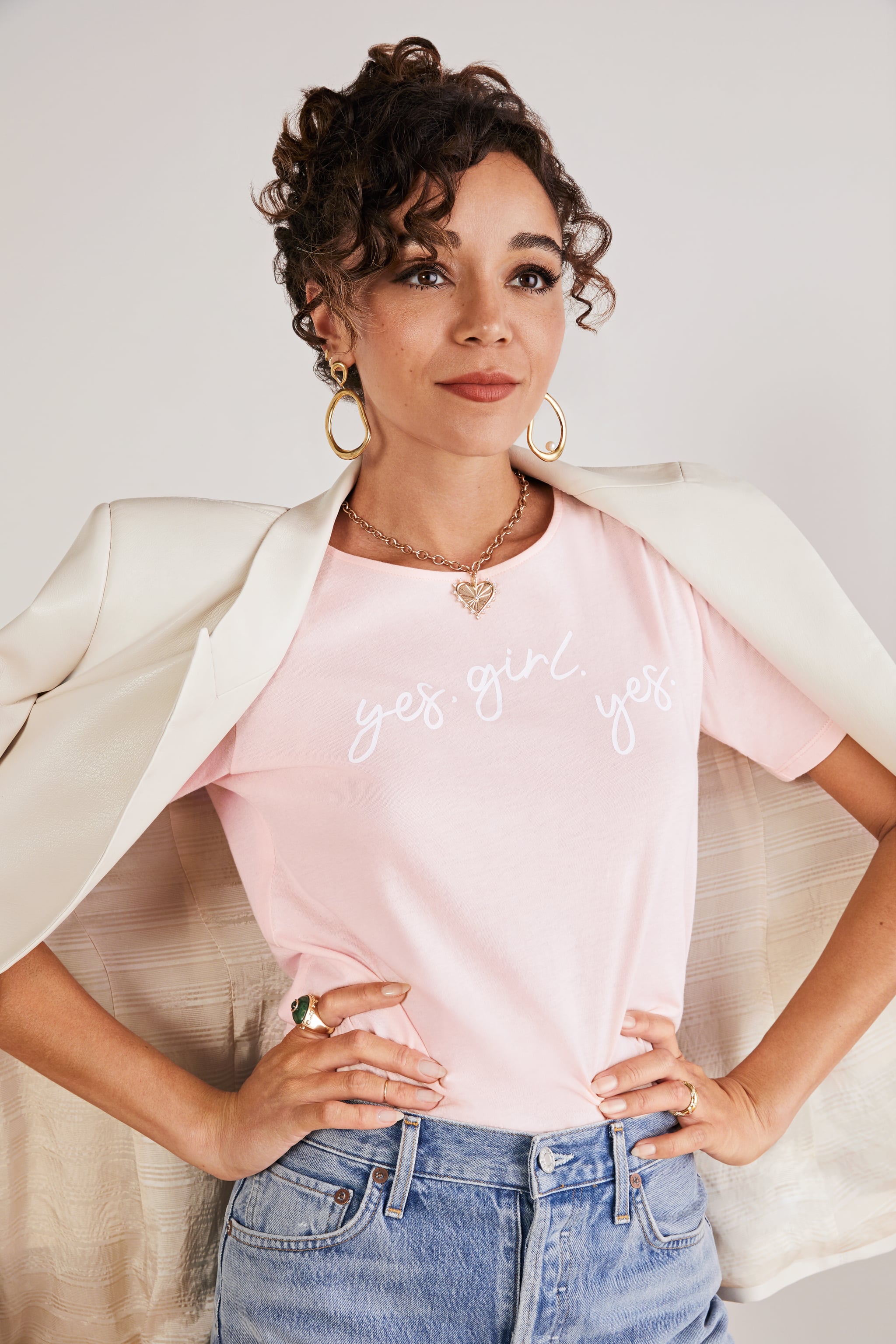 Image Source: JustFab
PS: What's the last book you read?
The Vanishing Half by Brit Bennett. It deals with the issues of identity and race so well. I couldn't put it down.
PS: What's the last album you listened to?
I just rediscovered my old iPod and listened to Alanis Morissette's Jagged Little Pill album from start to finish. What a masterpiece. We don't listen to entire albums anymore, and we should!
PS: What's the last spontaneous thing you've done?
This global pandemic has really hampered my spontaneity! It was probably driving out to Crystal Cove State Park with my husband and accidentally hiking for six miles. We got lost.