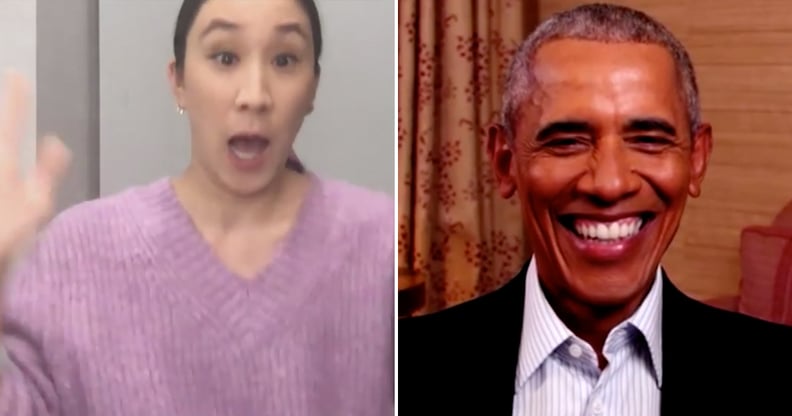 Someone please hand Eva Chen an award for how quickly she bounced back after Barack Obama caught her scrolling through her phone on Zoom. While waiting to discuss the former president's new memoir A Promised Land via video call, Eva, who is the director of fashion partnerships at Instagram, decided to browse through her phone for a quick second. When she looked up, she was greeted with Obama's smiling face, which instantly turned her into the human version of the surprised emoji.
"Got the incredible life opportunity to chat (virtually, alas) with @barackobama about his new book A Promised Land and he gave me advice on how to write my own (long-delayed, sorry @caithoyt) book," Eva captioned the video on Instagram. As someone who's been through dozens of interviews, I will say that start times are often questionable, so Eva's shock was definitely warranted. Considering that such a notable face was looking back at her through her screen, I'm more than a little impressed with how she seamlessly moved the interview along and managed to get some incredibly relatable life advice out of it.
"We're human and we're gonna be imperfect, but if we make the effort, hopefully, it's worthwhile."
Most notably, Obama mentioned that, when taking on new projects, it's important to be forgiving of yourself and know that nothing is going to be perfect, using his book as an example. "After I was done with that book — and while I was writing the entire book, and all the other books I've written — at least once a day I say, 'Nobody's gonna wanna read this,' or 'This isn't as good as I hoped,' or 'I could have phrased that better,'" he told Eva. But the former president doesn't let his temporary bouts of self-doubt interfere with his work. He explained that it's important to feel "comfortable with the fact that we're human and we're gonna be imperfect, but if we make the effort, hopefully, it's worthwhile. That seems to work for me, at least."
At the end of the video, Eva invited her kids Ren and Tao to say hello with the promise of giraffes and dinosaurs. Upon seeing the former president, they were a little underwhelmed, but Obama was understanding and even made a joke out of the moment. "Please watch to the end to see Ren and Tao's cameo and my (I think rather crafty) mom skills at wrangling them," Eva added on Instagram. "For the record, I called President Obama a T.Rex [sic], not a giraffe." Watch the full interview here.