Cedric Joe Expands His Résumé With Women of the Movement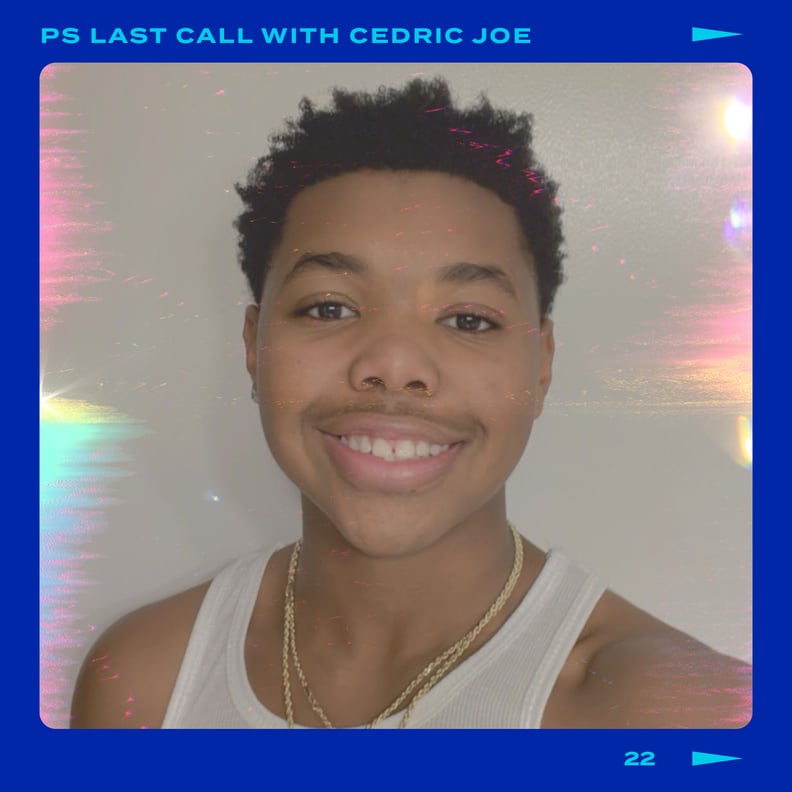 Courtesy of Cedric Joe
Courtesy of Cedric Joe
In our Q&A series Last Call, we get down to the bottom of every last thing with some of our favorite celebs — from the last time they were starstruck to the last song they listened to. This week, Cedric Joe takes our call.
Cedric Joe has our full attention with his role as Emmett Till on Women of the Movement. The ABC limited anthology series chronicles Emmett's murder in 1955 and the story of his mother, Mamie Till-Mobley, who subsequently became an activist while seeking justice for her son. Following previous appearances on Modern Family, Good Trouble, and Space Jam: A New Legacy, the show marks the 16-year-old actor's most serious project to date.
Cedric told POPSUGAR that he felt a huge responsibility with his portrayal of Emmett. "It meant a lot to me," he said. "Everyone who I was with and who helped me prepare for the role made it very comfortable, and I'm glad I got to portray Emmett." By stepping into Emmett's shoes, Cedric also discovered just how much he is capable of as an actor. "It was definitely a different role portraying someone who was real, portraying a story that really happened."
Through watching Emmett's story play out on screen, Cedric hopes that viewers are able to see that "we are all equal." He added, "I hope that they take away that Mamie and Emmett were real people that this happened to . . . I want viewers to know that stories like this happened back then, happened before, and are still happening now."
Women of the Movement airs on Thursdays on ABC. Read the rest of Cedric's Last Call interview ahead.
What was the last day of filming Women of the Movement like for you?
It was definitely emotional, just reminiscing on how much time we spent together, how much time we've spent on our characters, and just really experiencing the story that we're telling. And then, getting to know each other and building a relationship and chemistry with every cast member.
What was the last thing you did with your Women of the Movement costars off set?
Recently, we got to travel to New York, Chicago, and LA for the premiere of Women of the Movement, so that was a really exciting experience.
Who is the last Women of the Movement costar you texted?
I recently talked to Luke Hardeman, who plays Maurice, and Joshua Caleb Johnson, who plays Wheeler. Joshua and I still hang out to this day because we're both located in LA, so we see each other pretty often.
Besides your own show, what is the last series you binge-watched?
The last series I binge-watched completely was The Chi. But I've currently been watching BMF.
What is the last song/album you listened to?
The last song I listened to was "Slide" by H.E.R. featuring YG. The last album I listened to was Live Life Fast by Roddy Ricch.
What is the last book you read?
All American Boys by Brendan Kiely and Jason Reynolds.
What is the last thing you did for fun?
I actually just went to an NFL game. I went to the Rams vs. 49ers game, so that was really fun.
What is the last thing you bought online?
A new headset for my game console because I don't know what happened to my other one.
What is the last trip you went on?
The trip to Chicago for the premiere.
When was the last time you were starstruck?
The last time I was starstruck was during the trip we went on for the premiere. Just seeing Wheeler Parker and the family, that definitely had me starstruck.
What is the last piece of advice you received that changed your life?
Be humble and stay committed. Those were some of the things that I feel have changed my life, and will continue to change my life for the better. Being humble is very important in any business and staying committed and being consistent in working and doing what you love doing.