Demi Lovato Opens Up About the "Magical" Timing of When She First Met Fiancé Max Ehrich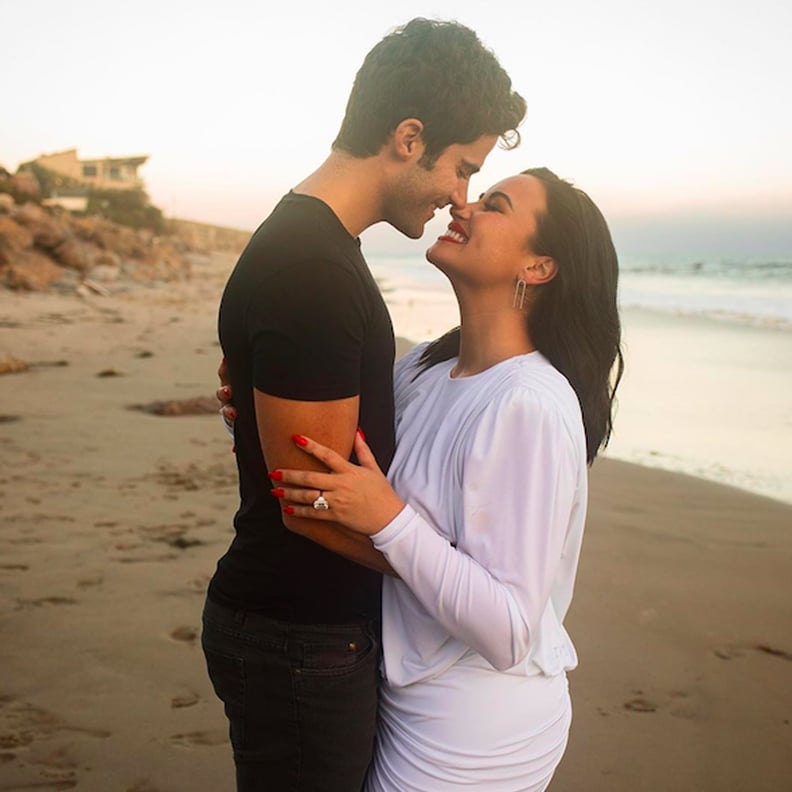 Demi Lovato is opening up about the many ways in which her whirlwind romance with fiancé Max Ehrich was fated. In a recent Sirius XM interview, the singer spoke about the serendipitous timing of when she first met Max. "The song 'I Love Me' has two important meanings to me because not only was that a powerful anthem of self-love, but also the night that I released it I met my fiancé, whose initials happen to be ME, which I have tattooed on my ring finger, that I got last summer," Demi said. "It's kismet. It's magical, and so important to me."
Since that means Demi and Max met on March 6, the beginning of their relationship also coincided with the start of the coronavirus pandemic in the United States. As a result, they got to know each other pretty quickly. "I knew I loved him the night I met him, so a week later we went into quarantine and I was like, 'Look, we're quarantining together, 'cause I love you,'" she said in a separate Sirius XM interview. Demi and Max would go on to get engaged in July after about five months of dating.
A subtle nod to Max was recently slipped into Demi's music video for "OK Not to Be OK" with Marshmello: at around 2:07, a coffee mug is shown in the background that reads "I [heart] ME." Demi said, "My director, Hannah [Lux Davis], also shot the music video for my single 'I Love Me,' and she's so clever in adding little Easter eggs and things like that that are hidden in the video."
Watch Demi talk about meeting Max ahead, and then check out the sweet music video Easter egg.
Demi Lovato Talking About Max Ehrich on Sirius XM
Watch the Music Video For Demi Lovato and Marshmello's "OK Not to Be OK"
Demi Lovato and Max Ehrich's Engagement Photos