The Complete Timeline of Emma Roberts and Evan Peters's Turbulent Romance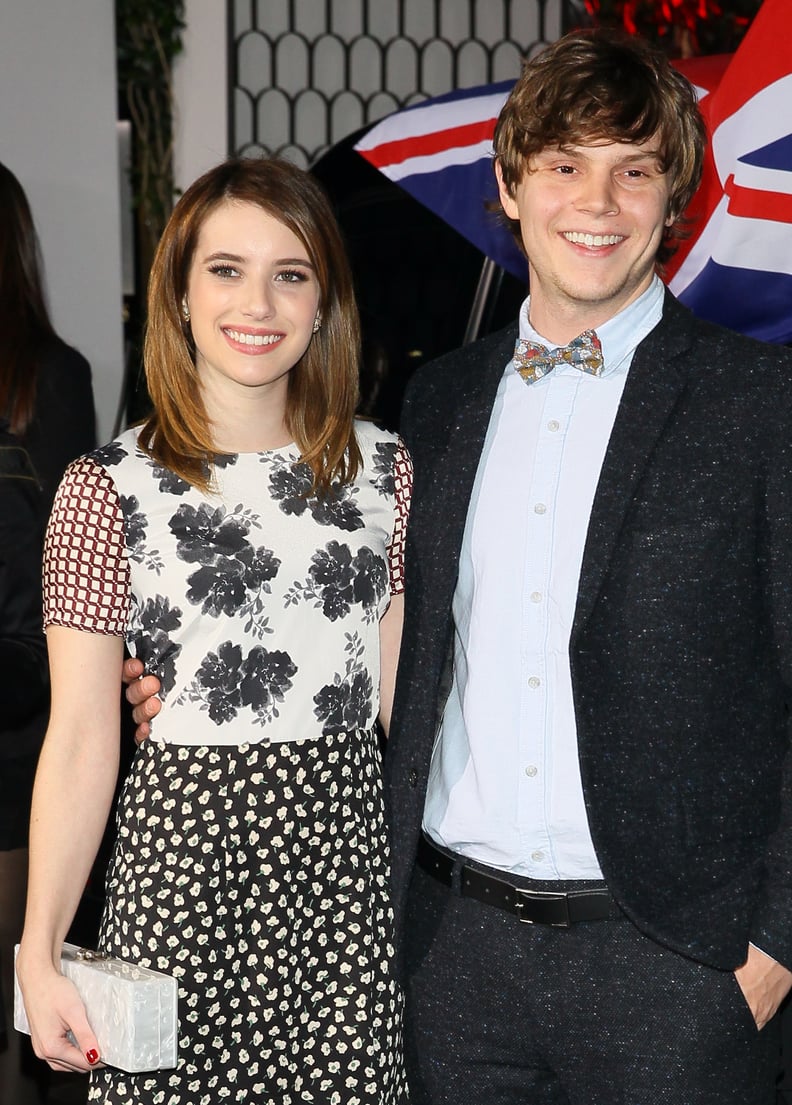 The Beginning
Emma and Evan began dating in 2012 after meeting on the set of their movie, Adult World. While the actress admitted to having a crush on Evan during production, they didn't strike up a romance until after filming wrapped. "Everyone thought we dated on the movie and we didn't — not for a long time after," she revealed on an episode of Chelsea Lately. "I actually, on the set, was like, 'Oh yeah, we're totally gonna date.' And I would, like, flirt with him, which ended up looking like I had something in my eye because I'd be like, 'Hey, what's up?' And he literally didn't speak to me the entire movie. He thought I was so weird."
The pair shared a lot of cute moments together in the beginning of their romance, including hitting red carpets together and taking strolls around Paris and NYC.
First Sign of Trouble
In July 2013, the couple was staying at a hotel in Montreal, when someone heard a dispute coming from their room and called the police. After authorities arrived, they allegedly discovered Evan with a bloody nose and a bite mark, which caused them to arrest Emma on suspicion of domestic violence. Evan wasn't charged with anything since Emma had no visible injuries.
Emma was released shortly after her arrest, and Evan chose not to press charges. She was then pictured crying in Evan's arms after the fight, and the pair released a statement via their reps, saying, "It was an unfortunate incident and misunderstanding. Ms. Roberts was released after questioning and the couple are working together to move past it."
The Engagement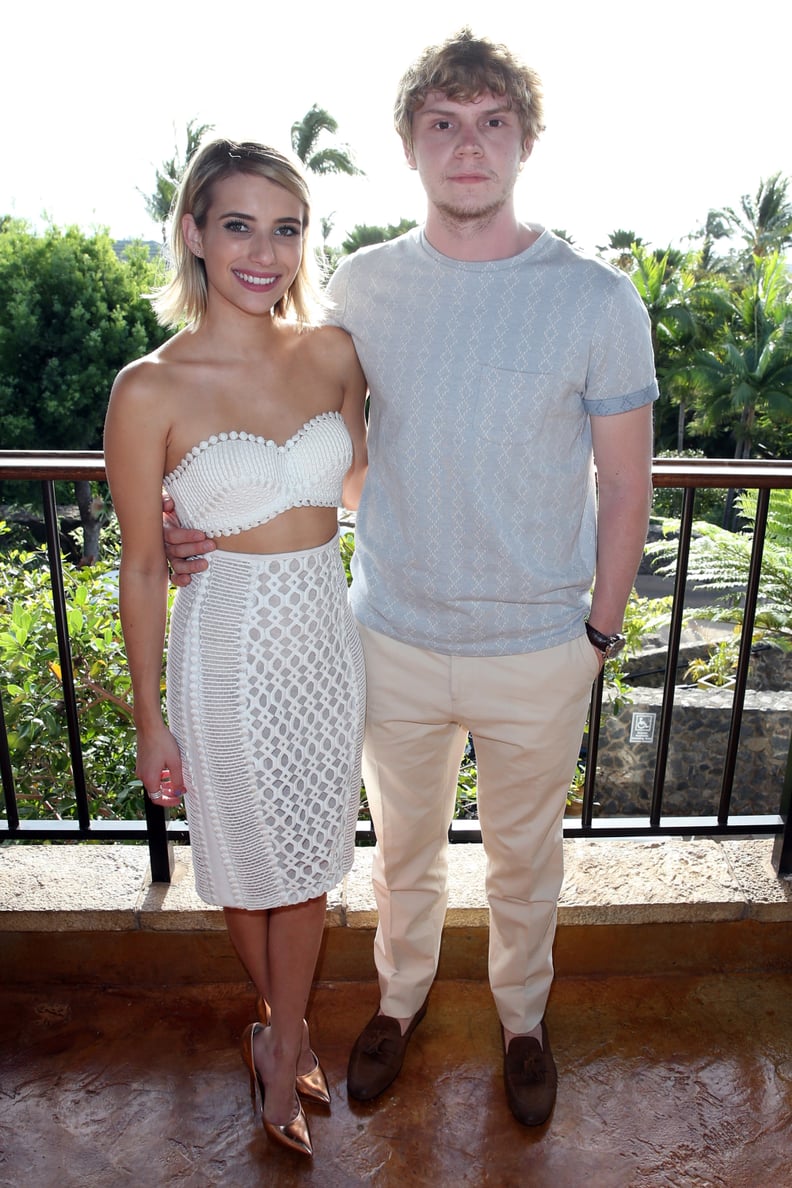 The First Breakup
News broke in June 2015 that Evan and Emma ended their engagement of over a year. While neither star commented about the split at the time, a source close to the pair said, "Their three years together just ran its course. They have so many great memories together but couldn't make it work in the end. The breakup was amicable — there was no drama whatsoever. Emma and Evan are even still friends!"
Emma later opened up to Allure about how she got over the breakup, revealing that she bought herself new jewelry to replace her engagement ring as a reminder to "always love yourself, and always know what you're worth."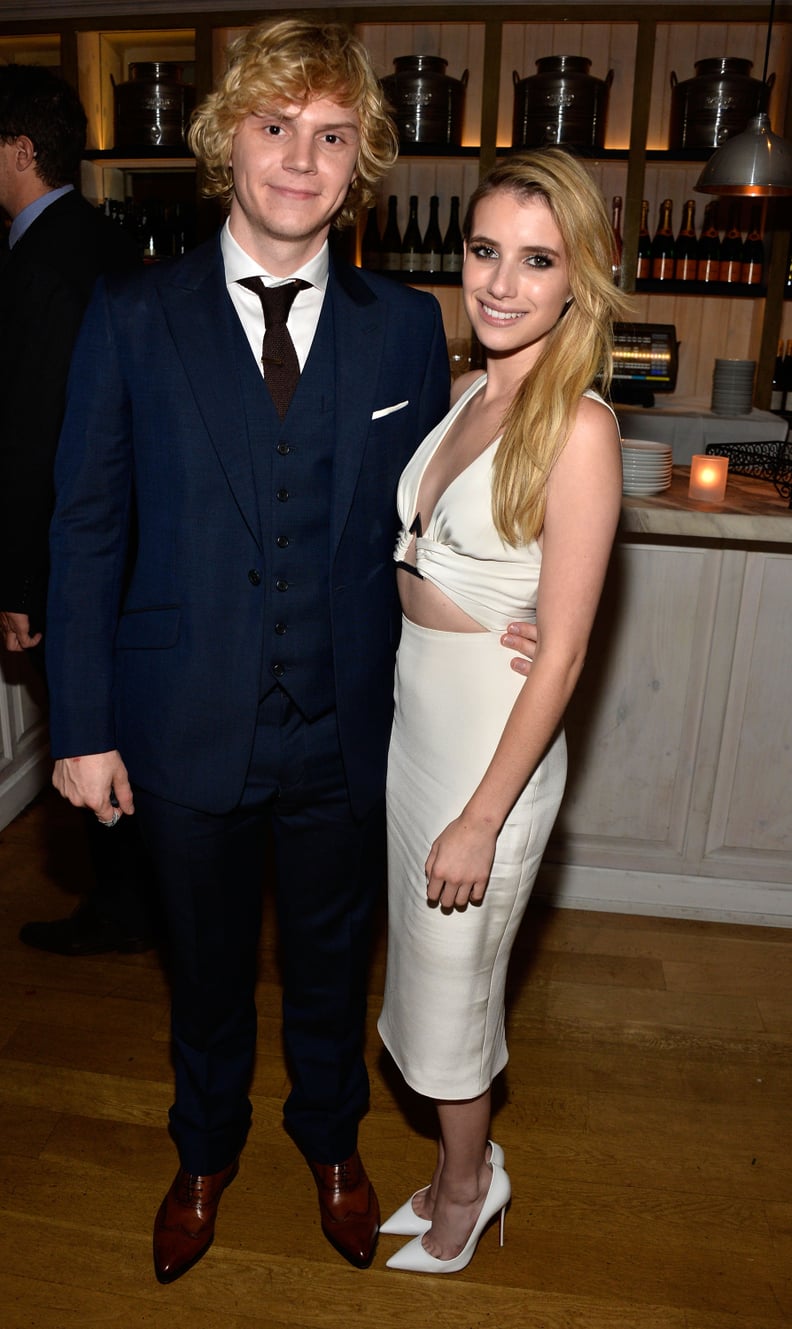 Back Together
Three short months after calling off their engagement, Evan and Emma kept fans guessing when they were spotted holding hands while taking a walk in LA in September 2015. While the two never confirmed the news, a source told E! News at the time that they were "seeing each other again."
The reconciliation lasted for a while and included some sweet social media posts from both Evan and Emma, including a cuddly Valentine's Day snap and one of them kissing on Evan's birthday.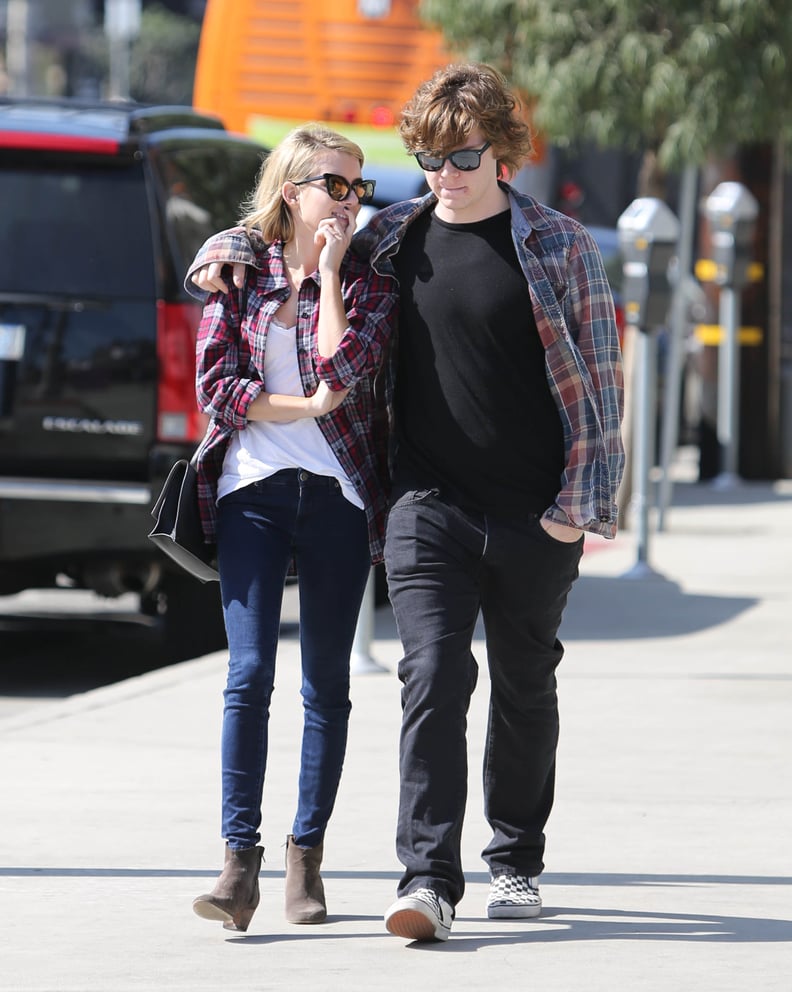 The Second Breakup
Nearly nine months after getting back together, the pair called it quits again in May 2016. Shortly after the split, Evan deleted all photos containing traces of Emma from his Instagram account. In June, it was revealed that Emma had begun dating Christopher Hines, a mutual friend of her pal Brit Elkin.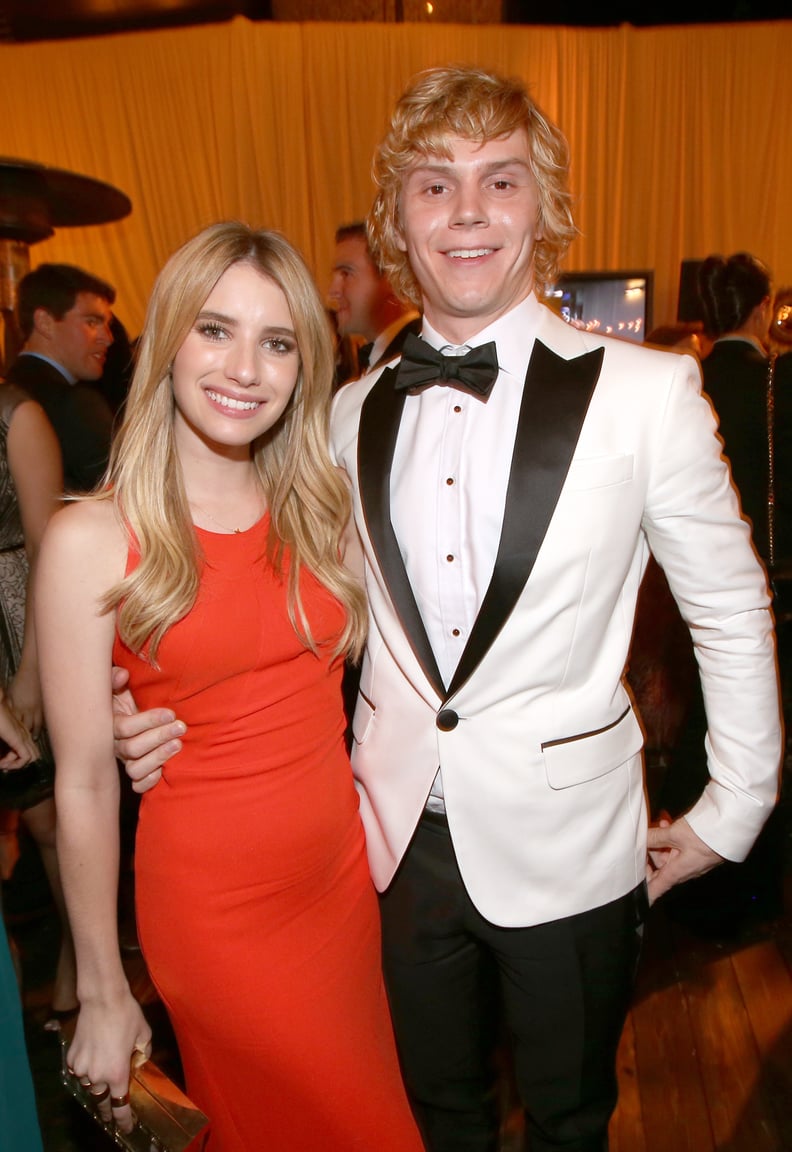 Andddd Back Together Again
In September 2016, Evan and Emma got back together again after she broke things off with Christopher Hines following their brief romance.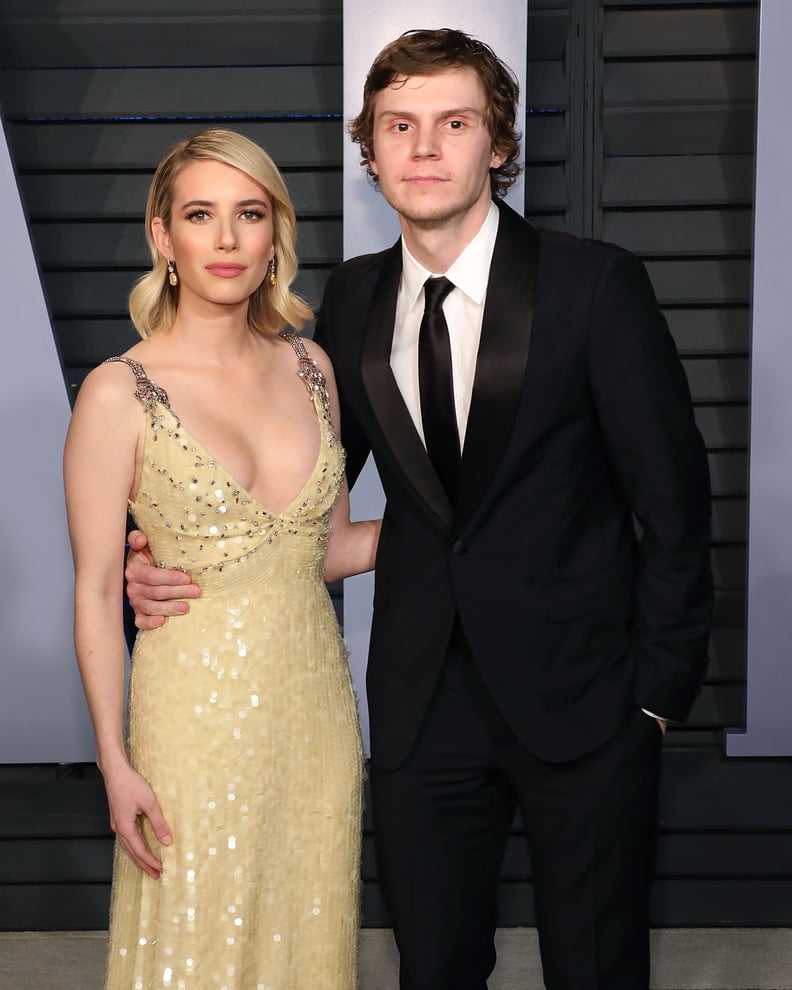 The Third Breakup
In March 2019, Us Weekly reported that Emma and Evan had called off their engagement again and the Scream Queens actress had moved on with actor Garrett Hedlund. "Emma and Evan were heading for a split and now are just friends," a source told the publication. "Evan has moved out. It wasn't a bad breakup."