Greyson Chance Interview About New Single "Boots"
Greyson Chance on Singing About Boys and Being a Legit Cowboy in New Single "Boots"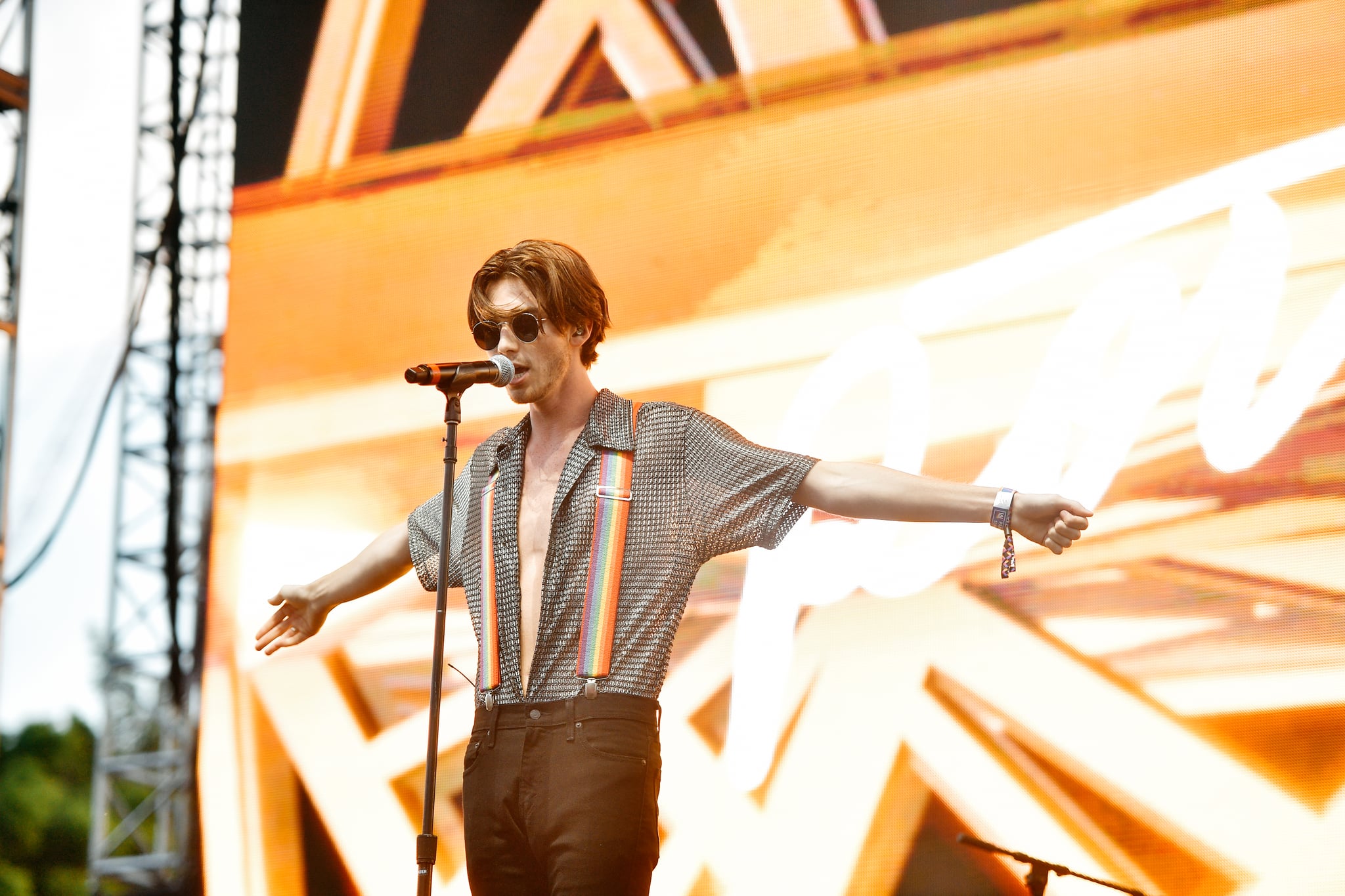 Long gone are the days of Greyson Chance being just that kid who went viral for singing Lady Gaga's "Paparazzi" on Ellen. Now you can find 21-year-old Greyson singing songs of his own — about love and boys and all the other sh*t we go through in life. The singer just dropped his latest single, "Boots," about what it means to be a true cowboy in modern society — something he knows very well, being raised in Oklahoma. We chatted with Greyson during a pit stop of his current tour for his album Portraits to find out the inspiration behind "Boots," what it's like to be an openly gay musician who happily sings about boys, and what kind of music he has coming next.
POPSUGAR: How's tour? This tour is huge!
Greyson Chance: It's good! At this point, we have a song coming out on Friday and there's a lyric in it that says, "I feel like I'm running, running in my boots." That's genuinely how I felt the past year, of what I've been doing. This tour is big. It's been really exciting though. We started it in China. We played 11 shows there. Then we did Europe. Now we're in the States. The Portrait cycle ends at the end of January. That's the end of my baby until the next one.
PS: In a few tracks on Portraits, you clearly use male pronouns in the lyrics, which isn't something every "out" artist is willing to do. Why was that important to you and what was your thought process behind being yourself?
GC: There was no thought process behind it. I remember after we had the record, I was playing it for some family and one of my cousins goes, "Are you worried about the pronoun usage?" She said, "Do you think people are going to come at you for that?" It goes back to my goal for myself with writing Portraits, which was authenticity and really speaking from the heart. And so for me it was the lyrics. I wasn't thinking about the pronoun usage. I was thinking more about does it make sense to bring him in for the story here of the song?
PS: Do you hear feedback from your fans on that? I'm sure your fans love that you're so authentic and you're just going to do what you want to do.
"A lot of the fans will come in to the meet and greet now and they're like, 'Do you need a hug? It sounds like you went through a lot that year.' And I'm like, 'You know what? Hell yeah, I do.'"
GC: I think what's been funny about playing Portraits live is a lot of the fans will come in to the meet and greet now and they're like, "Do you need a hug? It sounds like you went through a lot that year." And I'm like, "You know what? Hell yeah, I do." I think they like that it's honest. I mean, how bad would it be if I didn't have them though? Wouldn't that just be horrible? That's so dishonest, you know?
PS: So what's it been like to be around fans who've been with you since the beginning, like 2010-2011?
GC: That's a really good question because I think that's genuinely probably my favorite part of my job right now. I think for so long I was really working on trying to find my own voice and was working on trying to make sure the music was right doing all the behind-the-scenes things that an artist has to do to. And I think what touring this year has taught me and shown me is these kids that still come to my show — I call them kids, but they're my age now — we really have grown up together and so I'll see people in meet and greets and I'll say, "I know you." I feel connected to them, and I think that's something that's kind of maybe unique to me and just because I started so young and I love it. It truly does feel like we've all kind of grown together.
And for these people who've stuck around for 10 years through all of my bullsh*t — there have been some bad records in there — they still have come and bought tickets and it means the world to me.
PS: So how has it been to get yourself from being that kid who went viral on Ellen to where you are now and actually have a career and make something of yourself?
GC: It's been a very inherently difficult process, for sure. I had to go through a lot of things in the industry when I was an adolescent that were very tough and I think in many situations they could have completely derailed me often. In many ways, too, I did end up taking two years off from music where I really thought I was never going to go back. I was pretty dead set on starting a new life, starting a new career, and then that's when I discovered that music wasn't really a choice for me. It was just inherently what I did and what I do.
What I really care about now are the people that come to see my shows. I care about the music and whether I like it or not and whether it inspires me. If people want to say nice things about it, great. If they want to say bad things about it, that's cool too. I sort of at this point am just very self-focused and focused on the people that come to the shows. And so that's been wonderful.
PS: I've read a lot of things about how fans will tell you their own coming-out stories — what is that like for you being on the other end of kind of helping your fans? Do you feel pressure? Is it amazing? Do you love it?
GC: You know, it's something that I didn't realize was going to happen if I'm being really honest. On certain days I do feel a pressure sometimes, but it's getting better. I think the only reason I've maybe felt some pressure is because of my own self-confidence issues and me saying, "You know, these kids really look up to me and some days I'm not as strong as I wish I was and as I think they think I am." But what I'm starting to realize is that it's just such a wonderful thing and such a wonderful platform that I've been placed on. And what I want to encourage people to do is, no matter who you are, no matter what you like or what you identify as, come to the show and let's all share this together for an hour and a half.
PS: So "Boots." Tell me about your writing process, how the idea came up. Tell me the story behind "Boots."
GC: I was talking to my friends a lot and we were talking about Western imagery and pop culture and we were kind of laughing too. We would go to LA and we'd be walking around and we'd see these kids walking around in like Wrangler jeans that you could tell that they got at a vintage store for about $200 and we could find them in a Dumpster in Oklahoma for like five cents.
So we were laughing at this obsession with Western culture. And then it became a conversation of, what does it really actually mean to be a cowboy? And what if Johnny Cash were around in 2019 — what would he be wearing? What would he be like? And we decided that it would be a bit opposite of what you see in pop culture right now. I don't think Johnny Cash would be walking around in a hat and chaps and the whole getup. I think he'd be wearing leather, I think he'd be driving a motorcycle, smoking Marlboro Reds, that sort of thing.
I'm sure people will think it's a direct criticism, and I don't think it is; I think it's more or less a cultural observation. And I think too, just because you wear the cowboy hat doesn't mean you're a cowboy. So a lot of attitude that has to come with that, you know? So that's like a misstatement of the song. And with the video, the designer and I talked about [the silver outfit] a lot. I knew I wanted a contrast of high fashion against nature.
"Of course, there's a lot of relationship drama in there that I was having to deal with, with boys who need to become men."
PS: What's next then? Do you have more new music coming soon?
GC: In between touring this year, I've been working on a brand-new album with Teddy Geiger as my executive producer for it. And what's been really exciting about it is, it's similar to Portraits in the way that it's a collection of songs throughout my year. This year has been very crazy for me. Of course, there's a lot of relationship drama in there that I was having to deal with, with boys who need to become men. But that's a whole other topic. It feels very, very personal again. But I'm very excited for fans to hear it. I think it's going to be a good step from Portraits and it's all going to be coming early 2020.