Is Kanye West and JAY-Z's Feud Officially Over? It Sure Seems Like It
Kanye West and JAY-Z's friendship has hit a few snags in recent years, but it seems like things may be back on track. While the two started off as close friends and collaborated on their 2011 album, Watch the Throne, it seems Kanye's behavior and his marriage to Kim Kardashian played a huge part in their falling out. The rift between the two rappers can probably be traced back to when Kanye's initial choice of JAY-Z as his best man fell through when Beyoncé nixed their attendance, but things really escalated when Kanye called out JAY for not visiting him and Kim after her Paris robbery. Here's a look at all the drama that's gone down since then.
01
Oct. 19, 2016: Kanye Throws the First Punch
During the Seattle stop of his Saint Pablo tour, Kanye lashed out at JAY for not visiting him and Kim after her Paris robbery. "Don't call me after the robbery and say, 'How you feelin'?' You wanna know how I'm feeling? Come by the house. Bring the kids by the house, like we're brothers. Let's sit down," he told the crowd. Kanye also talked about his Tidal venture with JAY and collaborations with Drake and Meek Mill, adding, "It went into some Tidal/Apple political sh*t about percentage on songs . . . I can't take this sh*t, bro! Our kids have never even played together."
02
Nov. 20, 2016: Kanye Wasn't Finished Yet
In Sacramento, CA, Kanye went on another one of his infamous rants, calling out both JAY and Beyoncé. "Beyoncé, I was hurt! Cause I heard that you said you wouldn't perform [at the VMAs] unless you won video of the year over me, and over 'Hotline Bling,'" he said. "In my opinion . . . now don't go dissing Beyoncé, she's great. Taylor Swift is great. We are all great people. We are all equal, but sometimes we be playing the politics too much and forget who we are just to win."
Kanye then addressed JAY, saying, "JAY-Z, call me, bruh! You still ain't call me! JAY-Z, call me! JAY-Z, I know you got killers, please don't send them at my head." Kanye ended the show with a mic drop after about half an hour and was hospitalized for exhaustion and sleep deprivation a few days later.
03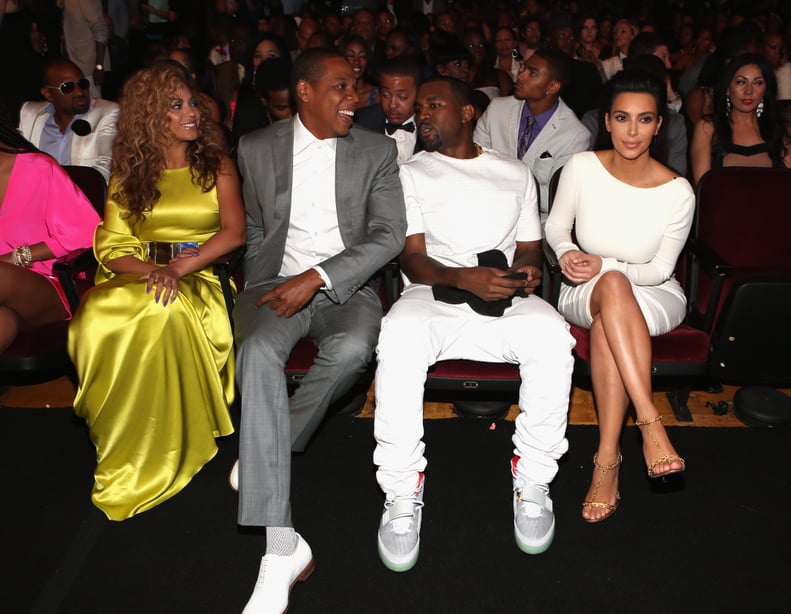 June 21, 2017: Suspicious Timing
04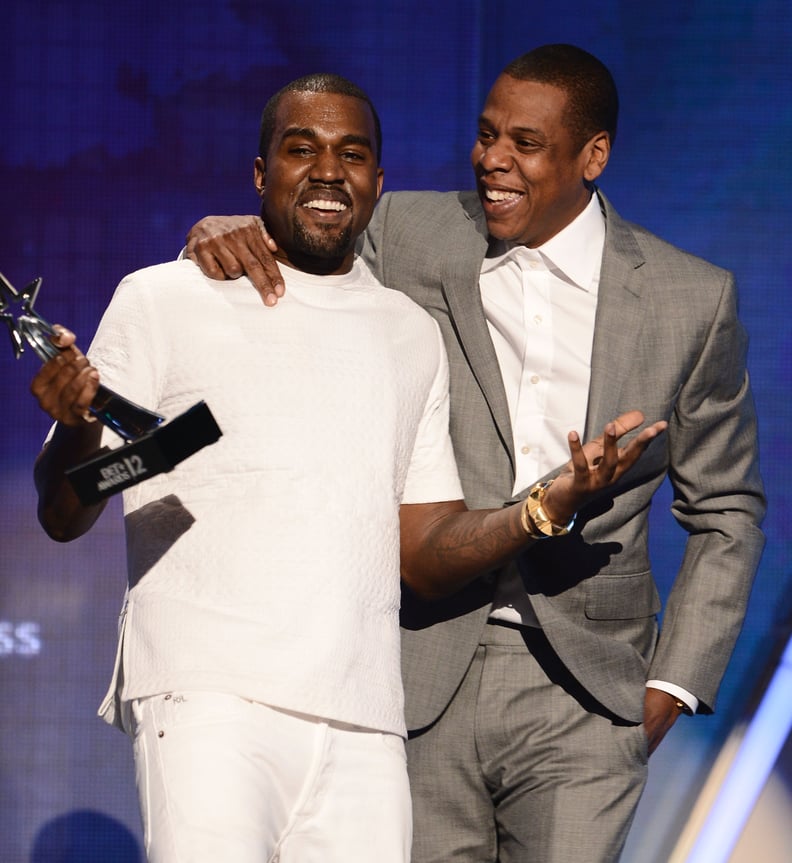 June 30, 2017: JAY-Z Fires Back
In addition to dropping some major revelations on his 13th studio album, 4:44, JAY finally clapped back at Kanye in not one but three tracks. On the album's first track, "Kill Jay Z," JAY calls Kanye "insane," saying, "I know people backstab you, I feel bad too / But this 'f*ck everybody' attitude ain't natural / But you ain't the same, this ain't KumbaYe / But you got hurt because you did cool by 'Ye / You gave him 20 million without blinkin' / He gave you 20 minutes on stage, f*ck was he thinkin'? / 'F*ck wrong with everybody?' is what you sayin' / But if everybody's crazy, you're the one that's insane." He also referenced Kanye in "Caught Their Eyes" and "Bam."
05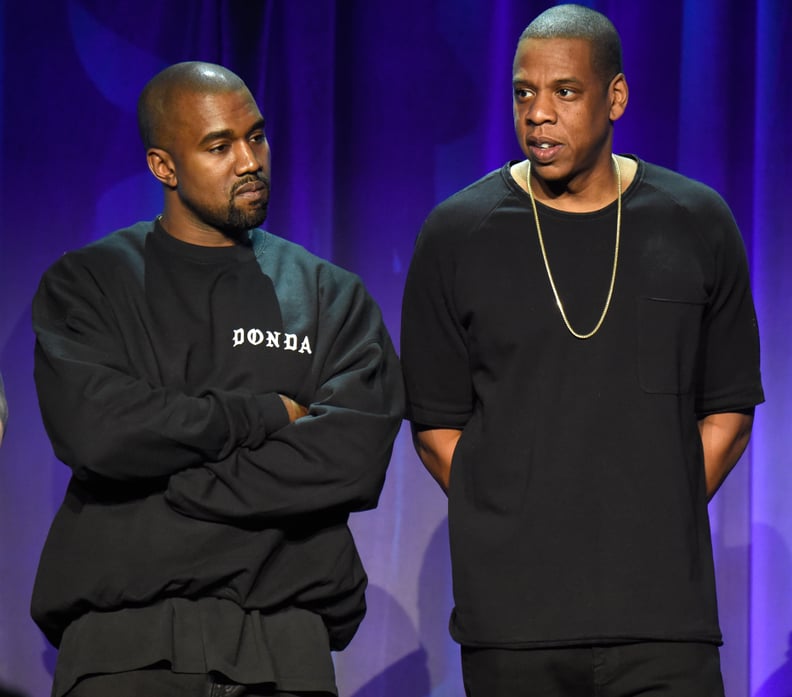 July 2, 2017: Kanye Exits the Tidal Family
Kanye left the company, which JAY acquired and relaunched in 2015, over a money dispute and Tidal threatened to sue him. Kanye believes the music streaming service owes him "more than $3 million" in fees and his lawyers sent Tidal a letter declaring the contract was terminated after a failed negotiation between both parties. TMZ also reported that Tidal sent Kanye a letter stating that he is still under an exclusive contract with the streaming service and will be sued if he takes his music elsewhere. According to the report, Tidal argued that Kanye failed to produce the contracted music videos, so therefore he was not eligible to a payout.
06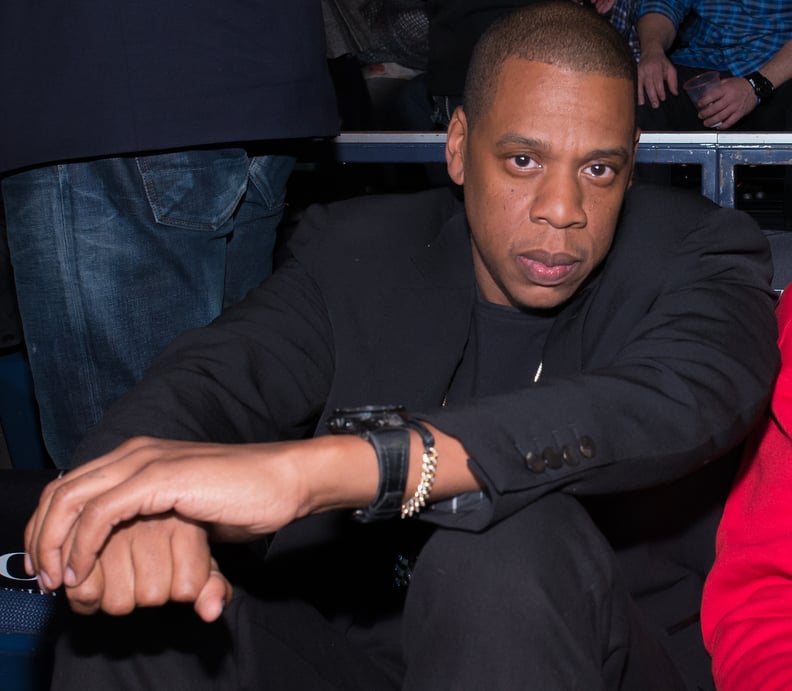 Aug. 18, 2017: JAY-Z Breaks His Silence
During a rare interview with hip-hop journalist Elliott Wilson, the rapper revealed the reason behind his feud with Kanye, saying, "What really hurt me was, you can't bring my kids and my wife into it. Kanye's my little brother. He's talked about me a hundred times. He made a song called 'Big Brother.' We've gotten past bigger issues. But you brought my family into it and now it's a problem with me. Now, it's a real, real problem."
JAY-Z also said that he knows Kanye is aware he messed up. "He knows it's a problem because me and him would have been talked about it, we would have been resolved our issue, but he knows he crossed the line. I know him. He knows. Not only does he have to know, I know he knows because we never let this much space go between one of our disagreements and we've had many. That's part of who we are. That's what I like about him. He's an honest person. He's open and he'll say things and he's wrong a lot of times but we'll confront it."
When referencing Kanye's now-infamous concert rant, JAY-Z added, "Don't talk about anyone's kid on stage. It's too much energy. You give room for anybody to comment. Our children are already in this place where they are affected by our celebrity. Don't go doing something that allows people to pit us against each other and talk about my child or even his child. Don't do that."
07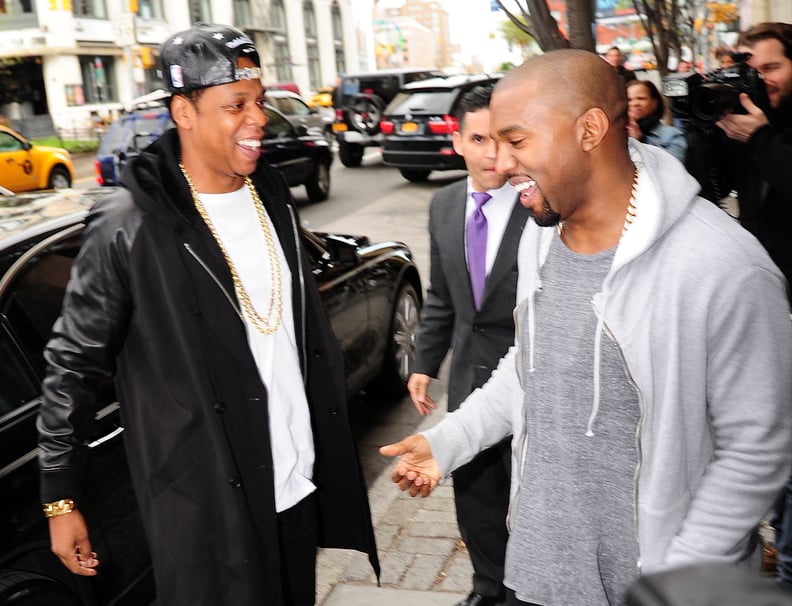 Sept. 9, 2017: The Throne Might Be Returning
08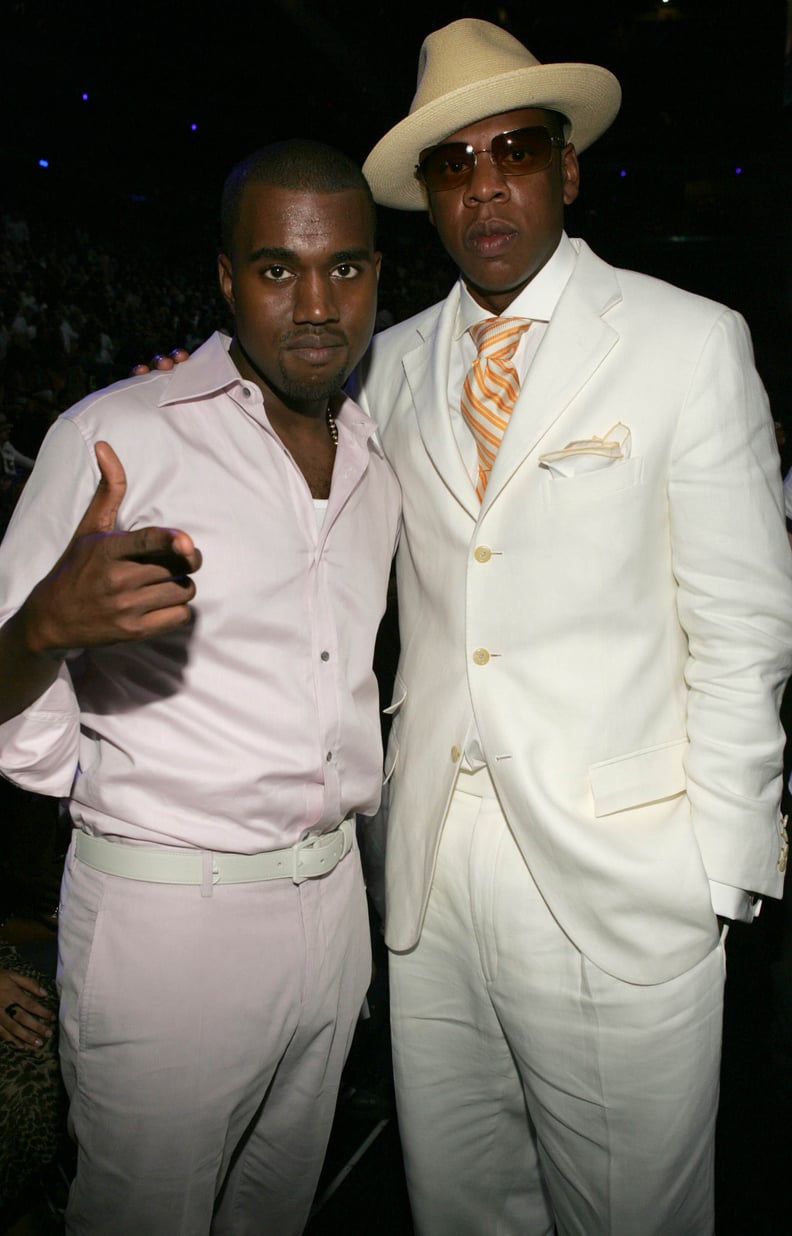 Nov. 29, 2017: JAY-Z and Kanye Are Back on Speaking Terms
In an interview with T: The New York Times Styles Magazine, JAY-Z opened up about his longtime friendship with Kanye. "I [talked to] Kanye the other day, just to tell him, like, he's my brother. I love Kanye. I do. It's a complicated relationship with us." he explained. "Kanye came into this business on my label. So I've always been like his big brother. And we're both entertainers. It's always been like a little underlying competition with your big brother. And we both love and respect each other's art, too. So it's like, we both — everyone wants to be the greatest in the world. You know what I'm saying? And then there's like a lot of other factors that play in it. But it's gonna, we gonna always be good."
As for the status of their feud, JAY-Z said there's still tension. "That happens. In the long relationship, you know, hopefully when we're 89 we look at this six months or whatever time and we laugh at that," JAY-Z said. "You know what I'm saying? There's gonna be complications in the relationship that we have to get through. And the only way to get through that is we sit down and have a dialogue and say, 'These are the things that I'm uncomfortable with. These are the things that are unacceptable to me. This is what I feel.' I'm sure he feels that I've done things to him as well. You know what I'm saying? These are — I'm not a perfect human being by no stretch."
09
April 6, 2018: JAY Calls Kanye His "Brother"
When asked by David Letterman if he and Kanye were friends during an appearance on My Next Guest Needs No Introduction, JAY responded, "That's my brother, we're beyond friends. Really, like literally, my little brother is Kanye. And like your little brother, things happen sometimes."
10
Sept. 8, 2018: Watch the Throne 2?
11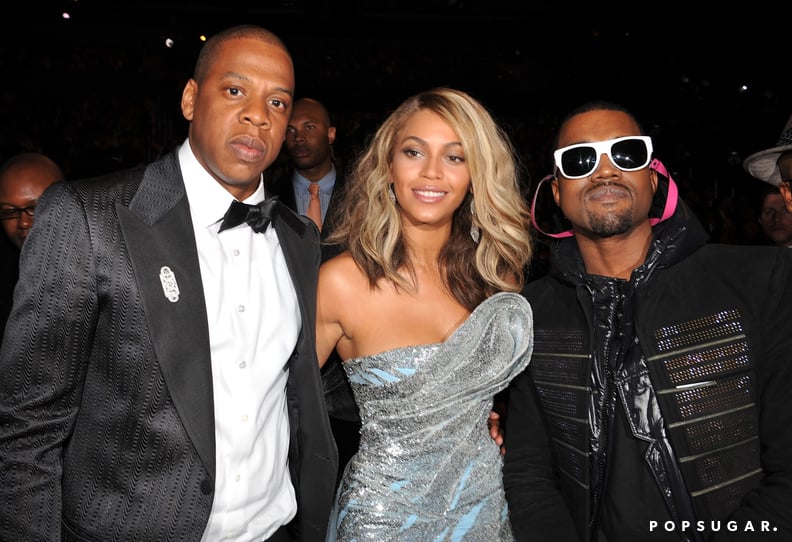 Sept. 20, 2018: Kanye Shows Love
12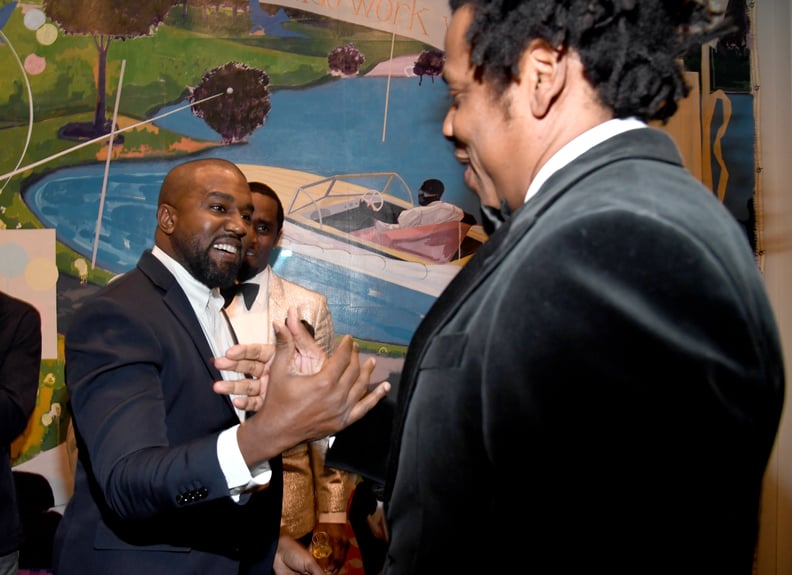 Dec. 14, 2019: All Is Well
13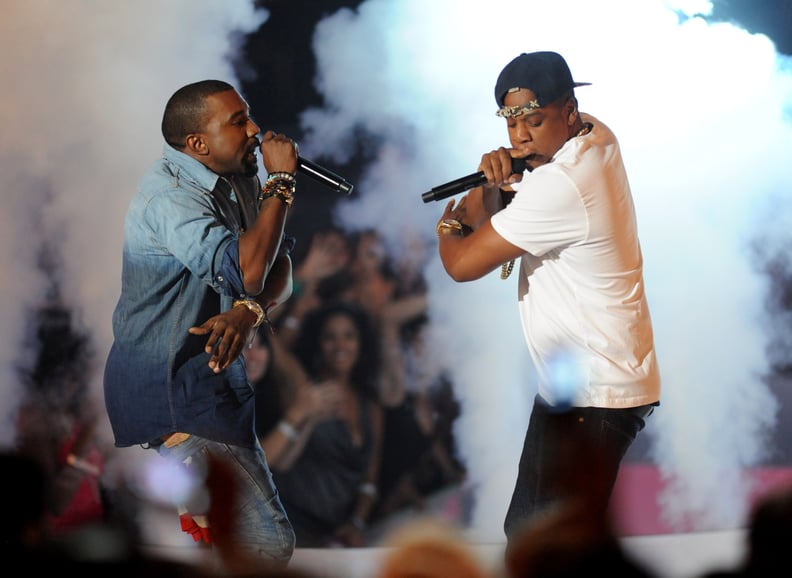 July 22, 2021: They're Back!
Kanye took fans by surprise during his Donda album listening party in Atlanta when his song "Guess Who's Going to Jail Tonight?" played, and it featured none other than JAY. Even though JAY wasn't in attendance, his verse made it clear where he and Kanye stand today. "This might be the return of the throne," he rapped. "Hova and Yeezus, like Moses and Jesus." The lyrical reunion marked the pair's first time collaborating in five years, and it's rumored that JAY recorded his verse just hours before the event.