Katie Stevens's Engagement Story Is So Perfect, It's Like a Real-Life Romantic Comedy
Katie Stevens's character on The Bold Type may be playing the field, but in real life, the actress is happily taken. In February, the 25-year-old announced that she was engaged to her longtime boyfriend, musician Paul DiGiovanni, and during POPSUGAR Play/Ground this weekend, she opened up about his romantic proposal.
While sitting down with Martha Hunt, Kayla Itsines, and POPSUGAR President Lisa Sugar for the Power Your Happy panel, Katie shared the intimate details about how the former Boys Like Girls lead guitarist popped the question. It all started when the two planned a getaway to Switzerland for the holidays. "New Year's Eve it was really beautiful, and we took a hike at the top of the Alps and hiked this lake," she explained. "He just asked me what day it was, and I knew he knew it was New Year's Eve, so I was like, 'It's Sunday.'"
Turns out the special day was actually an inside joke between the two. She explained that he would always tell her, "I'm going to marry you someday," and jokingly she would ask, "You're going to marry me on Sunday?" So when she said the day of the week, she knew he was getting ready to propose.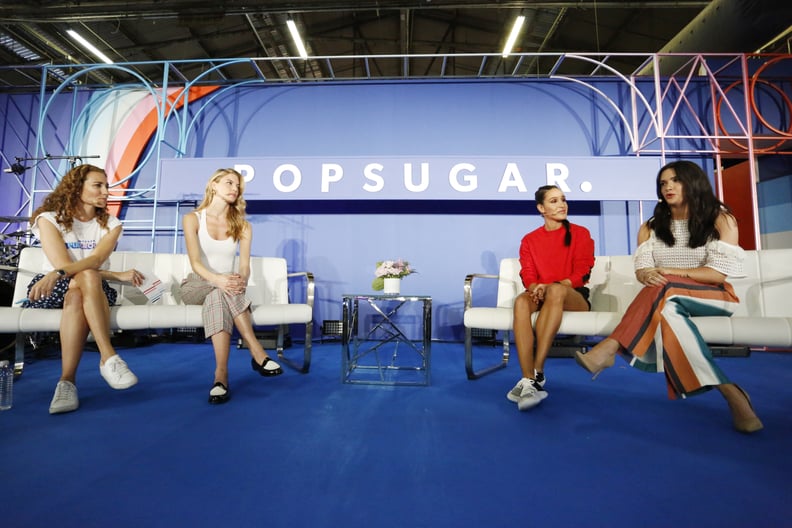 That's not even the best part of the story. Flash back three years prior, when the two were in a long-distance relationship and Paul gave Katie a stack of letters to open at different times when they were apart. "He wrote like, 'Open when you're on the plane to see me,' 'Open when [you] wake up early,' 'Open when you miss me,' and one letter said, 'Do not open until I say so. Important.'"
Being too much of a "guilt-ridden person," Katie actually followed instructions and didn't open the letter. "I had it in my nightstand table for three years," she added. "And he stole it out of my nightstand, brought it to Switzerland, and I opened it, and it said, 'Katie, marry me?'" How freaking adorable is that?