David Harbour Supports Wife Lily Allen at London Screening of Her New Comedy
When it comes to celebrity relationships, "Stranger Things" actor David Harbour and singer-actor Lily Allen are up for the cutest couple award. In the early stages of their relationship, the two were private about specific details regarding when and how they started dating — which began on the Raya dating app and resulted in their first date at The Wolseley in London. Over time, however, the pair haven't been shy about showing off their romance.
Ever since they were labeled an item back in October 2019, the pair have showered each other with love in sweet ways, whether in formal interviews or silly Instagram posts. During a June 2022 appearance on "The Late Late Show With James Corden," Harbour opened up about his first meeting with Allen, sharing how the couple fell in love. "She said, 'When I saw you, I saw the biggest person I had ever seen in my life and also the smallest person I had ever seen in my life,'" the "Violent Night" actor recalled of their first date. "Isn't that interesting? That's what made her fall in love with me — that I was very big and also very small in a certain way."
From their Vegas wedding during the pandemic to their blended family and show-stopping red carpet appearances, keep reading for memorable moments in Allen and Harbour's relationship timeline.
01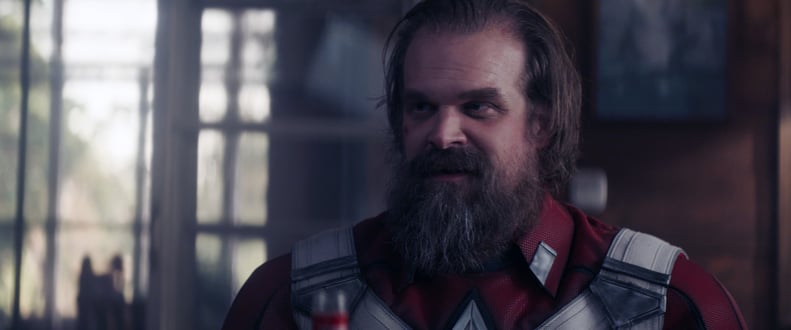 Spring 2019: Allen and Harbour Meet
Allen and Harbour sparked dating rumors in October 2019 when the pair were spotted close together at a Knicks game in New York, where Harbour was to host "Saturday Night Live." But both Allen and Harbour revealed in later interviews that they started dating long before their courtside appearance. In a 2021 interview with The New York Times, the "Stranger Things" actor explained that he met Allen while he was filming "Black Widow" in the spring of 2019. At the time, Harbour had a big beard and long hair for his acting role, but that didn't discourage Allen. "It's a true testament to my undeniable charisma when I say that my wife met me at 280 pounds with this beard and this hair. We went on a date at the Wolseley [restaurant] in London, and she really fell for me at my worst, physically and hair-wise," he said.
Allen touched on the first time they dated in a 2020 interview with The Sunday Times. She confirmed that their first date was at London's posh Wolseley restaurant and that the pair met through Raya, a popular dating app among celebrities. Talking about their first date, the singer said, "I remember looking at him, and it reminded me of Leonardo DiCaprio in 'Titanic,' you know? When she's going to meet him under the clock. And, by the way, it was my first date ever. I had never been on a date! I was so anxious."
02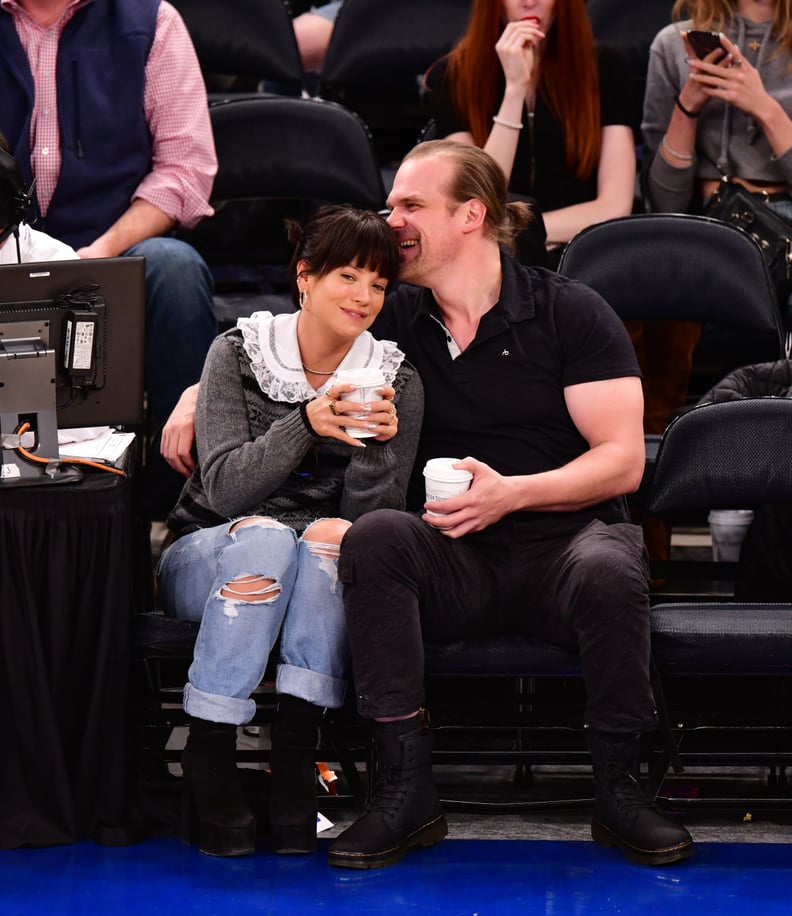 October 2019: Allen and Harbour's Courtside Date Night
The duo had been rumored to be dating for a while, but all doubts were removed when they were spotted cozying up and laughing together in the front row of a Knicks game.
03
October 2019: Allen and Harbour Go Instagram Official
Although they'd been spotted together by fans and paparazzi several times already, the duo finally made their relationship social media official with this adorable shot of them in costume headed to — where else? — Disney World.
04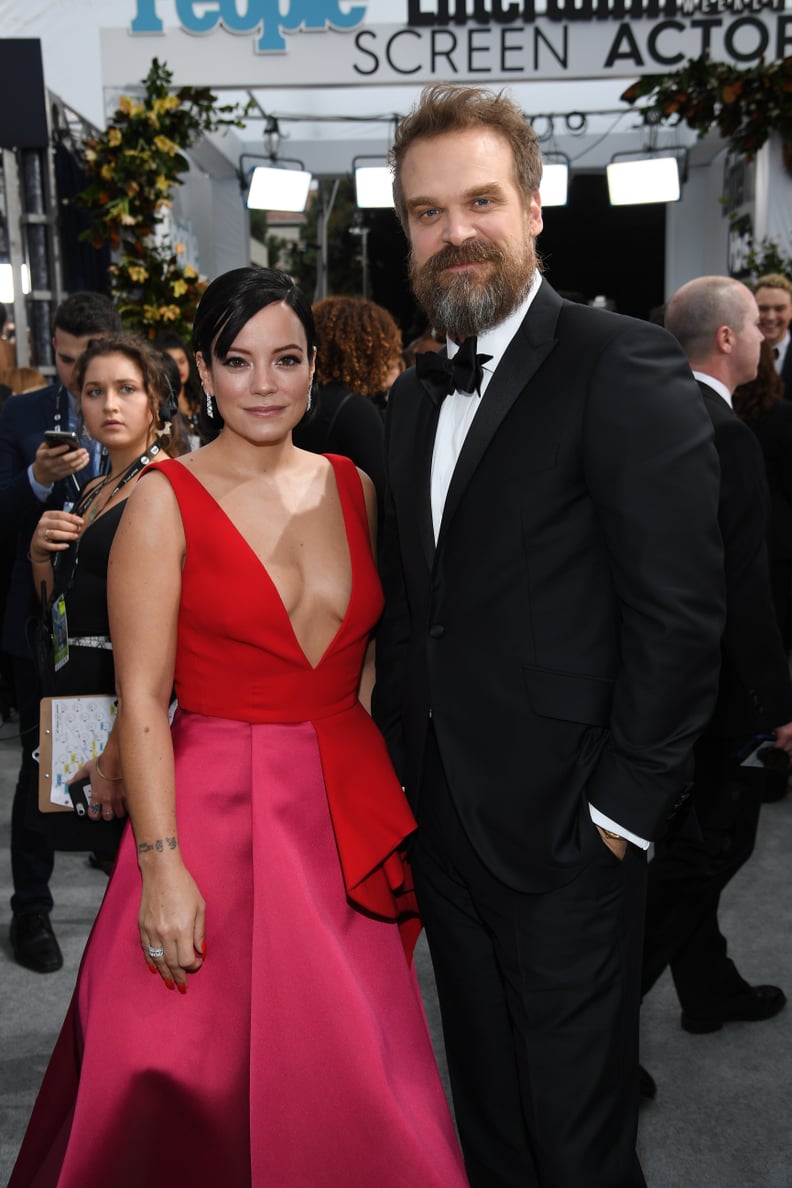 January 2020: Allen and Harbour Attend the SAG Awards Together
The couple stepped out together for the award show, looking glamorous on the red carpet. Harbour was there as a double nominee, having been nominated for best ensemble in a drama series with his "Stranger Things" castmates, as well as an individual nomination for best male actor in a drama series.
05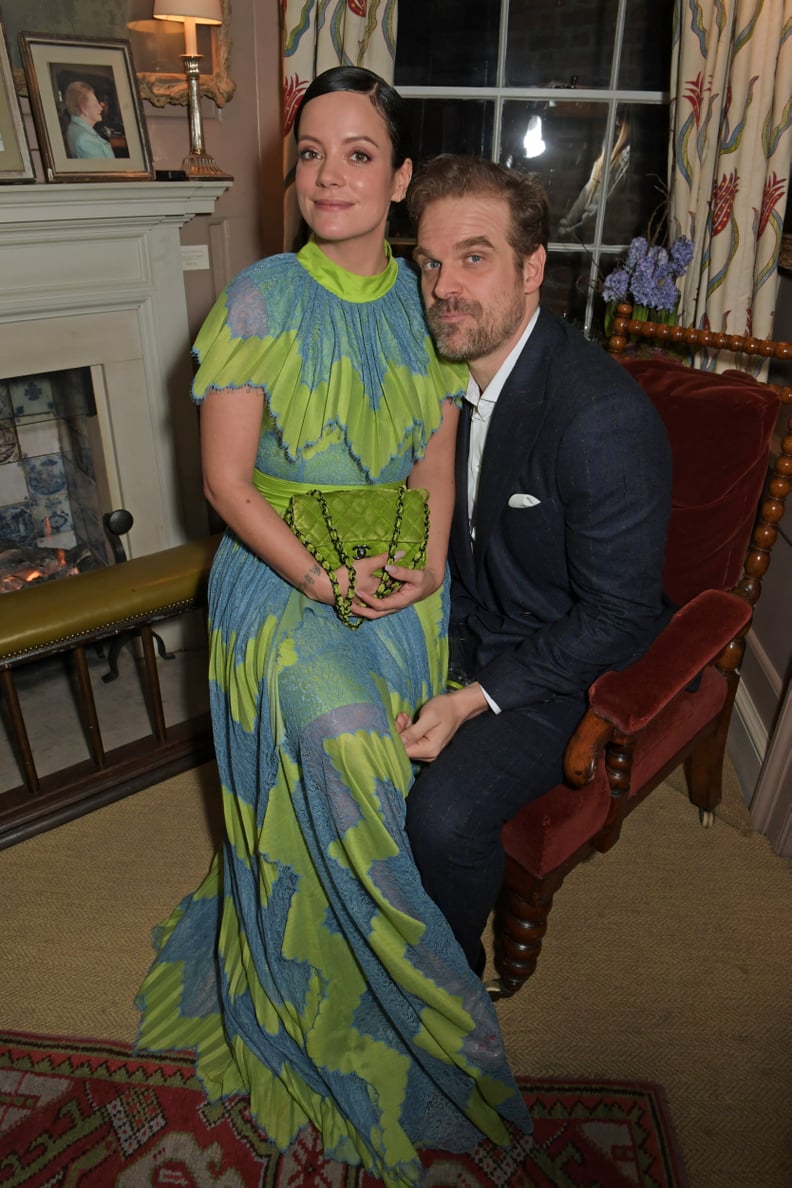 February 2020: Allen and Harbour Attend a Pre-BAFTA Event Together
Photographers caught this adorably casual snap of the duo at Charles Finch and Chanel's pre-BAFTA party.
06
Early 2020: Harbour Proposes to Allen
In a June 2021 interview with Jimmy Kimmel, Harbour revealed that he popped the question to Allen right before COVID hit. "We got engaged right before the pandemic," he said. "And then, you know, the pandemic hit and nothing was happening." The actor also shared a humorous story behind his decision to marry Allen, which actually had to do with her two children, whom she had with ex-husband Sam Cooper.
He told Kimmel, "We were riding around the beginning of the pandemic — she has two kids, these beautiful daughters, 8 and 9 — and we were riding bikes out in the country trying to figure out what we were gonna do for the next year or however long it was going to take. And the little one was riding along and she was going like, 'David, Dad, David, Dad.' Because the 'd' got her confused," he noted. "And the older one got very upset with that, which I understand, and was like, 'He's not our dad! He's not our dad!'" To further save Allen's children from "emotional fallout," Harbour reached the conclusion he was going to marry Allen.
07
September 2020: Allen and Harbour Get Married in Vegas
On the day of their wedding, both Allen and Harbour shared fun pictures from their unexpected Vegas ceremony. It was the kind of quirky, low-key affair we should have expected: officiated at a Vegas wedding chapel, with Allen in an adorable short white dress, and with a "reception" afterward that actually was just the newlyweds and Allen's two kids chowing down on fast-food burgers.
08
April 2022: Allen and Harbour Attend the Olivier Awards
Allen made her theatrical debut in August 2021 in the play "2:22 A Ghost Story." In April 2022, the singer-turned-theater actor was nominated for best actress at the 2022 Olivier Awards for her portrayal of Jenny in the play. Harbour accompanied Allen to the esteemed award show, and the two snapped a fun picture together on their way to the event.
09
May 2022: Allen and Harbour Go to the Met Gala
The couple attended one of the biggest fashion events of the year in May 2022. At the Met Gala, the two stole the show on the red carpet with their vintage attire, which tied into the year's "Gilded Age" theme. Allen posted a mirror selfie of her and Harbour together before the event on Instagram, writing, "this is the only other photo i have in my phone from met night. sorry. i'm so bad at content."
10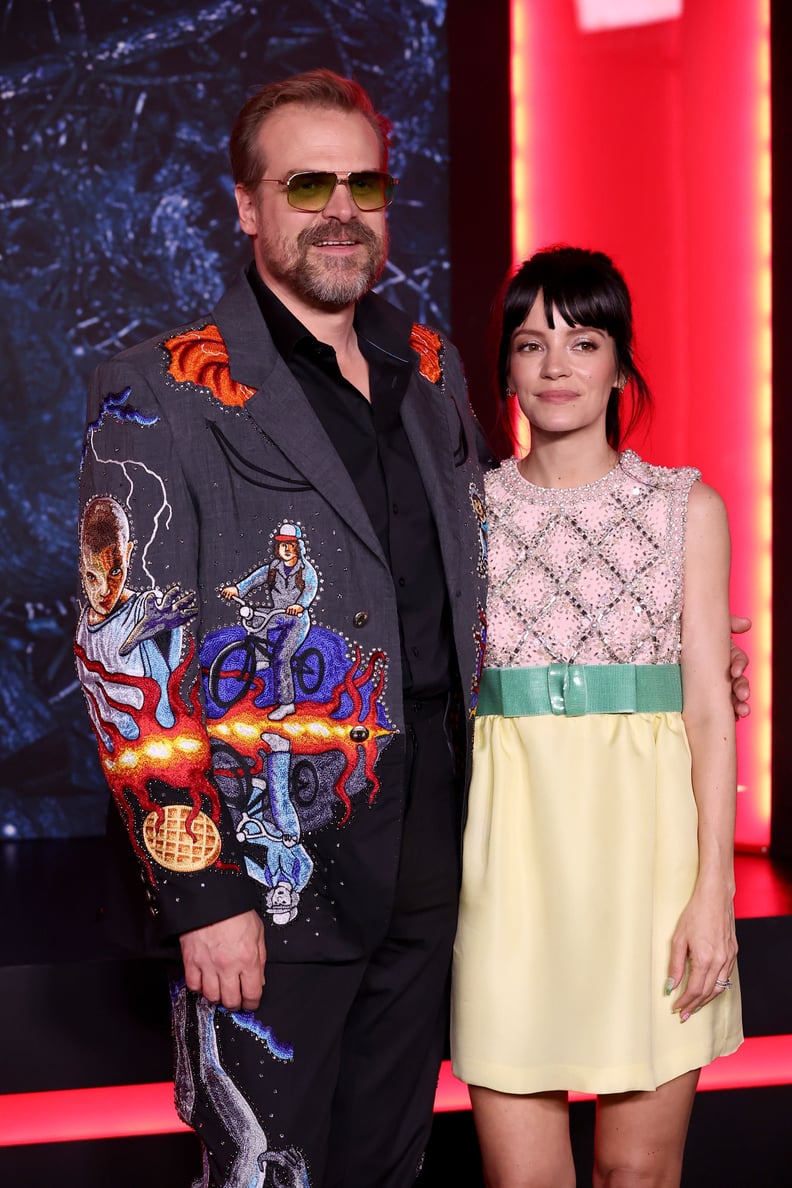 May 2022: Allen and Harbour Hit the "Stranger Things 4" Premiere
"Stranger Things" season four hit Netflix on May 27, and ahead of its widespread release, Allen and Harbour attended the show's official premiere on May 14. Cameras snapped away as Harbour flaunted a custom suit featuring the "Stranger Things" characters with details of "the upside-down" embellished from his suit jacket to his pants.
The actor's custom suit was made by Union Western. He told Vogue, "My wife [Lily Allen] at one point worked with Union Western. They make these mad suits for rockstars, so I figured, let's f*cking do this!"
11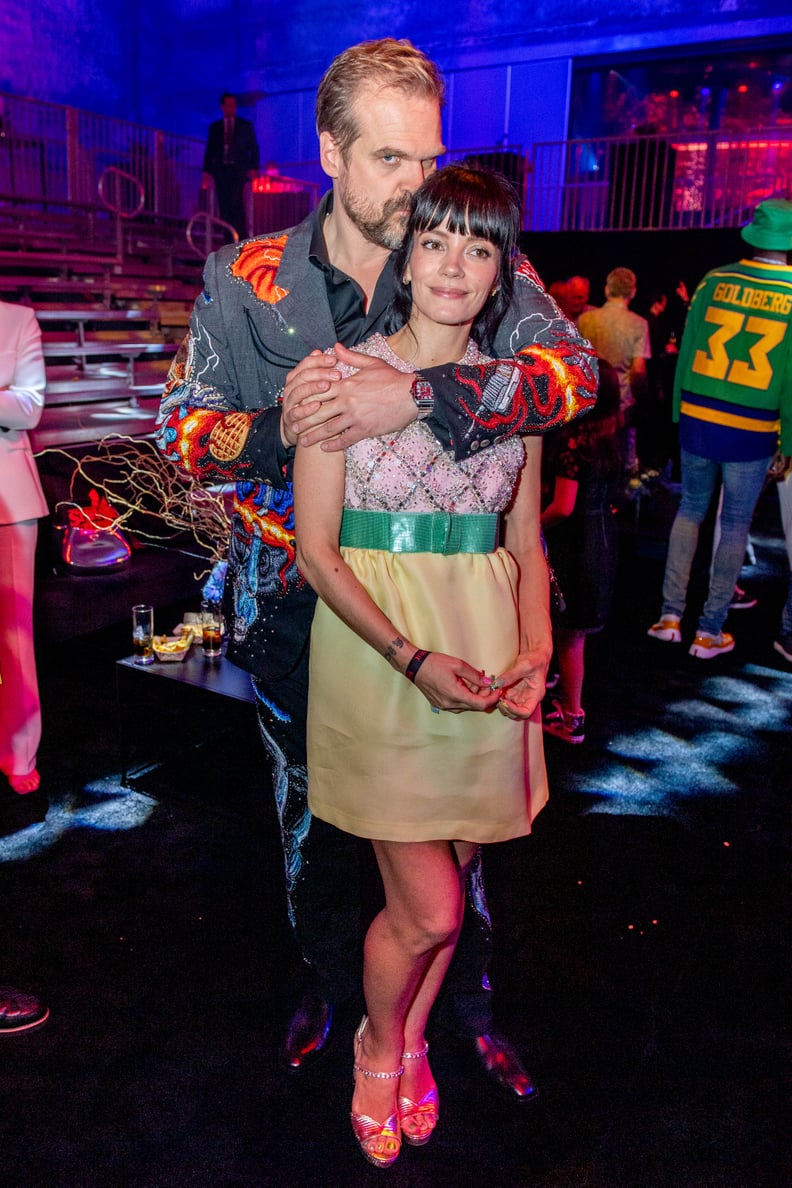 July 2022: Harbour Recalls the Moment He Fell in Love With Allen
In an interview with British GQ, published July 4, Harbour said that after his and Allen's initial meeting, it took a few more dates for him to fall in love with her. "She claims to have fallen in love at first sight with me — I mean, who wouldn't?" he joked to the outlet. "I remember the exact moment. It was our third date. I was just in this phase, where I was like, I'm just going to be brutally honest about everything, because why lie? And I told her something about my life, about my beliefs . . . It would take a really extraordinary person to be accepting of the things that I said. And I remember thinking: Wow, that's somebody I want to be around."
12
February 2023: Harbour and Allen Tour Their Brooklyn Townhouse
Harbour and Allen invited Architectural Digest into their Brooklyn home that they designed together, giving insight into the life they live there with their kids. About the kitchen, Allen said, "We wanted somewhere to feel like the central engine of the house. When you come in, there's a big table to dump the shopping on, the kids do the homework 'round there, I cook," she said about the kitchen, before joking, "Everyone abandons me..."
Harbour and Allen's fun personalities are stamped all over the house, with him having advocated for a black toilet and a refrigerator that looks like a spaceship, while she demanded wall-to-wall tiger print carpet and a matching couch in one room.
13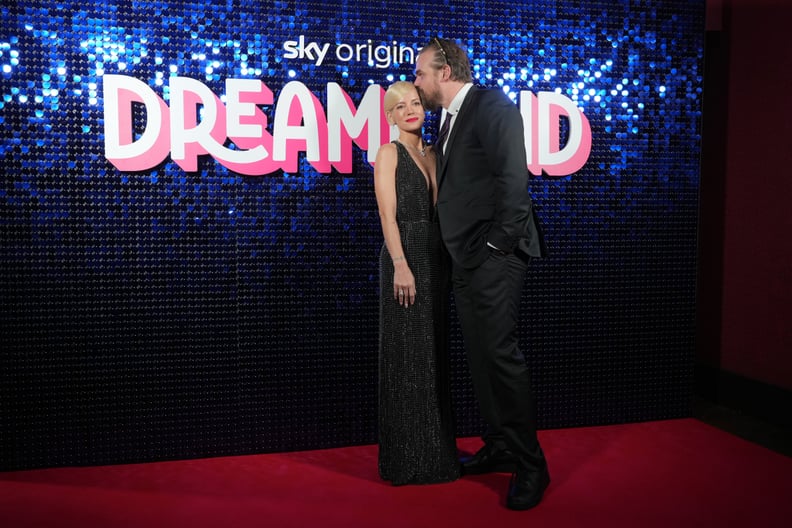 March 2023: Harbour and Allen PDA at "Dreamland" Screening
The couple attended a screening of Allen's upcoming comedy series, "Dreamland," in London on March 30, where Harbour was pictured kissing her affectionately on the forehead. In the slice-of-life British comedy, Allen plays Mel, one of four sisters who unexpectedly becomes pregnant at the same time as her oldest sister, Trish.